Thai food is famous worldwide thanks to its varied dishes and exotic flavors. A trip to the "Land of Smiles" cannot be completed without trying the local food.
Here are some of the best dishes that are highly recommended.
1. Tom yum goong (spicy shrimp soup)
Tom Yum Goong (ต้มยำกุ้ง) soup is one of the most well-known dishes in Thai cuisine
Tom yum goong is a bold, refreshing blend of fragrant lemongrass, chilli, galangal, kaffir lime leaves, shallots, lime juice, and fish sauce.
Eat it with: Containing succulent river shrimps and straw mushrooms, this spicy and sour soup is best paired with steamed white rice.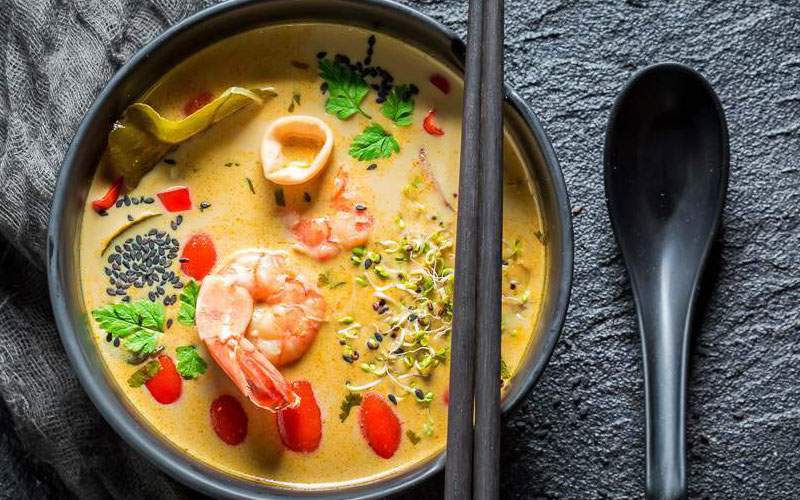 Recipe
Time: 30 minute
Press and chop the lemongrass stalks into pieces.
Grind chili peppers, garlic, and galangal into a paste.
Melt the coconut oil. Once the oil begins to shimmer, add lemongrass and cook for 3-4 minutes. Add the paste in step 2, and cook for another 3-4 minutes.
Add the vegetable broth, coconut milk, tomato, lime leaves, and soy sauce and stir. Boil the mixture, then reduce the heat to low and simmer for 20 minutes.
Add the tofu and mushrooms and stir. Cook for 5 minutes, until the mushrooms are tender.
Add the lime juice and agave then stir. Season with salt to taste.
Garnish with cilantro and enjoy.
Recommended place to eat
Banana Leaf Restaurant | Silom Complex basement floor, Silom Road, Bangkok.
BTS: Saladaen. Open daily from 11 a.m.-9.30 p.m. Tel: +66 (0)2 231 3124.
2. Som tum (spicy green papaya salad)
Som tum, or spicy green papaya salad, originates from Thailand's north-eastern area. Garlic, chilies, green beans, cherry tomatoes, and shredded raw papaya are pounded in a pestle and mortar, releasing a distinctive sweet-sour-spicy flavor. Regional variations include peanuts, dried shrimp, or salted crab into the mix. This dish can be polarizing; some can't get enough of its taste, while others simply can't handle the spice.
Eat it with: Som tum is a type of salad so you can eat it alone, but we recommend eating som tum with sticky rice because it cools your mouth and allows you to mop up the sauce.
How to eat: Take a ball of rice the size of a quarter, make a slight indent with your thumb, and use it to pinch or scoop up the papaya salad.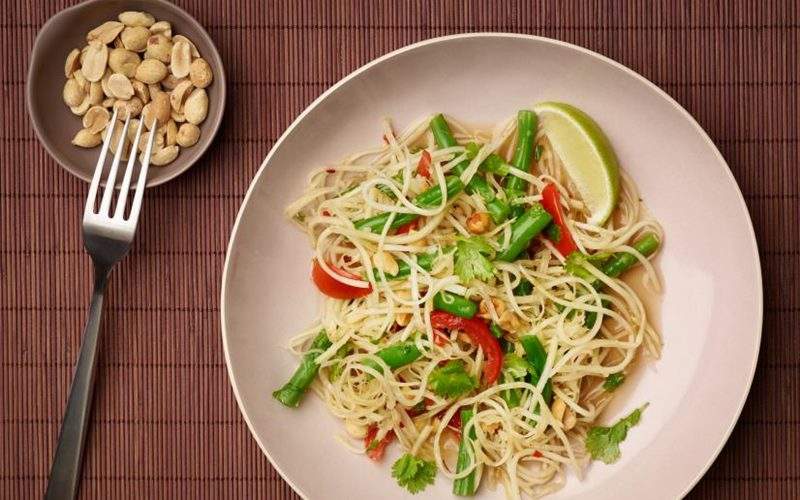 Recipe:
Prep time: About 30 minutes or less – no cooking is involved
Wash and peel off the skin of the green papaya. Use a cheese grater to shave the papaya.
Add 2 cloves of peeled garlic and 5 chilies to the mortar (krok). Pound them until they are crushed into small bits.
Add half of 1 tablespoon of palm sugar, 1 tablespoon of fish sauce, and then squeeze 1 lime into the mortar. You should start with less seasoning and add more to your liking.
Mix and pound all the ingredients to make the dressing.
Add roasted peanuts, a tablespoon of dried shrimp, and then roughly slice the tomatoes into the mortar.
Slightly pound the mixture for about 30 seconds.
Toss in the green papaya shavings. Mix the green papaya shavings together with the mixture in step 5 by pounding lightly.
Recommended place to eat
Som Tam Nua | 392/14 Siam Square 5, Pathum Wan, Bangkok. BTS: Siam
3. Tom kha kai (chicken in coconut soup)
This classic chicken coconut soup gets its flavor from quintessential ingredients of Thai cuisine including coconut milk, fresh ginger, lemongrass, fish sauce, chile paste, basil. While warming and thoroughly comforting, this dish comes together incredibly quickly.
Eat it with: Tom kha gai (ต้มข่าไก่) is eaten more like curry instead of a soup, paired with a plate of rice and spooned onto your rice before eating it.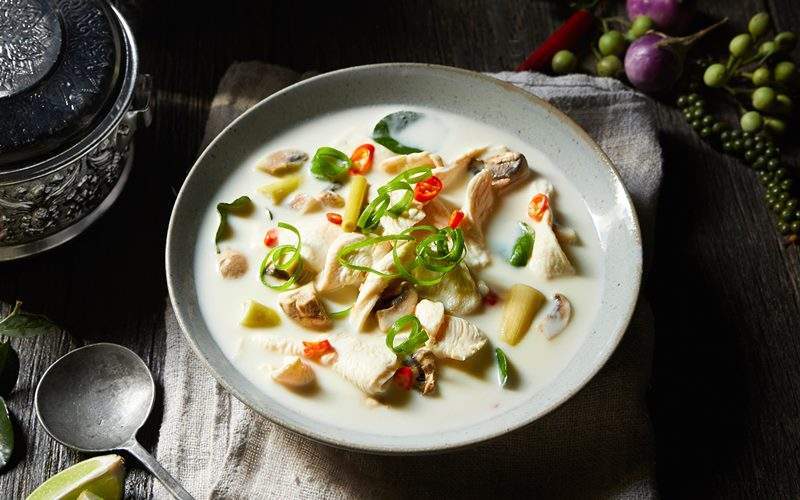 Recipe
Time: About 30 minutes altogether
Galangal: cut off the stems, then cut the root part into thin slices.
Lemongrass: slice off the bottoms, and then slice it into about 1-inch strips.
Turn on your stove to medium heat, and add about 3 cups of the coconut milk to a saucepan. Toss in the sliced galangal and lemongrass.
As the coconut milk begins to heat, slice the chicken into medium-sized pieces.
Right before the coconut milk comes to a boil, add the chicken and then the other 3 cups of coconut milk. Now, turn down the heat to medium-low.
Add sliced chilies
Give the soup a quick and gentle stir, and then add oyster mushrooms, sliced white onion.
Cut tomatoes into thick wedges. Wait until your soup is about to boil, then add the tomatoes.
Break kaffir lime leaves with your hand, and toss them directly into your soup.
Seasoning with salt
After about 5 – 10 minutes of cooking, turn off the heat completely.
Add fresh cilantro and stir slightly
Add lime juice into your tom kha gai before eating
Recommended place to eat
Nahm Restaurant, 27 S Sathorn Rd | Hotel Metropolitan by COMO, Bangkok 10120, Thailand; +66 2 625 3333
4. Panang Gai (Thai red curry)
Called Panang curry in Thailand, this dish may be the most popular of the Thai curries. The curry paste is made with peanuts, salt, shrimp paste, shallot, chili peppers, galangal, lemongrass, garlic, cumin seeds, and coriander roots and seeds…, which make its unique taste.
The dish is usually served with finely chopped kaffir lime leaves sprinkled on top.
Panang Gai is a dish that if made correctly, should explode with dynamic flavors as soon as it touches the tip of your tongue.
Eat it with: Panang curry is served with rice, noodles. Also, you can also get it with vegetables or tofu.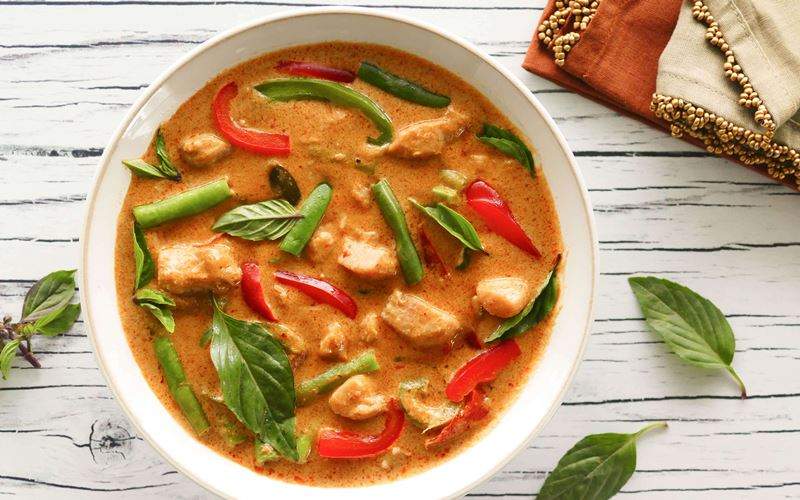 Recipe
Time: 30 minutes
Cut the chicken into bite-sized pieces. Mince the garlic. Chop the onions and peppers into 2cm pieces. Crush the kaffir lime leaves to release their flavor.
Put the coconut oil to a wok on medium-high heat. Once the oil melts, add the onions, peppers, garlic. Sauté for 1 – 2 minutes. Take them out and set aside.
Add the Panang red curry paste and peanut butter. Sauté the curry for 2-3 minutes. Then add the kaffir lime leaves, coconut milk, fish sauce and fried onion, pepper in step 2. Stir to blend.
Stir in the chopped chicken and bring to a boil. Lower the heat and simmer for 10-15 minutes. When the chicken is cooked through and the sauce thickens. Remove the wok from heat and stir in basil leaves. Serve with rice, quinoa, or noodles.
Recommended place to eat
Poi-sien Restaurant | Soi Ratchawithi 6, Boonme Building. Open from about 10 a.m-10 p.m. Tel +66 (0)84 527 5521
5. Pad thai (Thai-style fried noodles)
Pad thai is probably the most famous and iconic dish of Thailand cuisine, and something that tourists rave and hype about.
Fistfuls of thin and wide noodles, along with crunchy bean sprouts, onion, and egg are stir-fried in a searing hot wok. The dish is also flavored with condiments such as fish sauce, dried shrimp, garlic or shallots, red chili. Pad thai usually contains seafood (fresh shrimp, crab or squid) – but some places serve it with chicken, beef or pork.
Eat it with: Be sure to eat Pad Thai with a squeeze of lime and ground peanuts.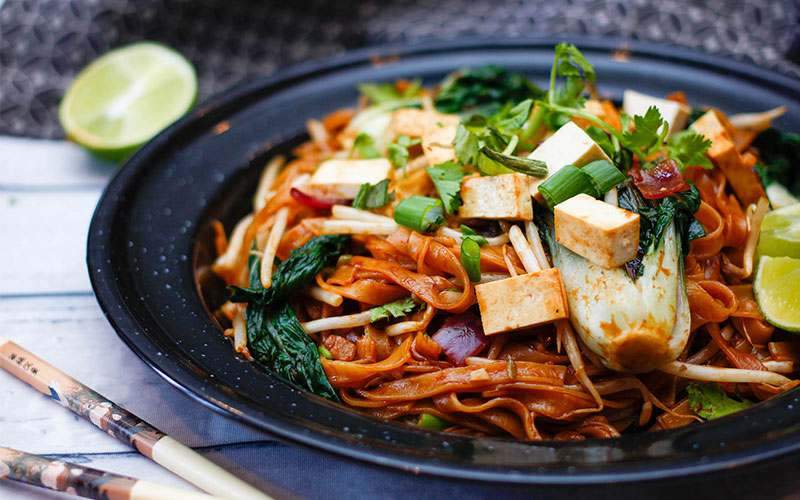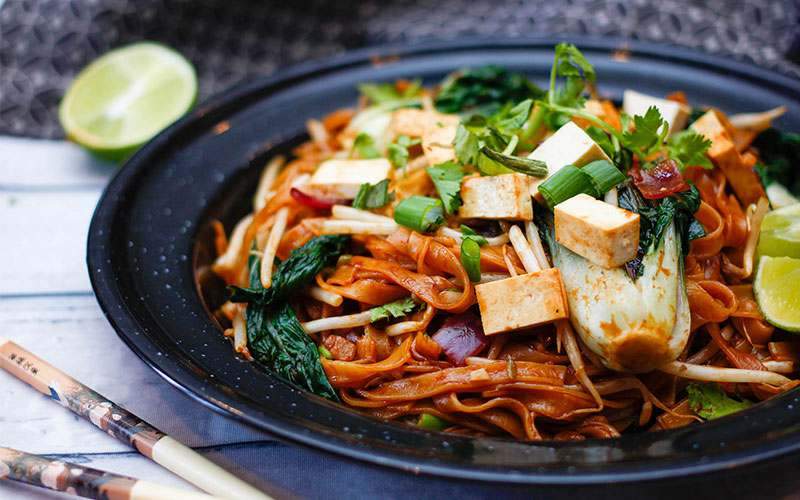 Recipe
Time: 45 minutes
Make the sauce. Whisk all ingredients (brown sugar, fish sauce, tamarind concentrate, fresh lime, crushed red pepper flakes, soy sauce) together in a medium bowl until completely combined. Set aside.
Cook the noodles. Meanwhile, cook your noodles al dente according to package instructions. Drain the noodles in a strainer, then rinse with cold water briefly to halt their cooking. Toss with one tablespoon oil briefly, to prevent the noodles from sticking.
Cook the chicken (or see other options below*). Heat one tablespoon oil in a large sauté pan or wok over high heat. Add chicken and sauté for 3-5 minutes, tossing occasionally, until the chicken is lightly golden on the edges and cooked through. Use a slotted spoon to transfer the chicken to a clean plate.
Cook the veggies. Add the remaining one tablespoon oil to the sauté pan, along with the bean sprouts, carrots, and garlic. Sauté for 2 minutes, stirring occasionally.
Cook the eggs. Push the veggies to one side of the pan, and add the eggs on the other side. Cook the eggs until scrambled, stirring often.
Put it all together. Then add everything back in — the cooked noodles, chicken, sauce and green onions. Give the mixture a good toss until everything is evenly coated in the sauce. Remove pan from the heat.
Serve. Then serve the Pad Thai while it's nice and hot, sprinkled with lots of crushed peanuts, extra crushed red pepper flakes (if desired).
Recommended place to eat
Pad Thai is available in countless street carts around the city. A stationary street cart is located right inside the gate of the Wat Ratchaburana (temple) near the Saphan Phut market. Chakkraphet Road, Wangburapha Subdistrict, Phra Nakorn District. Open in the late afternoon to late at night.
6. Khao pad (fried rice)
Fried rice, or Khao pad, is often enjoyed for lunch in Thailand. You will come across this dish when wandering through the crowded streets of Bangkok. Fried quickly at a high temperature, mixed with onion, vegetables and a choice of meat (pork, chicken, and beef) or prawns, Khao pad is a safe bet for tourists. Because it's normally not as spicy (though you can ask) as other Thai dishes.
Eat it with: Khao pad is usually served with a squeeze of lime on top, adding slightly sour tinge to an already tasty dish.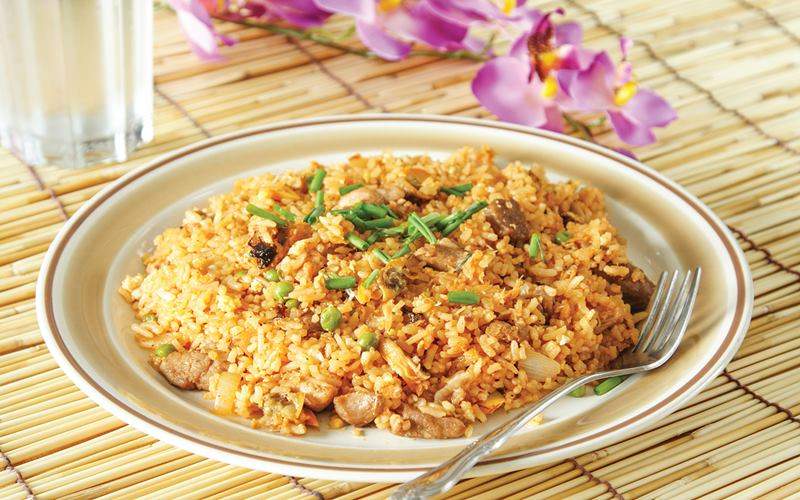 Recipe
Time: 20 minutes
Fresh shrimp: pinch off the head. Peel the outer shell, leaving only the tail on.
Garlic: peel away the skin, then just finely mince them.
White onion: slice it into medium-sized strips.
Chinese broccoli (kai-lan): slice it into 1-cm sized strips.
Heat up your frying pan, and add about 1 tablespoon of oil
Once your oil is hot, fry the garlic until it gets nice and fragrant
Toss in shrimp, fry for about 30 seconds
Add in your rice. Stir fry until the rice is dry.
Scoot everything to one side of the pan, and then crack in the egg into the empty side.
Whirl the egg up, let it cook for a few seconds, and then start mixing it up with the rice.
Keep frying until the egg is fully cooked.
Add ½ tablespoon of soy sauce, ½ tablespoon of oyster sauce, and continue to stir to mix all the sauce.
Add the chopped Chinese broccoli and onions, and stir fry for another 30 seconds.
Finally, toss in green onions, stir the rice a few more seconds, and it's ready to serve.

Recommended place to eat
Khao pad is available at every restaurant that serves stir-fried dishes throughout Thailand.
7. Nam Tok Moo (spicy Thai grilled pork salad)
Nam tok in Thai language literally means waterfall. Grilled tender juicy pork is mingled with lemon juice, green onions, chili, mint sprigs, fish sauce and toasted rice, making the unique taste of this dish.
Its brilliant name is inspired by the dressing and blood remaining in the meat.
Eat it with: You can enjoy this dish with sticky rice, Thai papaya salad or grilled chicken.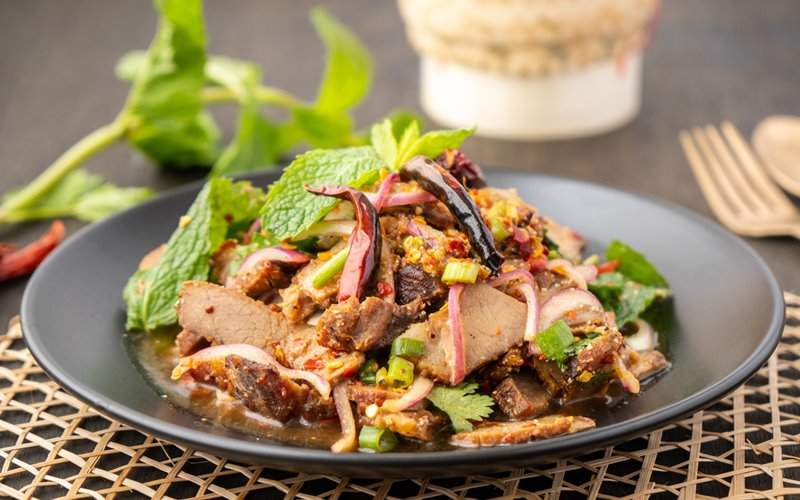 Recipe
Time: 1 hour and 15 minutes
Bake the marinated pork for about 1 hour. Then thinly slice.
Add sliced pork and a little bit of water into a hot pan. Bring to a rapid boil for 2 mins.
Add fish sauce, lime juice, sugar, ground toasted rice, dried chilli flakes, coriander, spring onions, shallots, and mint leaves.
Mix well and turn the heat off.
Enjoy. Garnish the dish with some mint leaves if you like.
Recommended place to eat
You can't go wrong ordering from Tida Esarn Restaurant, 1/2-5 Rangnam Road, Phaya Thai, Ratchawithi. Open from noon to 10 p.m. Tel: +66 (0)2 247 2234
8. Jim Jum (Thai hotpot)
"Jim jum" is the style of hot pot from the Northeast of Thailand that uses simple, staple ingredients in the Thai pantry. It's served in a clay pot over charcoal.
Jim Jum broth is normally pork or seafood based. The diners are given a selection of ingredients to add to the boiling soup including vegetable (often morning glory, cabbage) glass noodles, meat or seafood, and egg.
How to eat: Add the vegetables and herbs to the broth and pull them out whenever they're done to your liking. For the meat, dip the meat in raw egg (optional) and then dunk it in the broth and swish it around until done to your liking. Dip the meat and vegetable in the dipping sauce and enjoy!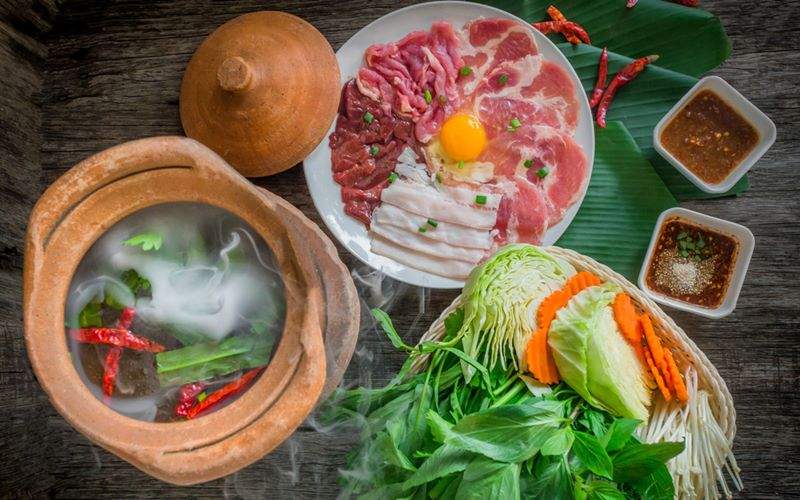 Recipe
Time: prepare time 30 minutes
The meat platter: Marinate the meat in oyster sauce, soy sauce, oil, tapioca starch and egg white for 20 – 30 mins.
Place all types of meat on a platter and the remaining egg in the middle, right on top of the meat.
The dipping sauce: Combine all ingredients (fish sauce, lime juice, tamarind juice, roasted chili flakes, chopped green onion, sugar, coriander – thinly slices) and stir until the sugar is dissolved. Stir the toasted rice powder in just before eating.
The vegetable platter: Cut everything into bite-sized pieces and arrange nicely on a serving plate. If using glass noodles, soak them in water for 7-10 mins.
The broth: Bring the pork broth to a simmer and add the lemongrass, galangal and kaffir lime leaves; simmer rapidly for 3-5 minutes. Add the fish sauce. Add the toasted rice powder into the broth right before you're about to eat.
Recommended place to eat
Larb Yasothorn Restaurant, 1/37 Ratchawithi Soi 2, Din Daeng Road, Samsaen Nai, Phaya Thai. Open from 4 p.m.-4 a.m. Tel: +66 (0)84 709 9880
9. Guay Teow Rhua (Boat noodles)
Guay teow rhua is known as "boat noodles," because the dish was originally served from boats navigating Bangkok and Ayutthaya's canals. Nowadays, Guay teow rhua is often found next to canals. The bowls are small so each average diner can eat many bowls in one meal.
The unique flavor of boat noodles comes from its pig's blood broth. The type of noodles used can vary. Beef, pork, liver or pork balls, and a few sprigs of morning glory are also added to the bowl.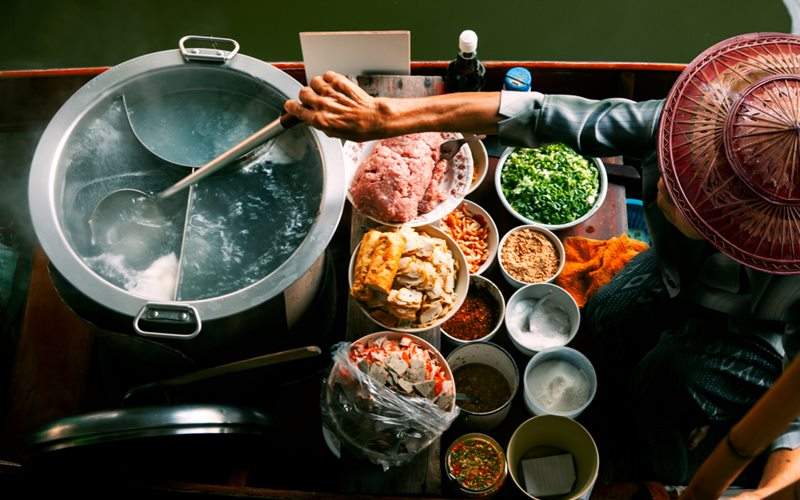 Recipe
Time: Prep Time: 30 minutes; Cook Time: 2 hours
For the Marinated Pork: Mix pork with vegetable oil, soy sauce, sugar and refrigerate for 2 hours.
For the Broth:
Add pork bones and water to a large stock pot, making sure the bones are completely submerged. Simmer for 45 minutes.
Add all broth ingredients and simmer for 1 more hour. Skimming the surface occasionally.
When the broth is done, and adjust the seasoning to your liking.
For the Chili Vinegar:
Grill the chilies and garlic until it turns brown. Pound them into a paste.
Blend the chilies paste with vinegar until there are no more big chunks
For the Noodles:
Soak the noodles in hot water just until they are soft and pliable.
Drain and rinse under cold water, then wrap and keep them in the fridge
To Assemble:
Put 1 portion of noodles, bean sprouts, and spinach into a noodle strainer and blanch in boiling water for 5 seconds. Drain and transfer to a serving bowl.
Add a little garlic oil to the noodles and toss to prevent them from sticking together.
Add meatballs and marinated pork to the broth. Simmer for about 1 min.
Once the pork is cooked, stir in the blood, making sure you stir while adding to prevent big clumps.
Pour the broth over the noodles.
Top the noodles with broth, crispy fried garlic, cilantro, basil, and chili flakes.
Recommended place to eat
To experience the chaotic serving of boat noodles go to Sud Yod Guay Teow Rhua (Pa Yuk) ("Best Boat Noodle"), located at Victory Monument on the boat noodle alley, on the road heading towards Phahon Yothin. Open from 11 a.m.-9 p.m. Tel: +66 (0)2 271 3178
10. Kai med ma muang (stir-fried chicken with cashew nuts)
Both tourists and local people love Kai Med Ma Muang – A tasty dish of stir-fried chicken with cashew nuts, honey, chilies, mushrooms, and other vegetables. You probably will see it on the menu of many Thai restaurants in the West, but the dish is also just as popular in Thailand.
With its contrasting textures and balance of hot and sweet, there is no doubt Kai Med Ma Muang is a must-try dish not just in Thailand, but in Asia, as well.
Eat it with: Rather than being a special occasion dish, Kai med ma muang is fit for daily meals with rice.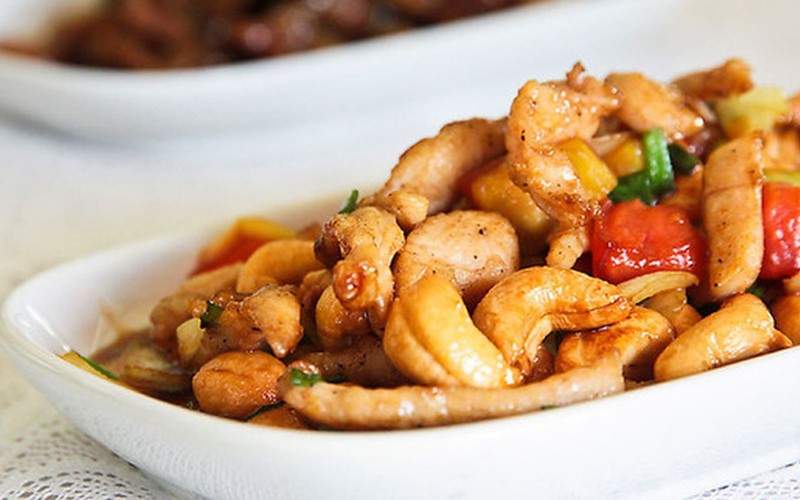 Recipe
Time: 25 mins
Mix all the seasoning ingredients (soy sauce, oyster sauce, ground white pepper, salt, sugar). Set aside.
Fry the cashew nuts until it gets light golden; place them on paper towels to absorb excess oil.
Fry the dried chilies until shiny and crispy; place them on paper towels to absorb excess oil.
Cut the chicken into bite-sized pieces. Roll in flour then deep fry the chicken until it turns light golden. Place on paper towels to absorb excess oil.
Cut the peppers, onions, green bananas into thin slices. Set aside.
Add oil and garlic to your hot pan, and stir fry quickly until fragrant.
Add the sliced yellow onions and stir fry until they become translucent.
Add the fried chicken, fried cashew nuts and fried chilies.
Add the seasoning sauce and stir fry until everything is evenly coated with the sauce.
Add spring onions and fresh chilies and mix. Enjoy
Recommended place to eat
Aldo's Mediterranean Bistro and Wine Bar |187 South Sathorn Road, Bangkok, 10120, Thailand +66 2676 6969
11. Gang Massaman (Thai Massaman Curry)
Originating from Southern Thailand as a Halal dish, Massaman is a wonderful mixture of curry paste, coconut milk, peanuts, and a hint of nutmeg and cinnamon.
Due to its Muslim roots, the curry is most commonly made with chicken but there are also variations with beef, goat or and less popular pork (as eating pork is forbidden in Islam).
Eat it with: Gang Massaman is usually eaten with rice together in a meal with other dishes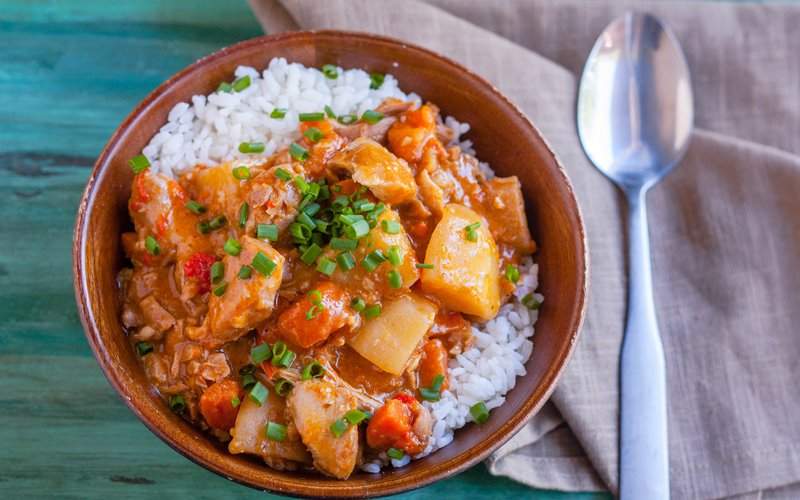 Recipe
Time: 50 minutes
Gather the ingredients.
Heat your pan. Drizzle in the oil, then add the onion, ginger, garlic, and chilies. Fry for 1 to 2 minutes to release the fragrance.
Add the following: lemongrass, bay leaves, turmeric, chopped cashews, ground coriander, whole cumin seed, cardamom, lime juice, shrimp paste, fish sauce, and sugar. Stir and bring to a light boil.
Stir in the chicken, then add the coconut milk and potatoes. Reduce heat and simmer for 30 mins until chicken and potatoes are tender.
Add red pepper and tomato 10 mins before the finish.
Add a handful more cashews.
Top with fresh coriander.
Recommended place to eat
Baan Ajarn Restaurant | 107/7-8 Soi Rangnam Rd, Phaya Thai, Ratchawithi. Open from 11 a.m.-11 p.m. Tel: +66 (0)2 245 2775
12. Kai Jiew Moo Saap (Thai Pork Omelet)
A simple yet savory dish that comes together in minutes. That is Kai Jiew Moo Saap as known as Thai-style Omelet. Fish sauce and soy sauce are added to the beaten eggs, along with green onions and herbs. The egg mixture is then deep fried into a browned and crispy omelet, which is quite different from French omelet.
Eat it with: Kai Jiew Moo Saap is best eaten with a fresh plate of steamed rice and sauce prik, which is like sweet tangy ketchup.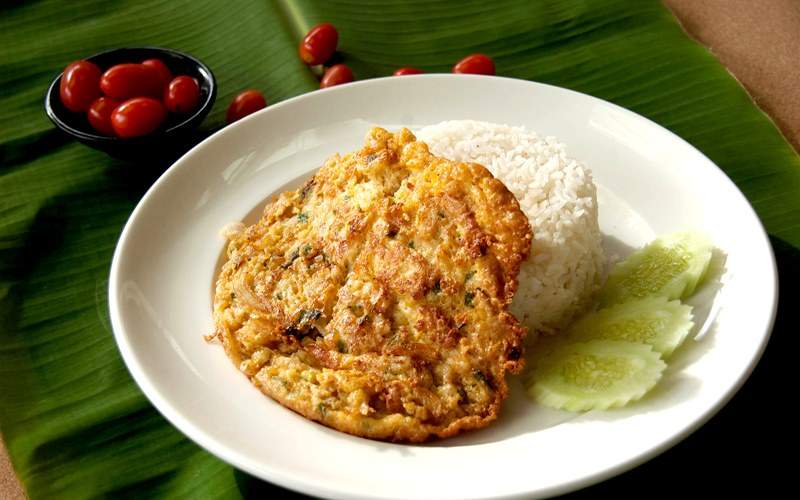 Recipe
Time: About 10 minutes or less
Crack the egg into a mixing bowl. Add minced pork, green onions then soy sauce and fish sauce.
Start to whisk and beat up the egg, using deep circular motions.
Place the saucepan on medium-high heat, add frying oil. Once the oil is hot enough, pour in your egg mixture. If your oil is at the perfect temperature, it should bubble up all puffy.
Wait for 30 seconds or so before it's time to flip over your omelet.
Cook it again for about 30 seconds more.
It is ready when your omelet is golden yellow on both sides, and there's no runny egg in the middle.
Recommended place to eat
In Thailand, Kai Jiew Moo Saap is available at any and all stir fry street food (ahaan dtam song) restaurants. Try Kun Su Restaurant, located on Phaya Thai, Soi Rangnam, across the street from Century Mall. Tel: +66 (0)81 883 5487, (0)81 666 2901
13. Kao Moo Dang (Thai BBQ Red Pork with Rice)
Khao=rice, Moo=pork, Dang=red. Khao Moo Dang literally means Red pork with rice – an extremely popular Thai Chinese dish. This dish is basically a plate of white rice topped with sliced red barbecue pork, sliced crispy pork, sliced Chinese sausage and hard-boiled egg. Everything is covered in a delicious sweet red sauce.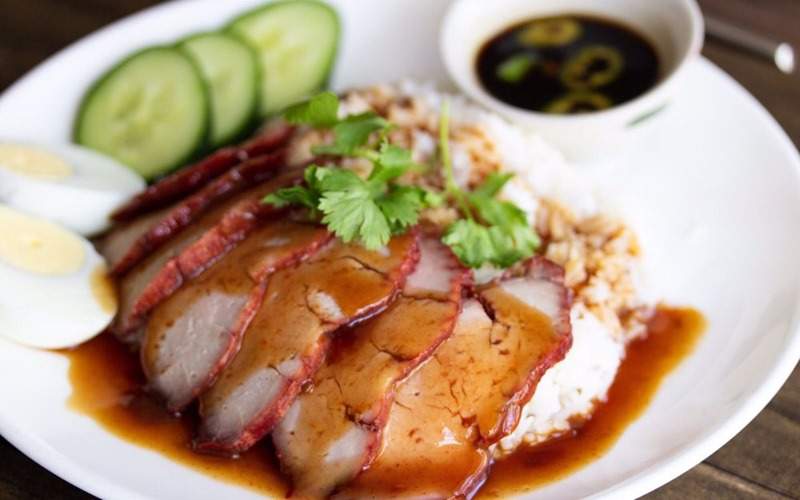 Recipe
Time: 30 minutes
Spin white sesame seeds and roasted peanuts thoroughly.
Add marinated roasted pork sauce in to chicken stock and bring to a boil for 10 minutes. Drop out marinated ingredients of roasted pork. Add black bean sauce and sesame which already spun down.
Dissolve starch with water then slowly added into the pot. Keep stir when adding; otherwise, the dough will be lumpy.
Ladle rice on a plate. Place chopped cucumber aside, followed by onion.
Slice boiled eggs and arrange them on the rice plate together with sliced sausage, BBQ pork, and crispy pork. Dressing with sweet red sauce.
Recommended place to eat
Ran Guay Jab Jaedang (nickname: Microphone), located on Ratchawithi Road, close to Soi 6, right by Siam Computer and Language School. The carts roll onto the street at about 5 p.m. and stay open until around 2 a.m.
14. Plah Kah Pung Neung Manow (Steamed Snapper)
Continue the list with a seafood dish – Thai steamed Snapper. Sour, spicy, and garlicky; this delicious dish contains all the exciting flavor that will explode your taste bud at the first bite.
Plah Kah Pung Neung Manow is often served in a fish-shaped pan with candlelit underneath to keep it steaming.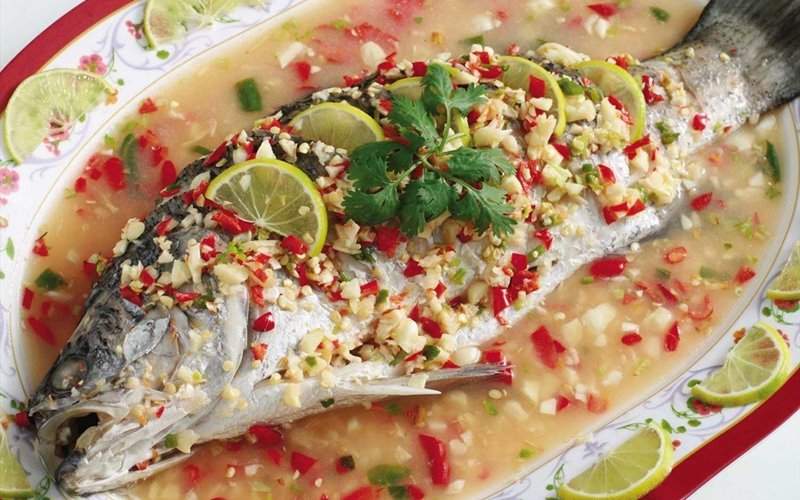 Recipe
Time: 40 minutes
Cut 3 – 5 diagonal slashes on both sides of the fish
Line steaming dish with lemongrass, ginger and kaffir lime leaves. Use the remaining to stuff into cavity of the fish. Place fish on steaming dish.
Boil the water in the bottom of the steamer.
Placing the fish onto the steamer. Cover and steam for 10 – 12 minutes. If you plan to serve the dish on a normal plate (not heated platter), steam until cooked through.
Mix chili peppers, chopped garlic, cilantro, chicken broth, fish sauce, lime juice and sugar in the mixing bowl. Taste to adjust seasoning.
Pour stock made in step 5 all over the fish. Keep simmer for 5 mins more.
When the fish is cooked to the desired degree, transfer the hot fish to a fish-shaped serving platter or any serving plate.
Recommended place to eat
T & K Seafood in Yaowarat (Chinatown) serves a brilliant selection of Thai and Chinese seafood dishes. In the late afternoon, the restaurant starts setting up chairs and tables street-side that start to fill up by evening. 49-51 Soi Phadung Dao, Yaowarat Rd, Bangkok 10100. Open from 4:30 p.m.-2 a.m., Tel: +66 (0)1 507 5555
15. Kao Niew Ma Muang (mango sticky rice)
Yellow mango and sticky rice seem to be an odd combination, but it is outrageously delicious.
A small bed of super glutinous rice is placed under slices of fresh, ripe mango. A drizzle of coconut cream syrup comes as the final touch to complete the dish.
Kao Niew Ma Muang can be found at many makeshift stands throughout Thailand.
Eat it with: Kao Niew Ma Muang is a perfect dessert to cool down your taste after spicy Thai course.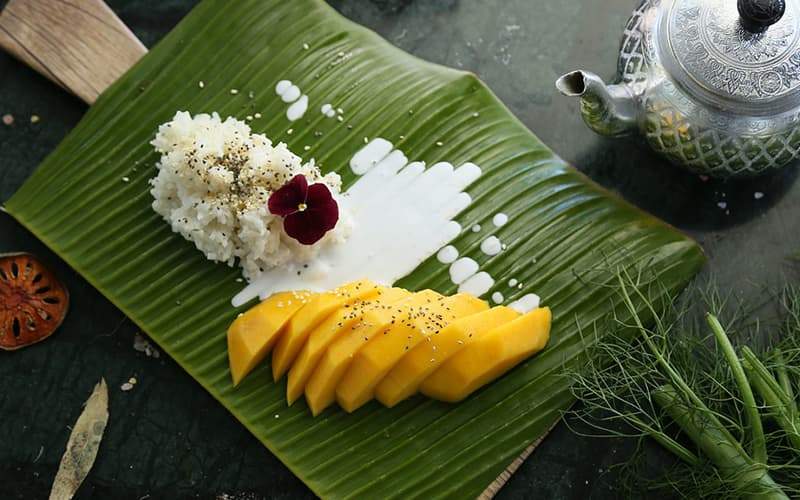 Recipe
Time: 30 minutes
Soak the sticky rice in water overnight. Then steam it for about 20 minutes or until the grains are soft and translucent.
Mix the coconut milk, salt, and sugar over medium heat. When the mixture is smooth, it is done. Reserve 2 Tablespoons for later.
Add steamed rice to the coconut milk sauce. Add it in small portions and allow the rice time to observe the liquid before adding more.
Slice a ripe mango and arrange next to the rice. Spoon the reserved coconut sauce on top and garnish with toasted sesame seeds. Enjoy!
Recommended place to eat
You can find great kao niew ma muang on Phaya Thai Phahon Yothin Soi 1 Lue Cha. Fancier Thai restaurants will all offer the dish as a prized dessert.
Where can we take you?
Got an idea? Tell us what you're thinking and one of our travel experts will be in touch shortly to create the perfect holiday for you!
Itineraries
Romantic
Thailand
Highlight city: Bangkok, Ayutthaya, Chiang Mai, Mae Kampong, Krabi
---
Highlights
Thailand - Cambodia
Highlight city: Bangkok, Phnom Penh, Siem Reap
---
Romantic
Thailand - Vietnam
Highlight city: Bangkok, Chiang Mai, Hanoi, Halong, Hoi An, Hue, Ho Chi Minh City
---