Who hasn't been mesmerized by the photographs of thousands of paper lanterns lifting up into the night sky of Thailand? Although you've seen these images a million times, do you know why this happens and what it represents? Here's the low-down on two of Thailand's most legendary festivals, Yi Peng and Loi Krathong.
What is the Yi Peng Lantern Festival?
The Yi Peng Lantern Festival is a special holiday celebrated by the Lanna people of northern Thailand. In Chiang Mai, the stronghold of Lanna culture, houses and temples are decorated with colorful lanterns to mark the approach of the holiday.
This festival of lights is iconic for the thousands of paper lanterns released into the sky, often adorned with written messages, prayers, and wishes. The sky lanterns are known as khom loi and usually made from thin pieces of rice paper.
Khom Loi can be bought at many temples throughout Chiang Mai. Releasing these lanterns is a symbol of letting go of misfortunes and receiving merit, an important concept in Buddhism. If you release your lantern correctly, it's believed that your wish will come true IF you do good deeds in the next year. Make sure to watch your lantern until it disappears for the best luck, but do be careful because if it burns out while in full view it's considered VERY bad luck!
Yi Peng occurs simultaneously with another important Thai festival, Loi Krathong. If you visit Chiang Mai during this time, be prepared for large crowds and higher prices when booking hotels and other activities due to the massive influx in both domestic and international visitors.
What does Loi Krathong mean?
Loi Krathong comes from two Thai words. The first, loi, means to float, while krathong is a type of small floating basket made from banana tree trunks or old bread. Thai people generally create their own krathongs with folded banana leaves, exotic flowers, candles and incense. Then, they place the small boat into a river stream as an offering to the goddess of the water Pra Mae Khongkha.
For centuries, Thai people have made a living through agriculture, so this festival is a way for locals to ask forgiveness to the water goddess for using resources and causing pollution. Sometimes, locals place a coin in the float for good luck or some strands of hair and fingernail clippings as a symbol of letting go of misfortune, anger and grief.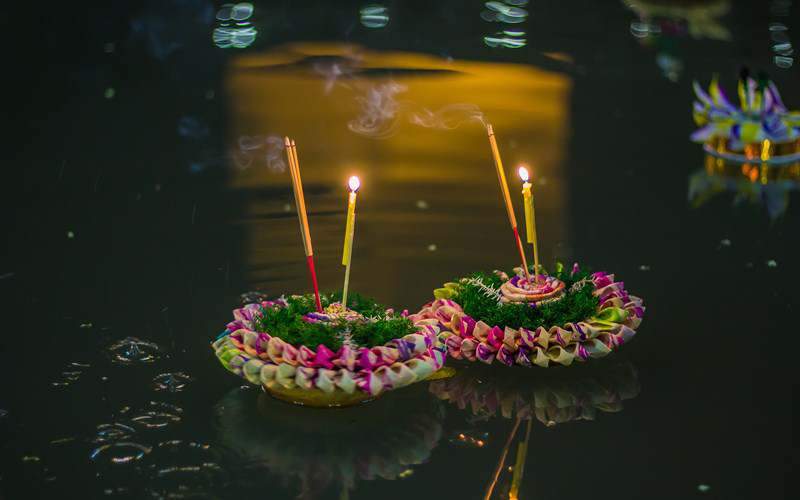 Example of a krathong
History of Loi Krathong
It is believed the origins of Loi Krathong come from India. In fact, there are some similarities with the Indian holiday Deepavali, which is also celebrated between mid-October to mid-November every year. Both festivals offer floating baskets to river deities to express gratitude, thankfulness, and the desire for forgiveness.
Thai legend talks of a beautiful consort of the Sukhothai court named Nang Noppamus who was the daughter of a Brahmin priest. As she was very clever and talented, she created the first krathong in the shape of a delicate lotus flower and presented it to King Ramhamhaeng who enthralled with the design, accepted the gift and set it in the water with a lit candle atop.
Although this legend is not a factual account of the festival's background, it is a story loved by Thai people, so much so in fact that there is a beauty contest during the event named after this character.
When are Loi Krathong and Yi Peng celebrated?
These festivals are celebrated on the twelfth lunar month according to the Thai calendar on the full moon day. Usually, this falls anywhere from mid-October to mid-November and lasts for a few days. Keep in mind the date changes every year so it's difficult to predict it too far in advance.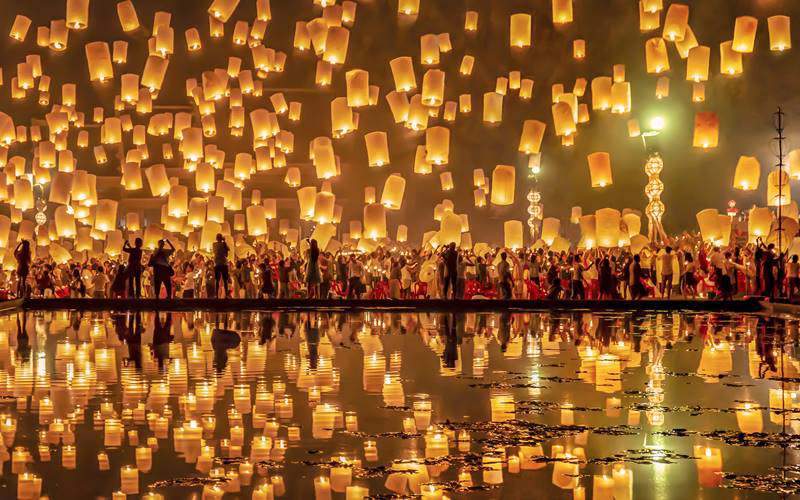 The reflection of the sky lanterns on the lake creates a magical atmosphere
Responsible travel during Loi Krathong and Yi Peng Festivals
Although both of these festivals are incredibly beautiful and picturesque, it's important to take care in how you join the activities. Reports after the festivals each year talk of massive water pollution as krathongs clog rivers and streams and lanterns start fires in protected environments.
Therefore, make sure your krathong is built from bio-degradable materials, such as old bread which will dissolve or be eaten by fish, or banana stalks. Refrain from using plastic, Styrofoam, or paper krathongs.
Likewise, please avoid using lanterns made with metal wires and paper. If participating in the festival, limit yourself to only one lantern and use biodegradable lanterns made from bamboo and rice paper. If you use a lantern with metal wires, animals can get injured and ecosystems polluted.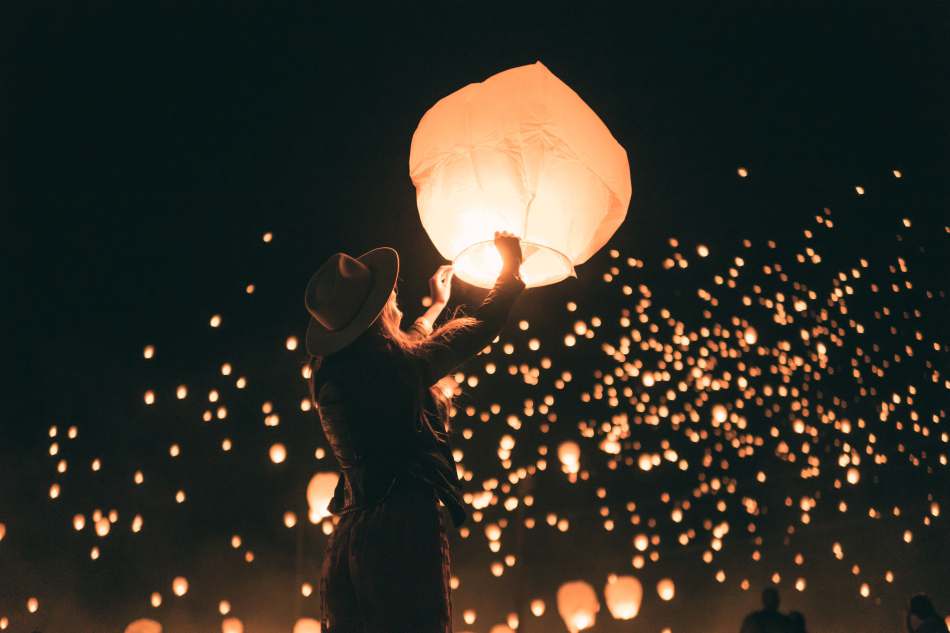 A woman releases her sky lantern into the night
Best places in Chiang Mai to view Yi Peng Festival
There are many free lantern release events throughout the city. Try temples with big garden grounds like Wat Lok Moli and Wat Suan Dok. Tha Phae Gate and Nawarat Bridge on the Ping River are also popular places where locals and foreigners join in the festivities together.
However, if you're looking for the best places to snap those once-in-a-lifetime photos, you'll need a ticket to one of these locations:
Chiangmai CAD Khomloy Eco – Friendly Sky Lanterns Festival
This ceremony is hosted by the local government outside of downtown Chiang Mai on two different dates.
Location: The CAD Cultural Center Lanna Ethnicity
Capacity: up to 5000 people
Yee Peng Doi Saket
If you want to get out of the city and experience lanterns rising out of the dark in the surrounding countryside try Doi Saket, about 30 km out of the city.  This celebration is bit smaller than Chiang Mai CAD but cheaper.
Location: Doi Saket Hot Springs
Capacity: 2,500 people
Northern Study Center
This location holds two lantern releases on different days.
Location: Northern Study Center, Maerim District
Capacity: 4,000 people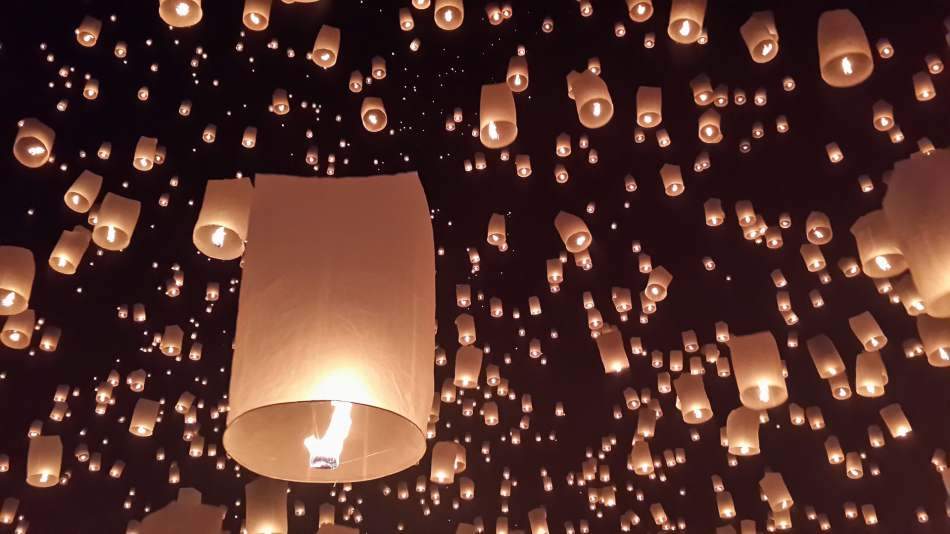 Find yourself in a real-life fairy tale in Chiang Mai
Where to celebrate Loi Krathong?
You can revel in Loi Krathong wherever there is a body of water throughout Thailand this year on Oct 31 and November 01, 2020. Mundo Asia has taken the liberty to compile some of the best places throughout the country for you to enjoy this special ceremony.
Bangkok
 Asiatique (Riverside)
Wat Saket (Riverside/Old City)
Phra Athit Pier (Riverside/Old City)
Maharaj Lifestyle Mall (Riverside/Old City)
Lumpini Park (Silom)
Benjasiri Park (Sukhumvit)
Benjakiti Park (Sukhumvit)
Chatuchak Park
Chiang Mai
Nawarat Bridge
Thanon Charoen Mueang Bridge
Loi Kroh Bridge
Tha Phae Gate
Sukhothai
Sukhothai Historical Park
Yom River in New Sukothai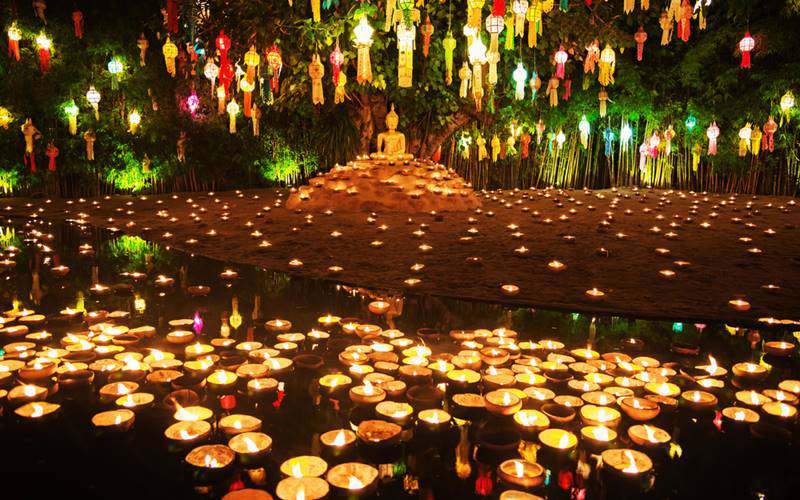 The most beautiful festival of all Thai celebrations
We are sure wherever you choose to celebrate this beautiful holiday will bring you lasting memories and good fortune for the next year. Happy Festival of Lights!
Where can we take you?
Got an idea? Tell us what you're thinking and one of our travel experts will be in touch shortly to create the perfect holiday for you!