Thailand
A journey to Southeast Asia would not be complete without a stop in tantalizing Thailand. Its capital city, Bangkok, displays a backdrop of ancient tradition and cultural heritage against a vibrant and modern city life. The quieter Chiang Mai and Chiang Rai in the mountainous region of northern Thailand have a peaceful atmosphere with lush green surroundings and plethora of cultural immersion activities. Marvel at the ruins of Ayutthaya and Sukhothai, once powerful ancient capitals of the Kingdom of Siam but now rightfully UNESCO World Heritage Sites. Indulge in tasty Thai dishes of Pad Thai and Tom Yum Goong before chasing the sun to Phuket, Krabi, Phi Phi Islands or Ko Samui in the south, some of the world's most beautiful beach destinations. Last but not least, if you're looking for less populated island paradises, Similan Islands, Ko Lipe and Ko Tao are the best.
Population:
69.1 million (2018)
2020 Thailand

travel packages

Thailand

Bangkok, Ayutthaya, Chiang Mai, Chiang Rai, Phuket
---
Thailand
Bangkok, Ayutthaya, Chiang Mai, Mae Kampong, Krabi
---
Thailand
Bangkok, Ayutthaya, Chiang Mai
---
Thailand
highlights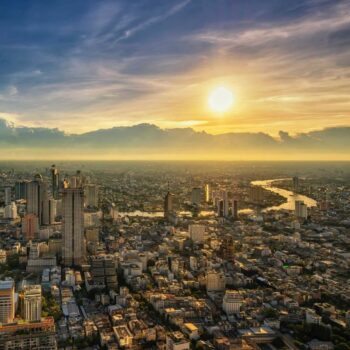 Bangkok
Same same but different is a summary of Bangkok, the capital of Thailand, a city of contrasts with shrines and vibrant street life along the Chao Phraya river.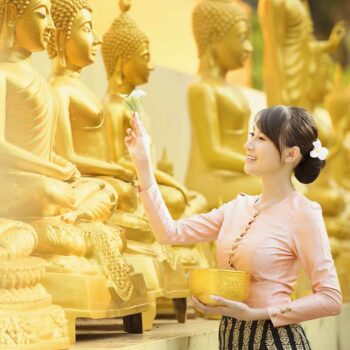 Chiang Mai
The largest province in mountainous northern Thailand, Chiang Mai, the former capital of the Lanna Kingdom, is a world away from the sprawl and noise of Bangkok.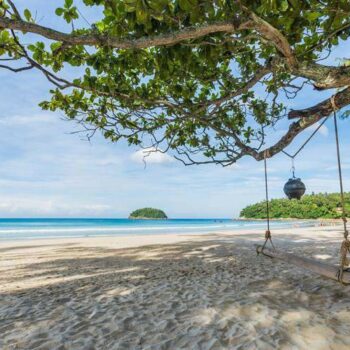 Phuket
Phuket is the most popular resort island in Asia, located in the Amanda Sea, southern Thailand, a favorite destination for beach lovers.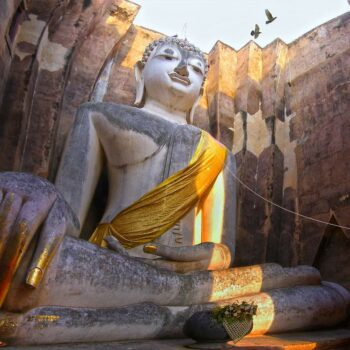 Sukhothai
Return to the golden age of Thai civilization in Sukohthai, literally translated as "the dawn of happiness".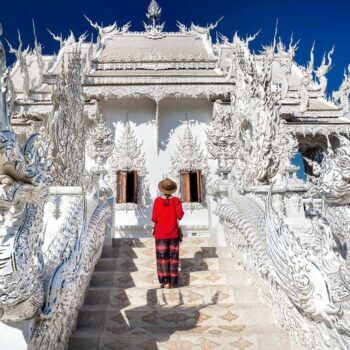 Chiang Rai
Chiang Rai, the northernmost part of Thailand, is famous for its beautiful Buddhist temples, unique ethnic tribes and majestic mountain scenery.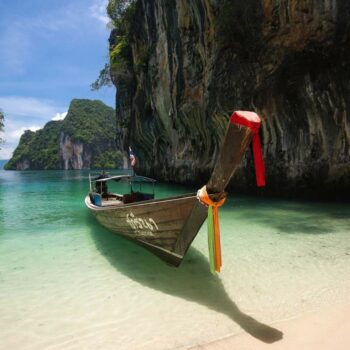 Phi Phi Islands
Phi Phi Islands is a sea paradise located in southern Thailand, including 6 islands with limestone mountains covered by lush green trees.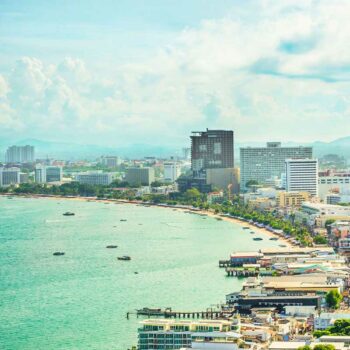 Pattaya
Escape to the seaside in Pattaya, a city shaking off its seedy reputation and replacing it with family-friendly fun on the Gulf of Thailand.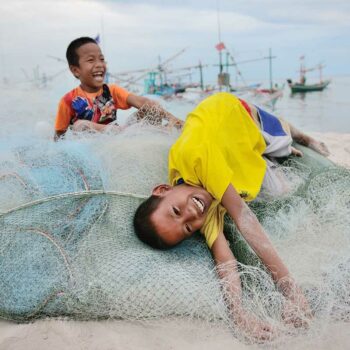 Hua Hin
Experience the best of cosmopolitan sophistication and luxury resorts and beaches in the seaside resort town of Hua Hin.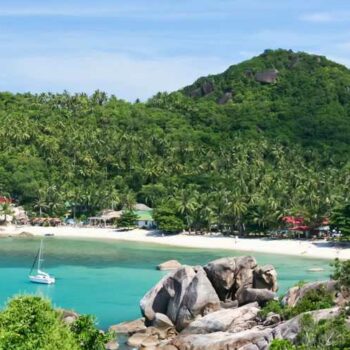 Koh Samui
Koh Samui is Thailand's leading resort island, located in the Gulf of Thailand, attracted by pristine beaches with fine white sand and clear water.
Travel guide
Time to visit
The inviting tropical climate of Thailand creates an all-year-round travel destination with few exceptions. There are three distinct seasons characterized by
The hot season from March to mid-May
The rainy, monsoon season from mid-May to October
The dry, "cool" season from November to February.
The peak season for visiting begins at the end of October and stretches until the end of February to catch the pleasant temperatures of the dry season before the hot season begins. The rains start to come in May across the country and last anywhere from October and late November depending on the region, ensuring vibrant green landscapes, rushing waterfalls, and flooded islands and beaches. One of the most popular times to visit for locals and foreigners alike is during Songkran, celebrated between the 12th and 15th of April. Welcome in the Thai New Year by cleaning images of Buddha, visiting pagodas, and soaking family and friends with water guns and buckets of waters lying around to help wash away sins and bad luck.
Accommodation
It's no surprise that Thailand's level of accommodation and service is top-notch when the capital of Bangkok is 2017's number 1 most-visited city in the world. With a variety of different hotel categories from quaint homestays and bed and breakfasts at $5 – $20 per night to chic modern city hotels, charming bungalows by the sea and upmarket "barefoot luxury" resorts starting at $100 per night, there is something for every type of traveller in Thailand. Our favourite stays in the land of smiles include the Mandarin Oriental in Bangkok, Six Senses Koh Samui, Four Seasons Tented Camp Chiang Rai, and the 137 Pillars House Chiang Mai.
Food & drink
Thai dishes are renowned throughout the world for the exquisite quality of ingredients used and the interplay of spicy, sour, bitter, salty, and sweet flavours. In fact, gorgeous curries and the iconic tom yum goon consistently rank in the top 50 of the world's best foods – in 2017 alone, Thailand had 7 dishes on the list, more than any other country. From the country's big culinary centres of Bangkok and Chiang Mai to provincial towns and regional specialties, Thailand truly is a foodie's paradise with its cooking classes, night market food courts, street stalls, and acclaimed restaurants. Inexpensive Thai restaurants and cafes usually have dishes priced around $1 – $2 each, while a sit-down restaurant can range in price from $5 – $20 per person depending on its quality. Make sure to try the night markets where you can fill your belly with an assortment of snacks for less than $5! Chopsticks are only used for noodles as Thai people use a fork in their left hand and the spoon in the right hand to eat most dishes.
Communication
Wi-fi is standard in restaurants, cafés, guesthouses, and hotels. All Thai telephone numbers have a 0 at the beginning unless you are calling from overseas. The provincial area code, the following three numbers, also must be dialed to complete the call. Mobile numbers can be identified if the number following the zero is a 6, 8, or 9. A SIM card for mobile phone runs around $6 with internet data and talk time for one month at $15 per month. You can buy a SIM Card at 7/11, shopping malls or phone stores. In case of emergency, dial 1155 for the tourist police, 191 for the general police, 1554 for ambulance and rescue, and 199 for a fire. Thailand also has very reliable and cheap local and international postal services, open from 8:30 – 4:30 during the week and until noon on Saturdays. Regardless of its efficiency, protect yourself and do not send cash or valuables through the mail.
Transport
Thailand is an easy country to navigate due to its well-managed infrastructure and transportation options. Full-serviced airlines like Thai and Bangkok Airways with tickets starting from $120 one-way and budget airlines like Air Asia, Nok Air, and Thai Smile starting at $30 one-way fly to many destinations. Air-conditioned mini-vans and buses traverse the country with comfy and clean seats from $12 – $20 depending on class and distance. Bangkok is notorious for traffic jams due to the surplus of affordable taxis, cars, tuk-tuks, and motorbikes filling the streets, so when it all becomes too much, take the BTS or underground MRT to get where you need to go quickly. Islands can usually be reached by plane, or a combination of bus plus ferry around $12 can get you where you need to go. Songthaews, a type of pick-up truck outfitted with two benches in the hub, operate either independently or on fixed routes taking passengers from point to point, especially in Chiang Mai. Lastly, when trying a ride in the iconic tuk-tuk, make sure to negotiate your price beforehand!
Visa requirements
Visa exemption
Citizens of the following countries do not need a visa for tourism purposes as long as they stay less than the period listed below.
90 days—Argentina, Brazil, Chile, South Korea, and Peru
30 days—Australia, Austria, Bahrain, Belgium, Brunei, Canada, Czech Republic, Denmark, Estonia, Finland, France, Germany, Greece, Hong Kong, Hungary, Iceland, Indonesia, Ireland, Israel, Italy, Japan, Kuwait, Laos, Liechtenstein, Luxembourg, Malaysia, Macau, Monaco, Mongolia, the Netherlands, New Zealand, Norway, Oman, the Philippines, Poland, Portugal, Qatar, Russia, Singapore, Slovakia, Slovenia, South Africa, Spain, Sweden, Switzerland, Turkey, UAE, UK, USA, and Vietnam.
Visa on arrival and e-visa
If your country is not listed in the visa exemption, it's possible to visit Thailand by attaining a visa on arrival or e-visa. Please see your country's consular page for more information.
Why travel with Mundo Asia?
Get lost in the hidden charm of South East Asia