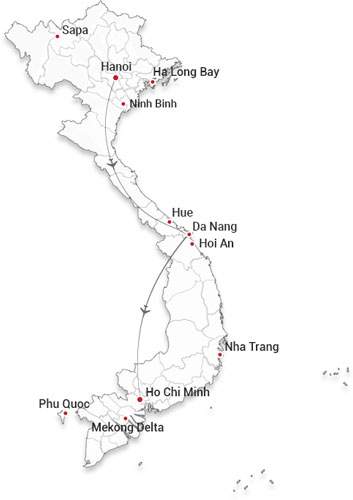 If you are planning to explore the appealing scenic beauty of Vietnam, a two-week itinerary is the top selection to choose from. This S-shaped country abounds in intriguing destinations elongating from North to South, filled with an amazing diversity of verdant landscape, mouth-watering cuisines and gives you endlessly unique experiences in just two weeks. 10 days is not enough to go full North to South, suitable if you are under time constraints or you plan to return to Vietnam. 3 weeks is ideal if you desire to immerse yourself in the whole Vietnam.
In this article, you are provided with all necessary and reputable information to plan an ideal and memorable two-week trip to Vietnam.
How to manage your budget and save money?
How and when to book your tour?
Places to visit in two weeks
Vietnam is a perfect mix of numerous staggering natural highlights and cultural diversity, regarded as one of the most Southeast Asian overrated countries. Thanks to the thousand-year history and diverse terrain, this 331,210 km2 S-shaped country consists of 20 world heritage sites (8 tangible heritage, 12 intangible heritage). You can get to the top of epic thousand-of-meter-high mountains in the North, feast your eyes on the most beautiful and the world's largest caves in the Central, dive to see the coral reefs at turquoise beaches in the South. Hanoi, Hoi An and Ho Chi Minh City are the three most worthy-visited quaint cities in Vietnam. They share the same ancient features but each of them boasts its distinctive beauty – Hanoi's liveliness, Hoi An's peace and Ho Chi Minh City's vibrancy.
>> Top 10 places to visit in Vietnam in detail
1. Sapa – The roof of Vietnam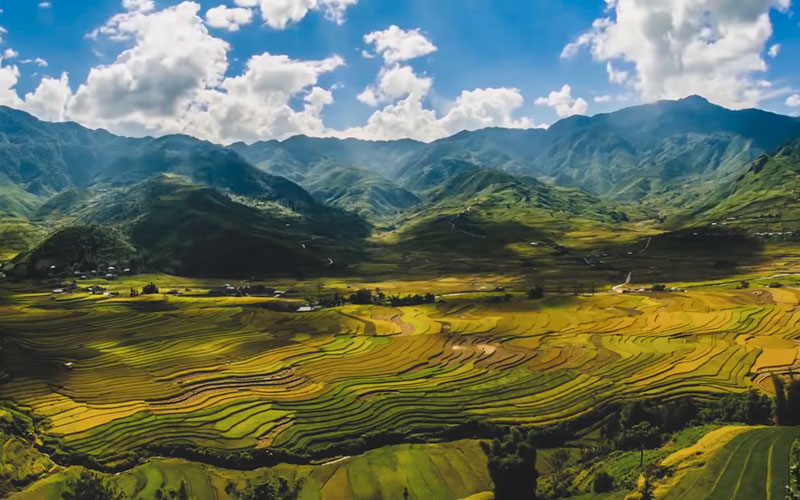 The frontier township of Sapa is the combination of sharp mountains, green valleys and terraced rice fields with scenic curving roads weaving in and out of the mountains.
Suggested length of stay: 1 – 2 days
Highlights: Fansipan, Muong Hoa Valley, Ham Rong Mountain, Silver Waterfall, Ta Phin Village.
Accommodation: Sapa offers a great variety of accommodation from hostels, homestays (USD 5 – USD 20/night) to hotels (USD 25 – USD 200/night).
Food: Sapa serves unique dishes of local people in minority villages like Thang Co (horse soup), Com Lam (bamboo sticky rice), free-range pig, salmon hot pot, dried buffalo meat and many Asian or Western ones as well.
Transportation options: private car, motorcycle, cable car. Destinations in Sapa are not far away from each other, so you can rent a motorbike at the price of around USD 5 per day. Cable car in a round trip to Fansipan costs USD 26 per adult and USD 18 per child.
Time to visit: Sapa is beautiful year-round but there may be floods from June to September. If you wish to "date" with terraced fields, you should go in May – watering season or from the end of September to early October – ripe rice season.
2. Hanoi – A quaint capital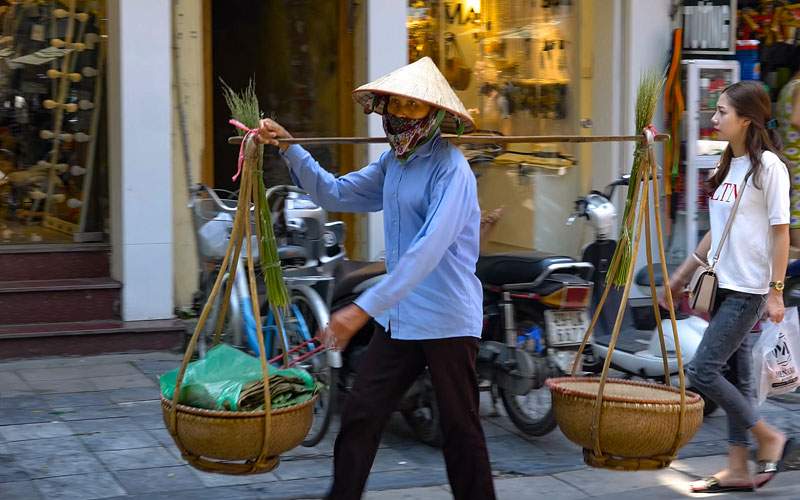 Hanoi, the capital of the thousand-year-old civilization, is a great place to get a decent understanding of Vietnamese culture, way of life and spirit.
Suggested length of stay: 2 – 3 days
Highlights: The Old Quarter, Thang Long Imperial Citadel, Ho Chi Minh Mausoleum, Hoa Lo Prison, One Pillar Pagoda, Temple of Literature, Hoan Kiem Lake.
Accommodation: Hanoi attracts the huge number of tourists from different countries in the world, so it offers a great range of hostels (USD 10 – USD 40/night), homestays (USD 15 – USD 50/night), and hotels (USD 20 – USD 400/night).
Food: Hanoi is considered as the paradise for foodies with various tasty street food to local dishes like Pho, Bun Cha, Banh Cuon, Banh Mi… Besides local restaurants, there are also many Western restaurants around Hanoi.
Transportation options: bus, private car, taxi, cyclo, motorcycle. Trying cyclo with the price at about USD 4 per hour or walking around The Old Quarter is the unmissable thing when you are in Hanoi. Motorcycle is the most flexible and low-priced transport, with around USD 5 for a daily rental.
Time to visit: You can visit the pulsing Hanoi at any time of the year. On Tet Holiday and Independence Day, Hanoi stands out with its peaceful atmosphere.
3. Ha Long Bay – Spectacular tourist trap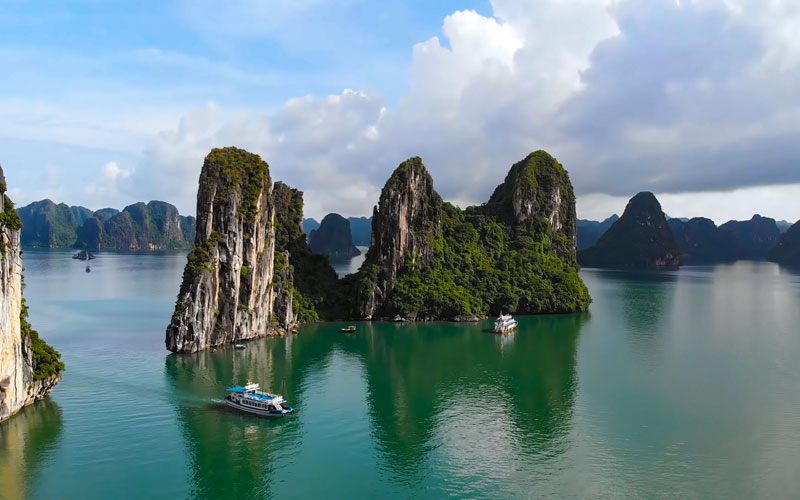 Ha Long Bay, one of the Seven Wonders of the World, is a spectacular seascape filled with lush green limestone islands and karst grottoes emerging of calm blue waters.
Suggested length of stay: 2 – 3 days
Highlights: Ti Top Island, Sung Sot Cave, The Kissing Rocks, Poem Mountain, Cua Van Floating Village.
Accommodation: In addition to guesthouses, hotels, and resorts, Ha Long also offers two types of cruise boats: day cruise (about USD 50 – USD 90) and overnight cruise (USD 100 – USD 300).
Food: Ha Long Bay is home to a variety of seafood. Besides Asian restaurants, many Western ones are also served here.
Transportation options: cruise boat, seaplane. It is a humbling experience to jump on a 25-minute flight and have a panoramic view of Ha Long Bay with the fare of around USD 130.
Time to visit: Ha Long Bay has the most gorgeous beauty in April with a crystal blue sky. The weather is pleasant from November to March, a good time to go. However, you should consider visiting in August and September due to its typhoon season.
4. Ninh Binh – "Ha Long Bay" on land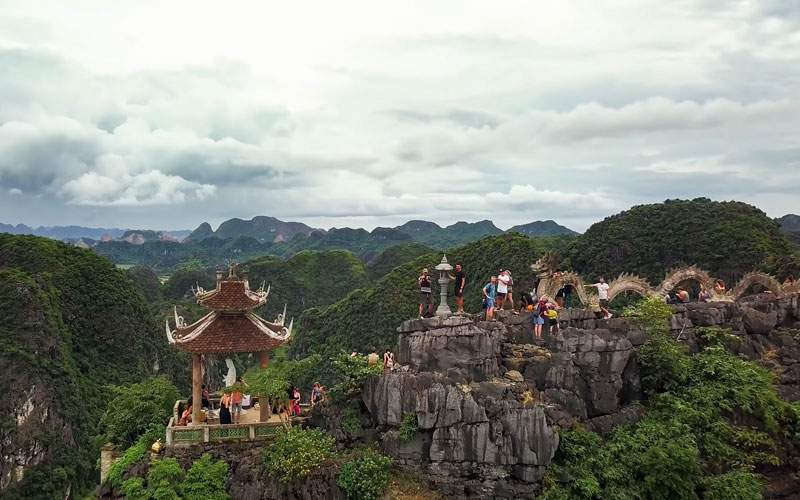 Ninh Binh is a gift of Mother Nature, narrow rivers and quiet roads winding among thousands of karst mountains. Your sight will be pampered in the lush green of leaves and rice fields
Suggested length of stay: 1 day
Highlights: Trang An Scenic Landscape Complex, Tam Coc, Cuc Phuong National Park, Mua Cave, Hoa Lu.
Accommodation: Ninh Binh offers a few options of hostels and hotels; however, more and more properties are nowadays added to its accommodation list. Dorm beds starts at around USD 10 per night, USD 20 for hostels and USD 70 for hotels.
Food: Delicious dishes made from goat are Ninh Binh's special cuisine. Besides, Com Chay (rice crust), Goi Ca Ghenh (Nhech fish salad), Oc Nui (mountain nails) are also popular. Ninh Binh does not serve many Western restaurants.
Transportation options: motorcycle, bicycle. Tourists can rent a motorbike (USD 5 – USD 7/day) or a bike (USD 3 – USD 4/day) to explore the tiny paths between mountains, next to the fields.
Time to visit: Ninh Binh is scenic year-round. From late May to June and from late September to October, ripe rice fields add fascinating yellow to the picturesque scene.
5. Hue – The remains of feudalism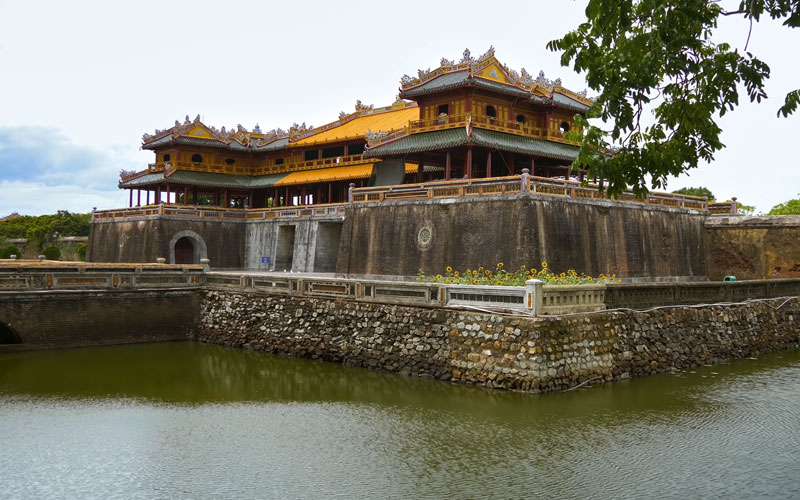 Hue is the home to important historical attractions in Vietnam, preserving much of its royal and magnificence of the feudalism.
Suggested length of stay: 1 – 2 days
Highlights: Hue Citadel, Thien Mu Pagoda, Phu Cam Church, Royal Tomb of Khai Dinh King, Dong Ba Market, Meridian Gate.
Accommodation: Not as expensive as other cities in the Central Vietnam, Hue offers many lovely hostels and hotels, varying from USD 5 to USD 20 for hostels and USD 20 to USD 100 for hotels.
Food: Hue is famous for having simple but sophisticated dishes like Com Hen (clam rice), Bun Bo Hue (Hue beef soup), Banh bot loc (chestnut starch cakes), Banh canh (thick noodle soup), Nem lui (Lemongrass skewers).
Transportation options: private car, taxi, motorcycle, bicycle, cyclo. Travelling by cyclo within Hue City Centre or driving a motorcycle at a low cost of around USD 5 per day like the locals is the ideal choice.
Time to visit: From December to April, the weather is dry and cool. Most annual festivities are held in April. From late May to June is the time for heat waves with the temperature can reach over 40°C (104°F). Rainy season can occur in October and November.
6. Da Nang – Spot of sandy beaches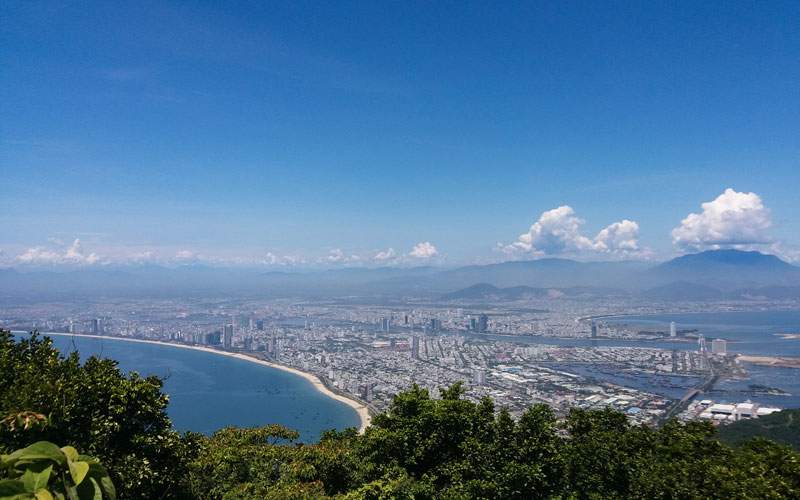 Da Nang is a fantastic coastal city comprising sandy beaches, mountain landscapes and dazzling structures.
Suggested length of stay: 1 – 2 days
Highlights: The Marble Mountains, The World cultural heritage My Son, My Khe beach, Son Tra Peninsula, Cu Lao Cham, Linh Ung Pagoda, Ba Na Hills.
Accommodation: There are a large number of homestay, hostels and hotels that provide standard services. Tourists can choose budget-friendly homestays or hostels at only USD 5 to USD 20 per night. Mid-range hotels cost from USD 20 to USD 60 and luxury resorts cost from USD 100 to USD 500 per night.
Food: Da Nang abounds in seafood and unique dishes like Quang noodle, Pork wrapped in rice paper, Cao Lau.
Transportation options: private car, taxi, motorcycle. The motorcycle rental service is popular in Da Nang because of its flexibility and low cost (from USD 5 – USD 7 daily).
Time to visit: The best time to visit Da Nang is from November to April. March and April are the most exquisite months, it's warm and dry, perfect for both beach activities and mountain trekking. Danang International Fireworks Festival is normally celebrated from May to July. In late November, you should beware of storms.
7. Hoi An – Coastal alluring town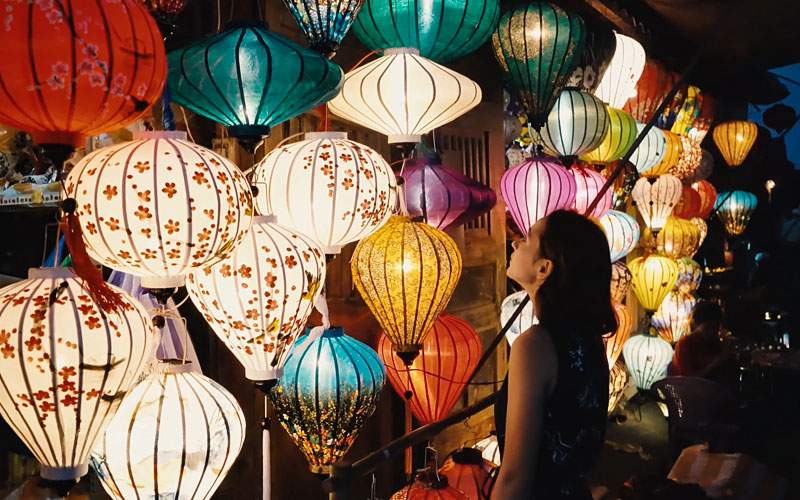 Hoi An is a small town to fall in love with, a romantic, peaceful ambiance with colonial architectures and lantern festivals like in fairy tales.
Suggested length of stay: 2 days
Highlights: Hoi An Ancient Town, An Bang beach, Old House of Tan Ky, Cua Dai Beach, Cantonese Assembly Hall.
Accommodation: Hostels and hotels in Hoi An offer good service at reasonable price. Hostel room starts from $3 to $20 and hotel rate is about USD 25 – USD 400 per night.
Food: Give a try to some specialties of Hoi An like Cao Lau, Com Ga (chicken and rice), Mi Quang (Vietnamese turmeric noodles), Hoanh Thanh (wonton dumplings). There are a few restaurants that serve European food, quite tasty and affordable.
Transportation options: motorcycle, bicycle, boat, cyclo. Getting around Hoi An by bicycle and motorcycle is the easiest and cheapest way because of the compact size and rarely busy traffic. Boat travel (about USD 3 in 30 minutes) is also popular when you desire to contemplate the beauty along Hoai river.
Time to visit: Hoi An is appealing all time of the year, but more elegant on Tet Holiday and every night of the 14th lunar month with lantern festivals held in the ancient town. March and April are warm, months to enjoy An Bang beach. It is blazing hot in late May, June and July.
8. Nha Trang – A coastal resort city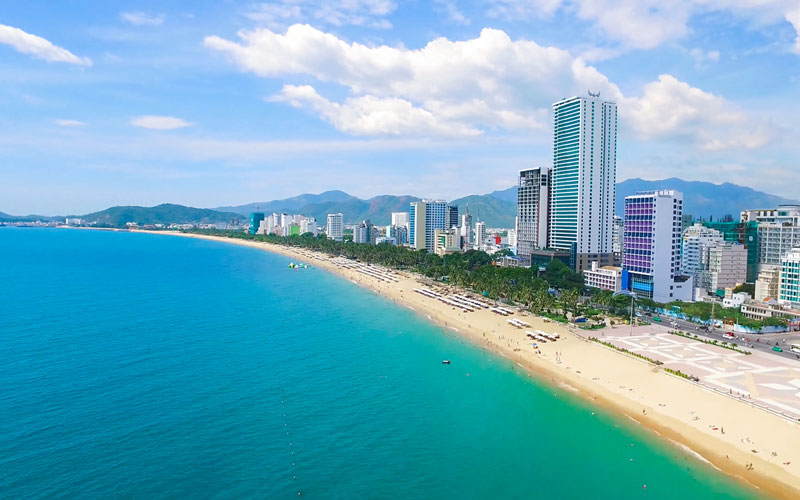 Regarded as Vietnam's most fantastic seaside resort-town, Nha Trang impresses tourists around the world by its pristine turquoise beaches and unique Ponagar Tower built by the Champa.
Suggested length of stay: 1 – 2 days
Highlights: Nha Trang beach, Ponagar Tower, Hòn Mun, Ba Ho Waterfalls Cliff Jumping, Ninh Van Bay.
Accommodation: Nha Trang has numerous types of accommodation ranging from simple homestays (USD 6 – USD 13), 3 to 4-star hotels (USD 12 – USD 30) to fancy resorts (USD 50 – USD 560).
Food: Nha Trang serves both diversified kinds of seafood and a wide range of international restaurants.
Transportation options: private car, taxi, motorcycle, bicycle. Depending on the model (mountain or city bike), bicycle daily rentals are priced between USD 4 and USD 6. The prices for renting a motorcycle are from USD 5 to USD 7.
Time to visit: This coastal town is alluring from December to April. The rainy season is from October to November.
9. Ho Chi Minh – The most bustling city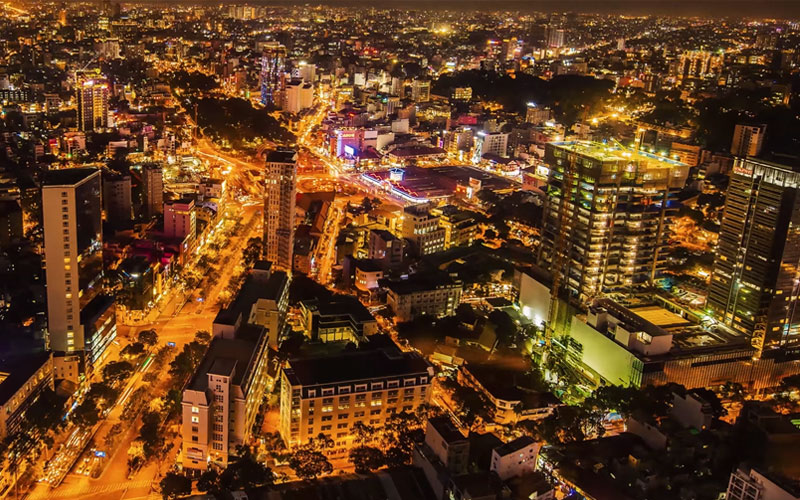 Ho Chi Minh city is the hectic beating heart of Vietnam, the combination of French colonial architecture and the dynamic modern vibes.
Suggested length of stay: 2 – 3 days
Highlights: Cu Chi Tunnel, Ben Thanh Market, Independence Palace, Notre Dame Cathedral, Saigon Central Post Office, Bui Vien Walking Street.
Accommodation: Ho Chi Minh City provides all kinds of accommodation, from hostels, guesthouses (USD 4 – USD 20/night), 3-star hotels (USD 30 – USD 100/night) to 5-star hotels (USD 150 – USD 400/night).
Food: Ho Chi Minh City is well-known for fabulous street food such as Pha lau, Hu Tieu (pork and seafood noodle soup), Bo Bia (jicama and carrots spring rolls), Banh Mi, Banh Xeo (Vietnamese crispy crepe). In addition, it has a strong coffee culture and huge number of international restaurants.
Transportation options: bus, private car, taxi, motorcycle. Due to the hot weather and traffic jams, the motorcycle is not the ideal option for tourists although it is much more flexible and inexpensive.
Time to visit: From December to April is the best time to visit this bustling city. Unlike its usual vibrancy, Ho Chi Minh City is more peaceful on Tet Holiday and Independence Day.
10. Mekong Delta – A vast labyrinth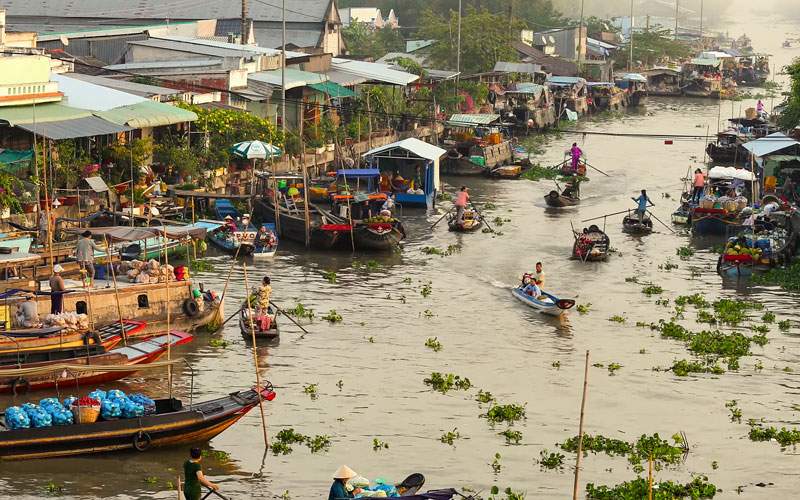 Mekong River Delta is a vast labyrinth of rivers, streams, islands and swamps, home to floating markets, Khmer pagodas and villages surrounded by flooded paddies.
Suggested length of stay: 1 day
Highlights: Cai Rang floating market, Vinh Long Market, Can Tho, Chau Doc, Ninh Kieu Wharf, Tram Chim National Park.
Accommodation: Mekong Delta does not offer as various hotels as other regions because tourists prefer day-tripping from Ho Chi Minh City rather than spend a night in the Mekong Delta. A simple homestay or hostel can cost from USD 3 to USD 10 per night.
Food: Mekong Delta is lack of international dishes but serves flavorful ones like Hu tieu My Tho (My Tho noodle soup), Lau Mam (fish sauce hot pot), Dua Ben Tre (Ben Tre coconuts).
Transportation options: boat, bicycle. It is an amazing experience to hop in a private long-tail boat along the small channels to admire the wildlife. You can also ride a bike around the smallest villages.
Time to visit: This floating maze is worthy-visited in any season of the year. Ripe rice seasons are in early April, late August and late November.
11. Phu Quoc Island – A tropical paradise island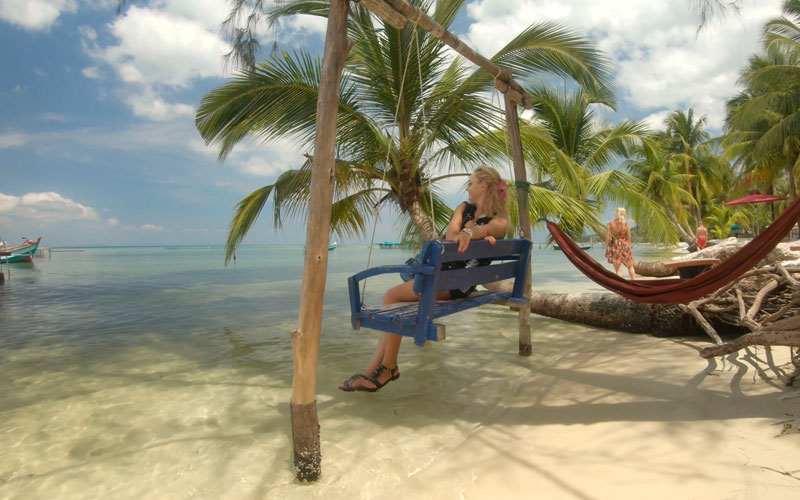 Phu Quoc, an island in the southernmost part of Vietnam in the Gulf of Thailand, famous for sandy beaches and a national park that features mountains, tropical jungle and hiking wildlife.
Suggested length of stay: 1 – 2 days
Highlights: Sao beach, Phu Quoc National Park, Suoi Tranh Waterfall, Dinh Cau Shrine, An Thoi Archipelago, Ham Ninh Village.
Accommodation: Homestays, hotels and resorts are offered in all different budget. The price per night in the hostel is between USD 8 and USD 15, in the 3 to 4-star hotel is between USD 10 and USD 30 and in the luxury resort is from USD 80 to USD 400.
Food: Tourists will be overwhelmed by the various choices of fresh seafood offered at reasonable prices. Beside Vietnamese dishes, there is a fantastic range of international one for you to enjoy.
Transportation options: private car, taxi, motorcycle. The prices for renting a motorcycle are between USD 5 and USD 10, depending on your demand of types and styles.
Time to visit: Feel free to enjoy this tropical paradise all year round except rainy season from July to September.
The best two-week itineraries by style
Most Vietnam travel itineraries start in Hanoi and end in Ho Chi Minh City or vice versa. Hanoi and Ho Chi Minh City are the two Vietnam's largest cities, centers of the North and the South with Noi Bai International Airport and Tan Son Nhat International Airport respectively.
Here are the best Vietnam two-week itineraries designed with destinations arranging from North to South and each ends with 1 – 2 days of relaxation at one of the most stunning beaches in Vietnam. Otherwise, you can take a south-north route and complete your journey on an overnight cruise in Ha Long Bay.
Within two weeks, if just visit some key destinations of Vietnam, you can be able to explore other Southeast Asian countries such as Thailand, Cambodia, Laos, Indonesia, Myanmar, … Please contact with local experts of Mundo Asia for specific advice.
The best of Vietnam for nature lovers
| | |
| --- | --- |
| | Ample itinerary |
| Day 1: | Hanoi Arrival |
| Day 2: | Hanoi |
| Day 3: | Hanoi – Ha Long Bay |
| Day 4: | Ha Long Bay – Hanoi |
| Day 5: | Hanoi – Ninh Binh – Hanoi |
| Day 6: | Hanoi – Da Nang – Hoi An |
| Day 7: | Hoi An – Da Nang |
| Day 8: | Da Nang – Ho Chi Minh City |
| Day 9: | Ho Chi Minh City |
| Day 10: | Ho Chi Minh City – Cu Chi Tunnel |
| Day 11: | Ho Chi Minh City – Mekong Delta |
| Day 12: | Ho Chi Minh City – Phu Quoc/Nha Trang |
| Day 13: | Phu Quoc/Nha Trang |
| Day 14: | Phu Quoc/Nha Trang |
| Day 15: | Ho Chi Minh – Departure |
| | |
| --- | --- |
| | Bustling itinerary |
| Day 1: | Hanoi Arrival |
| Day 2: | Hanoi |
| Day 3: | Hanoi – Sapa |
| Day 4: | Sapa – Hanoi |
| Day 5: | Hanoi – Ha Long Bay |
| Day 6: | Ha Long Bay – Hanoi |
| Day 7: | Hanoi – Ninh Binh – Hanoi |
| Day 8: | Hanoi – Da Nang – Hoi An |
| Day 9: | Hoi An – Da Nang |
| Day 10: | Da Nang – Ho Chi Minh City |
| Day 11: | Ho Chi Minh City – Cu Chi Tunnel |
| Day 12: | Ho Chi Minh City – Mekong Delta |
| Day 13: | Ho Chi Minh City – Phu Quoc/Nha Trang |
| Day 14: | Phu Quoc/Nha Trang |
| Day 15: | Ho Chi Minh Departure |
Complete Vietnam for culture lovers
| | |
| --- | --- |
| Day 1: | Hanoi Arrival: |
| Day 2: | Hanoi |
| Day 3: | Hanoi – Ha Long Bay |
| Day 4: | Ha Long Bay – Hanoi |
| Day 5: | Hanoi – Ninh Binh – Hanoi |
| Day 6: | Hanoi – Hue |
| Day 7: | Hue – Hoi An |
| Day 8: | Hoi An |
| Day 9: | Hoi An – Da Nang – Ho Chi Minh City |
| Day 10: | Ho Chi Minh City |
| Day 11: | Ho Chi Minh City – Cu Chi Tunnel |
| Day 12: | Ho Chi Minh City – Mekong Delta |
| Day 13: | Ho Chi Minh City – Phu Quoc/Nha Trang |
| Day 14: | Phu Quoc/Nha Trang |
| Day 15: | Ho Chi Minh Departure |
How to manage your budget and save money?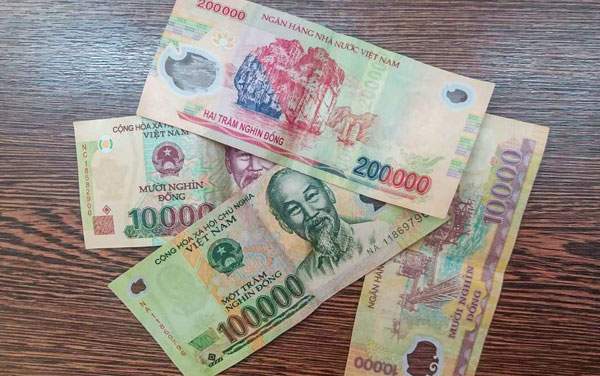 Coming to Vietnam, we guarantee you will spend like a millionaire, below is all detailed information that helps you plan the budget appropriately.
Budget for accommodation and transportation
Now, we determine the budget that fits your accommodation needs and transportation (Flight tickets to Vietnam are excluded). One thing to note is that you should splurge on Ha Long Bay overnight cruise to fully indulge in the incredibly magical seascape.
Shoestring budget: USD 600 – USD 1000, minimum of about USD 50/day
It is preferable to stay in simple homestays, get around by public transportation or motorcycles, trains, coaches.
Middle budget: USD 1000 – USD 1500
In a middle-budget trip, you will stay in 3 star hotels and travel by agent's car and airplane.
Comfortable budget: USD 1500 – USD 2000
Your transportation options are still agent's car and airplane but you will stay in 4 star hotels with higher-quality services.
Luxury budget: above USD 2000
If you wish to enjoy luxurious services , you will stay in deluxe hotels and resorts, travel by private car and airplane.
Cost of food and drink
(Updated until September 2019)
Food and drink costs normally account for a large proportion of each journey, especially a up-to-two-week journey. Do not worry, Vietnam is truly a dining paradise, the food is delicious and extremely cheap. If you plan a money-saving trip, stick to sit-down meals at street stalls or eat at affordable local restaurants serving Vietnamese food at USD 2 – USD 3/meal, local beers cost half a dollar for a bottle (330 – 450ml). Restaurants that specialize in serving international tourists are cleaner, a meal costs about USD 5 – USD 15, a soft drink or a beer bottle costs USD 2 – USD 3. Luxury restaurants are only serviceable in big cities or tourist spots, having the minimum cost for a meal excluding drinks of USD 50 or more. Most of the 3-star quality hotels in Vietnam include breakfast in room rates.
6 smart ways to save money
1. Avoid single-supplement charges
Most kinds of accommodations in Vietnam provide very few single rooms and charge according to the number of rooms, maximum of 2 adults each room. Single supplement ranges from 80 to 100 percent of the double occupancy rate.
2. Eat like a local
In metropolitan areas, you should eat like a local, have a cold beer, enjoy tasty and extremely cheap meals, which saves you hundreds of dollars. You may meet with some difficulties in communicating because there is a language barrier between foreigners and Vietnamese vendors. But don't concern yourself! Vietnamese people are famous for their hospitality and generosity, enjoy chatting and joking around.
3. Book meals via travel agents
If you prefer to eat at mid-range and high-end restaurants, whether outside or inside the hotel, you should book through a travel agent for a better price.
4. Book in advance
The closer to the peak tourist season is, the higher the price is. It is recommended that you book in advance to get better prices and higher quality services.
5. Exchange money in Vietnam and pay all expenses in VND
Generally, exchanging money in Vietnam advantages you significantly. You can check foreign exchange rates at Joint Stock Commercial Bank for Foreign Trade of Vietnam (Vietcombank). If you pay for services in foreign currencies (USD, EUR), you usually incur exchange rate losses. Therefore, paying in VND is much better.
6. Get ready to haggle
Vietnamese sellers have a habit of trying. It is advisable not to purchase in stores that do not list prices. Otherwise, bargain hard for anything you can to avoid the "foreigner tax".
How and when to book your tour?
Where to book?
Book through a travel agent
Pros: You can easily check whether an agency is trustworthy. Besides, procedures and the communication between you and that agency prior to your journey can be carried out without great difficulty.
Cons: It is harder to adjust the itinerary or services of your trip if you are not satisfied.
Book with a Vietnam's travel agency
Pros: They offer good prices due to no intermediaries and low cost of business in Vietnam. Besides, you will receive the immediate support while traveling. Last but not least, local agents provide various tours and easily change the itinerary that suits you as well.
Cons: It is necessary to have a skill of verifying the prestige of that agent.
Book through an Online Travel Agency
Pros: OTAs offer a great range of tourism businesses that access to a large number of potential customers.
Cons: You need to pay an intermediary fee.
When to book?
Booking tours in Mundo Asia, you can completely cancel or change the tour without charge 1 month before departure. However, you should book a tour about 2 months before traveling to be provided the best services. It is also a favourable time to book an international flight from Europe, America to Vietnam. If you plan to travel to Vietnam during the peak season, you should book in advance as soon as possible. It is noted that travel agents in Vietnam only book services when you deposit.
Vietnam travel guide
Best time to visit Vietnam
The best months to visit Vietnam is in December, January, the first half of February, the second half of March and April due to the pleasant weather and low levels of rainfall. At the end of January and the beginning of February, it is worth to plunge yourself into cultural activities, vibrant and cheerful atmosphere on Vietnamese New Year Holiday.
The rainy season is at the end of May, June, September and November. May, June, July are the 3 hottest months when the average temperature is about 30°C – 35°C.  In the north, from December to January is the coldest season, even having snow when the temperature drops to 0°C in mountainous areas.
Entry and exit
Visa exemption: Visa for tourism purposes is not compulsory for citizens in 22 following countries as long as they stay less than the listed period:
90 days – Chile
30 days – Cambodia, Indonesia, Kyrgyzstan, Laos, Malaysia, Singapore, and Thailand
21 days – Philippines
15 days – Belarus, Denmark, Finland, France, Germany, Italy, Japan, Norway, Russia, South Korea, Spain, Sweden, and the UK.
Tourist visa application: If you apply for a Vietnam tourist visa, the procedure is not complicated, can be completed by yourself or paying fees for travel agents. Processing time can take from 3 to 5 days to get a visa. You can apply for a visa at the border before you travel (with a stay period of 1-3 months) or e-visa (with a maximum stay period of 30 days). The current tourist visa issuance fee is USD 25, you should prepare USD to pay.
Valid passport: Please note that according to Vietnamese government regulations, your passport must be valid for at least 6 months from the entry date. If you apply for e-visa, your passport must be valid for at least 2 months from the entry date.
Customs procedures
You must declare and present to the customs office for inspection in the following cases:
– Carry foreign currencies in cash of over USD 5,000 or other foreign currencies of equivalent value, or Vietnam dong over VND 15,000,000;
– Carry promissory notes, cheques, precious metals (silver, platinum), precious stones (diamond, ruby, sapphire, emereral) valued at over VND 300 million.
– Carry gold, jewelry and fine arts with more than 300 grams.
– Exceed the tax exemption limit. .
The import tax exemption limit for carry-on luggage is prescribed as follows:
– Alcohol of 20 degrees or more: 1.5 liters; alcohol of less than 20 degrees: 2 liters; alcoholic beverages, beer: 3 liters.
– For alcohol, if bringing the original bottles, jars or cans larger than the above-prescribed volume but not exceeding 1 liter, the whole bottle is tax exempt. In case of exceeding 1 liter, tax must be paid for the excess amount.
– Cigarettes: 200 or 250 grams of tobacco (reduced by half compared to before) or 20 cigars (reduced by 05 times).
– Types and the number of personal items must be suitable for the purpose of the trip.
Luggage carried on exit is exempted from export tax without any limitation.
What should you pack for 2 weeks in Vietnam?
In most of the two-week Vietnam travel itinerary, you will visit cities, enjoy some fantastic adventures in Ha Long Bay, Ninh Binh and Sapa in the varied weather.
You need to prepare at least 5 light clothes, necessary personal items and specific medicines. A day backpack, shoes, sandals, and waterproof jackets will be absolutely helpful when tropical rains appear.
In Hanoi, Ho Chi Minh, Da Nang and Hoi An, clothes, personal items and common medicines are easily purchased at low prices.
Clothing: Basically, Vietnamese people are not extremely strict on dressing manners, accepting most of the fashion styles. You can even wear daring or revealing outfits on the street. However, 2 must-remembering things are not putting on inappropriate clothing when entering religious sites and not wearing a bikini on the street. A huge amount of sunshine all year round makes clothes dry quickly, so it is advisable to pack about 5 light clothes for a two-week journey. If you travel to the northern high mountains (Sapa, Ha Giang) in the winter, you should bring along some pieces of warm clothing because the temperature can range from 0°C to 10°C.
Personal items: Remember not to pack all you stuff, just essential or specific ones. Some common personal items such as towels, shampoo, conditioner, shower gel, shaving cream, … should be purchased in Vietnam due to its low price. If you visit Vietnam in the summer, hats, sunglasses, sunscreen, deodorant are necessary items.
Medicines and medical supplies: In almost all tourist destinations or cities on your two-week itinerary, pharmacies are everywhere and provide common medicines. It is essential to carry enough particular medicines and medical supplies to use in 15-20 days.
Currency and expenses
All kinds of expenses in Vietnam are surprisingly low, a little lower when compared to those in Thailand. A main meal of local people costs USD 2 – USD 3. A hearty bowl of Pho Bo at Hanoi's most famous stalls only costs less than USD 3. Vietnam is a country with a cash-based economy. You can exchange money at airports and banks or currency exchange shops on the street but they are commonly not legal.
In touristy centers and big cities, ATMs are widely set up and card payment is accepted in most restaurants and hotels. However, you need to carry cash in VND during your trip.
Tipping in Vietnam is not compulsory but considered as a reward for servers when you are well served.
Internet service for travellers
– In Vietnam, the Internet is available everywhere with good quality and low prices.
– Free WiFi is accessible in most restaurants, hotels and cafes.
– SIM cards are sold everywhere but you should buy them at main brands such as Viettel, Mobifone, Vinaphone at the price from USD 2 to USD 3. In Vietnam, Viettel is used widely because its transmission quality is good even in places far from the city center. Viettel's best internet package currently is ST90: USD 3.9 for 30 days, each day is used with 2GB.
Safety and security
Generally, Vietnam is a safe country for tourism purposes, even if you are female and traveling alone. However, there are a few things to keep in mind:
– Do not go alone and far from the tourist spots or the city at night.
– Do not leave luggage, money, precious assets indiscriminate and be wary of theft.
– Do not drink water directly from the tap.
– Be careful when in traffic or walking on the road.
– Ask for a price before buying, keep an eye on the taximeter to avoid being overcharged.
Emergency phone numbers: 113 – Police, 115 – Ambulance and first-aid, 114 – Fire.
Where can we take you?
Got an idea? Tell us what you're thinking and one of our travel experts will be in touch shortly to create the perfect holiday for you!
Itineraries
Highlights
Vietnam
Highlight city: Ho Chi Minh City, Hanoi, Ninh Binh, Ha Long Bay, Hue, Hoi An, Da Nang
---
Highlights
Vietnam
Highlight city: Ho Chi Minh, Hoi An, Hanoi, Sapa, Ha Long Bay, Hanoi
---
Highlights
Vietnam
Highlight city: Hanoi, Halong Bay, Hue, Hoi An, Ho Chi Minh, Mekong Delta, Phu Quoc
---