Due to its long coastline filled with diverse landscapes, distinct cultures, and great food, Vietnam is one of the best destinations in Southeast Asia for both natural and cultural lovers. The peak time of year to travel is between December and February, however, it's possible to travel all year-round in this wonderful country of ethnic minorities and terraced rice fields. Take care of distinct weather patterns in different regions to fully enjoy any region of Vietnam. Check out the northern beauties of Hanoi, Sapa, Halong Bay, and Ninh Binh before enjoying the well-preserved culture and history of Hue and Hoi An in the central regions. Finish your trip in bustling Ho Chi Minh City or the quaint Mekong River Delta. If beaches are what you're looking for, Da Nang, Nha Trang, Phu Quoc, Mui Ne, and Con Dao are just some of the most popular options. Just remember, during the 30th April (Reunification Day), 1st May (Labour Day), and 2nd September (Vietnamese Independence Day), domestic travel surges as these are public holidays in the country. Tourist attractions can be very crowded along with transportation and hotels booked out well in advance.
1. Hanoi
There is something magical vibrating through the bustling streets of Hanoi, the capital of Vietnam. First known as Long Bien, meaning "the edge of the dragon", due to the shape of the Red River flowing around the city resembling the mighty creature, it was renamed in 1831 to Hanoi, which translates rather poetically to "the river inside the city". Wander down the labyrinth-like alleys of the Old Quarter, and see the hidden pagodas and temples waiting to be explored. Feel the indomitable spirit of the Vietnamese when visiting historical sites such as Thăng Long Imperial Citadel, the Ho Chi Minh Mausoleum, Hoa Lo Prison, One Pillar Pagoda, and Hoan Kiem Lake. Whether it's the rich culture and heritage shown in the romantic French-influenced colonial architecture or the tantalizing smells of pho and other tasty street foods wafting through the air, the charm and atmosphere is palpable.
Things to do
Click on

for more detailed information about each Hanoi attraction
Accommodation
Hanoi has a variety of accommodation types ranging from budget hostels to luxurious boutique hotels. In general, Hanoi has a shortage of five-star hotel rooms available during the high season (November to April). However, Hanoi has excellent three-star hotel selections with great value for money and guest satisfaction. Reserve your hotel early to secure the best rates. Airbnb also has a good selection of properties for those who like to "live as a local".
Famous food
Pho bo/Pho ga (beef or chicken noodle soup): Consisting of a flavorful broth, fresh rice noodles, a sprinkling of herbs and either well-cooked beef or succulent slivers of chicken, Pho is the dish that put Vietnamese food on the world map.
Where to try: Phở Thìn (13 Lo Duc Street, Hai Ba Trung District, Hanoi)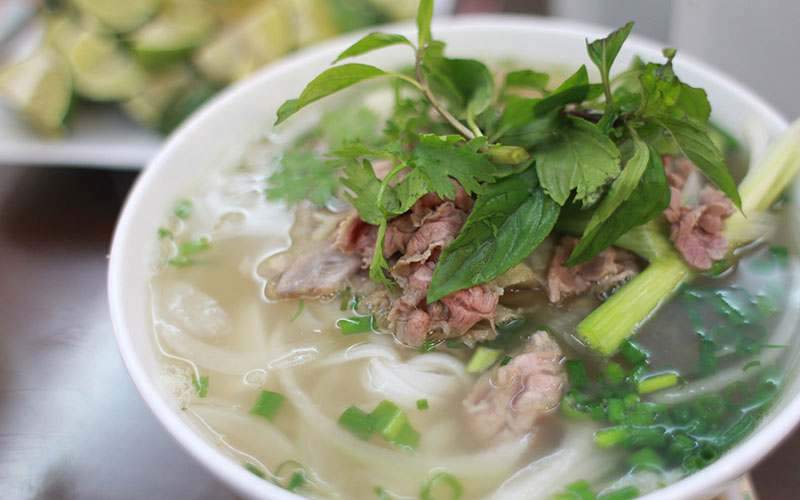 Bun cha (rice noodles with grilled pork): The pork is grilled on a charcoal stove and then mixed with rice noodles in a syrup-thick sweet and savoury fish sauce.
Where to try: Bún Chả Tuyết (34 Hang Than Street, Ba Dinh District, Hanoi)
Cha ca (grilled chopped fish): Grilled white fish is flavored with tumeric, ginger, garlic and pepper and tossed together with spring onions, dill,rice noodles and peanuts.
Where to try: Chả Cá Thăng Long (19 – 21 – 31, Duong Thanh Street, Hoan Kiem District, Hanoi)
Banh cuon (rolled cake): A combination of ground meat with minced mushrooms and onions wrapped in steamed rice flour sheets and served with fish sauce and cucumber slices.
Where to try: Bánh Cuốn Bà Hanh (No.26B Thọ Xương Street, Hàng Trống Ward, Hoàn Kiếm District)
Pho cuon (fresh spring rolls): A thin rice paper roll filled with shrimp, pork, or beef with carrots, herbs, lettuce and other ingredients and served with a special dipping sauce.
Where to try: Phở Cuốn 31 (No.31 Ngũ Xã Street, Trúc Bạch Ward, Ba Đình District)
Bun rieu (crab chowder noodle soup): A sweet and sour soup with rice noodles, fresh tomatoes and crab soup.
Where to try: Bún Riêu Huyền Thu (No.2F Quang Trung Street, Trần Hưng Đạo Ward, Hoàn Kiếm District)
Bun ca (fish noodle soup): Fresh rice noodles and cripsy fried fish are doused in a delicate sweet and sour broth and topped with herbs to impress even the toughest critic.
Where to try: Bún Cá Hà Thành (No.61 Lê Văn Hưu Street, Hàng Bài Ward, Hai Bà Trưng District)
Ca phe (coffee): Savour the distinctly strong and flavourful taste of Vietnamese coffee as the ground coffee beans are flooded with hot water in a drop filter (phin) and slowly trickle down into your cup.
Best places to visit near Hanoi
Hanoi – Ninh Binh
Hanoi – Halong Bay
Hanoi – Sapa
Hanoi – Ha Giang
Hanoi – Hoi An
Hanoi – Hue
Hanoi – Nha Trang
Hanoi – Ho Chi Minh City
2. Ho Chi Minh City (HCMC)
It's hard to imagine the sprawling, modern metropolis of Ho Chi Minh City once started out as a small fishing village surrounded by thick forests. Located in southern Vietnam, the economic center and bustling Ho Chi Minh City is the largest city in regards to population in the whole country. Fondly referred to by its evocative older name of Saigon, Ho Chi Minh City retains a preserved air of its French colonial heritage in the old areas of the city while still reflecting the dynamic modern vibes of a cutting edge Vietnam. Key attractions such as the Notre-Dame Cathedral, Saigon Opera House, Central Post Office, and Ben Thanh Market reflect this colonial heritage, while the War Remnants Museum, Reunification Palace, and preserved Cu Chi Tunnels north of the city lay testament to the fighting spirit and recent history of the ravages of war.
Things to do
Click

 for more detailed information about each Ho Chi Minh attraction
Accommodation
Ho Chi Minh City has a huge selection of hotels to choose from, ranging from Airbnb and hostels to chic guesthouses and top-notch branded hotels. The vast majority of hotels are concentrated in Districts 1 and 3. Overall, Ho Chi Minh City hotels are more expensive than other cities in Vietnam. The city is busy year-round,especially during national holidays, Christmas, and New Year's Day. Book early for your choice of best accommodation.
Famous food
Pha lau: One of the most famous street food dishes of Saigon, pig or cow innards are marinated with five different spices, wine soy sauce and stewed in coconut water for hours until tender.
Where to try: Phá Lấu Dì Nủi (No. 243/30 Tôn Đản Street, 15 Ward, District 4)
Bo to Cu Chi (Cu Chi beef): Enjoy the diversity of ways to cook this juicy and soft beef.
Where to try: Bò tơ Cỏ Tranh (No.22 Nguyễn Thị Diệu Street, Ward 6, District 3)
Bo Bia (jicama and carrot spring rolls): Rice paper is wrapped around shrimp, dried sausages, ribbons of fried egg, Vietnamese herbs and Thai basil for a healthy and refreshing snack.
Where to try: Bò Bía Sương Nguyệt Ánh (No.93 Cách Mạng Tháng 8 Street, Phạm Ngũ Lão Ward, District 1)
Com chay cha bong (crispy rice crackers with shredded meat): A delicious treat, the beautiful golden color of the cracker with dried pork floss on top is so inviting.
Where to try: Cơm Cháy Chà Bông Sài Gòn (No.224/6 Lý Thường Kiệt Street, Ward 14, District 10)
Hu Tieu (pork and seafood noodle soup): A pork-bone broth with fresh rice noodles, pork, and assorted seafood (fish balls, shrimp, crab,…) as well as some spring onion and bean sprouts as toppings is the perfect breakfast.
Where to try: Hủ Tiếu Nam Vang Nhân Quán (No.27Q Âu Cơ Street, Ward 14, District 11)
Banh mi (Vietnamese bread): A true signature dish of Vietnam, this sandwich utilizes French baguettes filled with meats and veggies such as pork sausage, pate, pickled carrot and unripe papaya.
Where to try: Bánh Mì Huỳnh Hoa (No.26 Lê Thị Riêng Street, Bến Thành Ward, District 1)
Kem nhan (Longan icecream): Experience the typical dairy product in a exotic way with an Asian twist, ice-cream with longan flavouring, a type of Vietnamese fruit.
Where to try: Kem Nhãn Chú Tám (No.2 Trương Hán Siêu Street, Đa Kao Ward, District 1)
Com tam (broken rice): A pure gastronomic pleasure made from imperfect rice grains and barbecued pork topped with a fried egg and spring onion sauce.
Where to try: Cơm Tấm Ba Ghiền (No.84 Đặng Văn Ngữ Street, Ward 10, Phú Nhuận District)
Banh xeo (Vietnamese crispy crepe): Another fusion dish created during French times, banh xeo is made from a Vietnamese-styled crepe out of rice flour, coconut milk, and turmeric and then filled with vermicelli noodles, chicken, pork or beef slices, shrimp, sliced onions, bean sprouts, and mushrooms.
Where to try: Ăn Là Ghiền (No.74 Sương Nguyệt Anh Street, Phạm Ngũ Lão Ward, District 1)
Best places to visit near Ho Chi Minh City
HCMC – Nha Trang
HCMC – Mekong Delta
HCMC – Phu Quoc
HCMC – Da Nang – Hoi An
HCMC – Siem Riep
HCMC – Mui Ne
3. Halong Bay
Legend tells of foreign invaders attacking Vietnam in its early stages as a new country. The Jade Emperor sent a family of dragons to help the Vietnamese defend their country; as the dragons descended from the sky, the dragons spit out jewels and jade into the water, which transformed into thousands of islands and islets, creating a strong wall that could not be breached. After the battle finished, the dragon family decided to stay on Earth and live out their days. The place that the Mother Dragon descended is known as Halong Bay – the bay of the descending dragon. The natural beauty and aesthetic importance of Halong Bay, an UNESCO World Heritage Site and one of the seven natural wonders of the world, is a true jewel in the crown of Vietnam's beauty. Boasting a spectacular seascape filled with thousands of towering limestone islands, karst grottoes, and quaint junk boats cruising the sparkling emerald waters, visiting this area truly is like stepping into a fairy tale, the stuff of legends.
Things to do
Click

 for more detailed information about each Halong Bay attraction
Accommodation
After Hanoi, Halong Bay is the most visited city in northern Vietnam due to its UNESCO World Heritage status, with a wide range of hotel accommodations on offer. In addition to guesthouses, hotels, and resorts, there is also a large selection of overnight cruises to choose from. The vast majority of foreigners stay at least 1 night onboard to see the beauty of Halong Bay. Various types of boats and budgets are available from budget to top luxe. Don't forget to book your cabin early to see the best of Halong Bay!
Famous food
Cha muc (squid cake): The squid is pounded until it becomes flat and then salt, pepper, and dill are added for flavour before frying until golden brown.
Where to try: Chả Mực Minh Hòa (No.38 Thương Mại Street, Hồng Gai Ward, Hạ Long City)
Banh cuon cha muc (rolled cake with fried squid): Steamed rice flour sheets served with golden fried squid and topped with fried onions and shredded meat.
Where to try: Bánh Cuốn Nóng Bà Ngân (No.34 Đoàn Thị Điểm Street, Bạch Đằng Ward, Hạ Long City)
Sam (Horseshoe crab): Although only the eggs and roes of the horseshoe crab are edible, the unique sweetness it brings is truly exquisite.
Bun hai san (Seafood noodle soup): Bun hai san consists of rice noodles, various Vietnamese veggies and Halong's fresh seafood served in a light spicy soup base.
Where to try: Khánh Tuyền – Bún Bề Bề & Bánh Đa Hải Sản (Giếng Đáy Street, Group 8, Zone 3B, Giếng Đáy Ward, Hạ Long City)
Best places to visit near Halong Bay
Halong Bay – Bai Tu Long Bay
Halong Bay – Lan Ha Bay
Halong Bay – Cat Ba Island
Halong Bay – Hanoi
Halong Bay – Ninh Binh
Halong Bay – Sapa
4. Hoi An
It's easy to see why the charming city of Hoi An in central Vietnam is such a popular destination for travellers and locals alike. Indeed, the UNESCO World Heritage Site of Hoi An's Ancient Town is filled with traditional Vietnamese tube houses, heritage Chinese shophouses, a famed Japanese covered bridge and beautiful French colonial buildings, often painted in a sunny yellow. Hoi An is not only famous for its romantic ambiance but also its wonderful local cuisine, especially Com Ga (chicken rice), Cao Lau (a traditional noodle soup), and Banh bao – Banh vac, a secret recipe only available in the area. The vibrant handcrafted lanterns glowing in the evening dusk as small rowing boats gently glide down the Thu Bon River, and large amount of bespoke tailors and original handicrafts make this cute town the highlight of any trip to Vietnam.
Things to do
Click

 for more detailed information about each Hoi An attraction
Accommodation
One of the most iconic cities in central Vietnam, Hoi An receives millions of tourists from all over the world each year. The city boasts a beautiful selection of boutique hotels and resorts suitable for anyone's budget. Most hotels can be found in the old town or along the seaside of Cua Dai. Many tourists choose to stay in Da Nang and make day trips to visit Hoi An. If you choose a hotel by the river outside of the city, you can expect a calm nice view of the countryside from your room.
Famous food
Cao Lau: This local delicacy is comprised of udon-like rice noodles, barbecued pork, slices bean sprouts and fresh herbs in a pork-based sauce.
Where to try: Morning Glory Restaurant (No.106 Nguyễn Thái Học Street, Minh An Ward)
Com Ga (chicken and rice): An ensemble of distinctive pale yellow rice, shredded chicken, fresh herbs, and pepper and chili jam, com ga is a must-try dish in Hoi An.
Where to try: Cơm Gà Bà Buội (No.22 Phan Chu Trinh Street, Minh An Ward)
Hoanh Thanh (wonton dumplings):  The rice-flour wonton is stuffed with minced pork, shrimp, eggs and various other spices before being steamed or deep-fried till golden.
Where to try: Hoành Thánh Anh Dũng (No.14 Bà Triệu Street, Cẩm Phổ Ward)
Mi Quang (Vietnamese turmeric noodles):  Yellow rice noodles and broth seasoned with fish sauce, pepper, chili is topped with diverse ingredients such as diced pork, shrimp, egg or local greens.
Where to try: Mì Quảng Ông Hai – Mr. Hai Noodles (No.6A Trương Minh Lượng Street, Cẩm Châu Ward)
Banh dap (Vietnamese rice crackers):  Bean paste and fried shallots are put on a wet rice paper sheet and then covered by a crispy rice sheet. Try this traditional snack in Hoi An.
Where to try: Quán Ăn Bến Tre (Xuyên Trung Street, Cẩm Nam Ward)
Banh bao – Banh vac (white rose dumplings):  Famous for its delicate white rose appearance, shrimp and pork are filled in flattened rice dough and then steamed to perfection. This dish is only available in Hoi An.
Where to try: White Rose Restaurant (No.533 Hai Bà Trưng Street, Cẩm Châu Ward)
Che bap (sweet corn soup):  Made from the incredible Cam Nam corn, this sweetened porridge is cooked and sold everywhere in Hoi An.
Where to try: Chè bắp Cẩm Nam cô Nga (No. 45 Lê Lợi Street, Minh An Ward)
Best places to visit near Hoi An
Hoi An – My Son Sanctuary
Hoi An – Hue
Hoi An – Ho Chi Minh City
Hoi An – Da Nang
Hoi An – Hanoi
Hoi An – Halong Bay
5. Hue
Situated on the banks of the sleepy Perfume River, the imperial city and ancient feudal capital of the Nguyen Dynasty, Hue, still retains much of its regal and grandeur of the days of old. Home to many UNESCO World Heritage Sites due to the preservation of important historical attractions like the Imperial Citadel, Forbidden Purple City, and beautiful tombs of Emperor Ming Mang, Tu Duc, and Khai Dinh, Hue is the perfect place to start a journey into the ancient and recent history of not only central Vietnam, but the country as a whole. Feel the spirituality in Thien Mu Pagoda, brought to international attention during the Vietnam-American War. Dine on the exquisite and refined way of food preparation with the eponymous Bun Bo Hue, a type of spicy noodle and beef soup named after the city it was created in, and other classics like Bun Thit Nuong and Com Hen.
Things to do
Click

 for more detailed information about each Hue attraction
Accommodation
Surprisingly cheaper than other destinations in Vietnam, Hue has lovely hotels and urban resorts around the legendary Perfume River. Although the choice is not as extensive as Hoi An or Da Nang, hotels in Hue are generally cheaper and offer a good value for money. Most hotels rent bikes free of charge to visit the charming city.
Famous food
Com hen (clam rice): A bowl of contrasting colors, tastes and texture with rice, clams, crispy pork crackling, bean sprouts, peanuts and various other veggies are all stir-fried together to create Hue's famous dish.
Where to try: Ngự Hà Vegetarian Restaurant (No.181 Xuân 68 Street, Thuận Thành Ward); Cơm hến Hoa Đông (No.64 kiệt 7 Ưng Bình Street, Vỹ Dạ Ward)
Bun bo Hue (Hue beef soup): The soul of Hue cuisine, this soup is made from simmered pork legs, and slices of pork and beef with lemongrass and a few cubes of congealed pig's blood.
Where to try: Bún Bò O Phụng – Chú Vọng (No.07 Nguyễn Du Street, Phú Cát Ward); Bún Bò Huế Bà Tý (No.2/2 Trương Định Street, Vĩnh Ninh Ward)
Che hat sen (sweet Lotus seed soup): Made from the seeds of Vietnam's national flower – the Lotus, this nourishing dessert soup helps to soothe and relax the mind and body.
Where to try: Chè Huế Cô Ly/ Chè Cầm (No.10 Nguyễn Sinh Cung Street, Vỹ Dạ Ward)
Banh bot loc (chestnut starch cakes): The fleshy stuffing made from shrimp and diced pork is stuffed in the fragrance of chestnut starch and then wrapped in banana leaves and cooked in a steamer.
Where to try: Bánh Bèo Nậm Lọc Bà Đỏ (No.8 Nguyễn Bỉnh Khiêm Street, Phú Cát Ward)
Banh canh (thick noodle soup): This tomato crab based soup also contains thick fresh noodles, shrimp, pork, and local greens.
Where to try: Bánh canh Bà Đợi (No.27A kiet 20 Ngô Gia Tự Street, Vĩnh Ninh Ward)
Banh khoai (khoai cake): The rice flour crepe is pan-fried and stuffed with shrimp and pork belly along with scallions and bean sprouts and then dipped in a hoisin-based sauce.
Where to try: Bánh Khoái Lạc Thiện (No.6 Đinh Tiên Hoàng Street, Phú Hoà Ward)
Banh ram it: A signature dish of Hue, super-crunchy deep-fried sticky rice paste is topped with steamed sticky rice dumplings and served with a crispy mixture of stir-fried shrimp and pork.
Where to try: Nhà hàng Me (No.14 Võ Thị Sáu Street, Phú Hội Ward)
Nem lui (Lemongrass skewers): Finely ground beef and pork is seasoned with garlic, lemongrass, sugar and fish sauce and then made into sausages and grilled over hot charcoals.
Where to try: Nem Lụi Bà Tý (No.81 Đào Duy Từ Street, Phú Bình Ward)
Best places to visit near Hue
Hue – Hoi An
Hue – Da Nang
Hue – Nha Trang
Hue – Ho Chi Minh
6. Nha Trang
The coastal resort city of Nha Trang is another gem of Vietnam's central region. The white sand beaches, shimmering turquoise waters, and luxury accommodation of the lux Ninh Van Bay rival that of Thailand in not only the landscape but hospitality. Come for the world-class beaches and stay for the eclectic cuisine, comprised of fresh seafood and interesting mixes like Bun Cha Ca, a rice noodle dish with grilled fish and jellyfish. It is also possible to discover the legacy of the Champa Kingdom, descendants of seafaring settlers who reached the Southeast Asia mainland from modern-day Borneo and Sumatra. The impact on modern society can be seen and felt at Po Nagar, a Cham-styled temple tower with intricate carvings. The Buddhist Pagoda of Long Son also showcases the heritage of Vietnamese settlers in the region.
Things to do
Click

 for more detailed information about each Nha Trang attraction
Accommodation
One of the biggest beach destinations in Vietnam, Nha Trang is a prime beach vacation choice for many tourists and locals. Nha Trang has a wide range of hotels and resorts including many luxury brands such as Amanoi and Six Senses, found outside of the city in secluded bays. At the same time, budget accommodation is very affordable, usually found on the main drag of Tran Phu Street inside the city. Nha Trang is super busy during the summer (May to August) and between December to March. Book your room early when it comes to national holidays such as the Lunar New Year, Christmas, and Labour Day.
Famous food
Nem nuong (fermented pork rolls): Enjoy nem nuong as a local by wrapping a slice of grilled fermented pork in lettuce leaves, local herbs, chilies, fresh rice noodles, and slices of green mango and cucumber.
Where to try: Nem Nướng Đặng Văn Quyên (No.16A Lãn Ông Street, Xương Huân Ward)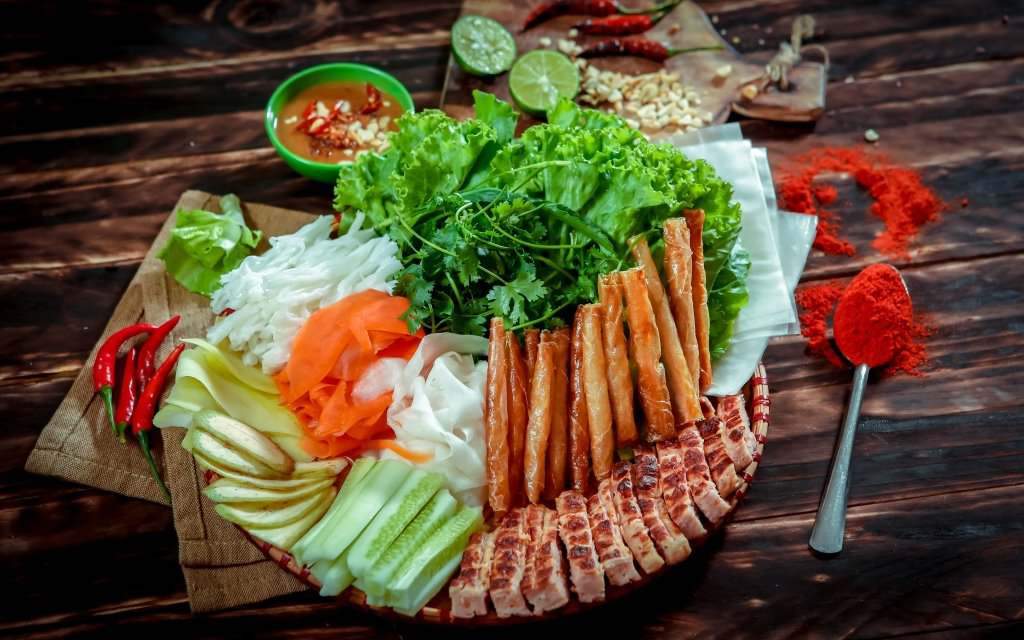 Banh canh (rice cake): This dish is made from crispy rice caked with spring onions, eggs, shrimp and fresh squid.
Where to try: Bún Cá Nguyên Loan (No.123 Ngô Gia Tự Street, Phước Tiến Ward) 
Bo nuong Lac Canh (Lac Canh grilled beef): Appearing in many famous international travel guides, don't miss out on trying this beef marinated with honey and more than ten different kinds of secret spices.
Where to try: Bò Nướng Lạc Cảnh (No.44 Nguyễn Bỉnh Khiêm Street, Xương Huân Ward)
Banh xeo muc (Squid crepe): A crepe made from rice flour, coconut milk, and turmeric is filled with fresh squid and shrimp and served with delicious spicy-sour fish sauce.
Where to try: Bánh Xèo Chảo (No.85 Tô Hiến Thành Street, Tân Lập Ward) 
Bun sua (jellyfish noodle soup): Sip this hot broth with rice noodles, vegetables, fresh jellyfish and slices of Cha ca to experience the culinary pride of Nha Trang.
Where to try: Bún Cá Nguyên Loan (No.123 Ngô Gia Tự Street, Phước Tiến Ward) 
Hai san Lang Chai (Lang Chai Seafood): Dine on a seafood smorgasbord in Lang Chai where seafood of all shapes and sizes are served in every restaurant along the white sandy beach.
Where to try: Hải sản Làng Chài (No.44/14 Nguyễn Bỉnh Khiêm Street, Xương Huân Ward)
Best places to visit near Nha Trang
Nha Trang – Da Nang
Nha Trang – Hoi An
Nha Trang – Ho Chi Minh City
Nha Trang – Hue
7. Sapa
The frontier township of Sapa, located 1,500 m (4,900 ft.) above sea level in the northwest area of Vietnam, is the place to find jaw-dropping and unparalleled scenery. The steep, sharp mountains contrast with the deep, green valleys and terraced rice fields of the region, with long winding roads weaving in and out of the hills. Throughout the region live a multitude of diverse, vibrant ethnic minority groups, such as the Hmong, Dao, Giay, and Tay to name only a few. The hill-tribe villages are hidden in bamboo forests, behind waterfalls, and within fertile valleys, making every town more beautiful than the last. The Roof of Indochina, Mount Fansipan, stands here at 3,143 m (10,300 ft.), offering a glimpse through the clouds and mist into the numerous valleys of North Vietnam and China.
Things to do
Click

 for more detailed information about each Sapa attraction
Accommodation
Sapa offers accommodation for all tastes, from home stays in local minority villages to luxury hotels. Most properties are around the town itself within walking distance to the market, old church, and restaurants. The destination tends to be busy on weekends and quiet during the week due to heavy influx of domestic travellers. So when visiting the area, save money by scheduling your stay during the week or in months other than May, June, July and December.
Famous food
Thang co (horse soup): All parts of the horse are used in this northern soup and then seasoned with 20 different botanical herbs.
Com lam (bamboo sticky rice): Literally rice cooked in bamboo tubes, com lam is an interesting version of rice perfect for travellers on the go.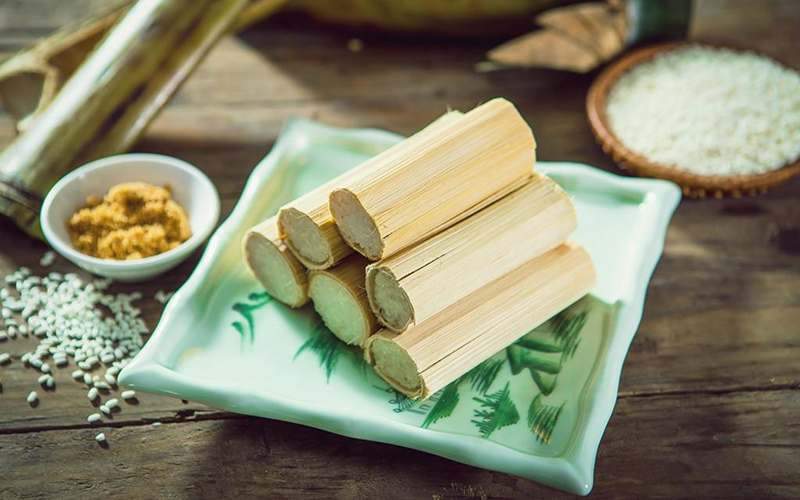 Thit lon cap nach (free-range pig): The whole pig is roasted on charcoal until its skin is flaky and the meat inside is soft and sweet.
Men men (corn rice): The corn is grinned to remove the grit and cooked twice in a steamer to create a type of rice.
Lau ca hoi (Salmon hotpot): This soup with its elegant and delicate salmon flavour in a spicy-sour broth is best enjoyed with friends when the weather is cool in Sapa.
Ruou tao Meo (Tao Meo wine): Known as the local whiskey, Tao Meo wine is made from apples of Meo people (an ethnic minority in Sapa).
Thit trau gac bep (dried buffalo meat): The buffalo meat is marinated and then dried like a beef jerkey in order to preserve food for the rainy season.
Nam den (Black mushroom): Black forest mushrooms are a unique botanical vegetable of Sapa.
Where to try: in Sapa, there is a place in center of the town called Sapa Grilling Area at Cầu Mây Street. You can find most of Sapa specialties here. Besides, you can check out these two restaurants for the gastronomic experience. A Quynh restaurant (No.15 Thạch Sơn Street, Sa Pa Town); Anh Dung Restaurant (No.06 Xuân Viên Street, Sa Pa Town)
Best places to visit near Sapa
Sapa – Ninh Binh
Sapa – Hanoi
Sapa – Dien Bien Phu
Sapa – Moc Chau
Sapa – Ha Giang
8. Mekong Delta
The Mekong River Delta is a floating world made up of a vast maze of rivers and fertile, alluvial soil in southern Vietnam. Referred to as Dong Bang Song Cuu Long in Vietnamese, or the river delta of nine dragons, this haven for lush rice paddies, wildlife, and tropical fruits and vegetables is a biological treasure trove of the world. The colorful floating markets and shimmering Khmer Pagodas of the largest city in the Mekong Delta, Can Tho, showcase a proud Vietnamese and Cambodian heritage. In addition, to the natural wonder of the area, the culinary delights abound in regional delicacies such as Lau Mam, a hotpot with fermented fish, and Banh Xeo, a Vietnamese-styled crispy pancake. As much of the lifestyle in the area revolves around the river, many of the villages are often only accessible by canals and boat, creating the atmosphere of land frozen in Cochinchine time.
Things to do
Click

 for more detailed information about each Mekong Delta attraction
Accommodation
Accommodation facilities are not as developed in other regions of the country. Most international visitors who choose to stay in the Mekong Delta instead of day-tripping from Ho Chi Minh City spend the night on cruises or in simple homestays. Most hotels cater to domestic guests with prices reflecting the local budget. A few boutique properties exist around My Tho and Can Tho but due to competition, fill-up quickly. If you wish to stay in one of these properties, book as soon as possible to avoid disappointment.
Famous food
Hu tieu My Tho (My Tho noodle soup): A flavorful dish consisting of rich broth, tender rice noodles, and various toppings such as fried fish, pork or beef, fresh vegetables, and herbs.
Where to try: Hủ tiếu chay Cây Bồ Đề (No.24 Nam Kỳ Khởi Nghĩa Street, Ward 4, Mỹ Tho City, Tiền Giang Province); Quán Hủ Tiếu Quần Ký (No.55 Ngô Quyền Street, Ward 7, Mỹ Tho City, Tiền Giang Province)
Lau mam (fish sauce hotpot): This southern-styled hotpot includes a special kind of fish sauce served with a plethora of fresh vegetables and various kinds of fish.
Where to try: Quán Ăn Bảy Bồng 2 (No.121 Trưng Nữ Vương Street, Châu Phú B Ward, Châu Đốc City, An Giang Province)
Nau man Tien Giang: Nau man are fish without scales cooked in tomatoes, green onions, coriander, salt, chili peppers, and limes, served as a soup.
Goi sau dau (sau dau salad): The leaves and flowers of the Sau Dau plant are gathered to create this salad with dried fish, chopped fried pork and pickled cucumbers.
Son Qui sweet soup: Different kinds of beans and peanuts with tapioca starch, coconut cream, and pandan leaf are used to make this lovely dessert.
Where to try: The only location to Son Qui sweet soup try  is Highway 50 from Hồ Chí Minh City to Gò Công, Tiền Giang, crossing Tân Trung – Lăng Hoàng Gia
Dua Ben Tre (Ben Tre coconuts): The land of coconuts – Ben Tre – is famous for its stunning coconut-based dishes.
Where to try: Ben Tre Province – The land of Coconuts
Lau ca linh bong dien dien (Freshwater fish with river hemp hotpot): A steaming hot pot with a lot of greens cooked with fried fish, chili, and peppers, and served with ca linh, a type of local freshwater fish, and bong dien dien, a river hemp flower, as the main ingredients.
Where to try: Quán Nhậu Bình Dân Bà Tâm (No.53 Phạm Hữu Lầu Street, Ward 4, Cao Lãnh City, Đồng Tháp Province)
Best places to visit near Mekong Delta
Can Tho – Phu Quoc
Chau Doc – Phu Quoc
Can Tho – Ha Tien
Ben Tre – Phu Quoc
9. Mui Ne
A coastal fishing town in the southern region of Vietnam, Mui Ne is the perfect getaway from the metropolis of Ho Chi Minh City. The coastline is filled with a string of beach resorts ranging from budget to pricey and chic. Popular for the numerous wind-surfing camps in the area, check out Mui Ne between October and April to try this adventurous sport. Other interesting activities include surfing the gigantic sand dunes outside the city with sand boards and ATVs or taking a half-day gentle walk through the charming Fairy Stream Canyon.
Things to do
Click

 for more detailed information about each Mui Ne attraction
Accommodation
A hot destination for Russian tourists, Mui Ne has a fair range of hotels to choose from. The destination is visited year-round, thus hotel rates are quite stable. Although it is busier in the summer due to domestic tourists (May to August), you can always find a room with good value in Mui Ne any time of the year.
Famous food
Banh quai vac (Quai vac cake): A transparent wheat-flour dough filled with sea shrimp and bacon and then lightly steamed, quai vac cake is a famous Mui Ne street food.
Where to try: Bánh Canh Xíu (No.1 HA, Kim Đồng Street, Phan Thiet City)
Rang muc nuong (grilled squid teeth): Looking like marble-sized balls, squid teeth are generously seasoned with chili, pepper, honey, and lime juice and then easily skewered and grilled as kebabs.
Where to try: Răng Mực Loan (No.202 Võ Thị Sáu Street)
Lau tha (fish hotpot): A must-try dish in Mui Ne, various kinds of fish such as gudgeon and spade-fish are served with a sweet-spicy soup base.
Where to try: Seahorse Bistro Restaurant (No.16 Nguyễn Đình Chiểu Street, Hàm Tiến Ward)
Goi ca mai (Spadefish salad): Fresh spadefish is seasoned with ginger, lime juice, galingale, and minced garlic and then mixed with local greens and fish sauce.
Where to try: There are many restaurants along the sea bank of Ca Ty and Mui Ne, or in the Health Department area near Phan Thiet train station
Dong (Agamidae): This kind of Vietnamese lizard can be cooked in several ways such as stir-fried, roasted, or grilled. The Dong's meat is slightly tough but moist with the taste of chicken.
Where to try: Viet Nam home restaurant (No.125 Nguyễn Đình Chiểu Street, Hàm Tiến Ward)
Banh re (sweet potato cake): The potato is shaved into strings and fried. It is served with a sweet caramel dipping sauce.
Where to try: You can find Banh re in any shops around Phan Thiet market and Mui ne
Best places to visit near Mui Ne
Mui Ne – Nha Trang
Mui Ne – Da Lat
Mui Ne – Ho Chi Minh City
Mui Ne – Phu Quoc
10. Ninh Binh
The lush Red River Delta in northern Vietnam creates the dreamy landscape of Ninh Binh, often referred to as "Halong Bay on land". Known for its karst mountains and hidden grottoes, cave temples, green valleys and shimmering rice fields, Ninh Binh is an incredible insight to the simple beauty of the Vietnamese countryside. The UNESCO World Heritage Site of Trang An Scenic Landscape complex and Tam Coc are best visited by rowing boat, while the Cuc Phuong National Park contains incredible vistas along its hiking trails. For an epic panoramic view of the river running through rice fields, climb the stairs to the top of Mua Cave. Nearby is the river gateway to Hoa Lu, the ancient capital of Vietnam in the 10th and 11th centuries. The largest complex of Buddhist temples in Vietnam exists here, consisting of Bai Dinh and Bich Dong Pagoda, as well as Phat Diem Stone Cathedral.
Things to do
Click

 for more detailed information about each Ninh Binh attraction
Accommodation
Ninh Binh is emerging as a top destination in North Vietnam, with more and more properties added to its accommodation list. The city tends to have more budget hotels and homestays for quick stays. There are only a few high-end options available and some properties have a limited amount of rooms so you need to reserve early. Take advantage of the free bicycles on offer from most hotels to get the most of the dreamy landscapes.
Famous food
Thit de (goat meat): Ninh Binh's speciality dish, goat meat-based dishes will pleasantly surprise you with their stunning taste.
Where to try: Restaurant Trung Tuyet (No.14 Hoang Hoa Tham Street, Van Gia Ward)
Com chay (rice crust): Munch on the crispy, golden rice crackers topped with dried pork floss when you feel a bit peckish.
Where to try: Thang Long Restaurant (Tràng An, Trường Yên Commune, Hoa Lư District)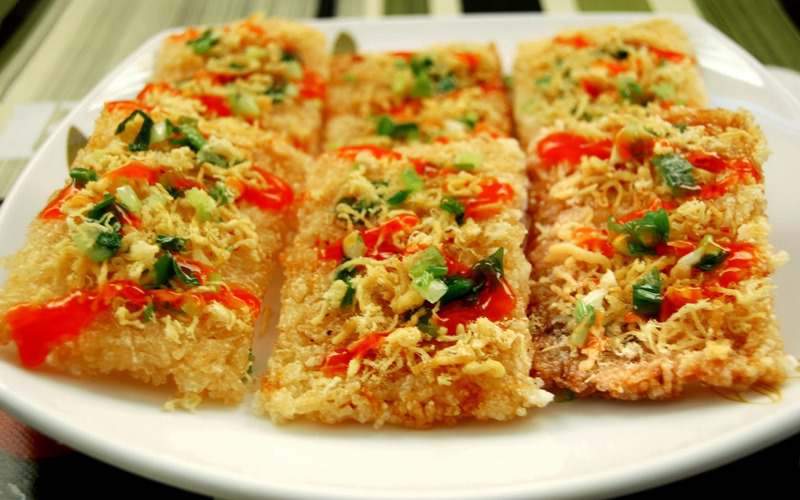 Goi ca nhenh (Nhech fish salad): Feel the fresh taste of the local Nhech fish, the attractive aroma of sticky rice, sour vinegar, and spice of ginger, garlic, pepper, chili and lemongrass in just one bite.
Where to try: Vu Bao Restaurant (No.37 Nguyễn Huệ Street, Nam Bình Ward, Ninh Bình)
Oc nui (Mountain snails): Ninh Binh is also famous for their chewy, crispy and sweet snails found in the limestone mountains.
Xoi trung kien (Sticky rice with ant eggs): A perfect mixture of sticky rice, dried onions, chicken fat and ant eggs.
Mien luon (Eel noodle soup): This savoury broth includes fresh rice noodles and well-seasoned fried eels, topped with fried onions and served with Vietnamese veggies.
Where to try: Miến lươn Bà Phấn (No.999 Tran Hung Dao Street, Thanh Binh Ward)
Nem chua Yen Mac (Yen Mac fermented pork roll): Wrap the fermented pork in guava leaves, mint, and lettuce and dip the roll into fish sauce.
Best places to visit near Ninh Binh
Ninh Binh – Hanoi
Ninh Binh – Hoi An
Ninh Binh – Halong Bay
Ninh Binh – Phong Nha-Ke Bang
Where can we take you?
Got an idea? Tell us what you're thinking and one of our travel experts will be in touch shortly to create the perfect holiday for you!
Itinerary
Luxury
Vietnam
Highlights: Hanoi, Ninh Binh, Sapa, Halong, Nha Trang, Vinh Hy Bay
---
Highlights
Vietnam
Highlights: Hanoi, Halong Bay, Hoi An, Da Nang, Hue, Ho Chi Minh City, Ben Tre
---
Gastronomy
Vietnam
Highlights: Ho Chi Minh City, Da Nang, Hoi An, Hue, Hanoi, Halong Bay
---