Boasting a nice balance of all five flavours, and contrasting texture, Vietnamese cuisine has become famous worldwide in recent years. To name a dish, Pho and banh mi may come to your mind first. It is not hard to find these dishes even outside of Vietnam. Beyond Pho, this Southeast Asian country's cuisine has a lot more to offer. Here are 21 dishes you should try as travelling Vietnam.
1. Phở bò/gà (Vietnamese beef/chicken noodles)
Pho is probably the most famous Vietnamese dish which is loved worldwide. This signature dish is a perfect mix of flat rice noodles, a warming broth, beef or chicken and various greens, plus some kinds of sauces. It is cheap, tasty and commonly available during the day and in almost all cities or provinces in Vietnam.
How to eat: The locals eat Pho with a spoon and a pair of chopsticks. Generally, the spoon is held with the preferred hand and chopsticks with the other. Pho is usually served with a lime wedge, raw herbs (bean sprouts, basil, lettuce), chopped chili peppers or chili sauce and fish sauce.
First, sample your bowl of Pho, add some fish sauce if needed. Make sure to squeeze the lime before eating, that little lime wedge makes a big difference.
Add raw herbs if desire. Remember to dip the herbs into the warm broth.
The chili sauce is very spicy, add a little and taste before adding more.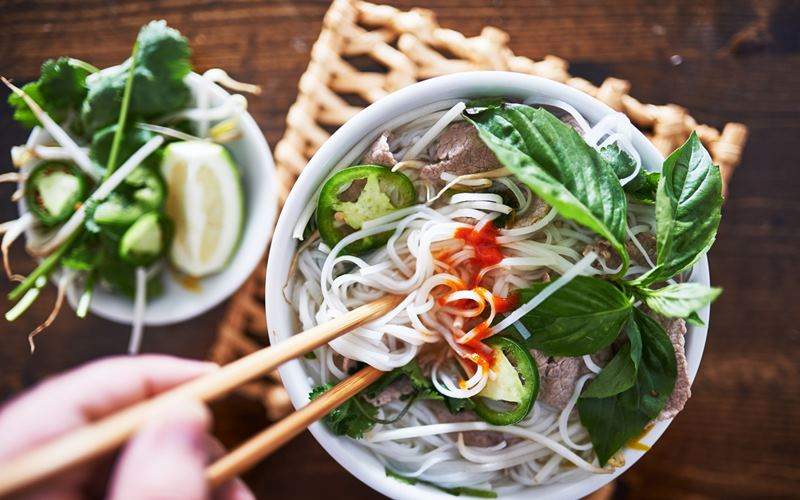 Recipe
Time: 9 hours (cook and prepare)
The broth:
Blanch the bones for a clear broth. Simmer for 15 minutes then draining and rinsing the bones.
Roast the bones with onion, garlic, and ginger for about 30 minutes
Toast the spices ( star anise, cinnamon, cloves, cardamom pod, coriander seeds, and fennel seeds over low heat. Keep stirring until fragrance (~5 minutes)
Add the bones to the stockpot. Add water, make sure the bones are submerged. Add spices. Bring to a boil.
Simmer for 5 – 6 hours.
When your broth is ready, strain the broth to clear it from the bones and spices.
The noodles:
Place the noodles in a pot of boiling water, leave them for 3 – 5 minutes till the noodles become soft and translucent.
Assemble your Pho:
Add cooked noodles to your bowl. You will need a large bowl for this Vietnamese Pho.
Fill your noodles with meat, beef or chicken. If you are having a beef Pho, slice the meat super thin. Put raw beef directly to your bowl.
Finally, pour in the boiling broth.
Recommended place to eat
Phở Thìn, Phở Lý Quốc Sư
2. Bún chả (Grilled Pork & Rice Noodles)
Unlike most noodle dishes that come in a soup or broth, Bun Cha is eaten with a side of sweet and sour fish sauce. It comprises thin vermicelli rice noodles, grilled pork, together with handfuls of sliced papaya, cucumber, carrot and a basket of herbs.
How to eat: like Pho, Bun Cha is served with common condiments as raw herbs, chili peppers. To eat Bun Cha, you just dip the noodles into the sauce together with herbs.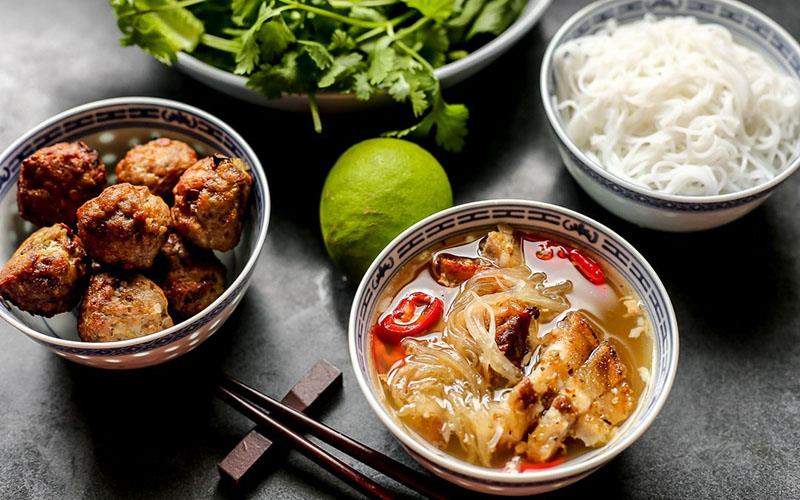 Recipe
Time: 30 minutes
Meat (Cha)
There are two types of "chả" used in Bun Cha. The meatballs and grilled meat.
Marinate minced pork and sliced pork with fish sauce, chopped green onion, pepper, finely chopped lemongrass.
Shape the minced pork into mini hamburger patties.
Grill the meat until fragrance. It tastes the best using charcoal grill but you can roast the pork on a pan with oil instead.
Dipping Sauce
Green papaya and carrot: peel off the skin and thinly slice. Rise with water. Add vinegar and salt then mix. Leave it for 5 – 10 minutes.
Mix fish sauce, sugar, lime juice or wine vinegar and water in a bowl. The ideal ratio is 1:1:1:5. Add chopped red chili, and chopped garlic into the mixture.
Add pickled papaya and carrot into the dipping sauce.
Assemble
Place meat (cha) in the bowl of sauce, topped with coriander. It's supposed to be a generous amount of sauce as a soup broth.
Place noodles and raw herbs (bean sprouts, lettuce, basil) on a separate plate.
Recommended place to eat
Bún Chả Tuyết, Bún Chả Hương Liên (Bún Chả Obama) – where president Obama used to eat.
3. Chả cá Lã Vọng (La Vong grilled fish)
Dating back 130 years ago, Cha Ca is considered as a special dish in Hanoi, representing Hanoian culture. Cha Ca originated from Doan family at no.14 Hang Son which is now renamed Cha Ca Street in honor of this famous dish.
Whitefish (Snakehead fish), fish sauce, ginger, and garlic are tossed together with dill, spring onion, and roasted peanuts. Then all of them are fried in a pan full of oil. It is served with fish sauce dressing.
How to eat: When you order Cha Ca, a hot pan with turmeric-marinated fish will arrive at the table, along with fresh herbs, roasted peanuts, chili, and "mắm tôm" (a fermented shrimp paste).
There are two ways to eat Cha Ca:
Add cha ca, green onion and herbs to the hot pan. When the herbs wilt and the grilled fish is cooked, take them out to your plate.
Pour a spoon of boiling oil from the pan to the shrimp paste, stir.
Dip the fish, herb to the shrimp paste and enjoy with roasted peanuts and rice noodles. Add grilled fish, herbs, and roasted peanuts into a bowl. Pour hot oil over them. Add shrimp paste and enjoy the mixture with rice paper or rice noodles.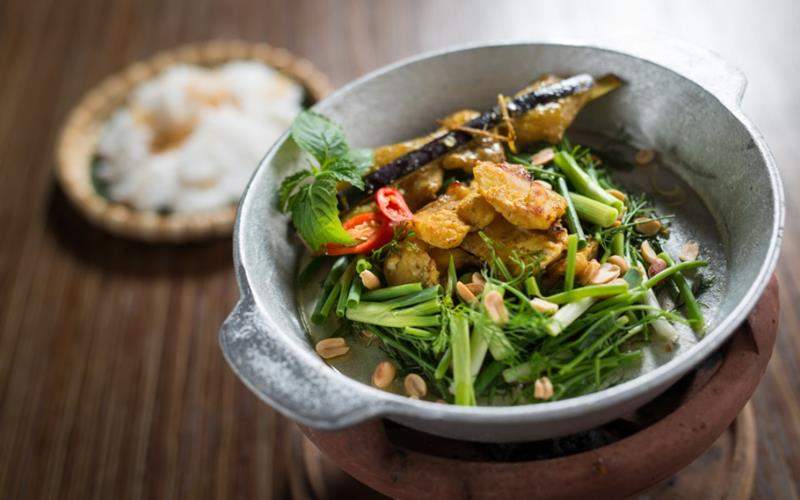 Recipe
Time: 25 minutes
Mix oil, sugar, salt, fish sauce, shallot, turmeric, ginger and garlic together in a bowl. Chop the fish into around 3-4cm pieces. Toss the fish and spices to coat. Leave for half an hour to a couple of hours before cooking.
Chop the green onion and dill. Roast the peanut and roughly chop. Set aside.
Place rice noodles on a plate. If you use dried noodles, cook it as instructions on the package.
Pour shrimp paste into a small bowl. Or mix the fish sauce instead. Dissolve the sugar into the fish sauce and add water, lime juice, chili, garlic, chopped coriander. Stir to combine. Taste to adjust.
Place a large pan with oil over high heat. Fry the marinated fish until they turn golden brown.
When the fish is done, add green onion and dill, sauté for 1 minute until greens wilt slightly.
Enjoy
Recommend place to eat
Cha Ca La Vong restaurant, no.14 Cha Ca Street.
4. Bánh cuốn (Steamed rice rolls)
This rolled-up rice pancake is a combination of ground meat (shrimp or pork), minced wood ear mushroom, Vietnamese mortadella, onions, and cucumbers that are wrapped in a steamed rice flour sheet. It is more delicious to eat with sweet fish sauce.
How to eat: Dip the rice rolls into the fish sauce and enjoy with some fresh herbs. Locals often eat banh cuon with "cha nuong" (grilled pork) or "gio lua" (Vietnamese mortadella).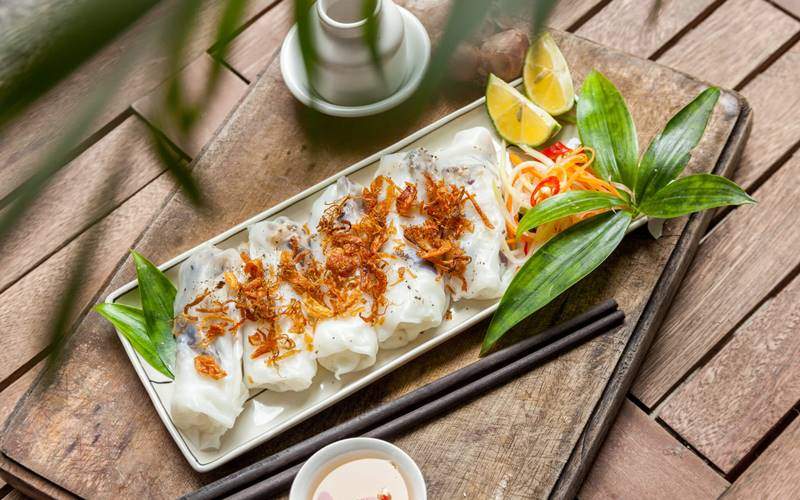 Recipe
The authentic "Banh cuon" requires certain skills and tools to make. So we introduce an alternative recipe making it easier to do at home.
Pork filling
Marinate the ground pork with salt, sugar, chopped purple onion, and pepper.
Heat vegetable oil in a large pan. Add the garlic and onion and saute until fragrant.
Add seasoned ground pork and mushroom. Cook until pork is done
Batter
2 cups rice flour; 1 cup potato starch; 1/2 cup tapioca starch; 1 teaspoon salt; 3 tablespoons vegetable oil; 5.5 cups water
Mix everything well in a bowl. Allow the mixture to rest for at least 30 minutes before cooking. Or you can cover and store them in the refrigerator overnight.
Dipping sauce
Dissolve sugar into fish sauce. Add water, lime juice, chopped red chilies.
Ratio: 1 sugar: 1 fish sauce: 6 water.
To cook
Make sure you get a really good non-stick pan.
Pour a little batter into the hot pan. Add a little oil if needed. Cover the pan and let it steam for about 1 minute or less. When the batter turns into a soft, translucent layer then it's done.
Place the rice crepe on a plate.
Add the pork filling and roll it up.
Enjoy your banh cuon
In Vietnam, you will see people use a special pot that is covered with a thin cloth on top. They boil the water inside the pot so that the steam heats the fabric above.
Pour batter onto the cloth surface then cover it with a lid. When the rice crepe is done, they use a thin bamboo stick to remove it.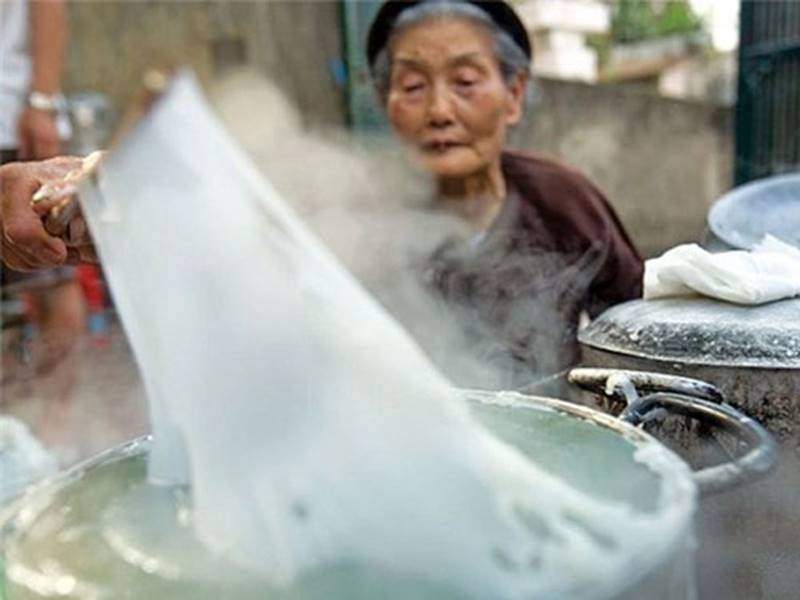 Recommended place to eat
Bánh cuốn Bà Hoành, 66 To Hien Thanh Street, Hai Ba Trung District, Hanoi
5. Bún bò Huế (Hue-style beef noodle soup)
One of the most famous dishes in Central Vietnam, Bun bo Hue, a distinct and spicy soup with layers of flavour, is also a hidden Vietnamese gem. Its major components are thick, slippery rice noodles, paired with piles of beef and pork and topped with different fresh herbs.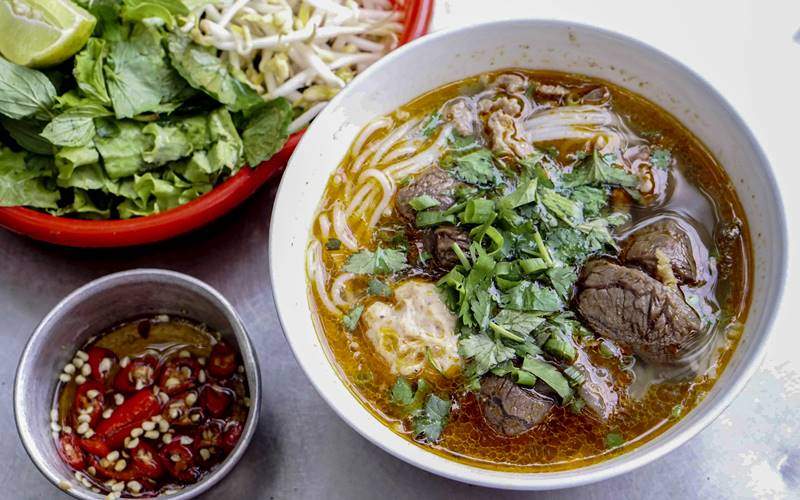 Recipe
Time: 3 – 3.5 hours
Broth
Blanch the pork hocks and beef hanks. Rinse and drain.
Add meat, chicken broth, onion, lemongrass, fish sauce, sugar, salt and shrimp paste to the pot. Add the water almost to the brim. Bring to a boil. Lower the heat and simmer.
Periodically check and remove the meat when it's done – an hour for pork and about 2 hours for beef.
Let the meat cool, then slice them.
Taste the broth and adjust the seasoning if needed
Add red coloring and aromatic
Red Coloring & Aromatics
Saute annatto seeds in oil for 5 minutes or when the oil turns red-brown. Remove the seeds.
Add chopped shallot, minced garlic, chili flakes, lemongrass. Stir fry until fragrant.
Assemble
Blanch the noodles. Place it in a bowl.
Add sliced pork and beef, Hue-style ham, pork blood cubes.
Pour the broth
Garnish with fresh herbs and enjoy.
Recommended place to eat
Hue: Bún Bò Huế O Cương Chú Điệp, No.06, Tran Thuc Nhan Street, Hue City. It's only open from 6.am to 11.am
Ho Chi Minh: Bún bò 31, Mac Dinh Chi Street, District 1.
6. Bánh xèo (Vietnamese pancake)
This Vietnamese savoury pancake is made of rice flour, coconut milk, pan-fried together with shrimp, pork bean sprouts. The name means sound crepe, referring to the sound when the batter hits the hot skillet.
Before dipping a piece into fish sauce, you should wrap up it in rice paper or lettuce and other greens, like a local.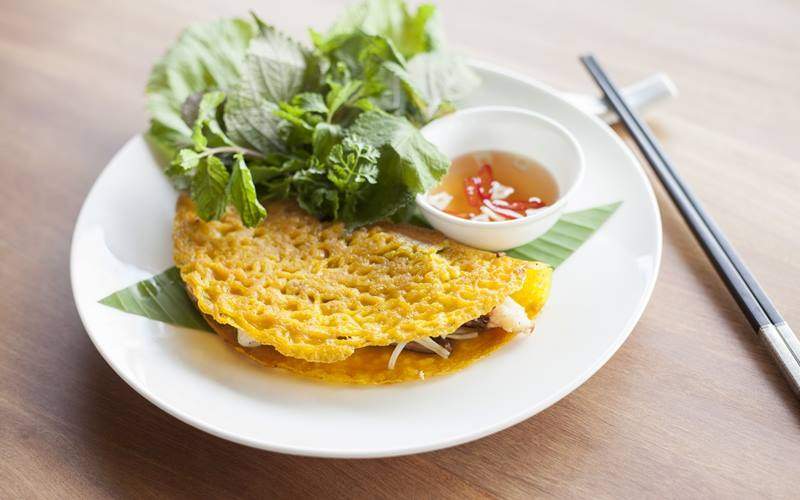 How to eat:
Banh xeo is always served with fresh herbs, thin rice paper and a special dipping sauce. – Cut it into bite-sized pieces,
Wrap the Banh xeo and fresh herbs with rice paper, and roll neatly
Dip the roll in the dipping sauce
Recipe
Time: 25 minutes
Mix rice flour, sugar, 1/2 teaspoon salt, and turmeric powder together in a large bowl. Add coconut milk and slowly beat until you have a crepe batter. Leave it to rest for 3 hours.
Boil pork until cooked through. Slice thinly
Soak beans sprouts in water until soft then wash.
Heat 1 tbsp of vegetable oil on a skillet. Add white onion, stir until fragrant. Add pork and shrimp (peeled and deveined). Saute until it turns slightly brown. Set aside
Wipe out skillet. Pour ½ cup of batter. Place the fillings made in step 4 in the center. Add a few bean sprouts. Leave it for about 1 minute to cook.
Fold in half and transfer to a plate. Enjoy
Recommended place to eat
Banh xeo taste varies from North to South. Here are some of the most recommended place to try this dish in Northern, Central and Southern Vietnam.
Hanoi: 172 Doi Can Street, Ba Dinh District, Hanoi
Da Nang: Bánh xèo tôm nhảy cô Ba, 248 Trưng Nữ Vương, Quận Hải Châu, Đà Nẵng
Ho Chi Minh: Quán ăn là nghiền, 74 Sương Nguyệt Ánh street, Bến Thành Ward, District 1.
7. Cá kho tộ (Vietnamese Fish Stew)
This rich and salty dish is the best choice for fans of fish. Catfish develops a sweet-savoury flavour from the sugar and fish sauce over the long braise in a clay pot which retains heat and helps soften and caramelize fish.
Eat it with: Ca kho to can go well with veggies to balance it out like boiled vegetables or pickled mustard greens. The locals eat fish stew, vegetables together with white rice as a complete meal.
How to eat: Be careful with fish bones. These bones are actually soft after cooking, but it might still make you feel uncomfortable.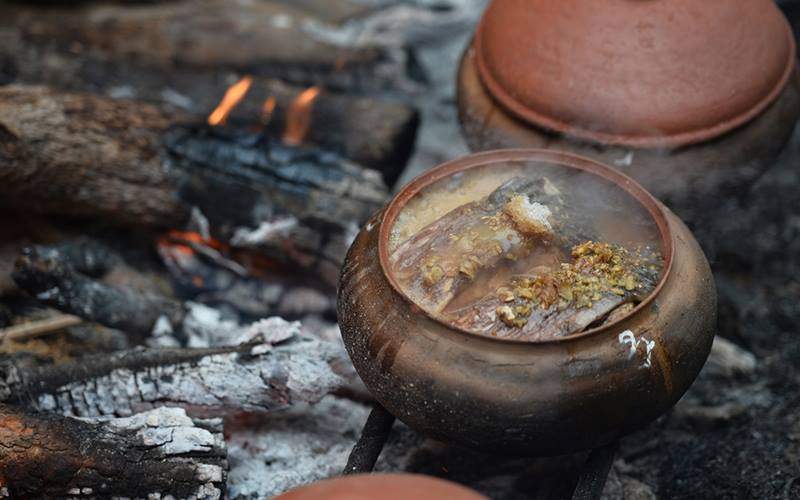 Recipe
Time: 45 minutes
Slice shallots, galangal. Chop green onions
Marinate sliced pork with salt, ground pepper, fish sauce, chopped chilies and minced onion.
Cut fish into thick pieces. Marinate with salt, fish sauce, ground pepper, chopped chilies, minced onion.
Meanwhile, make the caramel. Heat your pot. Add 2 tbsp of sugar on one side of the pot. Add 1 tbsp of oil on the other side. Once the sugar melts, add water. Keep it boiling until you have a golden caramel liquid. Set aside.
Pour the marinated pork to a pot, shallots, galangal. Stir fry for 1 minute. Lay the marinated fish over the pork. Add the caramel and water. Bring it to a boil. Cover with a lid, simmer until the sauce gets sticky (normally it takes 15 – 20 minutes)
Recommended place to eat
The most famous, iconic and probably taste the best can be found in Vu Dai village, Ha Nam province.
8. Bò cuốn lá lốt (Grilled beef in piper lolot leaves)
Bo cuon la lot is a popular Southern Vietnamese dish, consists of flavourful rolls of beef wrapped in piper lolot leaves and frilled until fragrant. This dish is usually eaten as appetizers and side dishes.
Eat it with: Vietnamese people's favourite way to serve this dish with rice vermicelli noodles, lettuce, roasted crushed peanuts, herbs and dipping in sweet and sour sauce.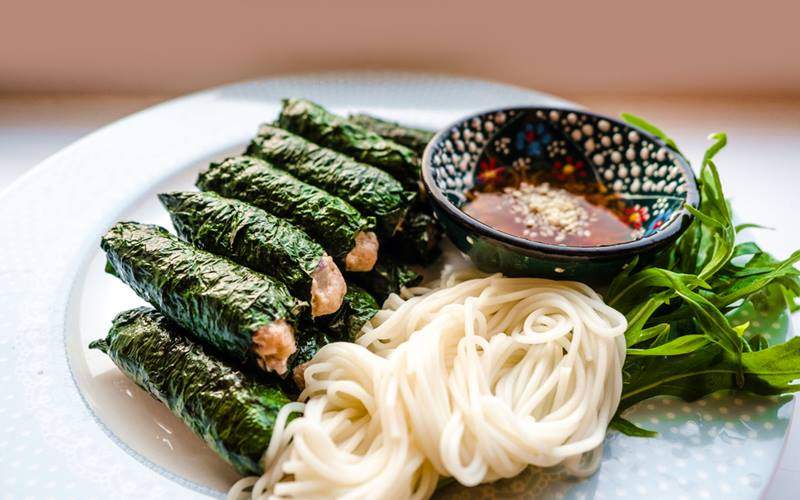 Recipe
Time: 30 minutes
Wash and dry the piper lolot leaves
Add minced beef, minced pork, minced lemongrass, chopped shallots, minced garlic, salt, pepper, soy sauce, fish sauce and vegetable oil in a bowl. Stir well to combine all ingredients.
Layer a tablespoon of filling on a piper lolot leave (you may need two leaves if it is small). Roll the leaves to wrap the filling.
Thread the beef roll onto a toothpick to keep the leaves in place.
Heat up oil in a pan. Add beef rolls.
When the leaves are wilted, remove the toothpick.
Keep grilling until the filling is cooked through.
The dipping sauce
Place a pan on medium heat. Add sliced pineapple with a little vegetable oil. Stir fry for 1 minute.
Add Vietnamese anchovy paste. Simmer for 2 minutes.
Pour the sauce into a small bowl. When it's cool, add sugar, minced garlic, chopped chili, lime juice.
Recommended place to eat
Bò lá lốt Cô Liên, No.321 Võ Văn Tần St., District 3, HCMC.
9. Nem rán (Fried spring roll)
Nem ran is Vietnamese deep-fried spring roll which is also called "cha gio" in Southern Vietnam. It is traditionally made with rice paper sheets, but now commonly with wheat-based wrappers, together with mushrooms, minced pork, onions, vermicelli or seafood like shrimps, crabs. Besides that, sweet and sour dipping sauce is essential.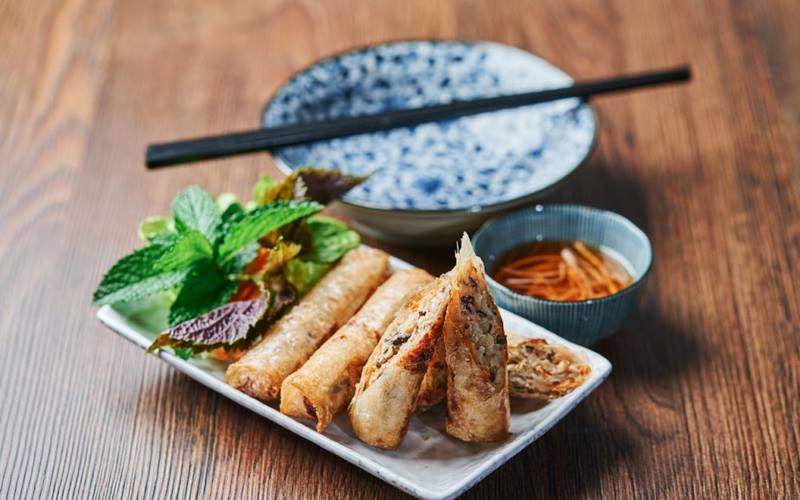 Recipe
Time: 30 minutes
Soak vermicelli in water for about 15 minutes, or until it is soft. Cut into 2-inch pieces.
Add vermicelli, chopped wood fungus, chopped green onion, minced pork, egg into a large bowl. Add salt then mix everything well.
Place one spoon of the fillings on rice paper. Fold two ends and roll it up tightly. Repeat with the remaining fillings.
Heat vegetable oil in a skillet.
Deep fry the spring rolls on low heat. It's ready when the rice paper turns golden brown.
Recommended place to eat
Fried spring roll is a common dish in Vietnam; you can easily find it in any restaurant that serves noodles or fried rice.
10. Phở cuốn Hà thành (Rolling Pho)
Pho cuon is a signature dish in Hanoi, presents the flavour of Pho and Goi cuon at the same time. It is made of silky white sheets of 'pho' (uncut noodles) wrapped around fried beef, lettuce, coriander and dunked in fish sauce with green papaya slices, rice vinegar, garlic and chili.
How to eat: dip the roll into the dipping sauce and enjoy.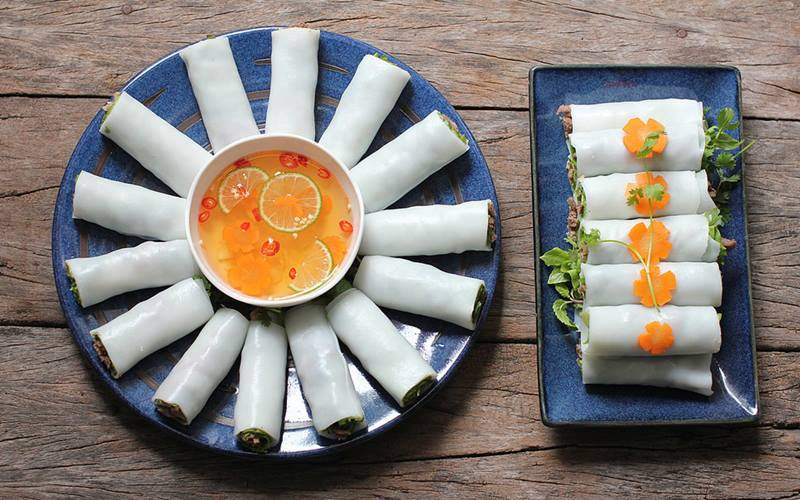 Recipe
Time: 30 minutes
Wash the lettuce and coriander. Drain and set aside.
Marinate thinly sliced beef with salt, pepper, minced garlic, vegetable oil. Leave it for 20 minutes.
Heat up your pan. Add 2 tbsp of oil. Add minced garlic, stir fry until fragrant.
Add beef, stir for about 1 minute. Don't overcook. Taste to adjust seasoning.
Dissolve sugar into fish sauce and water. Add minced chili and garlic, chopped coriander to finish the dipping sauce.
Place beef, letter and coriander on one end of the Pho sheet. Start to roll it up.
Finish
Recommended place to eat
Just like many other dishes or goods in Hanoi, you will find a whole street selling the same thing. To enjoy Pho Cuon, go to "Ngũ Xá" Street. Here are some of the most recommended restaurants
Phở cuốn Hưng Bền – No.33 Ngũ Xá St.
Phở cuốn Hương Mai – No.25 Ngũ Xá St.
Phở cuốn Thanh Hằng – No.29B Ngũ Xá St.
11. Bánh mì (Vietnamese sandwich)
Banh mi is a French-Vietnamese baguette sandwich, can be found anywhere in Vietnam. It contains a colorful combination of meat fillings like roasted pork belly, sausages, fried egg, poached chicken together with pickled vegetables, chili or soy sauce.
How to eat: You'd better eat banh mi while it's hot and crispy. Locals also often drink some iced juice as a dessert after eating banh mi.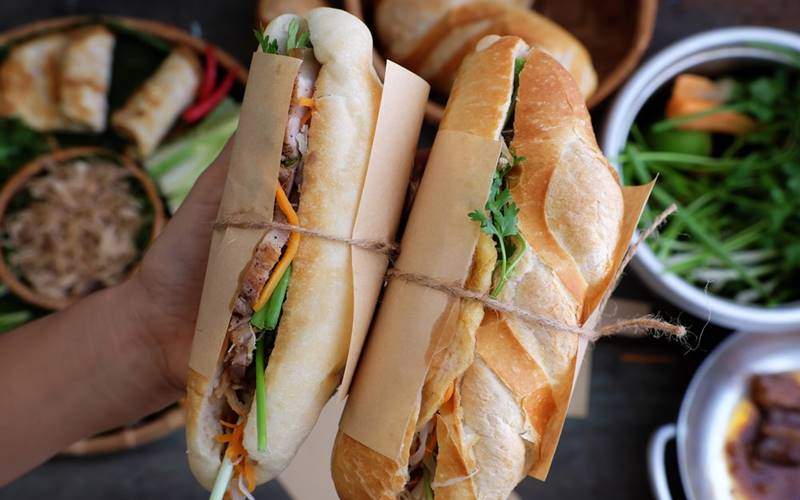 Recipe
Time: 30 minutes
Vietnamese sandwich has a variety of fillings, from beef, pork to chicken. You can add or remove any items according to your preference. Here is a recipe for a typical banh mi.
Thinly slice Vietnamese mortadella, ham, grilled pork.
Slice cucumber, carrot. Chop coriander
Prepare the pickled cucumber: dissolve sugar to fish sauce, vinegar (or lime juice). You want a balanced taste of sour, sweet and salty. Add chopped chili. Pour mixture over sliced cucumber and carrot. Let it marinate for about 10 minutes
Heat up the baguette to make it crispy. Split the baguette in half the long way
Spread pate on one side.
Layer mortadella, ham, grilled pork, coriander, pickled cucumber and carrot on top of pate.
Add mayonnaise, ketchup, and chili paste.
Close the baguette and enjoy.
Recommended place to eat
Bánh Mì 25 (no.25, Hang Ca, Hoan Kiem)
Bánh Mì Phượng (no.2B, Phan Chau Trinh, Hoi An)
12. Mì Quảng (Quang noodle)
Mi Quang is an icon of Central Vietnamese food, rich with hearty bone broth, rice noodles, seasoned with meaty ingredients like chicken, pork, shrimp, egg as well as fish sauce, black pepper, and garlic. It is also freshened up with a variety of herbs or crunchy vegetables.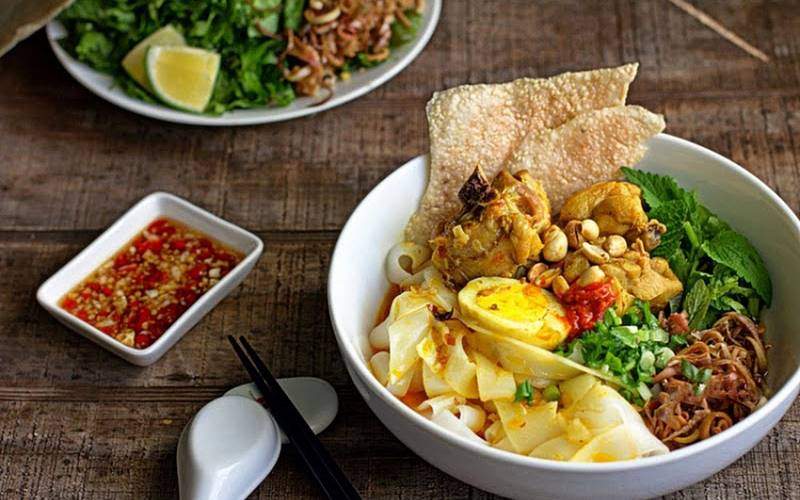 Recipe
Time: 1 hour and 30 minutes
Marinate the sliced lean pork and shrimp (peel and devein) with seasoning powder, fish sauce, sugar, minced onion and shallot.
In a large pot, fry the ginger, shallot until fragrant. Add water, chicken bones, salt. Bring to a boil. Lower the heat and simmer for 45 minutes.
Scoop out the bones.
In another pot, fry the chopped onion for 30s. Add the marinated pork and shrimp, stir fry. Add soup base made in the previous step. Bring to a boil then season the broth with seasoning powder, and turmeric extract.
Add quail eggs. Keep simmering for 2 minutes more.
Blanch the noodles then place them in a bowl. Place pork, shrimp, eggs in the bowl. Sprinkle chopped spring onions, and roasted crushed peanuts on top. Pour the broth and you're done.
Recommended place to eat
Quang noodle is the iconic dish of Hoi An, Quang Nam province. They can be found in sidewalk food carts to luxury restaurants in Hoi An.
Mr. Hai noodle, 6A Truong Minh Luong, Hoi An City.
13. Nộm hoa chuối (Banana blossom salad)
Vietnamese banana flower salad is a specialty in Vietnam cuisine with its various flavours and amazing texture contrasts. Banana flowers are peeled and thinly sliced then mixed with green papaya, carrots, along with chicken, sugar, vinegar, garlic and fish sauce dressing.
Eat it with: due to its fresh flavour, banana blossom salad is usually served as an appetizer, especially during the summer weather.
Recipe
Time: 20 minutes
Thinly slice the banana blossom. Soak them in a bowl of water for 10 minutes.
Add salt and lime juice to the bowl.
Thinly slice white onion. Soak in cold water for 5 minutes.
Remove all water, dry the banana blossom and white onion.
Toss banana blossom, onion, purple cabbage, red bell pepper, coriander, and mint together.
Dressing sauce: Dissolve the sugar into the water. Add fish sauce, lime juice, chopped chili, minced garlic. Stir to combine everything.
Pour dressing sauce and whisk the vegetables in a bowl.
Top with roasted peanuts. Enjoy.
Recommended place to eat
No.88, Hoa Ma Street, Hai Ba Trung District, Hanoi
No.B15 Luong Dinh Cua, Dong Da District, Hanoi
14.  Gỏi cuốn (Summer roll)
Goi cuon is the healthy version of deep-fried spring rolls which consists of thin vermicelli noodles, pork slices, shrimp, basil, and lettuce. All ingredients are tightly wrapped in translucent rice papers. It is well served with dipping sauce topped with crushed peanuts.
How to eat: sprinkle crushed roasted peanuts on top then dip in the sauce.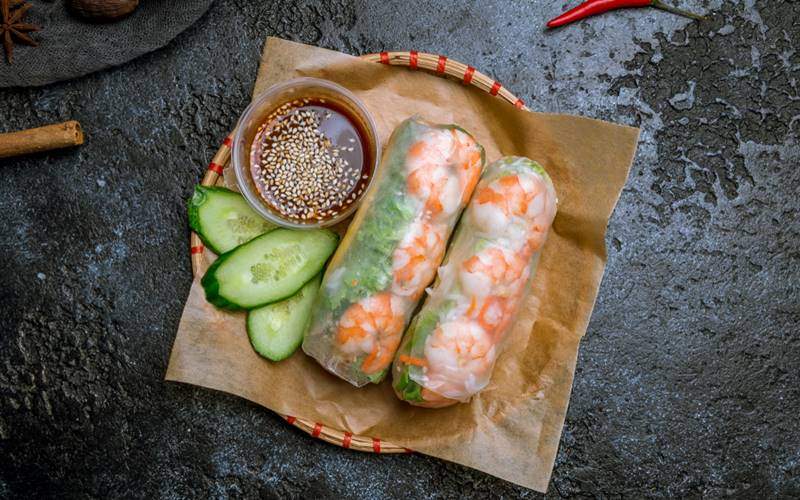 Recipe
Time: 40 minutes
Wash vegetables (lettuce, basil, coriander). Drain.
Steam shrimp. Peel and devein and cut in half.
Steam pork. Thinly slice.
Prepare the rice noodles as instructions on the package. Vietnamese people use "bún" – a type of rice noodles that you can eat instantly.
Add sugar, fish sauce, lime juice, water, chopped chilies in a small bowl. Stir to make the dipping sauce.
Place vegetables, rice noodles, shrimp, pork on the rice paper. Tightly roll.
Recommended place to eat
HCMC: Gỏi cuốn bà Oanh, No. 40, Le Binh Street, Tan Binh District. Open at 11.am every day.
Hanoi: Bánh tráng cuốn, No.90A Yet Kieu Street, Hai Ba Trung District.
15. Lẩu (Viet-style hot pot)
Lau is a bunch of ingredients laid out, with a simmering pot of soup in the middle. Lau is not just a dish but also a way to have a good time together, especially when the winter comes.
Basically, Lau is a customizable dish, from base stock to the ingredients.
How to eat: Bring the soup to boil, lower heat to keep it simmer. Dip meat and veggies into the soup. Take everything out with a strainer, dip with dipping sauce and enjoy.
Recipe
Time: 45 minutes
Here are the basic and easiest Lau recipe that you can do at home.
Preparation
Chop onion, garlic, ginger, shallot, lemongrass. Set aside
Cut the tomato in wedges. Slice pineapple into 1-inch thick pieces.
Thinly slice pork, beef, chicken
Wash and drain vegetables
Slice tofu in thick pieces.
Broth
Blanch the pork bones. Rinse under cold water.
Simmer the pork bones for 30 minutes.
When it's done, strain out the bones from the stock.
Heat up oil in a wide pot. Saute the onion mix until fragrant.
Add tomato and pineapple, stir-fry for 5 minutes.
Add pork stock and bring to a boil. Adjust seasoning.
Arrange noodles and vegetables onto a plate.
Place boiling soup pot on a portable burner.
Recommended place to eat
Some of the most famous Lau streets in Hanoi are Phung Hung, Pho Duc Chinh, Truc Bach Lake. You will find a number of restaurants serving various types of Lau in these streets.
16. Xôi xéo (Steamed sticky rice)
Xoi xeo is a savoury Vietnamese sticky rice, eye-catching by its bright yellow color. The ingredients of this famous Northern cuisine are glutinous rice, turmeric powder, mung bean, shallot, and pork floss. It is the most suitable and special dish for breakfast in winter.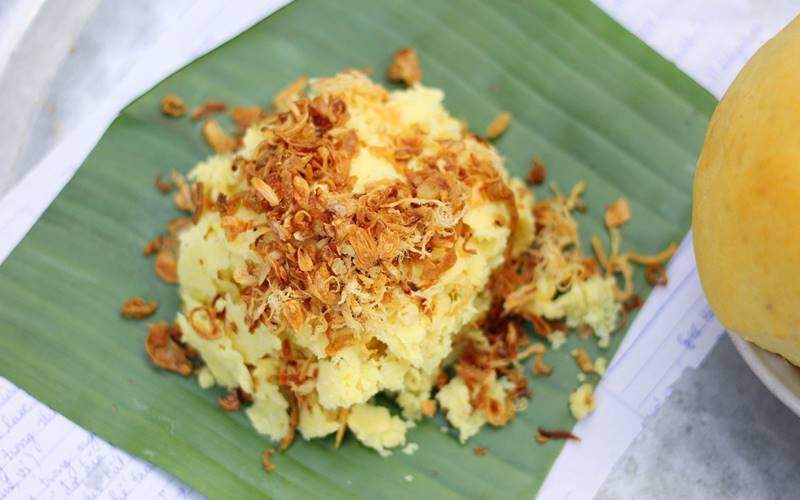 Recipe
Time: 4 hours
Add sticky rice and turmeric powder into a bowl. Soak in water for 3 hours.
Soak mung bean in another bowl for 3 hours.
Drain sticky rice, add salt. Steam it for about 30 minutes.
Drain mung beans, add salt. Steam it for 20 minutes.
When the mung beans cool down, smash them finely.
Place sticky rice on a plate, add smashed mung bean. Sprinkle fried shallot and pork floss.
Recommended place to eat
Xôi Yến, No.35b Nguyen Huu Huan, Hoan Kiem, Hanoi
17. Canh chua (Vietnamese sweet & sour soup)
Canh chua is a popular Vietnamese soup characterized by its contrasting flavors – sour, sweet, and savory. The soup includes ingredients such as seafood (eel, shrimp, snakehead, catfish), tomatoes, okra, pineapple, tamarind, bean sprouts, and fresh herbs with a tangy flavor. The sour taste of the soup usually comes from fresh tamarind or dracontomelon.
Eat it with: Canh chua is Vietnamese's favourite dish in the summer. People eat Canh Chua with steam rice for lunch or dinner.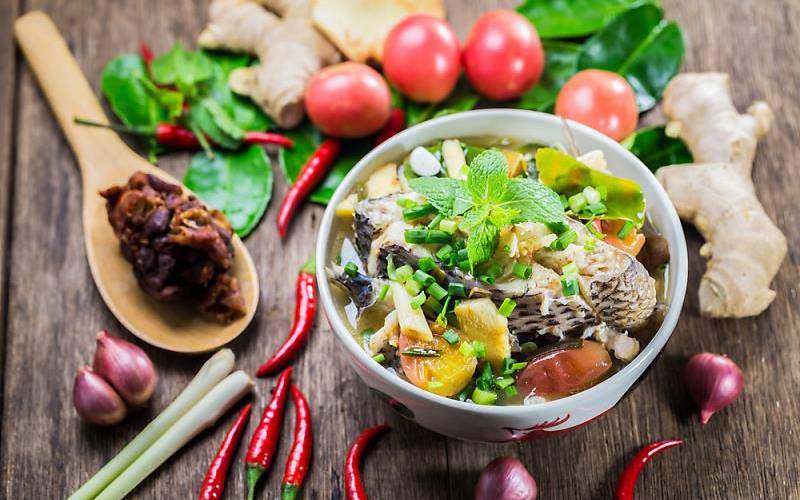 Recipe
Time: 30 minutes
Slice catfish into 1-cm thick pieces
Clean and chop ginger, chili, green onion, shallot, dill
Pineapple: Peel off the skin, slice. Tomato: clean and slice into wedges.
Marinate fish with fish sauce, chopped ginger and chili for 15 minutes
Heat up oil in a pot. Add shallot and saute till fragrant.
Add tomato wedges. Cook for 1 minute then add water and tamarind.
Bring the water to a boil. Add fish then boil the soup for 10 minutes more
Add pineapple, bean sprout, okra.
When the vegetables are done, Take the tamarind to a small bowl. Smash them with a spoon. Strain the pulp back into the pot, discarding any remaining tamarind seeds.
Give the pot a quick stir.
Add chopped dill and green onion. Serve immediately.
Recommend place to eat
Canh chua is common in restaurants that serve rice (cơm).
18. Bánh Chưng (Vietnamese square sticky rice cake)
Banh chung is a must-have dish in Lunar New Year celebration. It consists of simple ingredients like long-grain sticky rice, split mung bean, pork belly, salt, freshly cracked black pepper, then wrapped in "dong" leaves and boiled in 10 – 12 hours.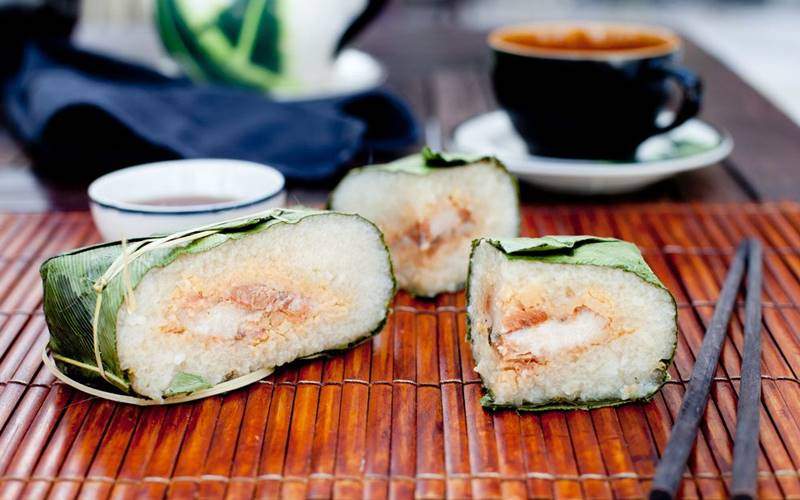 How to eat: Due to its sticky rice, Banh chung is not easy to cut. The best way to cut Banh chung is to use the bamboo threads.
Place the Banh chung on a plate, unwrap and leave some leaves on the bottom
Tear the bamboo thread into 4 thinner strands
Place these threads in an asterisk pattern
Pull the threads down, making sure it cut through the entire cake
Hold the remaining leaves at the bottom to flip the Banh chung over
Remove the leaves. You now have eight beautiful pieces of Banh Chung
Eat it with: Vietnamese people eat Banh Chung with pickled vegetables.
Recipe
Time: 8-10 hours (except preparation time)
Preparation
Soak the sticky rice in water overnight. Drain and add salt.
Soak mung beans in water for 4 hours. Drain and add salt.
Clean and dry the "dong" leaves. Cut off its petiole and spine. If you cannot find dong leaves, use banana leaves instead.
Slice pork (belly part) into 4-cm long pieces. Marinate with seasoning powder, ground black pepper.
Soak bamboo thread in water for 8 hours, split into 0.5cm wide strings. Or you can use kitchen twines instead.
Wrapping the cake
Arrange two strings on the cake mold.
Cut the wrapping leaves into 4 pieces. Fold them as in the picture below.
Place the folded leaves so that they fit in the mold.
Pour 1 cup of rice into the mold. Spread mung bean. Add sliced pork.
Add another layer of mung bean.
Top with a layer of sticky rice.
Fold the leaves down and press gently. Tie the two strings around the cake.
Remove the mold and tie 2 more strings around your Chung cake.
Cook the cake
Place the cake vertically into a large pot.
Add water. Make sure cakes are submerged.
Bring the water to a boil. Lower the heat to remain a moderate-boil.
Boil for 8 hours.
Remove the cake and rinse under cold water.
Recommended place to eat
Bánh chưng Bà Kiều, Suite. 12A15 – Đại Kim Building, Dai Kim Street, Hoang Mai District, Hanoi.
For vegan: Ưu Đàm Chay, No.34, Hang Bai Street, Hoan Kiem District, Hanoi
19. Cháo (Vietnamese rice porridge)
Vietnam's thick, creamy and hearty rice porridge is the best choice for you in winter. You can add slices of chicken, pork, fish, beef, duck or pork ribs and together with herbs, shallots, bean sprouts, black peppers or fish sauce to season the dish.
When to eat: Vietnamese people eat Chao almost all times of the day but most common for breakfast. This dish is also the best pick when you have a cold, stomachache or a hangover.
Eat it with: Vietnamese cruller is often added to rice porridge due to its crispiness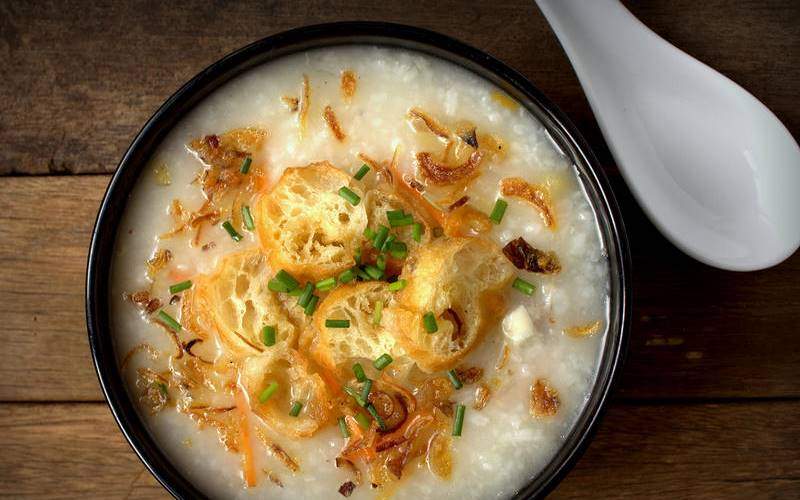 Recipe (for Chicken rice porridge)
Time: 45 minutes to 1 hour
Place rice and sticky rice in a heavy-bottomed saucepan.
Pour water and chicken stock to the saucepan.
Bring to a boil. Cover with a lid and simmer. Stir occasionally
When the rice is soft (usually after 40 minutes), add fish sauce, shredded chicken, mushrooms and season powder.
Cook for 10 minutes more
Add chopped green onions. Stir gently. Serve when it's hot.
Recommended place to eat
(Chicken porridge) Cháo gà bà Mỹ, no.47, Ly Quoc Su Street, Hoan Kiem District, Hanoi
(Fish porridge) Cháo Cá Đoan Xồm, no.213 Hang Bong Street, Hoan Kiem District, Hanoi.
20. Rau muống xào tỏi (Stir-fried morning glory)
Stir-fried water spinach or morning glory with fish sauce, oyster sauce and lots of garlic, is one of the signature Vietnamese dishes. A very simple yet tasty dish.
Eat it with: Local people eat "rau muong xao toi" with rice in daily meals. This dish is also favourite food to eat when drinking beer in Vietnam.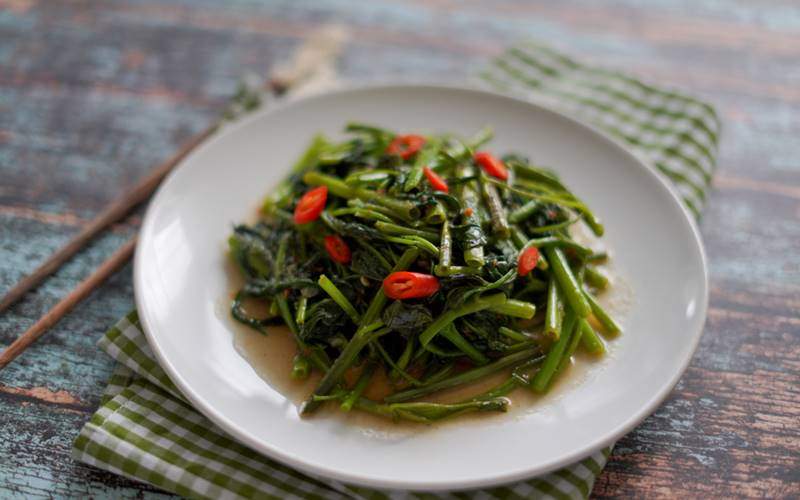 Recipe
Time: 10 minutes
Break the stalks of the morning glory into 5cm-long pieces. Break apart the leaves one by one. Wash and then drain well.
Heat your pan with vegetable oil.
Divide the minced garlic into 2 parts. Add one part and saute till fragrant.
Add morning glory. Add seasoning powder, fish sauce, oyster sauce.
Stir fry for about 3 minutes.
Recommended place to eat
Chung Den Bia Hoi, 18B Hang Cot, Hoan Kiem district, Hanoi
21. Cafe sữa đá (Vietnamese iced coffee)
Coffee in Vietnam is not just a type of drink; it's a culture. Throughout Vietnam, you can easily see older adults chatting with their buddy with a cup of coffee in hands or young teens gather in stylish coffee shops.
Vietnamese coffee has a strong and bold flavor of robusta which is balanced out by sweetened condensed milk. Whether you are a coffee-lover or not, don't leave Vietnam before trying Cafe sữa đá.
How to eat: It requires patience to drink Vietnam coffee the way the locals do. The signature coffee drip press is placed on top of a glass filled with condensed milk. The coffee drips very slowly to the milk glass below.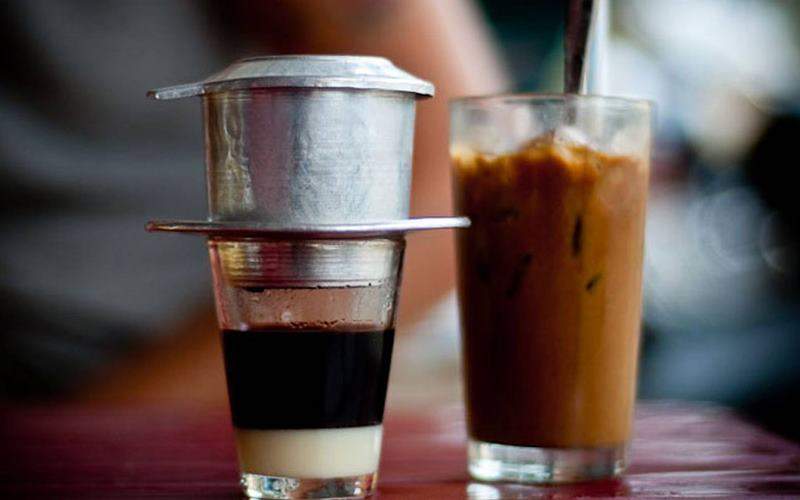 Recipe
Time: less than 10 minutes to prepare and hours to even the whole day to enjoy it
Pour the sweetened condensed milk into a glass.
Add the ground coffee to a drip filter. "Trung Nguyen" coffee is recommended.
Place the filter on the glass.
Pour the hot water, cover.
Wait until the water has gone all through the filter. Remove the filter.
Stir and add ice cubes. Enjoy.
Recommended place to eat
Coffee is prevalent in Vietnam. You can find many good coffee shops in big cities like Hanoi, Ho Chi Minh.
Besides classic iced coffee, Vietnam offers a range of different types of coffee which is just incredible. You should try coconut coffee, egg coffee. If you love strong coffee, try black coffee without or with little sugar.
Where can we take you?
Got an idea? Tell us what you're thinking and one of our travel experts will be in touch shortly to create the perfect holiday for you!