Country Profile
Official name: Kingdom of Cambodia
Capital city: Phnom Penh
Population: 4.5 million
Language: Khmer, Chinese, Vietnamese 
Local time: GMT+7 
Power voltage: 220 V, 50 Hz
International dialing code: +855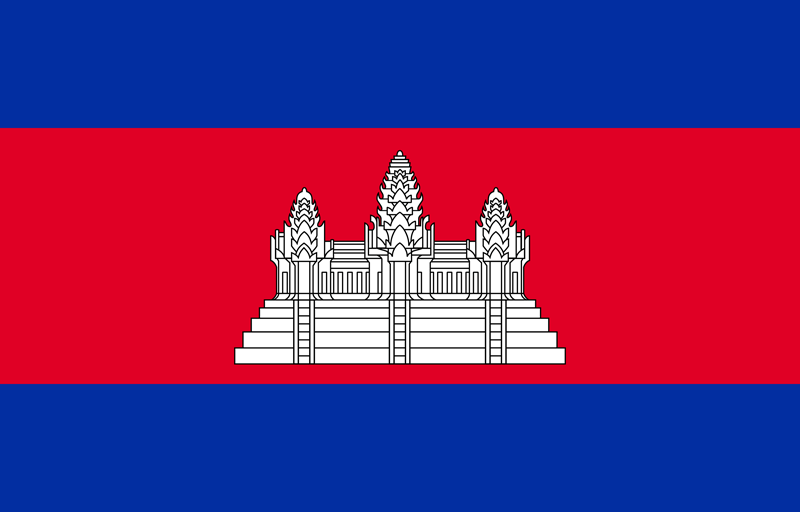 Official flag
The blue stands for the country's royalty while the red represents the nation and white, the religion, beginning with Brahmanism and growing into Buddhism. The temple symbolizes the structure of the universe.
Q: Do I need a visa? 
A: While ASEAN member countries are offered a 30-day free visa, travellers from other countries can easily get a visa on arrival at the airport for only USD 30 or apply online for an Evisa following the directions on the website here. If you apply for an Evisa, you must pay USD 36.
To complete the procedure for visa on arrival, you can either fly through Siem Reap or Phnom Airport or cross the Thai/Khmer border at Poi Pet or Bavet at the Khmer/Vietnamese border. Bring along a passport-sized photo and the USD 30 fee in cash, and make sure to have exact change if doing a border crossing by land.
Q: What kind of currency is used in Cambodia? 
A: Although the Riel (CRI) is the official currency of Cambodia, USD are more widely-used for most hotels, restaurants, shops, and attractions. Even the ATM's dispense USD instead of the local currency. Keep in mind that if you pay in USD, amounts of money less than USD1 will be paid back in the local currency of riel, with USD 1 = 4000 Riel.
Thai Baht and VND are also used in some famous tourist attractions. Avoid using the rare USD 2 to pay local people as its not used for daily use and considered lucky money for special occasions.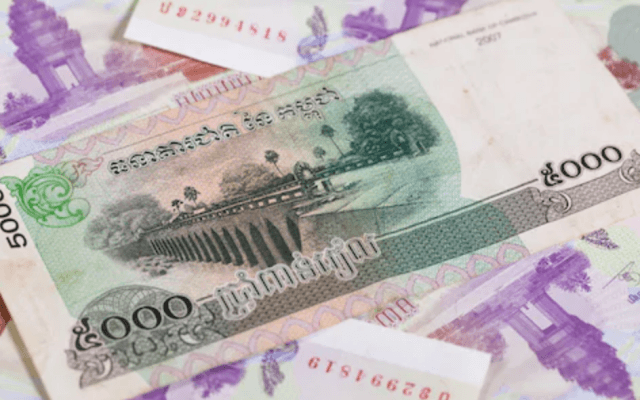 Khmer Riel
Q: How can I communicate?
A: It's easy to communicate with locals in major tourist spots since most people in big cities can speak a variety of languages from English, French, Spanish, German, Japanese, Korean, Chinese, Thai, and Vietnamese. However, learning a few basic Khmer words can help make travelling even easier and ensure more chances for cultural interaction.
Yes – Baat (men)/ Chaas (Women)
No – Dteh
Please – Suom Mehta
Thank you – Or-koon
Sorry/excuse me – Sohm dtoh
Where is the restroom? – Bang-kon noun aina?
I'm lost – K'nyom vung vehng plouv
Hello – Jum-reap soo-a
Goodbye! – Joom-reap leah
How much does this cost? – T'lay pohnmaan?
That's expensive! – T'lay!
Can you give me a discount, please? – Som jous thlai bahn teh?
Q: Can I access Wi-fi or 3G/4G networks? 
A: Sure! You can find Wi-FI in most restaurants, cafes, coffeeshops, hotels, office buildings, and even traditional markets. For those who would like to have access to 3G/4G, it's available at USD 0.25 for 1GB per day.
Q. What should I eat while visiting Cambodia? 
A. Often overlooked due to its more popular neighbours of Vietnam and Thailand, Cambodia too has a rich history of delicious culinary dishes to choose from, always served with a huge portion of rice for USD 6 or less.
Fish Amok – The signature dish of Cambodia is a type of steamed fish filet blended with coconut milk, eggs, fish sauce, palm sugar and a local paste called Kroeung made from a mixture of turmeric, lemongrass, and shallots. All of these delicious ingredients are poured into a banana leaf and then served with a big pile of rice.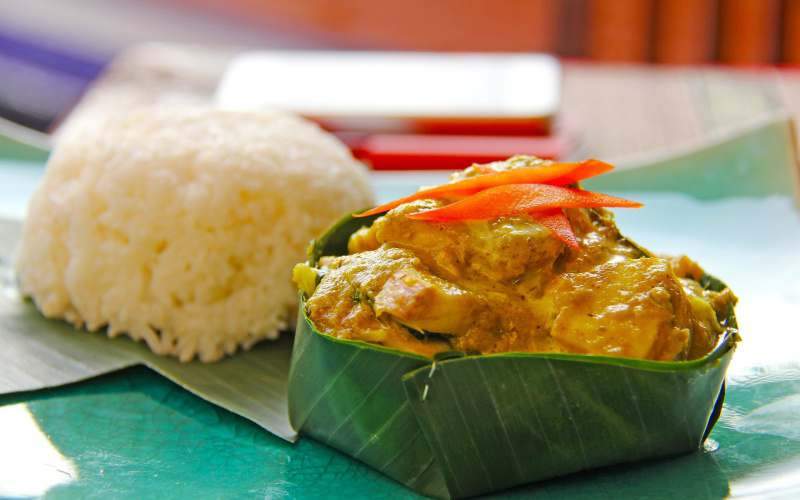 Cambodia's national dish, Fish Amok
Bai Sach Chrouk:  A common breakfast in Cambodia, this plate of warm rice and grilled sweet pork marinated in a coconut and garlic mixture is served with pickled and sweet cucumbers, carrots, a fried egg and a small bowl of chicken broth. And the best part, it only costs USD 0.75!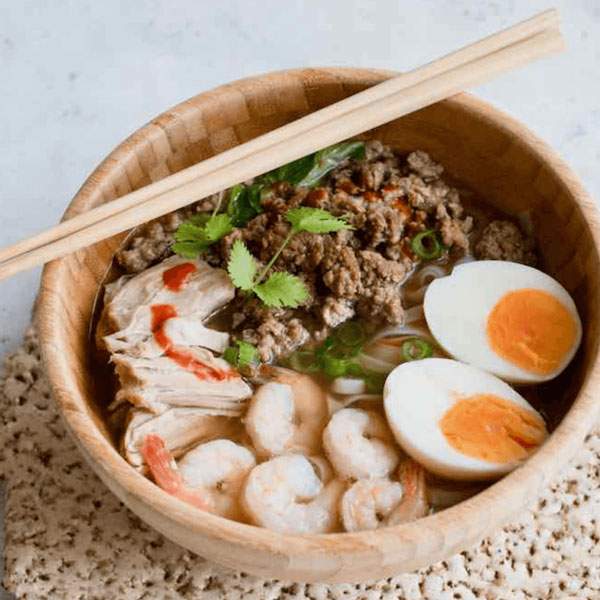 Start your morning right….
Kuy Teav – Start the day with a bowl of Kuy Teav, often made from either pork or beef bones and rice vermicelli noodles and topped with aromatic herbs, bean sprouts, and green onion. To really enjoy the local taste, add a spoon of chili paste and some drops of fresh lime and hoisin sauce…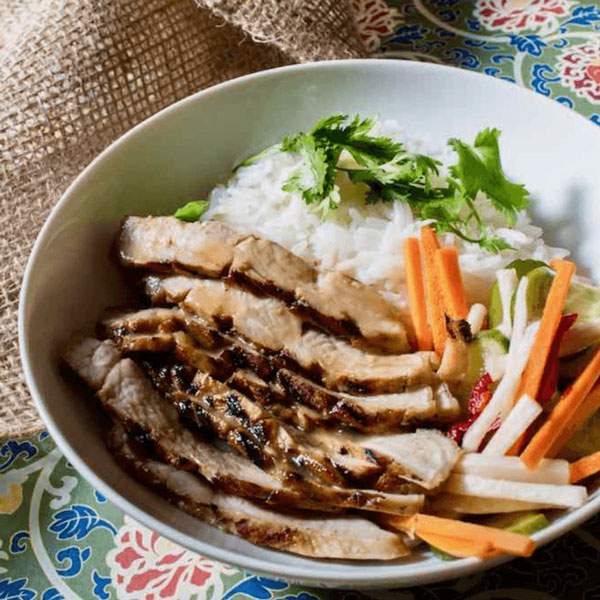 A delicious noodle soup perfect for breakfast
Khmer Red Curry – Similar to the renowned curries of Thailand and India, Khmer red curry is milder and sweeter in taste. Normally, locals use a combination of chicken (or beef or pork), with creamy coconut milk, fish sauce, garlic, shallots,  ginger, and local herbs. The dish is then served with bread or rice.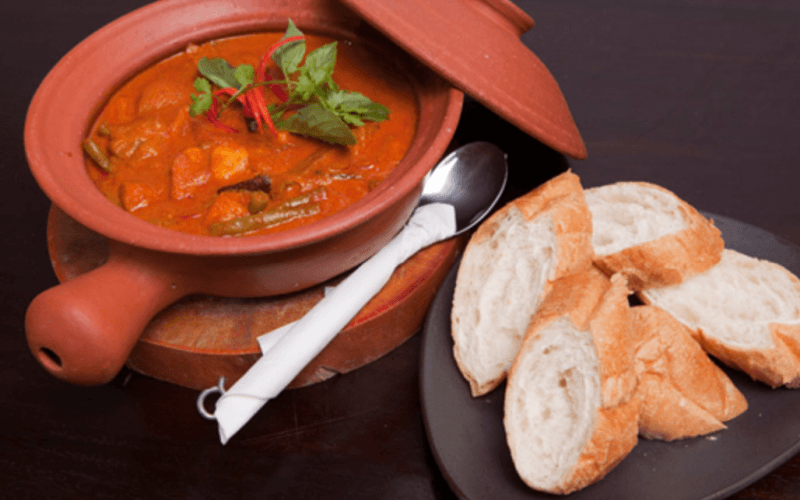 Cambodian Red Curry
Nom Plae Ai – These cute sweet dumplings made from glutinous sticky rice are usually eaten as a dessert or snack and can be found on most streets in Phnom Penh in a variety of bright colours. Nicknamed "husband killers" due to a traditional Khmer fable, these delicious little morsels are so good, you can't just have one!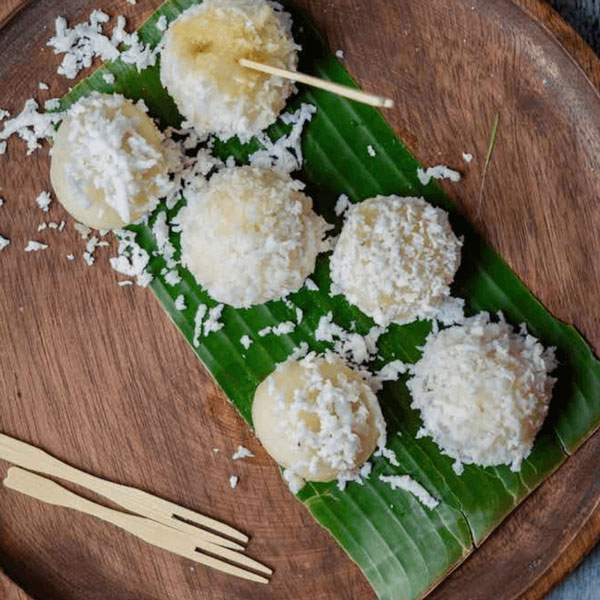 The iconic "husband killers"
Q. What kind of local transportation is available in Cambodia?
A. To get around Cambodia as a whole, there are a range of transports offered to tourists. Buses are the cheapest and the most convenient way to get between cities, and charge between USD 4 – 6 depending on the distance.
Booking pick-up trucks or shared taxis is another alternative to reach some of the country's more off-the-beaten-track routes for a very reasonable price. For example, a shared taxi between Phnom Penh and Sihanoukville is usually around USD 50.
You also can rent a self-drive car (USD 60 – 70/day) or a 110cc motorcycle (USD 5 – 8/day) to explore on your own. Bicycles are also popular means of transport within cities and go between USD 1 – 2 per day for rentals.
Finally, remorks and tuk-tuks are fun ways to get around town, but make sure to haggle the price before getting in. A short trip around town should cost USD 1 – 2.
The iconic remork sits on a corner in Kampot
Q. Is Cambodia safe?
A. Cambodia is generally a very safe place to travel around. Just remember a few rules of thumb to ensure your trip runs smoothly, such as
Avoiding discussions about political matters as there are over 30 parties in the Khmer government
Avoiding discussions about the Khmer Rouge unless a local brings it up and wants to talk about it, as most of the population has been severely affected by this terrible recent tragedy
Keep valuables in your hotel safe or behind the reception. If you leave items behind the reception, make sure to get a receipt writing down what you gave.
Never wander off in rural areas without a guide and avoid travelling by road late at night.
Q. Any tips for budget travellers?
A. The best advice is to haggle when using local transportation like motorbike taxis, remorks, tuk-tuks or when shopping in markets. Paying half of what the original asking price is is usually a safe bet.
Respect the culture
What to wear?
Avoid wearing T-shirts with religious themes or depictions of war or violence
Don't wear short shorts, mini-skirts, tight pants or other revealing clothing, especially at religious monuments like Angkor Wat or historical areas like the Royal Palace, Killing Fields, and Genocide Museum. 
Take off shoes and hats before entering temples, homes, and businesses
In public
It is considered rude and impolite to show anger or disappointment in public; remember to keep bargaining exchanges calm and friendly
Don't touch, lean, or sit on temple structures or fragile statues
Don't give money or candy to children as it encourages them to skip school and live on the streets 
Avoid public displays of affection in religious or historical areas 
Religious customs
Don't point your feet towards any type of Buddha statue 
Dress cleanly and neatly while visiting temples and pagodas
Walk clockwise around Buddhist monuments and never turn your back on Buddha
Women should never directly touch monks
Don't take photos of monks without asking permission 
Always cover your shoulders and knees when entering sacred spaces
Eating and drinking tips
When using a fork and spoon to eat, use the fork to push food onto the spoon. Putting the fork into your mouth is considered rude
Do not stick your chopsticks vertically into your rice bowl as this is a sign of bad luck
It is considered polite to finish everything you have in your bowl and not leave anything wasted
Usually, the eldest and/or guest will eat first. The last to eat is the cook
Avoid talking about sensitive topics or business while dining 
Where can we take you?
Got an idea? Tell us what you're thinking and one of our travel experts will be in touch shortly to create the perfect holiday for you!
Itineraries
Highlights
Cambodia
Highlights: Siem Reap, Battambang, Phnom Penh
---
Highlights
Cambodia
Highlights: Phnom Penh, Battambang, Siem Reap
---
Highlights
Cambodia
Highlights: Siem Reap, Phnom Penh
---