Recently opened up to the international community, Myanmar has become a must-visit destination for those looking to catch a glimpse of a society before modernization. The mysteriousness and mysticism of the  largely Buddhist nation draws visitors in with its magnificent ancient ruins of Bagan, glittering spires of temples and pagodas, prehistoric teak forests, and isolated ethnic minority communities. If you're wondering if a trip to Myanmar is right for you, check out our top reasons why this country should be on your bucket list below!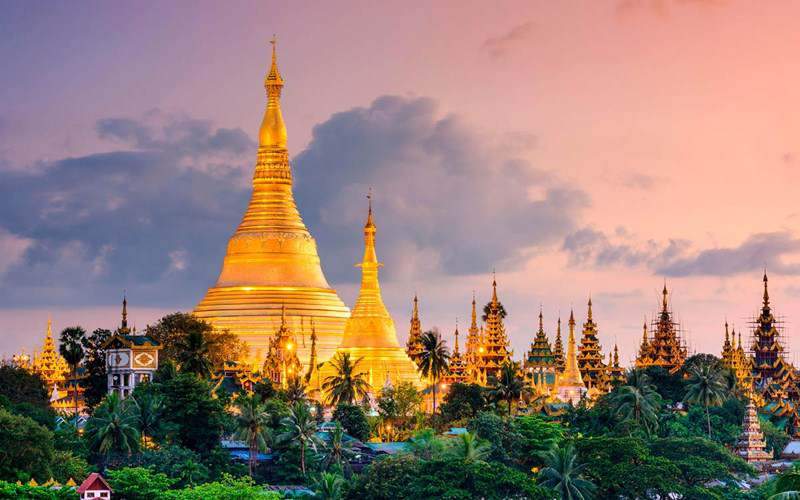 No wonder Myanmar's nickname is "the Golden Land"…
Religion and Spirituality
Religion and spirituality play a huge role in the lives of the local people. With an estimated 90% of the population practicing Buddhism, golden temples reaching to the sky, quiet pagodas, nuns in pink and monks dressed in marroon are down every street and alley. As the sun rises, locals come out to offer alms to the monks in a time-honoured tradition that even foreigners can participate in.
In the Shan State, ethnic minorities are more likely to practice shamanism, believing in 37 different Nats, or spirits/gods. These shrines to Nats can be found in and next to pagodas throughout the country.  For those seeking to learn more about Buddhism and spirituality, a trip to Myanmar is the ultimate destination for those on the path to enlightenment.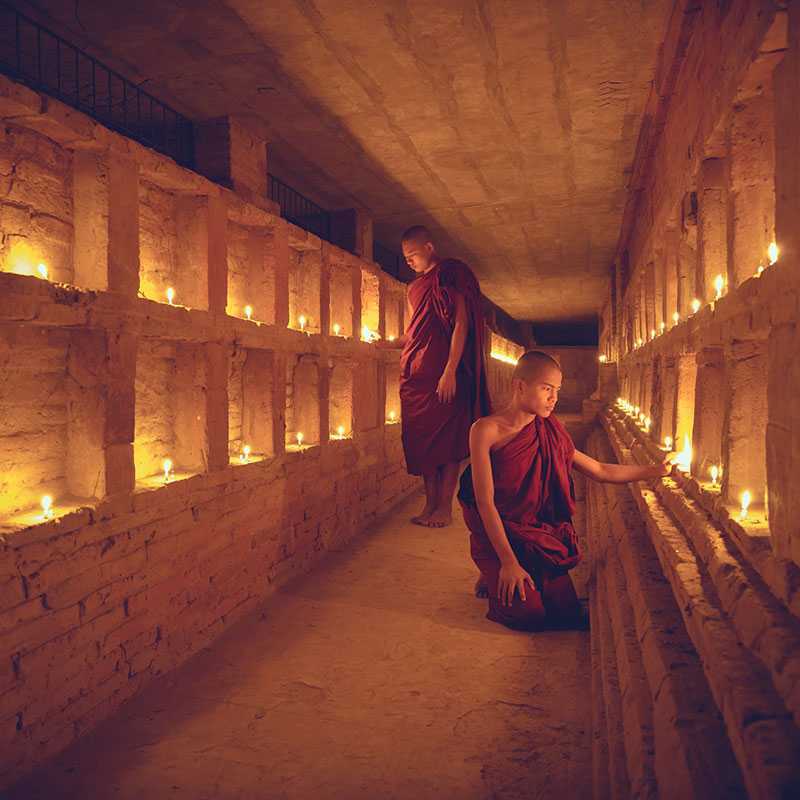 Devout monks lighting candles 
Untouched Nature and Landscapes
Myanmar is a land chockfull of incredible pristine nature and scenery. The Shan State, home to the largest ethnic minority groups in Myanmar as well as the gorgeous Inle Lake, is a picture of hilly plateaus, mountains, waterfalls, rice fields, and vineyards.
To the south, the Mergui Archipelago, consisting of more than 800 islands, is a remote paradise in the Andaman Sea  rarely visited by outsiders and brimming with untouched coral reefs, beaches, coastlines, and isolated communities.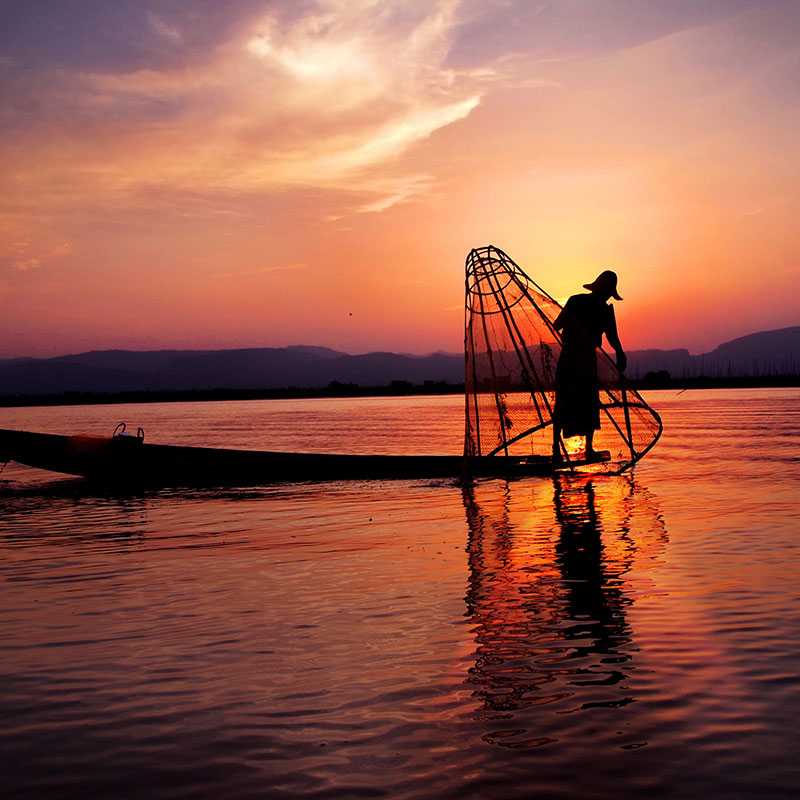 A fisherman of Inle at sunset
Vibrant Cultural Traditions
Due to the very recent opening of the borders to western cultures, Myanmar is a country with a strong hold on its cultural traditions, seen even in simple day-to-day activities involving skincare and fashion.
Both men and women can be seen wearing longyis, a type of long, wraparound sarong, as they go about their daily business.
Women can be seen wearing thanaka, a traditional type of skincare made from the bark of several trees and with a similar smell to sandalwood. It is used by locals not only as a cosmetic beauty but to protect skin from sunburn and to remove acne. And in some areas, it's still possible to see the Chin Women who from long ago, tattooed their faces using sharp thorns and vegetation to prevent their kidnapping from Burmese princes long ago.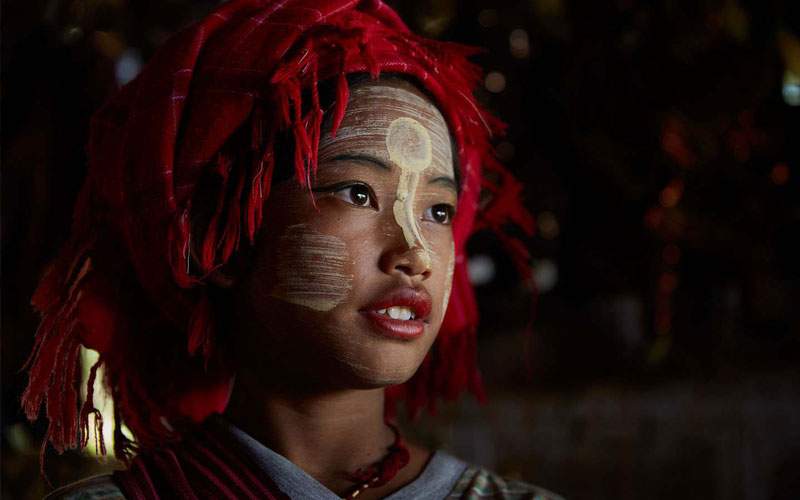 A girl from the minority Pa-O Tribe in the Shan State wearing Thanaka powder
Epic History
There is nothing quite like seeing the fog dissipate over the ruins of Bagan as the sun begins to rise, and with it, hot air balloons floating up into the sky. A certain type of mysticism pervades the air here, a feeling of wonder and astonishment as through the dirt and tufts of jungle, over 2,200 of the estimated 10,000 temples, stupas, and pagodas that once existed here sprout out from the mist in every direction. The best time to visit Bagan is during the wee hours of sunrise or as the day slips into night at sunset. Find your very own temple to enter and view the impressive landscape all by yourself.
To the north, along the Irrawaddy River to the immortalized city of Mandalay, lies the golden domes of Mandalay Hill, and venturing further, three more ancient royal capitals, that of Sagaing, Ava, and Amarapura. These cities possess crumbling monasteries still used by monks today for studying and the longest teak bridge in the world.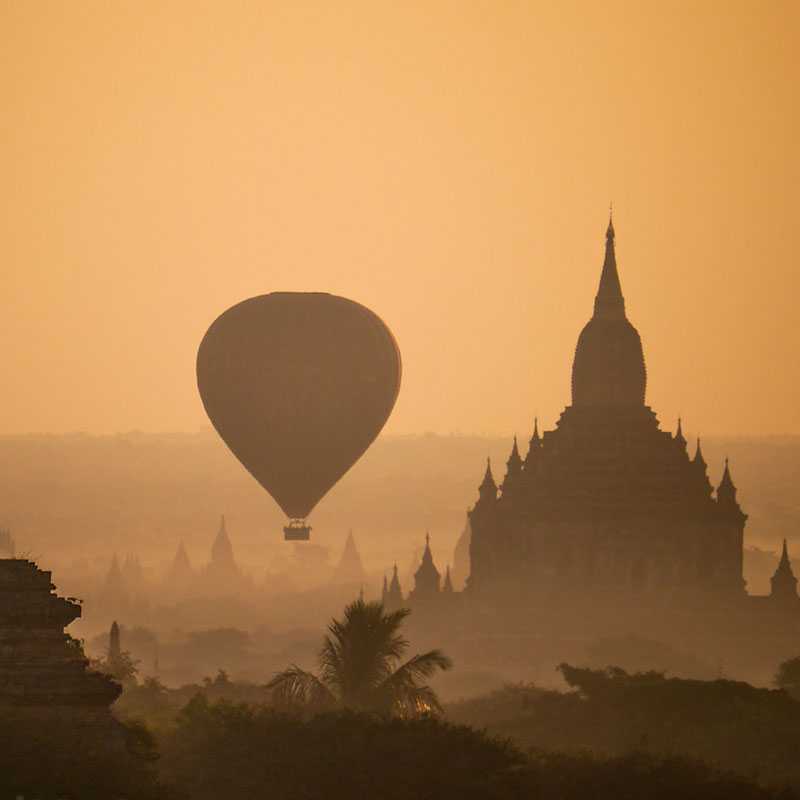 Sunrise in Bagan
The Local People
Often named as one of the friendliest countries in the world, the golden land's people are always smiling and willing to help visitors to their country. The hospitality of the Burmese, Rakhine, Shan, and other indigenous peoples cannot be matched as locals go out of their way to invite travellers for cups of tea and extravagent feasts. The local people are so happy to share their culture and traditions with outsiders and these authentic encounters are what can make a trip that is already special develop into something extraordinary.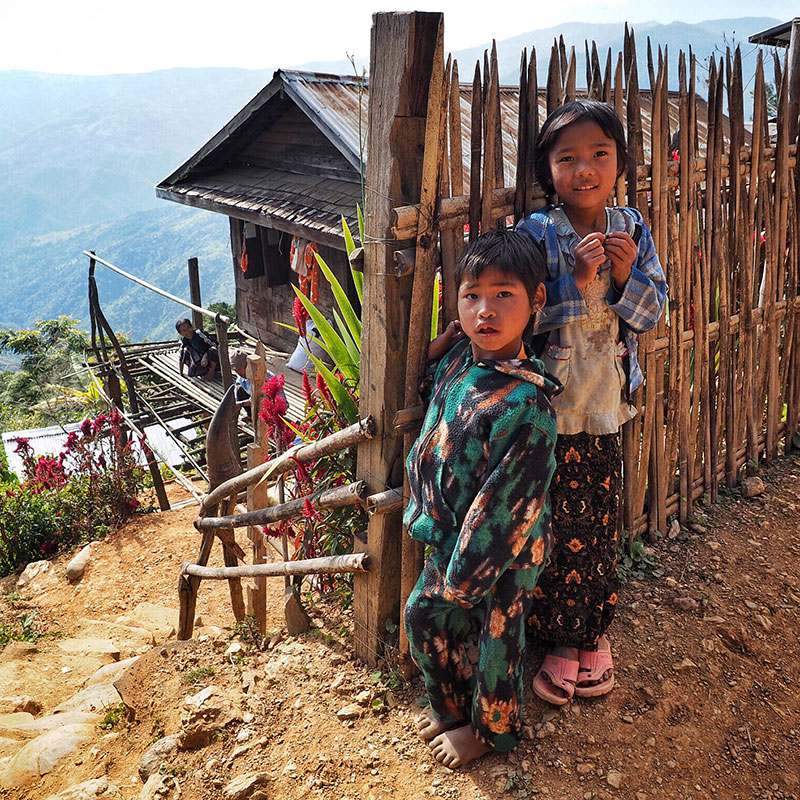 A family in Mindat, a remote village found in the Chin State
If this list sounds like the perfect amount of reasons to visit this country–you are in luck! Contact us right away to start planning your ideal journey through this vibrant country filled with history, magic, and beauty. 
Where can we take you?
Got an idea? Tell us what you're thinking and one of our travel experts will be in touch shortly to create the perfect holiday for you!
Itinerary
Luxury
Myanmar
Highlights: Mandalay, Ava, Sagaing, Amarapura, Bagan, Heho, Inle Lake, Tuangyi, Kakku, Thandwe, Ngapali Beach, Yangon
---
Highlights
Myanmar
Highlights: Mandalay, Bagan, Heho, Inle Lake, Yangon
---
Adventure
Myanmar
Highlights: Yangon, Kyaikhtyio, Bago, Mandalay, Ava, Sagaing, Amarapura, Kyuakkar, Monywa, Pakkoku, Bagan, Mount Popa, Heho, Kalaw, Green Hill Valley Elephant Camp, Inle Lake, Indein Village
---