Located at the center of the Southeast Asian "Indochinese" peninsula, the thrilling country of Thailand is composed of 77 different provinces. Bangkok, the largest city as well as the capital, is a political, commercial and cultural center of Thailand and is the most visited city in the entire world by international tourists. Thailand is also one of the biggest Buddhist countries in the world, accounting for 94.5% of the country's religious preferences. If you're looking for a plethora of historical, natural and cultural sights to fill your time or just want to find a perfect beach to laze away your days, Thailand is the perfect choice for you. Join in interesting cultural celebrations like Songkran, the raucous spectacle occurring throughout the entire country, or release glowing lanterns into the sky in Chiang Mai's Yi Peng Festival. Those looking for adventure will definitely find it in treks to diverse ethnic minority groups living in the deeply forested mountains while cultural experiences such as attending Thai cooking classes, Buddhist meditation courses, and luxurious spa treatments are around every corner.
1. Bangkok
Every year, Bangkok draws the largest number of tourists to international destinations in the world because of its multifaceted sights, dynamic nightlife, glittering Royal Palace and temples, as well as several top-notch museums. In addition, there is such a wide variety of shopping and dining opportunities one could never get bored. Among the cities in Southeast Asia, Bangkok is one of the most impressive destinations because of its unique combination of traditional and modern features. In addition to futuristic skyscrapers and the bustling transportation, Bangkok still retains many of its traditional buildings like temples and floating markets which bear the bold imagery of the past. Bangkok is also extremely well known for its diversity in cuisine, amusement parks, and shopping malls. You can easily find many shopping centers and local markets selling high-quality silk, gems, bronze, furniture and countless handicrafts. Many tourists enjoy visiting the city between the 13th – 15th of April as the wild celebrations for Thai New Year (Songkran), are under way. Join in the city-wide water-fight with locals and foreigners alike in the time-honoured tradition of washing all the bad luck of the previous year away.
Recommended length of stay
Bangkok is a big city, and it's possible to spend a month here without seeing all it has to offer. However, if you'd like to see the highlights of Bangkok before moving to Thailand's other destinations, 2 to 3 days should be enough.
Plan to stay for 5 to 7 days in the capital for an in-depth experience. With a week in Bangkok, you'll be able to see the city's must-see sites, taste the fantastic food, and enjoy the lively nightlife.
If you have limited time in Bangkok on the way to somewhere else and want to quickly see the best of Bangkok, 1 or 2 night is enough to have fun. 
Popular destinations
Click

for more detailed information on popular Bangkok tourist attractions
Accommodation
It's easy to find accommodation for any budget in Bangkok, with affordable guesthouses and hostels not exceeding more than USD 20 per night. On the other hand, a night in the luxurious Mandarin Oriental or the Siam goes for at least USD 500 per night. Each area of the city has its own attitude, so visitors can choose their accommodation based on their interests, such as staying in Sukhumvit, Chatuchak, or Pratunam for those who love to shop while many historical sites are situated along the Phra Nakorn area of Rattanakosin Island. Make sure to reserve your accommodation from 30-60 days in advance to take advantage of the best promotions on offer.
Famous food
Thai dishes are renowned throughout the world for the exquisite quality of ingredients used and the interplay of spicy, sour, bitter, salty, and sweet flavours. In fact, gorgeous curries and the iconic tom yum goon consistently rank in the top 50 of the world's best foods – in 2017 alone, Thailand had 7 dishes on the list, more than any other country. Make sure to check out the iconic national dish of Thailand, Tom Yum Gum, a type of soup with shrimp, mushrooms, tomatoes, and spices like lemongrass, galangal, and kaffir lime, and Pad Thai, an intoxicating combination of stir-fried rice noodles with shrimp, bean sprouts, tofu and egg, traditionally served with limes and banana flowers.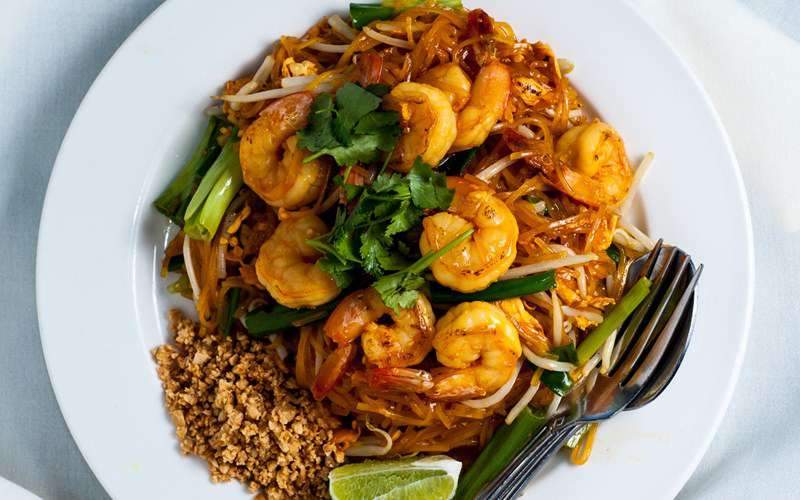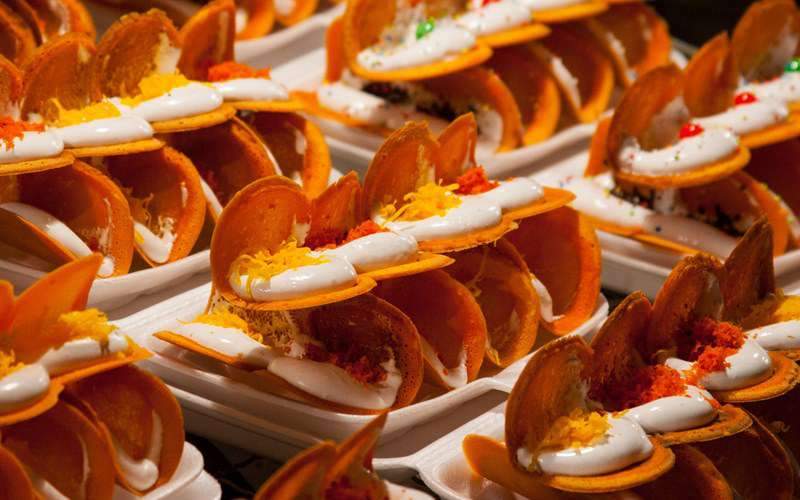 Other famous dishes to consider include
– Gooay teeo reua:  Consisting of meat, herbs, dried spices and sometimes blood in a special broth
– Som Tum: one of the most popular street foods in Thailand because of its flavor balance of sour lemons, sweet palm sugar, spicy chilis, and salty fish sauce and dry shrimp
– Kanom beuang: a 600-year-old historic combination of crispy batter and sweet or savoury toppings
– Mee grorp: traditional crispy noodles
– Bamee: Chinese-styled wheat and egg noodles served with roast pork, greens and/or wontons.
– Gooayteeokooagai: fried rice noodles mixed with chicken and eggs, regularly sold in Bangkok's Chinatown.
– Mataba: a thin fried pancake stuffed with either a sweet or savoury filling.
Best places to visit from Bangkok
Erawan National Park
Koh Samui
Krabi
Pattaya
Sukhothai
Ayutthaya
Chiang Mai
Chiang Rai
Phuket
2. Chiang Mai
Nestled in valleys surrounded by the mountains of Northern Thailand, Chiang Mai is a must-visit destination in the Kingdom of Thailand. Just an hour's flight from Bangkok, Chiang Mai is worlds away from the sprawl and hectic lifestyle of its modern sister. Since it was once the stronghold and capital of the Lanna Kingdom, Chiang Mai is well-known for its cultural attractions such as sacred temples and pagodas, most notably, the holy Wat Phra That Doi Suthep. The best time to visit this "northern rose" is between November to February, when a variety of flowers bloom and the days are warm and evenings cool with no rain. It is also the time when one of the most iconic festivals in all of Southeast Asia occur on the full moon night in November. Watch as hundreds of lanterns are released into the night sky during the Yi Peng and Loi Krathong Festivals. Chiang Mai is also an excellent place to join in educational activities like yoga and massage classes as well as religious studies and cooking classes. Many travellers use Chiang Mai as a base to explore the many ethnic minority villages found in the hills and surrounding countryside.
Recommended length of stay
To fully explore Chiang Mai without feeling rushed, five days is the perfect amount of time.
If you don't have much time, consider a two-day stay. You can spend the first day with the Elephants, then use your second day with the Monks, Temples and hill-tribe village.
Popular destinations
Click

for more detailed information on popular Chiang Mai tourist attractions
Accommodation
Chiang Mai has a variety of hotels suitable for different budgets spread through 3 highly recommended areas—the old city center, Ping River, and around the Night Bazaar. Opt for the Ping River if you are looking for exclusive resorts and hotels with picturesque sceneries while the old city center is perfect in terms of reasonable prices and central location to visit all of the major tourist attractions. The Night Bazaar is always bursting with energy so it's the perfect place for those looking to let their hair down and have some drinks while browsing the many stalls on hand.
Famous food
Make sure to try these dishes on your northern sojourn:
– Khao Soi: an egg noodle broth served with spring onions, pickled cabbage and slices of lime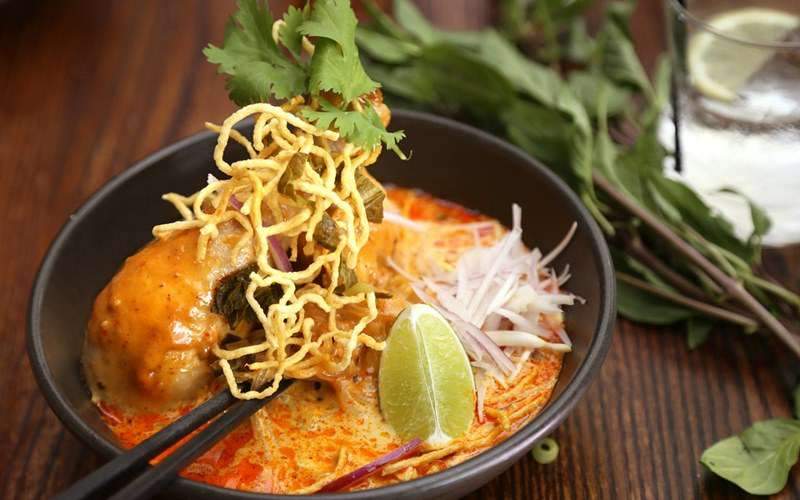 Khao Soi
– Khan Toke: this special Lanna dining experience consists of a range of northern-style dishes and a basket of sticky rice served on a low table while enjoying cultural performances of folk music and dances.
– Gaeng Hang Lay: a sweet curry cooked in the Burmese-style with a tamarind-based soup, pork chunks, shallots and shrimp paste
– Miang Kham: this vegetarian dish has a filling of sliced shallots, fresh red or green chilies, diced ginger, garlic and lime, and roasted grated coconut wrapped in fresh betel leaves and served with a sweet syrup.
– Khanom Krok: coconut rice pancakes with a thin, crispy outer layer covering a super soft layer of coconut.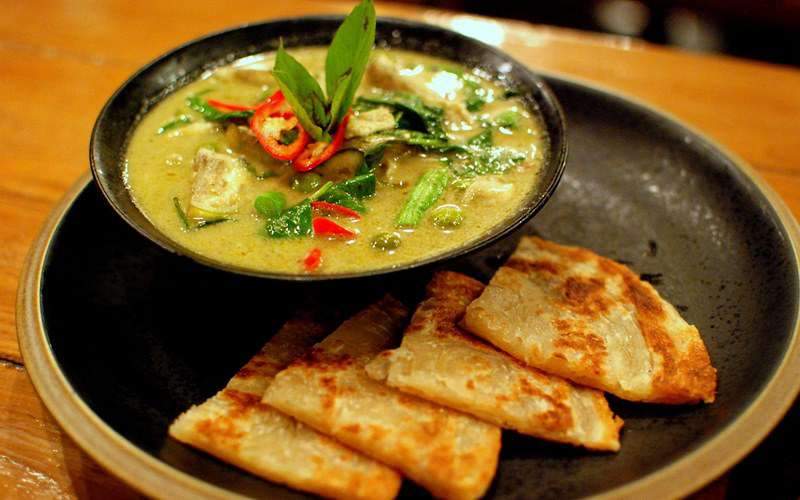 Khanom Krok
Best places to visit from Chiang Mai
Chiang Rai
Ayutthaya
Bangkok
Sukhothai
Pai
Phuket
3. Pattaya
According to an unconfirmed story, the prosperity of Pattaya began when a group of 500 American soldiers arrived in Pattaya on June 29, 1959, for relaxation. They rented some houses at the southern end of the beach from a famous Thai, Lord Sunthorn. Despite the short stay, the soldiers had a great time and were extremely impressed by the place. The experience of American soldiers at Pattaya was widely discussed leading to Pattaya becoming a hot destination. Although it was once a small fishing village, nowadays this place is the second-most visited city in Thailand, after Bangkok. Pattaya attracts countless visitors every year due to its charming, crescent-shaped golden sand beaches of Jomtien and Ko Larn along the east side of the Gulf of Thailand. The second-most visited city in Thailand after Bangkok.
Recommended length of stay
You like partying and nightclub, you may never get bored in Pattaya. But if the city is just one destination on your Thailand trip, then 3 days is the best.
It is enough to check out the exotic nightlife and lovely beaches. 
Popular destinations
Click

for more detailed information on popular Pattaya tourist attractions
Accommodation
Since Pattaya is such a well-known tourist destination, there is a huge selection of hotels for all budgets, from the cheapest hostels to family-friendly beach resorts and luxurious hotels with impressive sea views. However, visitors should be careful because not all parts of Pattaya are ideal to stay in due to the red light district, which is coincidentally the largest in the world.
Famous food
Aside from the classics, make sure to try these dishes during your visit to Pattaya.
– Yum Woon Sen: a popular salad with glass noodles. The spicy and sour flavour of this dish is created by combining garlic, dried shrimp, peanuts, onion, limes, Chinese celery and a lot of chilies!
– Pad Krapow Moo Saap: wok stir-fried holy basil with minced pork, fresh chili, green beans, and soy sauce with a fried egg (kai dao) as a topping and then served on steamed rice.
– Pla Pao: an authentic Thai dish consisting of grilled fish seasoned with simple spices and lemongrass.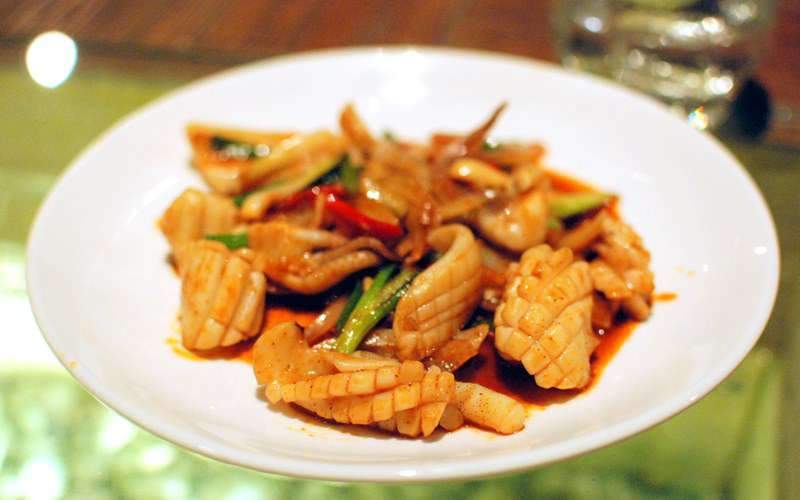 Pla Pao
– Khao Pad Gung: stir-fried rice with an egg, onion, herbs, carrots and peas. The locals here prefer using prawn as to the usual ingredient of meat, making this dish extra special to try.
– Sticky Mango Rice: is the most famous and scrumptious dessert in Thailand, made with glutinous rice, fresh mango and coconut milk.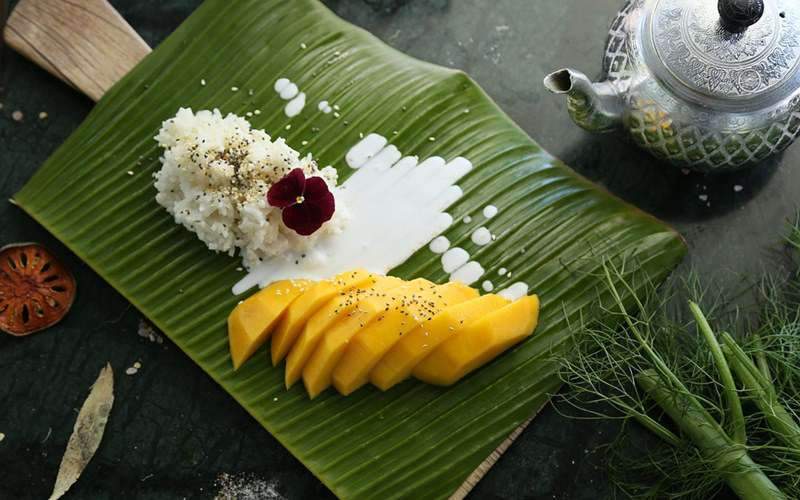 Sticky mango rice
Best places to visit from Pattaya
Bangkok
Khao Yoi National Park
Koh Samet
Koh Chang
Koh Kood
Coral Island
4. Koh Samui
In the 1970s, Koh Samui Island was empty, with only a few bungalows and tourists visiting. But in the early 1990s, the number of tourists traveling to the island increased rapidly which boosted its tourism industry vigorously. Koh Samui now ranks second after Phuket in terms of the number of tourists visiting each year, and with its white sandy beaches and crystal clear waters harbouring colourful coral reefs sparkling in the sunshine, it's not hard to see why. Take a few days to explore the impressive Angthong Marine Park, a picturesque archipelago of 42 pristine islands, and when you tire of the beach, journey inland to gaze at beautiful waterfalls like Na Muang I and II.
Recommended length of stay
A 4-day itinerary is enough to cover the best sights of the island. Majority of travelers prefer to stay in Koh Samui for four days. Spending a week here if you want to discover its abundant cultural attractions, besides palm tree, and edged beaches.
Popular destinations
Click

for more detailed information on popular Koh Samui tourist attractions
Accommodation
Koh Samui is very popular with honeymooners and couples looking for a romantic stay away from it all. The majority of hotels and resorts have their own swimming pools with ocean views and stunning beaches, such as Banyan Tree Koh Samui being a typical example. Some hotels are also located within the mountains showcasing breathtaking views of the island and sea, like the Ritz-Carlton. In addition to these top properties, Koh Samui also has cute guesthouses and boutique stays for those looking to save money in this gorgeous destination.
Famous food
– Kalamae: sweet, sticky candy are made of glutinous rice flour, palm sugar, and coconut cream
– Kai phad med ma muang: chicken and cashew nuts are stir-fried with a variety of vegetables: chili, bell pepper, onion and Thai herbs.
– Tom kha kai : the spicy and sour soup recipe typically includes coconut milk, galangal, kaffir lime leaves, lemongrass, Thai chili peppers, coriander, mushrooms, chicken, fish sauce, and lime juice
– Massaman curry: the Muslim dish in the South of Thailand with the main ingredient is pork, beef and chicken besides many aromatic spices.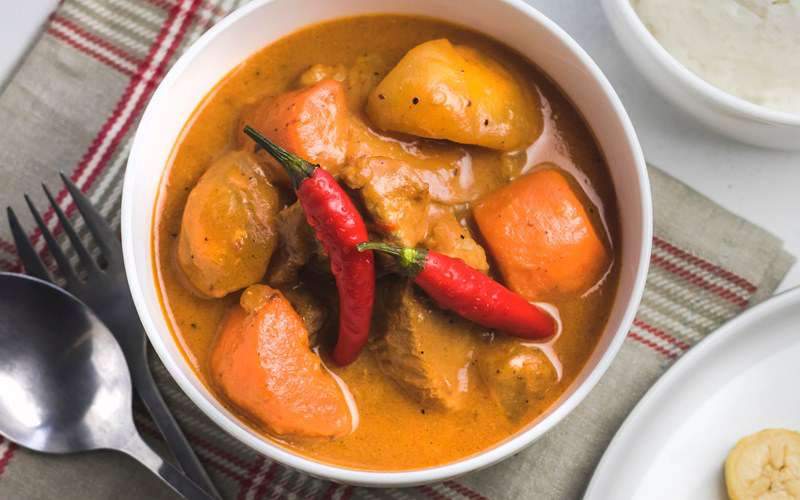 Massaman curry
– Satay: a dish of seasoned, skewered and grilled meat (pork, chicken, beef, goat or mutton), served with a sauce. Visitors traveling to Samui can sample this dish at Walking Street.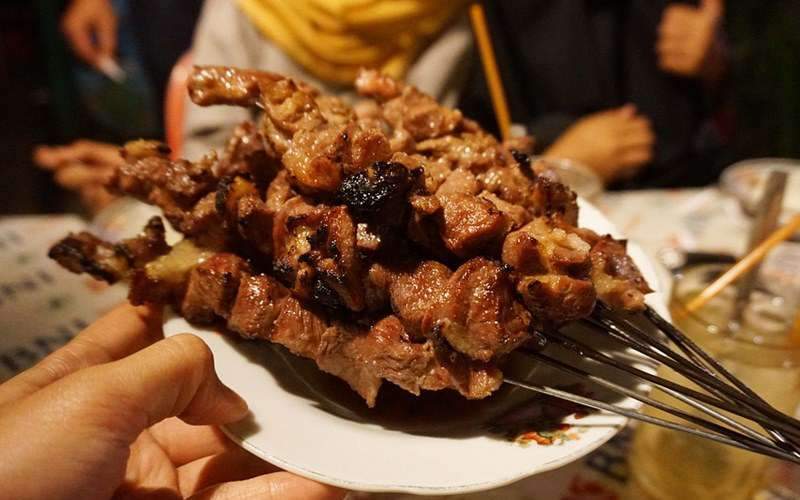 Satay
Best places to visit from Koh Samui
Bangkok
Ko Tao
Ko Phangan
Phuket
Angthong Marine Park
Krabi
Chiang Mai
Surin – Khao Sok National Park
5. Phi Phi Island
Koh Phi Phi is one of six islands in Southern Thailand's Krabi province. This paradise was first noticed when it was used in the Hollywood Blockbuster movie "The Beach" starring Leonardo Dicaprio in 2000. With clear blue water, dramatic cliffs, incredible beaches, and a tropical monsoon climate with two distinct seasons, Koh Phi Phi is an ideal tourist attraction when traveling to Thailand between November to May. Enjoy days sunning on the beach, snorkeling in the water, or hiking through the hills for incredible panoramic views of the sparkling Andaman Sea, tropical jungles, and outrageously beautiful sunsets. One of the easiest ways to get around Koh Phi Phi is by longtail boat—use this for exploring the area as well as when you want to visit Krabi main-land or Phuket.
Recommended length of stay
If it's your first time in Phi Phi, four nights could be a good choice.
In case you are on a short trip or have another beach destination on the itinerary, two nights in Phi Phi island are enough
Popular destinations
Click

for more detailed information on popular Koh Phi Phi tourist attractions
Accommodation
Accommodation choices are quite plentiful here with a wide range of hotels, resorts, villas, and bungalows at affordable prices of no more than USD 100 per day. Stay in wooden houses along the hillside of Laem Hin Beach and find yourself surrounded by fruit orchards with a panoramic view of Tonsai Bay and Phi Phi Kae Island. Or sink your toes in the sand at the luxurious Zeavola Resort and Spa.
Famous food
Enjoy some of these fabulous dishes while on Koh Phi Phi.
– Khao Mok Gai: Thai version of chicken biryani. Savour the aromatic spices used in the fragrant rice and tender chicken.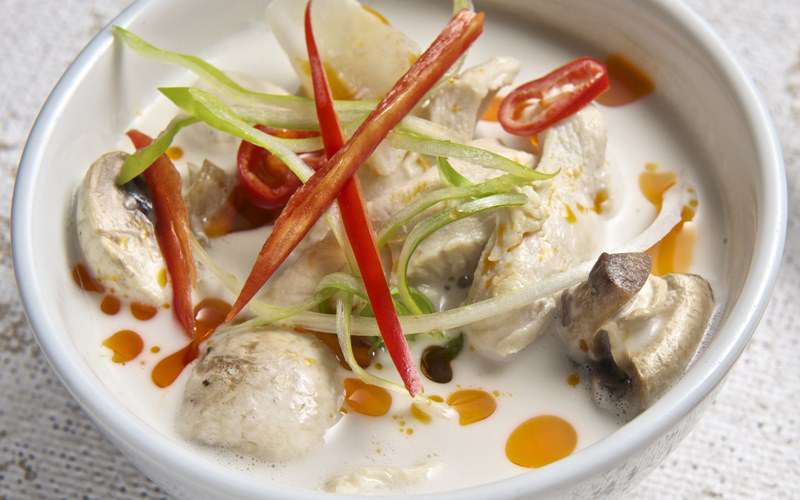 Khao Mok Gai
– Khao Mun Gai: another type of Thai chicken rice; however, the rice is cooked in a chicken broth and oil sauce before being served with boiled chicken.
– Khanom Cheen: a curry with fresh rice noodles often served with pickles, fresh vegetables and herbs.
– Kuay Tiew: a unique Thai noodle soup served with either pork, beef, or chicken and vegetables.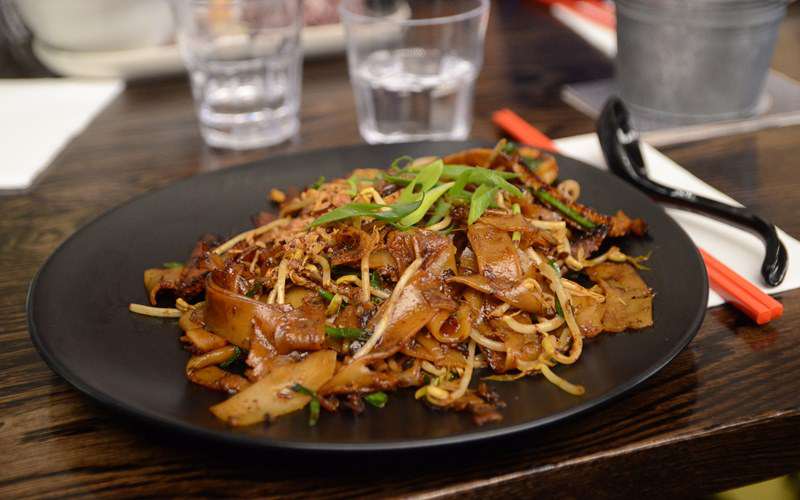 Kuay Tiew
– Tom Kha Gai: a spicy soup with coconut milk, galangal and chicken, and lemongrass.
Best places to visit from Koh Phi Phi
6. Phuket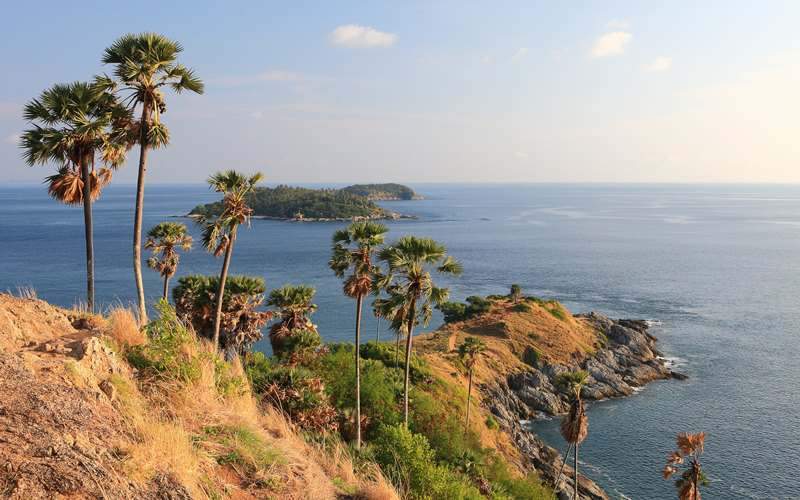 Thanks to its magnificent nature, friendly hospitality, and excellent facilities for tourism, Phuket is one of the world's premier resorts in Southeast Asia. Thailand's biggest island is full of beaches fringed with palm trees, fresh seafood, rich sports entertainment, and of course, all-year-round sunshine. Phuket has two main seasons, the wet season from May to October and the dry season from November to April. The best months to visit are between November and February when the beaches are at their best and the sea at its warmest. Phuket is also the gateway to magnificent diving and snorkeling opportunities in the heavenly Similan Islands as well as kayaking and island hopping in the exotic Phang Nga Bay. Don't forget to check out the island's most famous monument, a statue of the heroines Thao Thep Krasattri and Thao Sisunthon who regained the island in 1785 after repelling Burmese invaders.
Recommended length of stay
As a pricier destination in Thailand, the budget will affect significantly how long you stay here. A couple of nights give you enough time to hit the major beaches.
If you're interested in off-the-beach attractions, spend at least 5 to 7 days. Staying for one week allows you to explore lesser-visited areas. On the northeast coast, you can catch a ferry or boat to visit Phang Nga Bay. Heading east to discover Phuket's Old Town and Ko Siray. 
Popular destinations
Click

for more detailed information on popular Phuket tourist attractions
Accommodation
Phuket is one of the most ideal beach destinations in all of Thailand. With excellent facilities for tourists, there are so many wonderful hotels, resorts, and guesthouses to choose from. The busiest area of Phuket, Patong, is filled with tons of bars, nightclubs, and restaurants situated on Bangla Road and open 'till late. If you're a couple looking for romance or a family, you may enjoy Kamala and Karon Beaches in the south or Khao Lak and Bangtao in the north. Keep in mind most resorts here are averaging around USD150 night minimum, while guesthouses and homestays offer affordable stays starting at USD40 per night.
Famous food
Don't forget to eat while enjoying the sun, sand and surf in Phuket! Popular dishes on Thailand's largest island include
– Homok: a type of fish curry wrapped in banana leaves and steamed with leaves named cha-ploo, very similar to Fish Amok in Cambodia.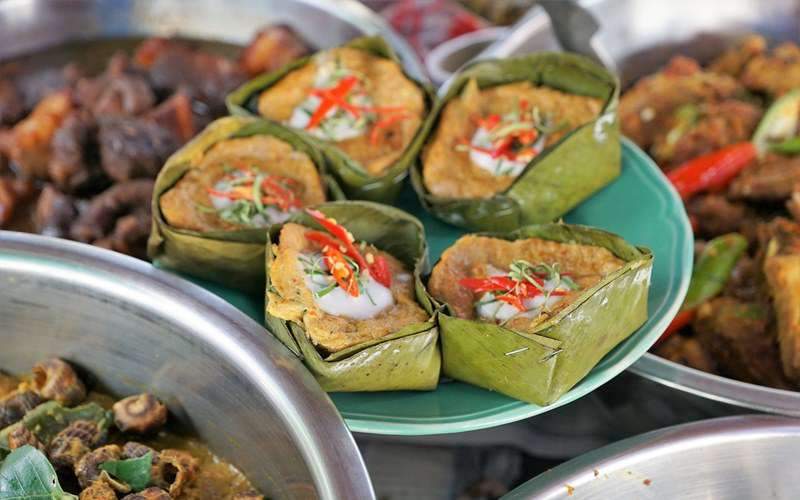 Homok
– Pak Miang Tom Kati Koong Sot: Pal Miang is an indigenous leaf cooked with coconut cream and fresh shrimp. The yogurt-like texture is a great way to cool off after trying hot and spicy dishes.
– Geng Som: This Phuket specialty is a combination of fish, tamarind and turmeric with a very hot and spicy flavor.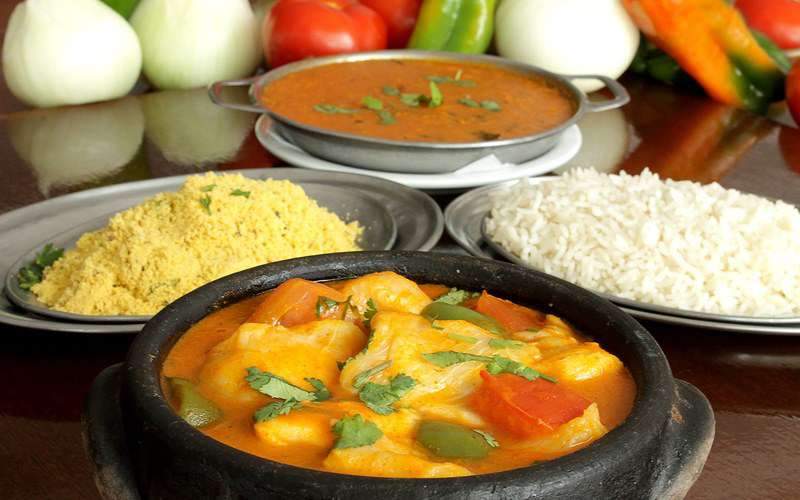 Geng Som
– Pla Tom Taochiew: This is a fish soup cooked with fermented soybeans. Unlike Geng Som, this dish is not spicy and has a sour taste.
– Yum Pak Good: This beautiful salad is made with green ferns and coconut milk. The crisp fern and aroma of coconut and lemon make this salad full of subtle flavours to be enjoyed.
Best places to visit from Phuket
Ko Samui
Bangkok
Koh Phi Phi
Koh Lanta
Khao Lak
Phang Nga Bay
Krabi
Chiang Mai
Chiang Rai
7. Koh Tao
Koh Tao means "Turtle Island" in the Thai language. And, as the name suggests, the island is full of sea turtles in the surrounding turquoise seas. It's also believed that the name may be derived from the shape of the island resembling that of a sea turtle. The fatigue of the long journey to Koh Tao seems to vanish on the spot when visitors catch a glimpse of the poetic beauty of Ao Ma Muang and Ao Hin Wong, two famous beaches on the island. This small island in the Gulf of Thailand belongs to the Suratthani province and is an ideal stepping stone for those wishing to visit Koh Phangan and Koh Samui to the east. Koh Tao is one of the top places to scuba dive in all of Southeast Asia and welcomes millions of visitors every year, especially from February to August.
Recommended length of stay
If your priority is diving, snorkeling and enjoying beautiful beaches, spend at least 3 full days (discounting your arrival and departure day). If you want to experience something beyond the beaches, like hiking, looking out for wildlife, stay for a week.
Popular destinations
Click

for more detailed information on popular Koh Tao tourist attractions
Accommodation
Accommodation in Koh Tao tends to be higher than other parts of Thailand due to its small size and popularity with scuba divers. It is advised to reserve accommodation well in advance as if you show up without, you may wander the island for a long time with no place to sleep! Particularly, if visitors plan to take a scuba diving course on the island, then most of the centers here have their own resorts that offer discounts or are included in the package when you book ahead.
Famous food
Experience traditional food with unique seafood twists in Koh Tao, most importantly, Kaeng Khiao Waan, a green curry made from coconut milk and a variety of herbs and vegetables. The green color comes from the use of fresh green chilies while fish is used as the main protein source.
Other curries to try include Massaman and Panang curry, slow-cooked Arabic-inspired dished with steamed mustard greens, pickles, sweet-sour chili sauce, raw garlic, fresh bird's eye chilies, juicy chicken and boiled eggs, served with steamed rice.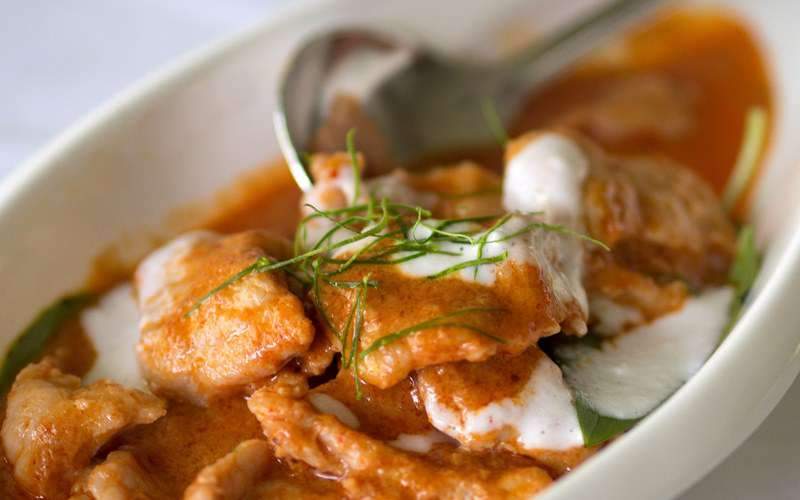 Panang Curry
Best places to visit from Koh Tao
Koh Samui
Surin – Khao Sok National Park
Bangkok
Angthong Marine Park
8. Ayutthaya
Built by King U-Thong in 1350, Ayutthaya represents 400 years of the golden past of the Kingdom of Siam. It remained the capital of Thailand until 1767 when the neighbouring Burmese invaded and destroyed the entire city. Nowadays, visitors can still admire the splendour of these historic ruins which are recognized as a UNESCO World Heritage Site on a day-trip from Bangkok, which is only 76 km away. Make sure to inspect Wat Phra Mahathat and Wat Chaiwattaranaram during your time in Ayutthaya.
Recommended length of stay
The most popular itinerary is an Ayutthaya day trip from Bangkok as it's located just 85 km north of Thailand's capital. But if you are interested in ancient temples and indigenous culture, one day is not enough. Manage to spend two nights here. You will have more time to visit the fascinating temples and catch the Ayutthaya river cruise.
Popular destinations
Click

for more detailed information on popular Ayutthaya tourist attractions
Accommodation
Most visitors to Ayutthaya do so on a day-trip or on their way to other destinations like Erawan National Park, Phitsanoluk, and Sukhothai. However, there are plenty of accommodation options here at reasonable prices between USD4-50. The luxurious Sala Ayutthaya along the Chao Phraya River starts at USD200 per night with an opulent swimming pool, art gallery, and riverside dining room overlooking the impressive Wat Phutthaisawan.
Famous food
Try these famous specialties of Ayutthaya in between temple hopping to keep your hunger at bay.
– Krung kao boat noodles: A dark coloured soup with rice noodles, roasted pork, meatballs, and crispy fried pork skin.
– Mu daeng: roast pork served with fermented pork sausages, vegetables, dumplings and soft boiled eggs.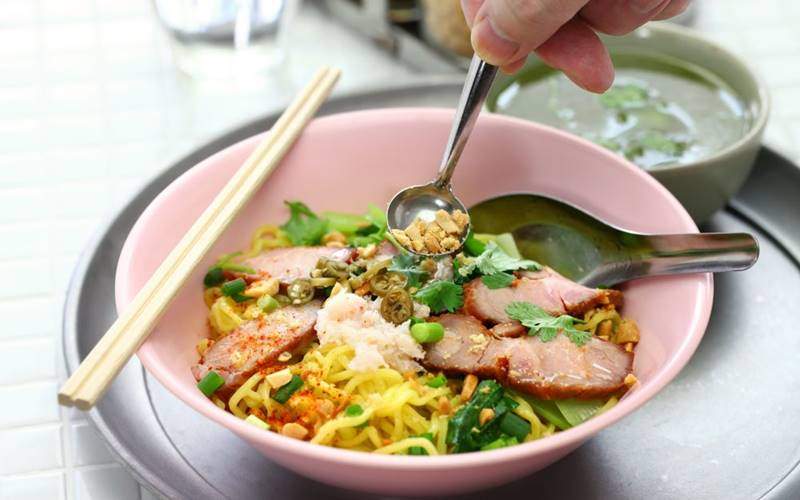 Mu daeng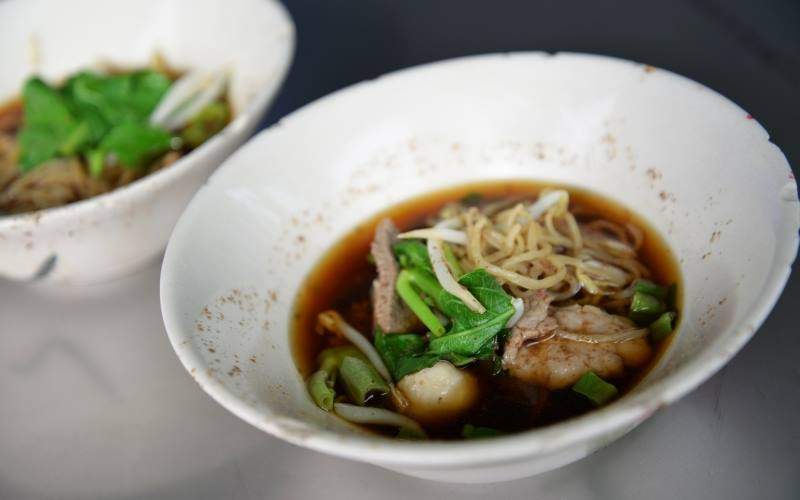 Krung Kao boat noodles
– Rice noodles with grilled pork: vermicelli rice noodles are rolled into bite-sized portions and paired with juicy grilled pork and a spicy-sour sauce
– Bolan ice-cream: a coconut ice-cream layered atop a soft bun and sprinkled with crispy mung beans, caramel sauce and mint leaves
– Khao tom mut: steamed sticky rice seasoned and wrapped in banana leaves.
Best places to visit from Ayutthaya
Bangkok
Sukhothai
Phitsanulok
Erawan National Park
Pattaya
9. Pai
In the past, Pai was a quiet tranquil village populated by the Shan ethnic minority group originating from Myanmar. Just 3 hours north of Chiang Mai, tourism has boosted in recent years due to the romantic Thai drama film "Pai in Love" debuted to international audiences in 2006. The simple lifestyle and awe-inspiring beauty continue to dazzle both local and foreign guests alike. Laze the day away in your idyllic accommodation or in the charming cafes and restaurants in the city center, or get your blood pumping with treks and white water rafting in the wild jungle.
Recommended length of stay
The amount of time to spend in Pai depends much on what type of tourist you are. Some get bored after one or two days here but others who get the vibe, never want to leave.
Many love Pai and say this town is backpacker paradise. You want to check out all the hype surrounding this little town, spend two to three days here.
If you have the time and really want a place to chilling out, enjoy life in the slow lane, 6 to 10 days is ideal for you. 
Popular destinations
Click

for more detailed information on popular Pai tourist attractions
Accommodation
Staying in the centre of Pai is a smart choice for those looking for comfort and entertainment in relation to bars, restaurants and cafés or access to transportation. The majority of resorts and guesthouses can be found along either bank of the beautiful Pai River, with the far east bank somewhat quieter than that of the west bank. Expect to pay between USD 50 – 150 per night for charming boutique accommodation and make sure to book in advance, especially during the peak travel season of November to February to avoid disappointment.
Famous food
There are many cheap delicious eats to find on the street in Pai, especially in the Night Market. Any trip to Pai wouldn't be complete without eating these 5 culinary delights:
– Kao ka moo: the quintessential street food of the region, a stewed pork leg served with rice, pickles and boiled eggs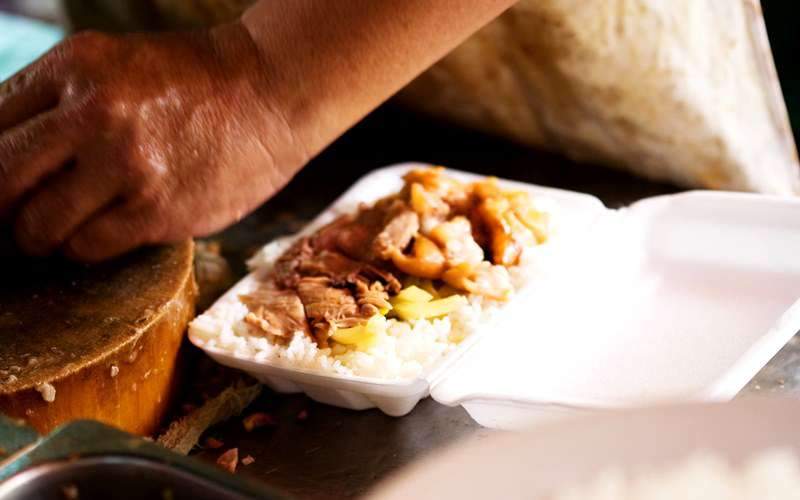 Kao Ka Moo
– Fried dumplings: a crispy dumpling filled with a mixture of pork, chicken and vegetables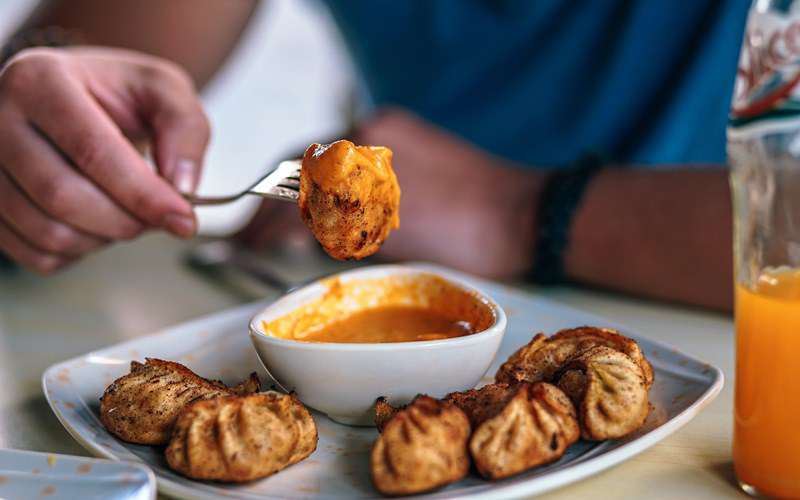 Fried Dumplings
– Black sticky rice: glutinous rice is rolled out into a flat pancake and warmed up on a charcoal grill. Then, it is cut into little pieces and sprinkled with sesame seeds for a delicious snack
– Banana roti: Another iconic dish popular on the streets of Thailand and found on just about any touristy street corner. Choose your own fillings like banana and peanut butter, nutella, or strawberry mango and watch the delicious crepe's creation right in front of your eyes.
Best places to visit from Pai
Chiang Mai
Chiang Rai
Chiang Khong
10. Sukhothai
The first capital of the Kingdom of Siam, Sukhothai was a great civilization existing between the 13th and 14th centuries. Its name roughly translates to "the dawn of happiness", and indeed this small area 427 km north of Bangkok has influenced many forms of art and ancient traditions, and is one of the reasons why Buddhism became so closely associated with Thai culture. Nowadays, a new city has sprung up and is coincidentally referred to as New Sukhothai while the ruins of the first Thai capital are found in the UNESCO World Heritage Site of Old Sukhothai. Less visited than its contemporary counterpart Ayutthaya, Sukhothai is an excellent addition to any trip to Thailand, especially used as a stopover between Bangkok and Chiang Mai.
Recommended length of stay
If you come to Sukhothai to only see the ruins at the historical park, which is the most famous attractions here, one day is enough.
If you are a temple addict, consider staying here for three days. Ancient temples and building, statue in unique style will not disappoint you. 
Popular destinations
Click

for more detailed information on popular Sukhothai tourist attractions
Accommodation
Sukhothai has many accommodation options including motels, homestays, luxurious resorts, and traditional bungalows. Expect to pay between USD 20 – 50 per night no matter where you choose to stay, as most visitors to the region are just passing through on their way to Bangkok, Ayutthaya, Phitsanulok, or Chiang Mai.
Famous food
Sukhothai provides some unique highlights for those wishing to experience traditional Thai cuisine.
– Khao perb: steamed rice flat noodle soup with an assortment of fillings like vegetables, minced pork topped with a fried egg, garlic and coriander.
– Sukhothai noodles: rice noodles, fish balls, long beans, minced pork, chili, and lime juice are the main ingredients in this dish which can be served with or without a bowl of soup.
– Khanom dak nga: this dish is made from sticky glutinous rice, sesame seeds, peanuts, salt, sugar and coconut for the perfect sweet yet savoury dessert.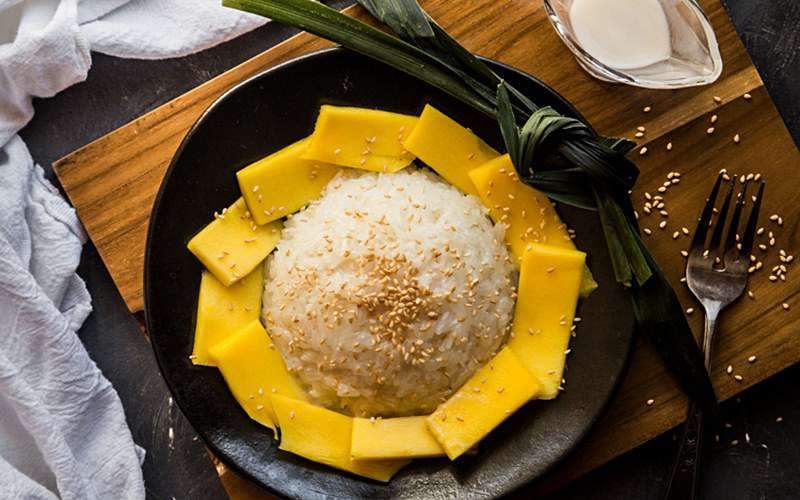 Khanom dak nga
Best places to visit from Sukhothai
Bangkok
Chiang Mai
Ayutthaya
Si Satchanalai
Phitsanulok
Where can we take you?
Got an idea? Tell us what you're thinking and one of our travel experts will be in touch shortly to create the perfect holiday for you!
Itinerary
Adventure
Thailand
Highlights: Bangkok, Ayutthaya, Phitsanulok, Sukhothai, Si Satchanalai, Chiang Mai, Chiang Rai
---
Romantic
Thailand
Highlights: Bangkok, Ayutthaya, Chiang Mai, Mae Kampong, Krabi
---
Highlights
Thailand
Highlights: Bangkok, Ayutthaya, Chiang Mai, Chiang Rai, Phuket
---