The best months to visit Vietnam are in December, January, the first half of February, the second half of March and April. August and November are also good times to go.
December, January, first half of February: the weather is cool and dry, best times to travel to this S-shaped country and enjoy trekking in the northern mountains. At the end of January and the beginning of February (date vary), Vietnamese New Year is the best festival to experience.
From the second half of March to the end of April: Thanks to warm, dry weather and clear sky, a perfect time to visit this quaint country and enjoy beach activities.
The rainy months are at the end of May, June, September and November. In the North, there are some muggy days from the end of February to the first half of March. Winter (December, January) is the coldest season, but only takes place in the North, the northern high mountains may have snow when the temperature drops below 0°C. May, June, July are the 3 hottest months when the average temperature is about 30°C – 35°C and outdoor temperatures on the hottest days can reach over 40°C.
If you want to know the best time to fly to Vietnam, check at Google Flights or Skyscanner.
If you travel both Vietnam and Cambodia, the best months are December, January, the first half of February and April. Cambodia has a climate similar to southern Vietnam, Chol Chnam Thmay in April is Cambodian New Year.
In order to protect your health and skin from the intense sunlight on blazing hot summer days, you should bring along hats, sunglasses, sunscreen and deodorant. In contrast, the temperature on winter days can be even below 0°C (32°F) on high mountains in northern; therefore, it is advisable to prepare some pieces of warm clothing. Waterproof accessories like daypack, sandals, shoes are also essential things for varied weather.
Sapa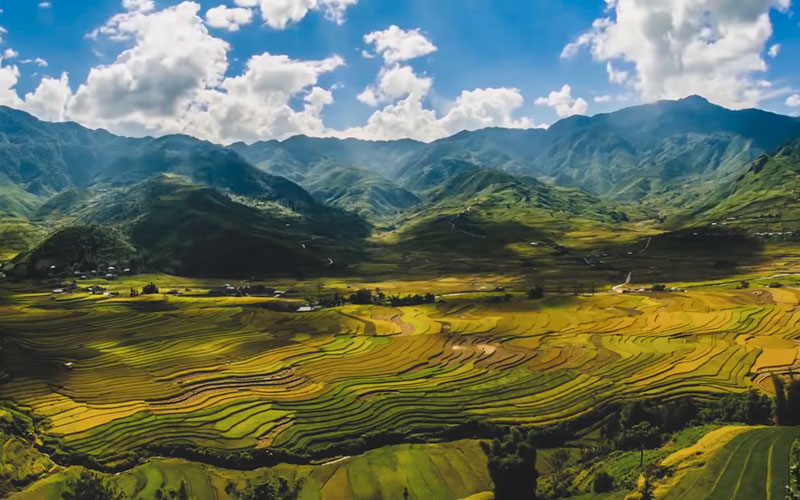 Sapa is beautiful year-round but there may be floods from June to September. If you wish to "date" with terraced fields, you should go in May – watering season or from the end of September to early October – ripe rice season.
Hanoi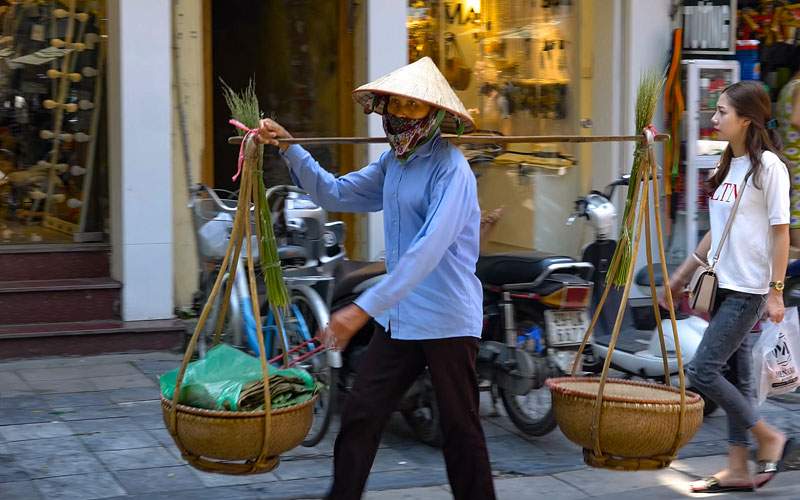 You can visit the pulsing Hanoi at any time of the year. On Tet Holiday and Independence Day, Hanoi stands out with its peaceful atmosphere.
Ha Long Bay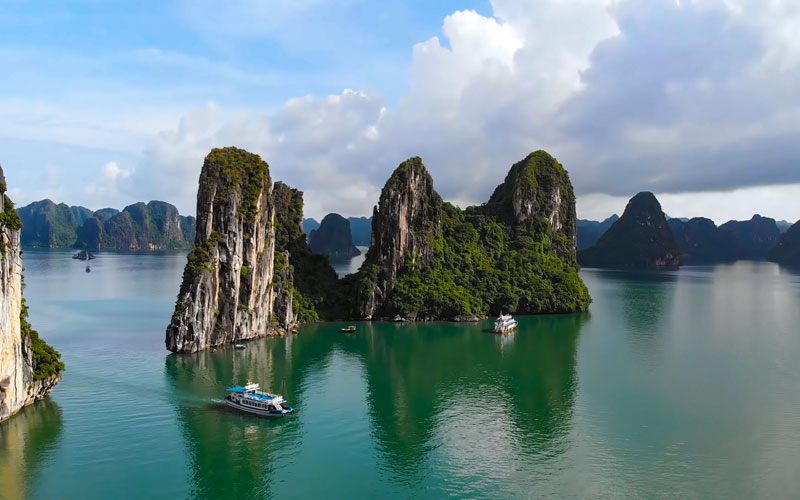 Ha Long Bay has the most gorgeous beauty in April with a crystal blue sky. The weather is pleasant from November to March, a good time to go. However, you should consider visiting in August and September due to its typhoon season.
Ninh Binh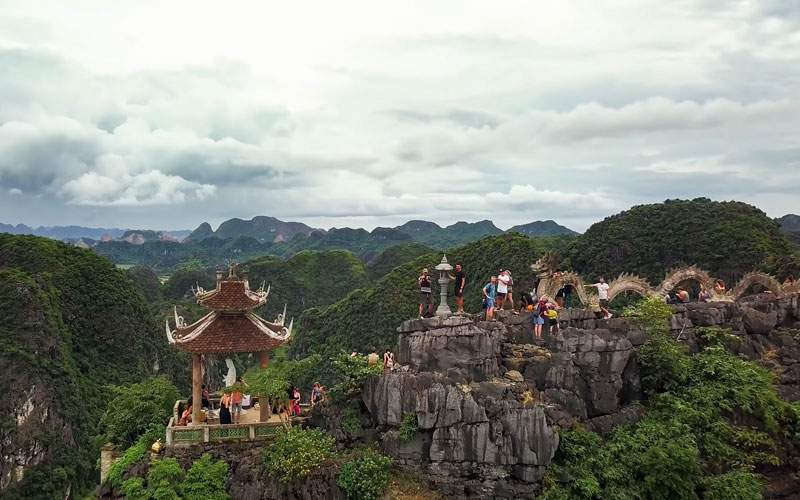 Ninh Binh is scenic year-round. From late May to June and from late September to October, Ripe rice fields add fascinating yellow to the picturesque scene.
Hue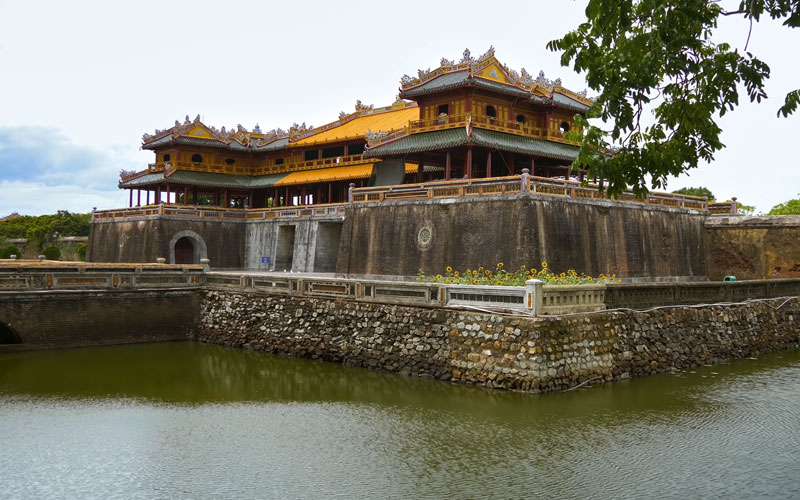 From December to April, the weather is dry and cool. Most annual festivities are held in April. From late May to June is the time for heat waves with the temperature can reach over 40°C (104°F). Rainy season can occur in October and November.
Da Nang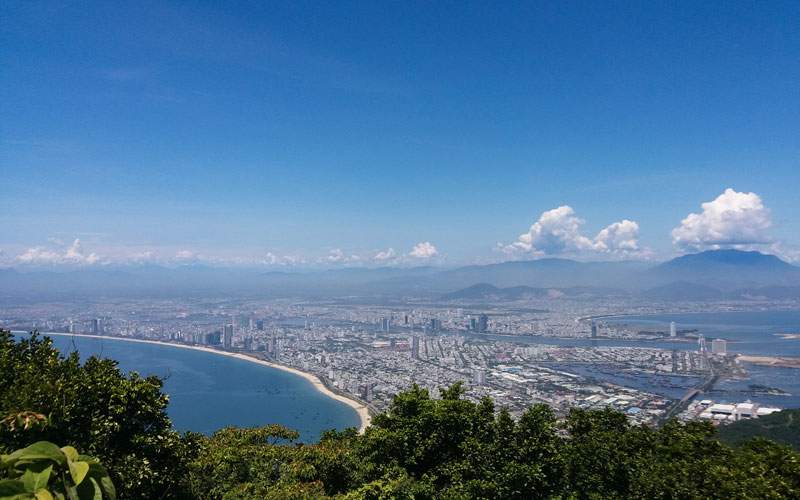 The best time to visit Da Nang is from November to April. March and April are the most exquisite months, it's warm and dry, perfect for both beach activities and mountain trekking. Fireworks festivals are usually from May to July. There may be storms in November.
Hoi An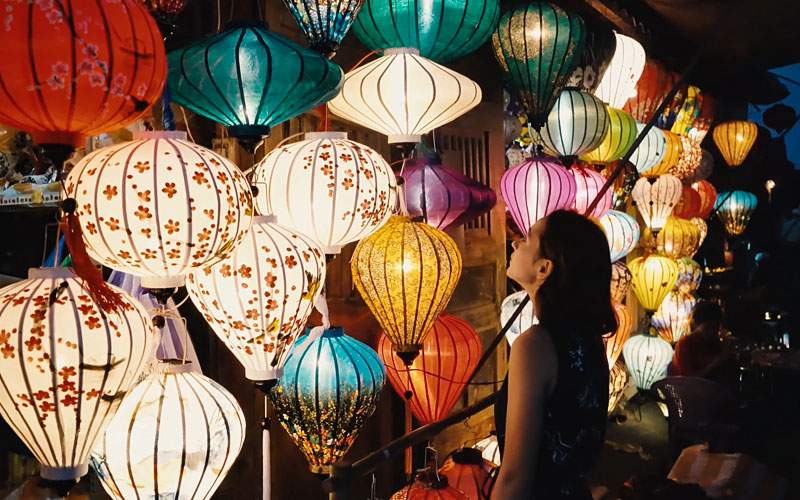 Hoi An is appealing all time of the year, but more elegant on Tet Holiday and every night of the 14th lunar month with lantern festivals held in the ancient town. March and April are months to enjoy An Bang beach. It is blazing hot in late May, June and July.
Ho Chi Minh City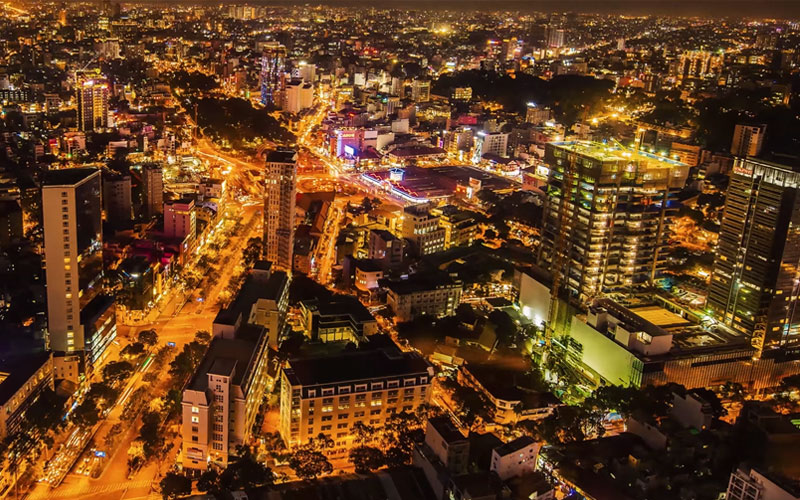 From December to April is the best time to visit this bustling city. Unlike its usual vibrancy, Ho Chi Minh City is more peaceful on Tet Holiday and Independence Day.
Mekong Delta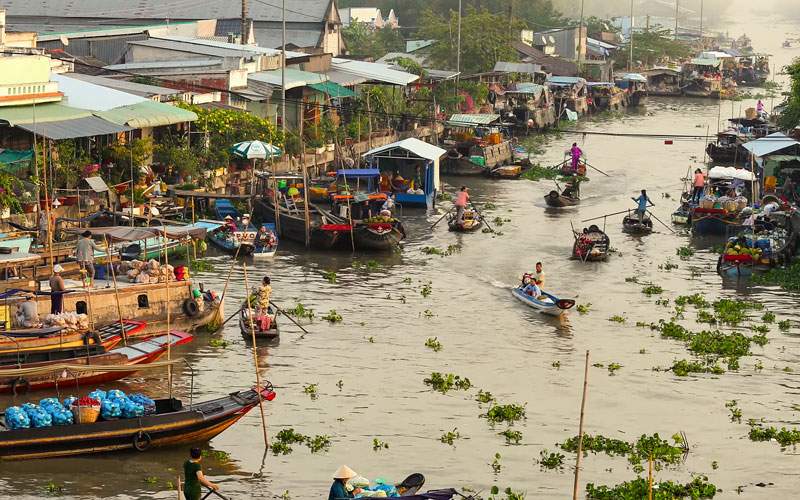 This floating maze is worthy-visited in any season of the year. Ripe rice seasons are in early April, late August and late November.
Phu Quoc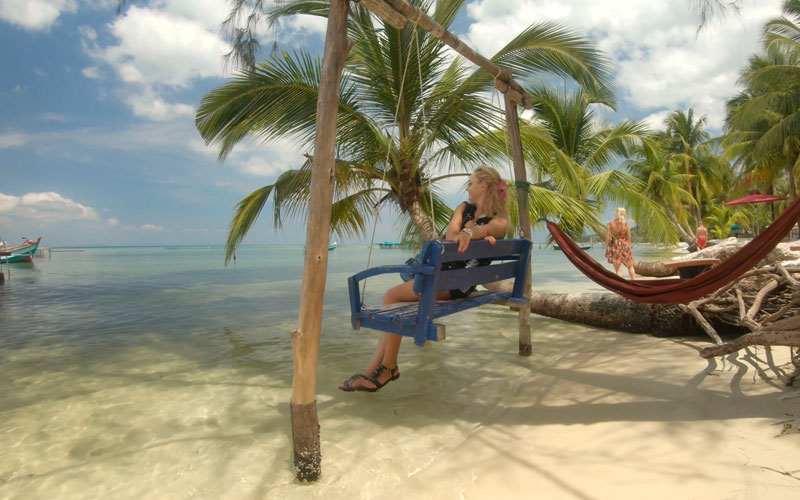 Feel free to enjoy this tropical paradise all year round except rainy season from July to September.
Nha Trang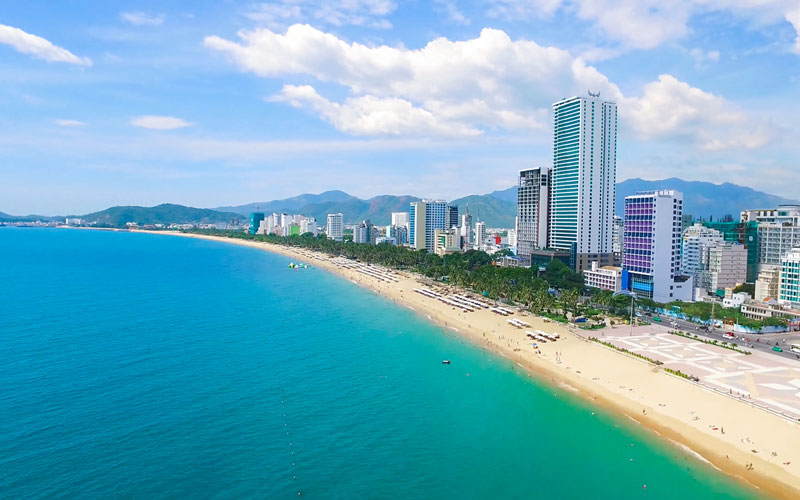 This coastal town is alluring from December to April. The rainy season is from October to November.
Mui Ne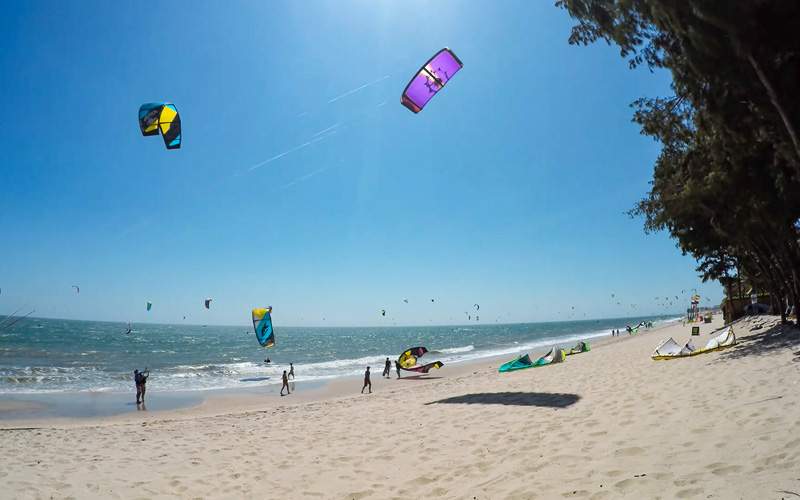 From December to April is the best time to travel to. Mui Ne is one of the localities with the lowest rainfall in Vietnam.
The weather in Vietnam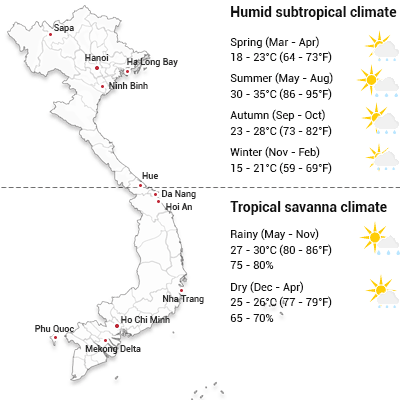 From a bird's eye view, Vietnam is a year-round destination with humid subtropical climate in the North and tropical savanna climate in the South. This climate division is due to the elongated terrain that is split by Bach Ma mountain. In Northern Vietnam, from Hai Van Pass northwards, there are 4 distinct seasons including spring, summer, autumn and winter. Meanwhile, the weather in Southern Vietnam, from Hai Van Pass southwards, is divided into dry and rainy seasons.
The North
Spring in the North lasts for about 2 months, from March to April, with the average temperature is 18°C – 23°C (64°F – 73°F), the average humidity is about 70%. In some muggy days from the end of February to the first half of March, humidity can increase to 90%.
Summer begins in May and ends in August, with the average temperature is about 30°C – 35°C (86°F – 95°F) and humidity is 60% – 70%. In May, high levels of rainfall increases average humidity to 70% – 80%.
Autumn is from September to October, the average temperature is 23°C – 28°C (73°F – 82°F), the humidity ranges from 60% to 70%. In September, the appearance of tropical storms causes the humidity to increase to 70% – 80%.
Winter lasts from November to February, the temperature hovers around 15°C – 21°C (59°F – 69°F) and the humidity is between 60% and 70%.
The South
Southern Vietnam has a tropical savanna climate due to its proximity to the equator. The annual average temperature is about 27°C (80°F). The Southern climate comprises 2 distinct seasons, dry and rainy seasons. The rainy season begins in May and ends in November, the dry one is from December to April. The average humidity of the former ranges from 75% to 80% and that of the latter is between 65% and 70%.
Tourist seasons
From November to April is the high tourist season for international visitors to Vietnam. Particularly, December is the peak month, which causes travel service prices to increase by 10% or more. However, contracting prices among tourism businesses are normally stable. Between May and June is the low season, so the price of travel services is also the lowest in the year.
Vietnamese people travel mainly on 2 occasions that are summer and Tet holiday. Summer is the peak travel season for the Vietnamese because children have a summer break that lasts for about 2 months. Most of the Vietnamese choose sea travel during their vacation. At the end of the year, they tend to visit religious or mountainous tourist destinations. It is noted that travel service prices for Vietnamese people will increase sharply in the summer but not in the traditional Tet holiday.
Time to enjoy the festivities
Vietnam boasts a vibrant culture with 54 ethnic groups and 7966 festivals, most of which take place at the beginning of the year. Here are the best festivals that all international tourists can enjoy.
1. Tet Nguyen Dan
(23 Jan 2020 – 29 Jan 2020)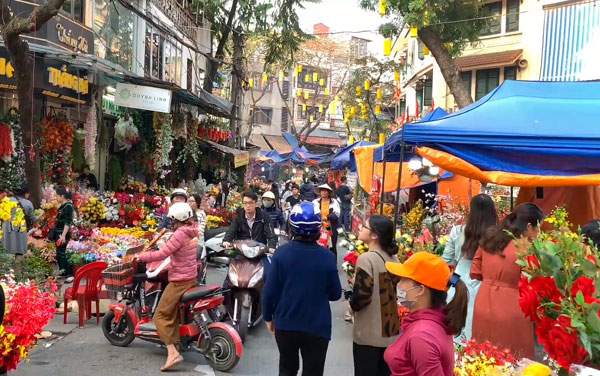 Tet Nguyen Dan is Vietnamese Lunar New Year – the most important traditional festival of the year. There are numerous cultural activities taking place throughout Vietnam. 12pm on the last night of the lunar year (24 Jan 2020) called Dem Giao Thua (New Year's Eve) is the most important time. At that sacred moment, families make ancestor worship, honoring deceased relatives and give each other the best wishes. On this occasion, the hustling and bustling Hanoi and Ho Chi Minh City are unusually peaceful.
2. Mid-Autumn Festival
(29 Sep 2020 – 1 Oct 2020)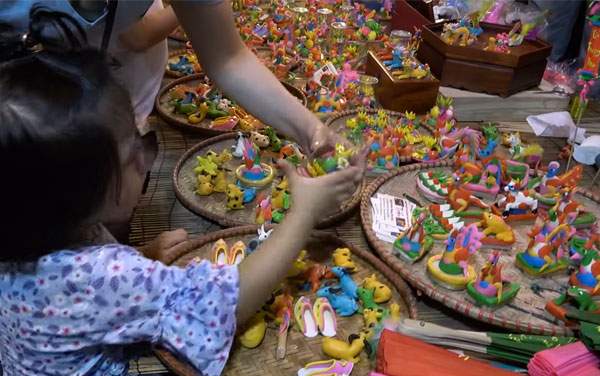 Mid-Autumn Festival is the biggest Vietnamese children's festival in the year. All children receive gifts, attending the star-shaped lantern parade, watching lion dance and enjoy mooncakes. Traditionally, children in large families or a neighborhood celebrate a party at 12pm on the 15th of the 8th lunar month (October 1, 2020). However, the party nowadays is generally held from 8pm to 9pm so that the kids can go to bed early.
3. Hoi An Lantern Festival
(Lunar New Year and the 14th day of the lunar month)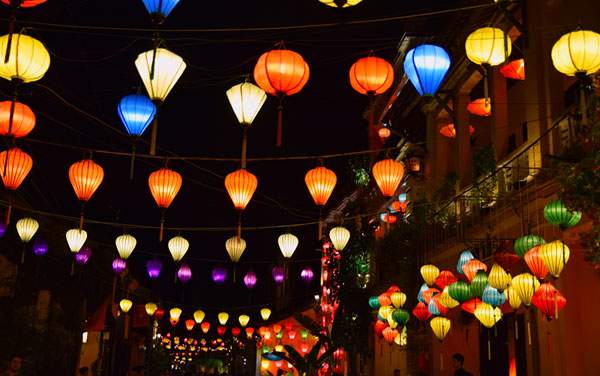 Besides the ancient architecture and the fairytale atmosphere, the charming Hoi An is also famous for its colorful lanterns. Hoi An Full Moon Lantern Festival is held monthly in the ancient town, starting from 6.30pm to 9.30pm on the 14th lunar month. On the Lunar New Year, the biggest lantern festival lasts about 1 week. At that time, this magical and sparkling town is an ideal place to get lost in a heaven of the lantern.
4. Hue Festival
(1 April 2020 – 6 April 2020)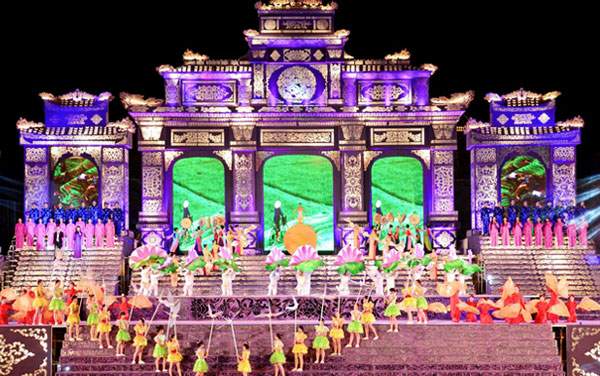 Hue was the capital of Vietnam from 1802 to 1945, under the Nguyen Dynasty. From early times, Hue Festival was held biennially with unique performances bearing Vietnamese cultural quintessence; however, it has recently become an international festival; however, it has recently become an international festival. The 11th Hue Festival held in 2020 has been expected to be attended by 20 countries from 5 continents in the world.
5. Independence Day
(2 Sep 2020)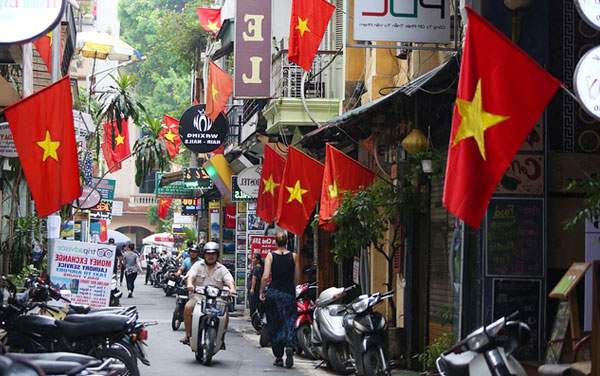 On September 2 every year, Vietnamese people celebrate the independence, the special and meaningful occasion which officially marked the Vietnamese freedom after over 1000 years under the colonization. On this day, Vietnamese people gather with their family or take a short journey. Throughout the country, from big streets to every corner are dyed in red by the national flag.
National holidays
List of Vietnamese national holidays in 2019 and 2020
| | | |
| --- | --- | --- |
| National holiday | 2019 | 2020 |
| New Year's Day | 01 Jan | 01 Jan |
| Tết (Vietnamese New Year) | 04 Feb | 25 Jan |
| Hung Kings Festival Holiday | 13 Apr | 02 Apr |
| Liberation Day | 30 Apr | 30 Apr |
| International Labour Day | 01 May | 01 May |
| Independence Day | 02 Sep | 02 Sep |
On holidays, Vietnamese people tend to travel more. Many famous touristy spots are even overloaded during Liberation Day, International Labour Day and Independence Day. Moreover, the price of air, train and car tickets will be much higher than that in regular days without reservation in 2-3 months.
Where can we take you?
Got an idea? Tell us what you're thinking and one of our travel experts will be in touch shortly to create the perfect holiday for you!
Itineraries
Highlights
Vietnam
Highlights: Hanoi, Halong Bay, Hue, Hoi An, Ho Chi Minh, Mekong Delta, Phu Quoc
---
Adventure
Vietnam
Highlights: Hanoi, Ninh Binh, Halong Bay, Sapa, Hoi An, Da Nang, Hue, Mekong Delta, Ho Chi Minh City
---
Honeymoon
Vietnam
Highlights: Hanoi, Ninh Binh, Halong, Hoi An, Ho Chi Minh City, Phu Quoc
---