Official name:  Republic of the Union of Myanmar
Capital city: Naypyidaw
Population: 53.37 million
Language: Burmese
Local time: GMT+6.30
Power voltage: 230 V, 50 Hz
Dialing code: +95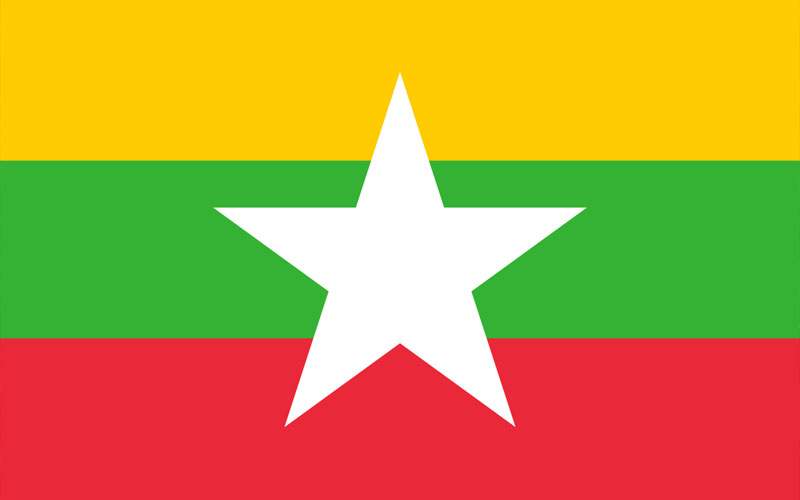 Yellow, green and red stripes symbolize solidarity, peace and tranquility while the white star stands for the unity of the country
Do I need a visa to travel to Myanmar? 
Travellers from Brunei, Cambodia, Hong Kong, Indonesia, Japan, Laos, Macao, Philippines, Singapore, South Korea, Thailand, and Vietnam don't need a visa to visit Myanmar for a period of 14 – 30 days depending on nationality.
Chinese and Indian passport holders can pick-up a tourist visa on arrival at Yangon or Mandalay International Airports for USD 50. The majority of other nationalities can obtain an E-visa here at least 3 days before your intended date of arrival. The cost for a 28-day tourist visa is USD 50 and port of entry includes a number of border crossings by land or air.
What kind of currency is used in Myanmar? 
The official currency of Myanmar is the Burmese Kyat (MMK), which has the value of 1560 MMK = 1 USD. Please note MMK are virtually useless outside of Myanmar, so make sure to change the majority of your local currency back to USD, EUR, or GBP before exiting the country at either the airport or reputable exchange shops with a good rate.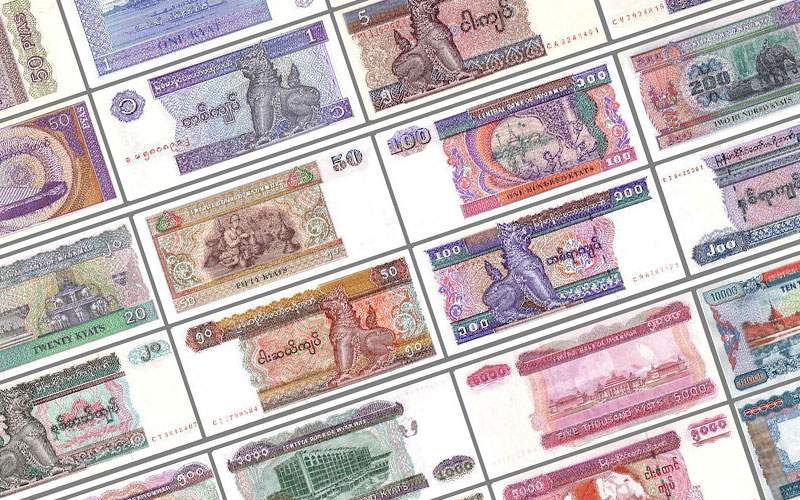 Burmese kyat
What is the national language of Myanmar? 
While there are over 100 languages spoken in Myanmar, the official language of the country is Burmese. Compared to other Southeast Asian countries, English speakers are more difficult to find in Myanmar outside of big cities and luxury hotels and resorts. Here are some basic Burmese phrases you may find useful on your up-coming trip to Myanmar.
Hello/ Goodbye: Min ga la ba
Thank you: Chay tzoo tin bah teh
Sorry: Wun neh ba deh
Yes: Ho de
No: Ma ho bu
Help: Keh ba
How much: Be lau le
So expensive: Zei mya de
Can i have a discount: Nae nae htat shot pay par oo 
I don't understand: Na ma le ba bu
How is the access to Wi-Fi? 
Don't worry! The internet connection in Myanmar is REALLY fast, allowing you to freely access WiFi in most hotels, shops, restaurants, and convenience stores.
What should I eat while visiting Myanmar? 
Mohinga soup — Myanmar's signature dish is usually eaten for breakfast. A hearty herbal-based broth is filled with round rice noodles, the crunchy pith of the banana tree, and served with optional toppings such as fried fish patties, boiled eggs, and crispy fried fritters.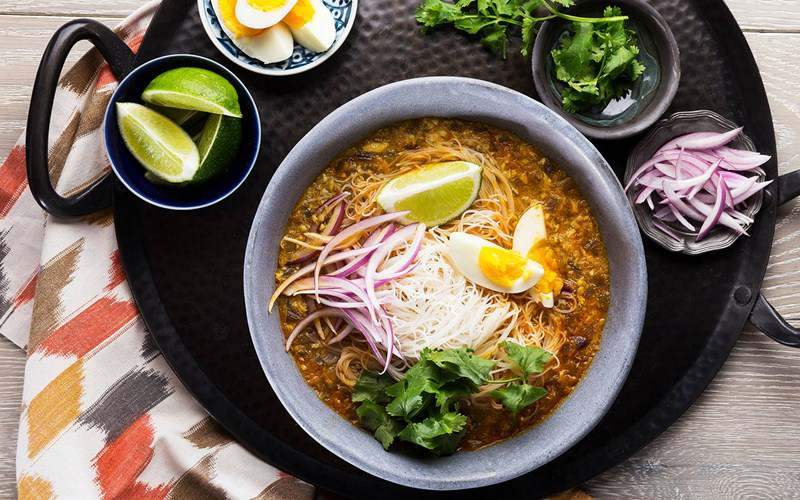 Start your day right with a bowl of Mohinga
Laphet Thohk —  Tea-leaf salad is made by tossing tea leaves, shredded cabbage, minced tomatoes, deep-fried beans, nuts and peas with garlic oil, chili and lime juice. This snack is often served at friend's houses when visiting or in local tea shops along with of course, cups of tea.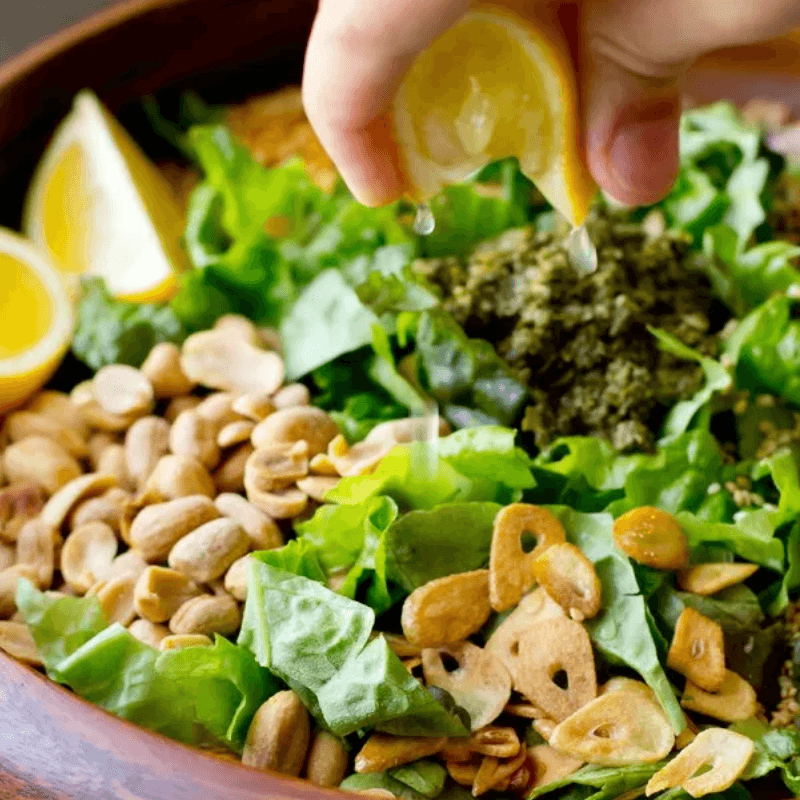 This salad packs an earthy yet citrus punch
Burmese curry — Slightly less spicy than Indian curries, Burmese curries utilize all sorts of meat from pork and beef to mutton, fish and shrimp. The gravy tends to have a creamy texture and is often served with a tart salad, a small dish of fried vegetables, a small bowl of soup and a bowl of steamed rice.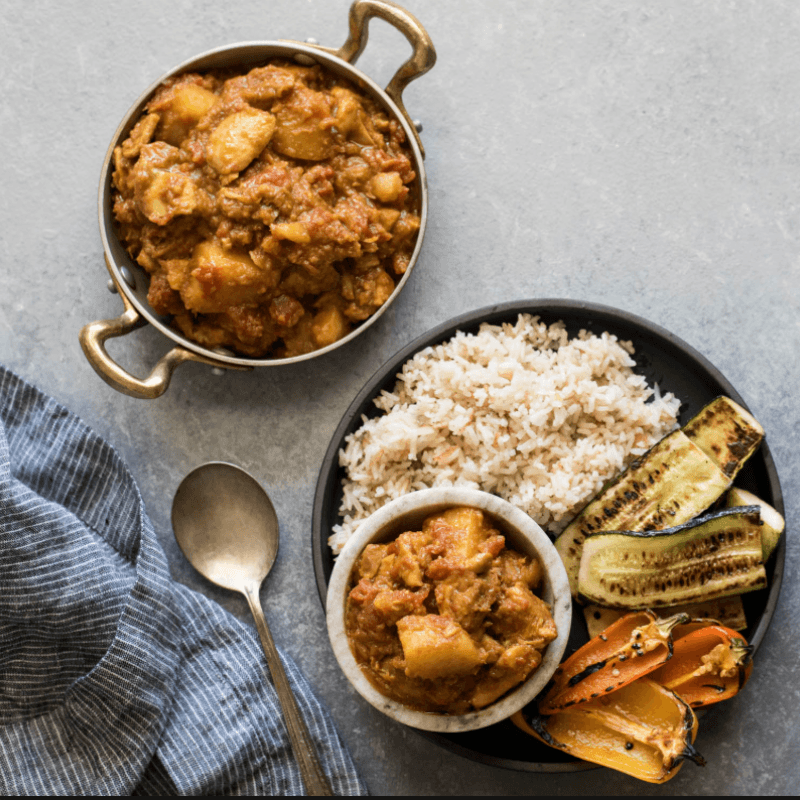 Think you can finish it all?
Shan noodles — This dish is an iconic treat of Myanmar's largest and most diverse province, the Shan State. Either chicken or pork is cooked in tomatoes and laid over a healthy amount of rice noodles. Sometimes the noodles are served with side dishes of broth, pickled mustard greens, and fried chickpea tofu. 
Burmese Khao Suey — The Burmese khow suey is a type of vegetable curry made with coconut milk and an elaborate masala of spices, coconut and cashew nuts. Featuring layers of noodles and an elaborate garnish of fried onions, garlic, vaal dal and spring onions, what's not to love about this fantastic dish?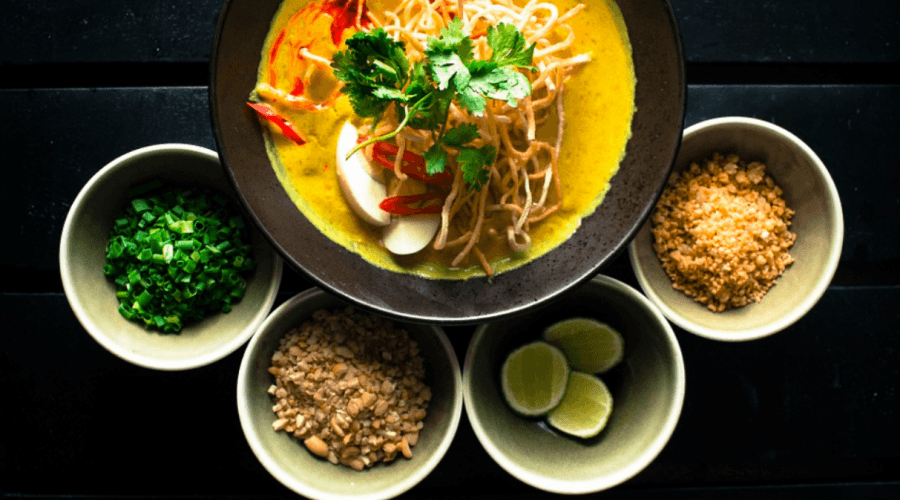 The interesting mix of flavours never fail to please
Is Myanmar a safe destination?
Generally speaking, yes, Myanmar is a safe destination to visit. However, it is advised that you have a full and comprehensive travel insurance as the quality of medical care can be quite basic in case of accident. 
There are some road safety issues like dodgy pavements, pot-holes, and chaotic traffic patterns, so be careful when you are walking, cycling or driving, and under no circumstances drink the tap water. Make sure the water you buy is in a sealed bottle or boiled for tea. 
Respect the culture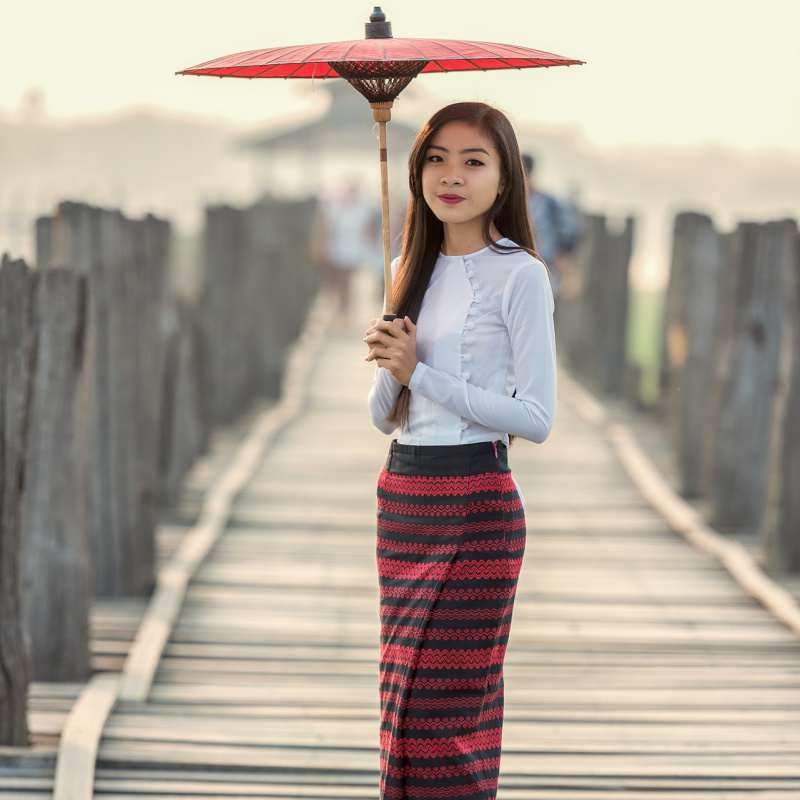 A Myanmarese wearing traditional clothing on Ubein Bridge in Amarapura
What to wear?
Myanmar is a very conservative country so care must be taken to respect the local culture. Men should avoid wearing shorts and slippers while women should not wear short skirts, see-through outfits, sleeveless shirts, skinny jeans or heavy make-up, especially when visiting temples, pagodas, and other sacred areas. This is a great time to try out the local longyi tradition! 
Remove your shoes whenever you enter a temple, pagoda, house, or business
Do not wear anything depicting violence, sex, anti-government, or religious, especially when it comes to Buddha.
Greeting customs
Greet others with the palms pressed together in a prayer-like fashion and a slight bow of the head
Locals will feel uncomfortable shaking hands or physically touching as it is not the norm
The younger person should bow first
Public etiquette
It's considered rude to show anger or disappointment in public, to touch someone's head, to use the left hand to give an object to someone, or to talk loudly in public places
It's inappropriate in Myanmar for a man to have physical contact with a woman without her permission
Religious customs
Don't point your feet towards any type of Buddha statue 
Dress cleanly and neatly while visiting temples and pagodas
Walk clockwise around Buddhist monuments and never turn your back on Buddha
Don't take photos of monks without asking permission 
Always cover your shoulders and knees when entering sacred spaces
Eating and drinking tips
Before taking a bite, it's polite to invite all companions from the oldest to the youngest at the table to eat
Do not sneeze or blow your nose at the table while eating 
Dining at home usually consists of sitting on mats around a round and low table while eating
The Burmese eat with their hands by forming the rice into a small ball with only the fingertips of their right hand before putting food into their mouths. Do not use your left hand as it's considered unclean and used only for toilet purposes 
Where can we take you?
Got an idea? Tell us what you're thinking and one of our travel experts will be in touch shortly to create the perfect holiday for you!
Itineraries
Luxury
Myanmar
Highlights: Yangon, Bagan, Heho, Inle Lake, Indein Village, Pindaya, Mandalay
---
Highlights
Myanmar
Highlights: Yangon, Mandalay, Bagan, Heho, Inle Lake
---
Luxury
Myanmar
Highlights: Mandalay, Ava, Sagaing, Amarapura, Bagan, Heho, Inle Lake, Tuangyi, Kakku, Thandwe, Ngapali Beach, Yangon
---