Out of all the countries in Southeast Asia, Vietnam is by far my favourite destination. The thin S-shaped country is filled with out-of-this world landscapes of karst limestones and emerald-green lagoons. Gravity-defying rice terraces twirl around towering mountain peaks down to fertile valleys of sparkling rice paddies. Sandy white beaches and deserted islands bid you to forget the rest of the world for a few minutes, while the bustling major cities of Hanoi and Ho Chi Minh City shock and awe you with their chaos and charm all at the same time.
If you're ready for some major travel inspiration, read below to find out just how incredible Vietnam really is.
Jaw-dropping natural scenery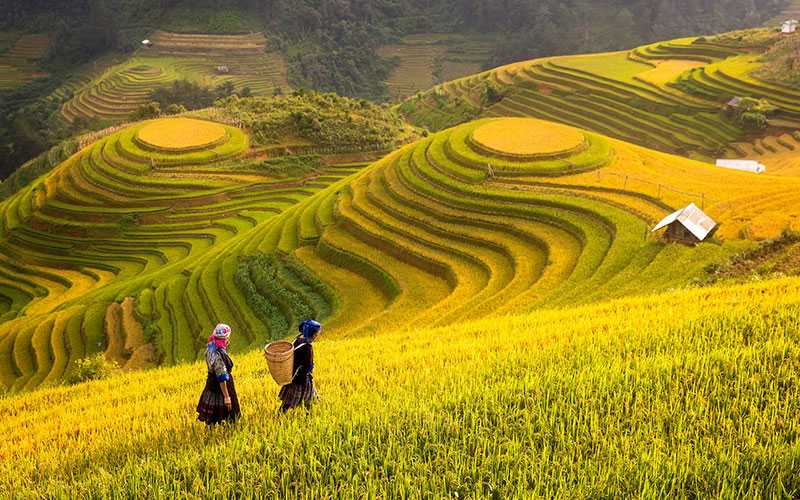 Terraced rice fields in Mu Cang Chai
I may be biased, but Vietnam is the most beautiful country in all of  Southeast Asia. The drama created from the mountains and valleys of regions like Sapa and Mu Cang Chai are softened by the colourful ethnic minorities working in their fields.
To the east lies the proverbial gem of Vietnam's crown, the otherworldly landscapes of Ninh Binh and Ha Long Bay. Limestone karst formations jut out from emerald green waters as antiquated junks, rowboats, and luxury cruise ships gently glide to the next destination. Find your own slice of heaven on small strips of white sand private beaches or lose yourself in hidden grottoes and lagoons.
The central region holds the largest cave in the world, Son Doong, complete with its own weather, ecosystems, and jungles inside. And in the south, feel the slow-paced life of the Mekong River Delta or live the castaway life on the mostly uninhabited paradise islands of the Con Dao Archipelago.
Delicious Cuisine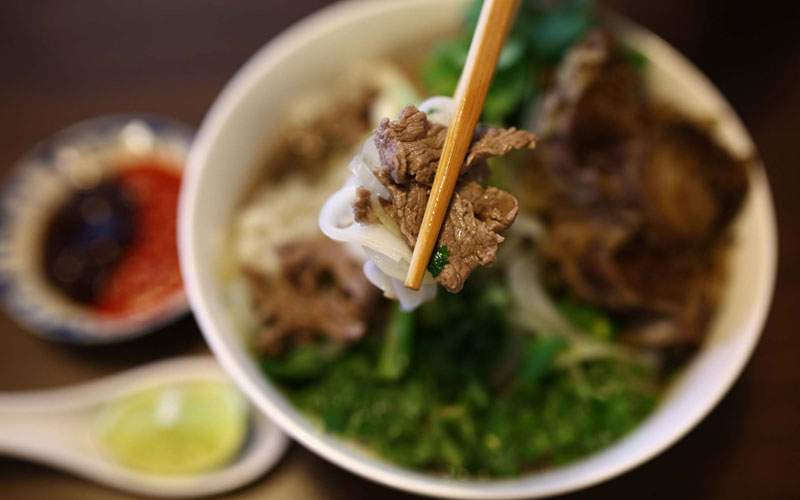 Un-"pho"-gettable in every way
Considered one of the healthiest cuisines in the world due to its unique balance of fresh herbs and meats with a very selective use of spices, Vietnamese food is un-PHO-gettable. The minimal use of dairy, oil, and gluten make it easy for those with dietary restrictions to sample most traditional dishes, while vegetarian and vegan dishes gain popularity in major cities like Hanoi, Hoi An, and Ho Chi Minh City.
What's especially interesting about Vietnamese cuisine is that it changes depending on which region of the country you are in. A Hanoian pho is much different than that of the pho you will find in Da Nang or Ho Chi Minh City, and a local from each area will love to tell you why his or hers is the best. Specialty dishes, like Bun Cha in Hanoi, Bun Bo Hue in Hue, and Banh Xeo in Ho Chi Minh City are dishes that are common to their specific area but can be found in other regions of the country as well.  
What remains the same across the board is the trademark street food restaurants. No matter where you are in the country, grab a plastic stool, plop down with a cold beer and try whatever is on offer at the stalls and family-run noodleshops found on every sidewalk in the country. Whatever is served is surely to be transformative.
Rich history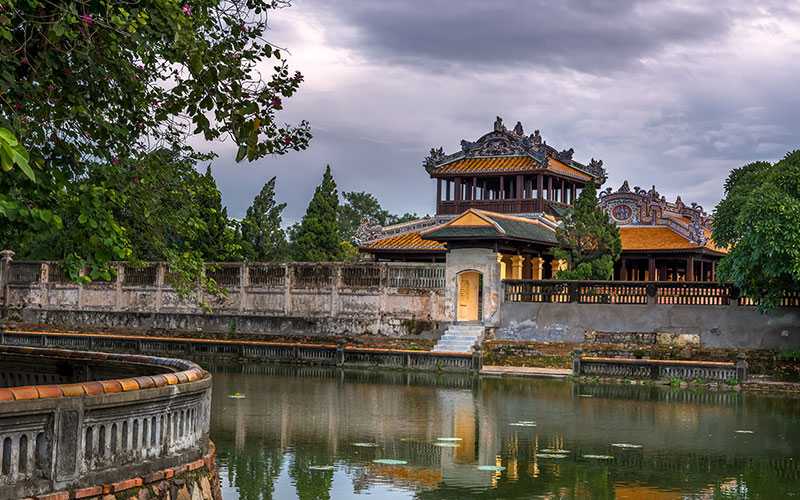 Hue monuments
The history of Vietnam stretches all the way back to the late 3rd century BC. As time went on, different countries influenced Vietnam through trade, war, occupation, and colonialization. Most notably, different Chinese dynasties tried their best to mold the northern regions while the central and southern regions flourished under Champa and Khmer rule.
Much more recently, Vietnam fell to colonialization attempts by the French and later the USA before regaining control of their country in 1976. Through it all, Vietnam has kept a tight hold on their own traditions and heritages, never letting go of who they are.
Hanoi holds invaluable insights into the history of the country in historical sites such as The Temple of Literature, Ba Dinh Square, the Ho Chi Minh Mausoleum, and Hoa Lo Prison while Ho Chi Minh City has preserved some areas of the Cu Chi Tunnels in Ben Duoc as well as the Reunification Palace. Lastly, you don't need a time machine to catch a glimpse of what life was like 100 years ago. Just travel to Hue, the ancient imperial capital,  to see where the emperors of old created their own tombs and mausoleums to protect their spirits even in death.
Romance and Charm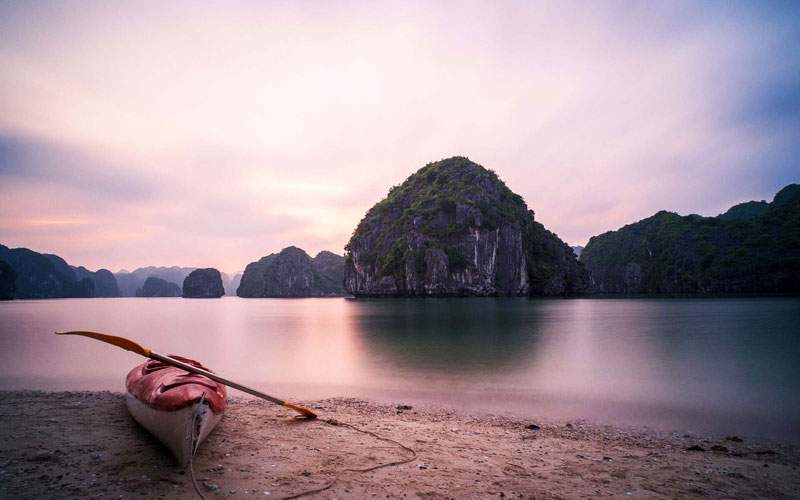 A private beach in Ha Long Bay
Vietnam is a perfect destination for honeymooners and lovers.  Glowing lanterns and charming multicultural architecture in Hoi An enchants all that visit the ancient town, while the French-styled cafes serving up traditional Vietnamese coffees along tree-lined boulevards, lakefronts, and hidden alleys of Hanoi ooze romantic charm in even the simplest moments. The city of eternal Spring, Dalat, is a popular honeymoon destination due to its cool climate, blooming flower gardens, and regal colonial architecture. 
Cycle through rice paddies in the countryside of Ninh Binh or book a romantic suite on an elegant Halong Bay Cruise.  Or paddle through the still waters of the fantastical Tra Su Forest in the Mekong River Delta or lay on a private beach and hear the call of the sea in luxury locations like Ninh Van Bay or Da Nang.
Off-the-beaten Track Experiences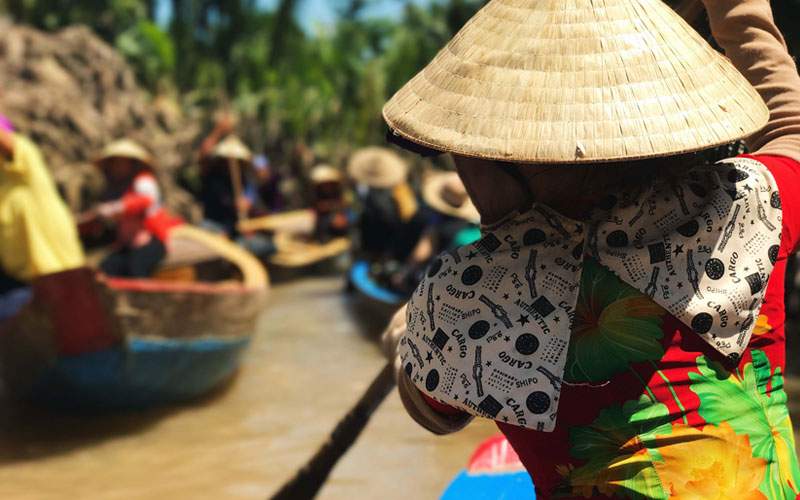 Rolling on the river in the Mekong River Delta
It's easy to avoid tourist traps in Vietnam as so much of the country is waiting to be discovered and developed. In addition, Vietnam is such a friendly and safe country that it is easy to travel alone, with children or off-the-beaten-track. 
Try your hand at windsurfing in the ocean or riding the infamous sand dunes of Mui Ne, or go by traditional sampan (a type of rowing boat) down palm-fringed canals of the mighty Mekong River. Trek into the undiscovered territory in caves like Hang En or Son Doong in Phong Nha Ke Bang National Park. Vietnam really does hold something for everyone.
What are you waiting for? Go ahead and contact one of Mundo Asia's travel designers to begin designing the tailor-made holiday of your dreams to Vietnam! 
Where can we take you?
Got an idea? Tell us what you're thinking and one of our travel experts will be in touch shortly to create the perfect holiday for you!
Itineraries
Adventure
Vietnam
Highlights: Hanoi, Mai Chau, Pu Luong, Ninh Binh, Dong Hoi, Phong Nha, Phong Nha Ke Bang, Hue, Hoi An, Da Nang
---
Luxury
Vietnam
Highlights: Hanoi, Halong Bay, Da Nang, Hoi An, Hue, Ho Chi Minh City, Con Dao
---
Highlights
Vietnam
Highlights: Hanoi, Halong Bay, Hoi An, Hue, Ho Chi Minh City, Mekong Delta
---