Ho Chi Minh City Excursion
Recommended

itineraries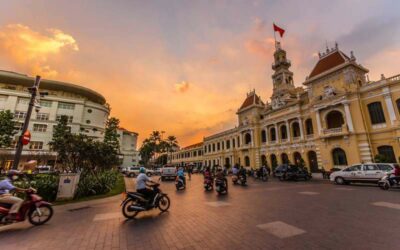 ---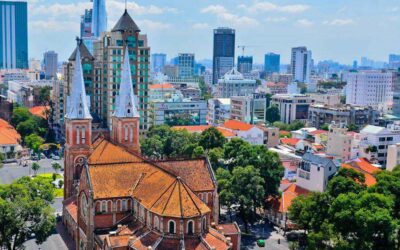 ---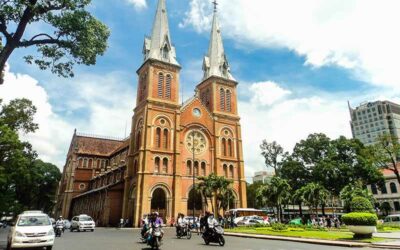 ---
Ho Chi Minh City Excursion
highlights
Travel

Guide
Time to visit
Ho Chi Minh City's weather patterns are a far cry from the 4 distinct seasons of the northern regions. There is the dry hot season beginning in November and stretching until early May and the wet hot season with floods and thunderstorms starting in late May and lasting until November. We recommend visiting Ho Chi Minh City at the end of the rainy season in November until around March before the strong heat of summer hits. It's best to avoid Ho Chi Minh City between June and August when the humidity soars and the streets flood regularly from powerful storms.
Food & drink
Southern Vietnam cuisine is much spicier and sweeter than its northern counterparts. When visiting Ho Chi Minh City, make sure to try famous southern dishes like bun thit nuong and bun mam, two types of noodle soups known for their interesting blend of flavours. A bowl of noodles costs between USD1-3 depending on location. Banh xeo, a type of stuffed crepe, is another very popular southern dish. Big ones are almost the size of Indian masala dosas and can cost around USD5. Com tam ba ghien, a plate of delicious rice and grilled pork, is a popular dish costing only USD1.5 available at most street stalls throughout the city. Expect to pay between USD10-20 per person in mid-range indoor restaurants.
Transport
Brave the chaos of Saigon's bustling streets filled with motorcycles, scooters, bicycles, taxis, cars, and 4x4s. The ever-popular grab application is seen everywhere with motorbike taxi's wearing their green uniforms, offering rides at a much cheaper, fixed rate than bargaining on the street with local xe oms. Xe Om's can be arranged on the street corner for around USD0.43 a km while taxis cost around USD0.50 per km. Buses, often now with wi-fi connectivity, cost USD0.01 and per ride.
Accommodation
There are many accommodation choices in Ho Chi Minh City for the discerning traveller. Budget accommodation starts for as little as USD10 per night for a hostel bed or local guesthouse while mid-range comfortable hotels can cost anywhere between USD50-100 per night. Luxury stays usually start around USD150 per night and increase from there. If you're looking for a wide range of restaurants and nightlife options, choose a hotel in District 1 where all the action is happening. However, if a quiet stay is more your style, check out the popular expat enclave of District 2 while budget-conscious visitors can find discount accommodation in District 5's Chinatown.
Communication
Wi-Fi is prevalent throughout the city, whether in small cafes, mostly any restaurant, and all hotels. SIM Cards can be bought from main brands such as Viettel, Mobifone, and Vinaphone from USD2-3 and internet data for USD1-25 at nearly every shop on the street. In case of emergency, dial 113 for the police, 114 for fire, 115 for ambulance and first-aid. English is readily spoken and the city has a very international feel.
Why travel with Mundo Asia?
Get lost in the hidden charm of South East Asia