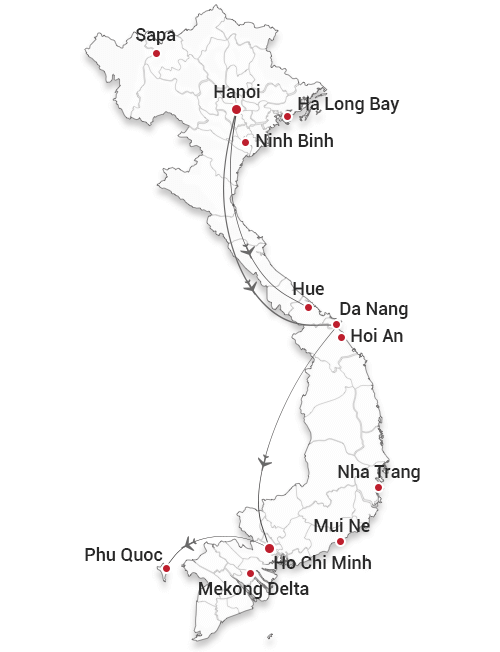 Due to its long coastline filled with diverse landscapes, distinct cultures, and great food, Vietnam is one of the best destinations in Southeast Asia for both natural and cultural lovers. Come and get lost in a quaint Hanoi, revel in the scenic mountains of Ha Long Bay, Ninh Binh or Sapa in the north, enjoy alluring cultural heritages of Hue and Hoi An in the central, pump yourself up in bustling Ho Chi Minh (Saigon) and immerse in the beautiful nature of Mekong River Delta in the south. If beaches are what you're looking for, Phu Quoc, Nha Trang, Mui Ne or Da Nang are just some of the most popular options.
In 2020, Sapa slips to the bottom of the list, mainly because of the many under construction. In contrast, the coastal alluring town of Hoi An becomes a must-see destination in Vietnam.
The peak time of the year to travel is from December to January, the first half of February, the second half of March and April. However, it's possible to travel all year-round in this wonderful country of ethnic minorities and terraced rice fields. Check out the best time to travel to Vietnam in detail to fully enjoy your journey.
Just remember, during the 30th April (Reunification Day), 1st May (Labour Day), and 2nd September (Independence Day of Vietnam), domestic travel surges as these are public holidays in the country. Tourist attractions can be very crowded along with transportation and hotels booked out well in advance.
1. Hanoi – A quaint capital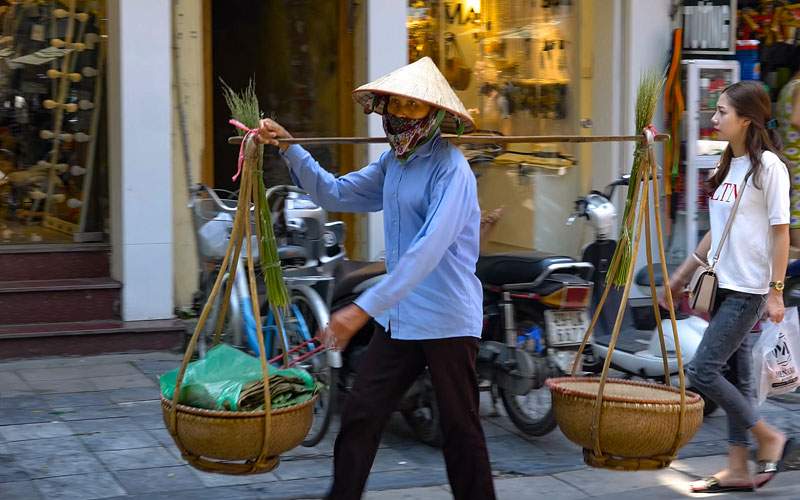 Hanoi became the capital of Vietnam in 1010 under King Ly Thai To, named Thang Long (Ascending Dragon). In 1831, Thang Long was renamed Hanoi, which translates rather poetically to "the city inside the river"
You will feel a magical vibration while wandering around this thousand year city, with all your senses, it's hard to explain why. Amble down the labyrinth-like alleys of the Old Quarter, and see the hidden pagodas and temples waiting to be explored. Feel the indomitable spirit of the Vietnamese when visiting historical sites such as Thăng Long Imperial Citadel, the Ho Chi Minh Mausoleum, Hoa Lo Prison, One Pillar Pagoda, and Hoan Kiem Lake. Whether it's the rich culture and heritage shown in the romantic French-influenced colonial architecture or the tantalizing smells of Pho and other tasty street foods wafting through the air, the charm and atmosphere are palpable.
Things to do
Click  

on the map for best things to do in Hanoi.
Recommended length of stay
Hanoi is one of the most interesting places in Vietnam. Some fall in love with the city, and a week here is not enough for them. If you like wandering non-touristy area of Hanoi, get sync with the local life here, you should spend at least 4 to 5 days. If you stay in Hanoi just as a transit to visit other nearby destination (Ninh Binh, Sapa ect.), do a full-day city tour. Many will say it's too short, but still, it allows you to visit most typical attractions of this 1000-year-old capital city.
Time to visit
You can visit the pulsing Hanoi at any time of the year. On Tet Holiday and Independence Day, Hanoi stands out with its peaceful atmosphere.
Accommodation
Accommodation in Hanoi is centered around Hoan Kiem Lake in the popular Old Quarter. Small family-run styled hotels cost between 5 – 20 USD per night while a luxury stay at Sofitel Metropole will run above 200 USD per night. Guests looking for a quiet respite away from the hustle and bustle of Hoan Kiem District can head north of the city center to the quieter areas of Ba Dinh and Tay Ho District, where hotels like Pan Pacific and Intercontinental can be found with the per night average a little over 100 USD. Trendy airbnbs ranging between 10 – 15 USD are also on the rise, with independent travellers looking for more personal experiences.
Food
A foodie paradise, Hanoi is chockfull of amazing culinary treasures, from small noodle shops and street food delicacies to trendy expat start-ups and fancy restaurants.
Some local dishes that you should try in Hanoi: Pho bo (beef noodles), Pho ga (chicken noodles), Bun Cha (Grilled Pork & Rice Noodles), Cha ca La Vong (La Vong grilled fish), Banh cuon (Steamed rice rolls), Banh Mi (Vietnamese sandwich), Cafe sua da (Vietnamese iced coffee), Nem ran (Fried spring roll), Bo cuon la lot (Grilled beef in piper lolot leaves).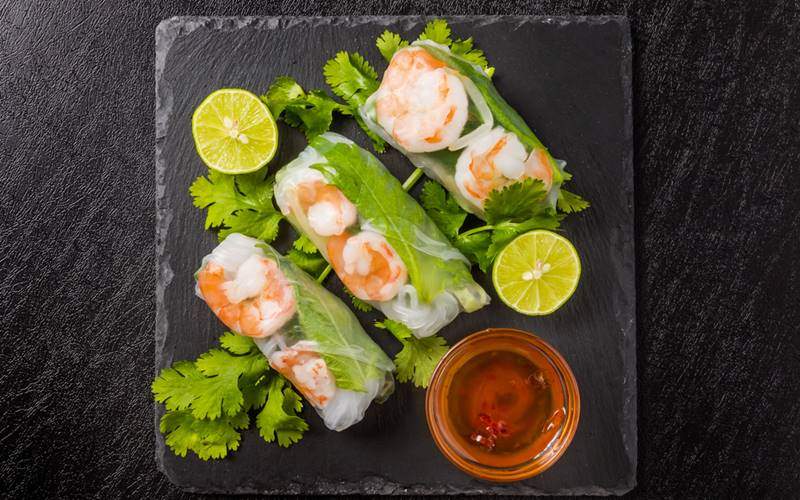 Pho cuon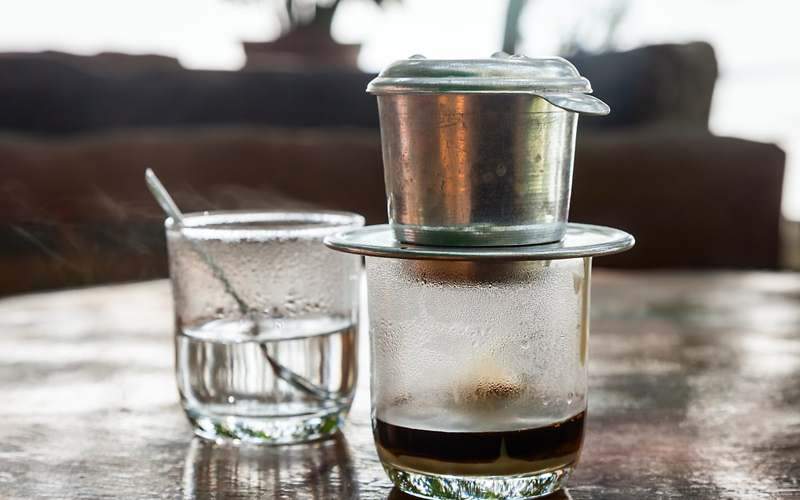 Ca phe phin
Transportation
Private car, taxi, motorcycle, bus
The traffic in Hanoi is often unfathomable, with motorcycles, scooters, bicycles, taxis, cars, and 4 x 4s all clamboring for space, especially during commuting hours from 7:30 – 8:30 and 17:00 – 18:30. The ever-popular grab application is seen everywhere with motorbike taxi's wearing their green uniforms, offering rides at a much cheaper, fixed rate than bargaining on the street with local "xe om". Xe om's can be arranged on the street corner for around 0.43 USD a km while taxis cost around 0.50 USD per km. Buses, often now with wi-fi connectivity, cost 0.30 USD and less per ride.
How to get to Hanoi
Air
Located 35 km outside of the city centre, Noi Bai international airport is the largest airport in northern Vietnam. There are 51 airlines operating with international flights to more than 20 destinations. You can easily find a direct flight to Hanoi from many places all over the world.
Train
From Hanoi train station, you can catch the train to the South (Hue, Da Nang, Nha Trang, Ho Chi Minh) and to Sapa (in the north)
Bus
With four bus stations, you can find buses to Hanoi from any provinces throughout Vietnam.
Best places to go near Hanoi
Ha Long Bay
Ninh Binh
Sapa
Ha Giang
Hoi An
Hue
Da Nang
Quang Binh
2. Ho Chi Minh – The most bustling city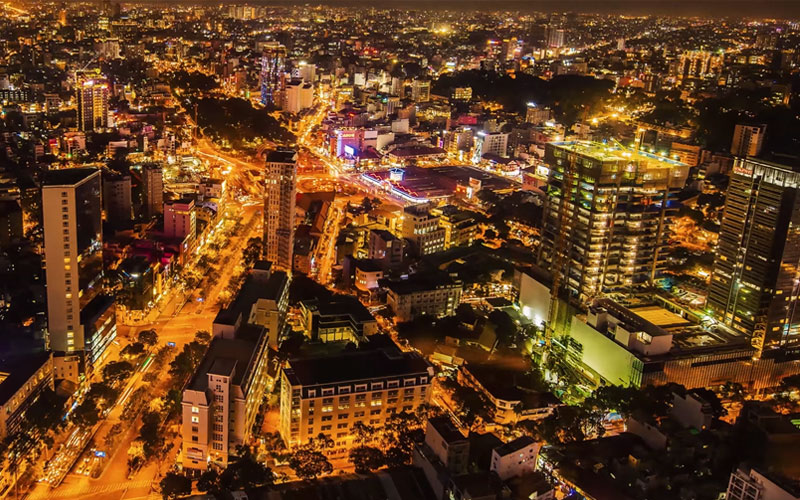 It's hard to imagine the sprawling, modern metropolis of Ho Chi Minh City once started out as a small fishing village surrounded by thick forests. Located in southern Vietnam, the economic center and bustling Ho Chi Minh City is the largest city in regards to the population. Fondly referred to by its evocative older name of Saigon, Ho Chi Minh City retains a preserved air of its French colonial heritage in the old areas of the city while still reflecting the dynamic modern vibes of a cutting edge Vietnam. Key attractions such as the Notre-Dame Cathedral, Saigon Opera House, Central Post Office, and Ben Thanh Market reflect this colonial heritage, while the War Remnants Museum, Reunification Palace, and preserved Cu Chi Tunnels north of the city lay testament to the fighting spirit and recent history of the ravages of war.
Things to do
Click

 on the map for best things to do in Ho Chi Minh.
Recommended length of stay
2 to 3 days in Ho Chi Minh city is suitable for almost travelers. You'll have enough time to experience the fantastic street food, great nightlife. With one week, you are able to take things at a slower pace and uncover the city's hidden charm.
Time to visit
From December to April is the best time to visit this bustling city. Unlike its usual vibrancy, Ho Chi Minh City is more peaceful on Tet Holiday and Independence Day.
Accommodation
Ho Chi Minh City has a huge selection of hotels to choose from, ranging from Airbnb and hostels to chic guesthouses and top-notch branded hotels. The vast majority of hotels are concentrated in Districts 1 and 3. Overall, Ho Chi Minh City hotels are more expensive than other cities in Vietnam. Book early for your choice of the best accommodation.
Food
Ho Chi Minh City is well-known for fabulous street food such as Pha lau, Hu Tieu (pork and seafood noodle soup), Bo Bia (jicama and carrots spring rolls), Banh Mi, Banh Xeo (Vietnamese crispy crepe). In addition, it has a strong coffee culture and huge number of international restaurants.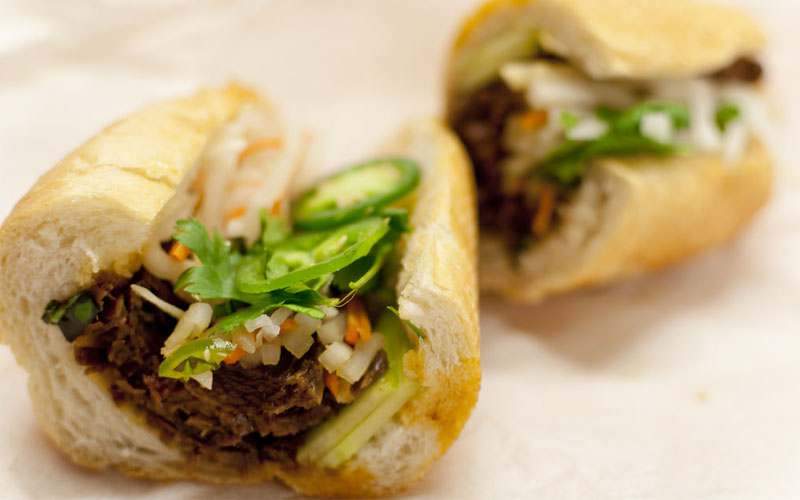 Banh mi
Banh xeo
Transportation
Bus, private car, taxi, motorcycle.
Due to the hot weather and traffic jams, motorcycle is not the ideal option for tourists although it is much more flexible and inexpensive.
How to get to Ho Chi Minh
Air
Tan Son Nhat airport is the busiest airport in Vietnam. The airport has international flights connecting Ho Chi Minh and 76 destinations in 25 countries. There are also a number of domestic flights from Hanoi, Da Nang, Hue, Phu Quoc, Da Lat to Ho Chi Minh.
Train
Saigon station is one of the stops in North-South line which run through the length of Vietnam, passing by most of Vietnam's major destination.
Bus
Ho Chi Minh has two large bus station and many tourist bus lines, providing departures to many places through Vietnam.
Best places to go near Ho Chi Minh City
Hoi An
Hue
Da Nang
Nha Trang
Mekong Delta
Mui Ne
Phu Quoc
Siem Riep
3. Ha Long Bay – Spectacular tourist trap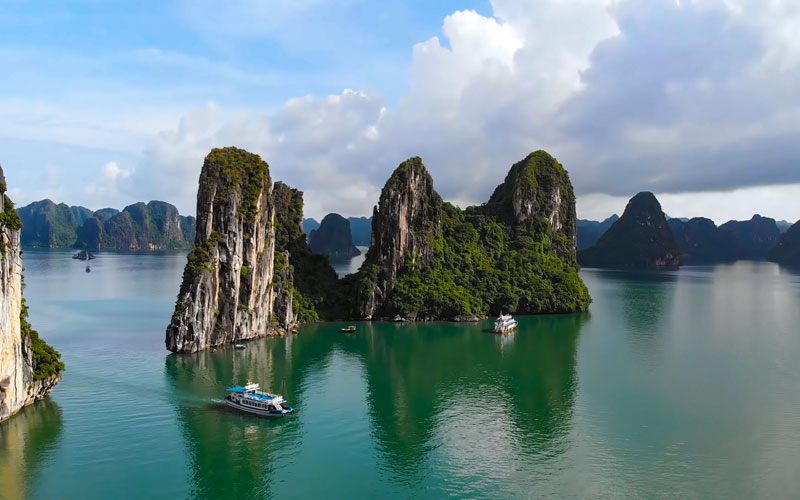 The natural beauty and aesthetic importance of Ha Long Bay, a UNESCO World Heritage Site and natural wonder, is a true jewel in the crown of Vietnam's beauty. Boasting a spectacular seascape filled with thousands of towering limestone islands, karst grottoes, and quaint junk boats cruising the sparkling emerald waters, visiting this area truly is like stepping into a fairy tale, the stuff of legends.
Legend tells of foreign invaders attacking Vietnam in its early stages as a new country. The Jade Emperor sent a family of dragons to help the Vietnamese defend their country; as the dragons descended from the sky, the dragons spit out jewels and jade into the water, which transformed into thousands of islands and islets, creating a strong wall that could not be breached. After the battle finished, the dragon family decided to stay on Earth and live out their days. The place that the Mother Dragon descended is known as Ha Long Bay – the bay of the descending dragon.
Things to do
Click

on the map for best things to do in Ha Long Bay.
Recommended length of stay
2 day 1 night is the most popular choice of traveler to cruise Ha Long Bay. For an in-depth experience and staying away from the tourist hub, plan to stay here for 2 or 3 nights, so you can reach Bai Tu Long Bay, Cat Ba island where you can immerse in untouched nature.
Time to visit
Ha Long Bay has the most gorgeous beauty in April with a crystal blue sky. The weather is pleasant from November to March, a good time to go. However, you should consider visiting in August and September due to its typhoon season.
Accommodation
Ha Long Bay has a wide range of hotel accommodations on offer. In addition to guesthouses, hotels, and resorts, there is also a large selection of cruises to choose from. The vast majority of foreigners stay at least 1 night on board to see the beauty of Ha Long Bay. Various types of boats and budgets are available from budget to top luxe. Don't forget to book your cabin early to see the best of Ha Long Bay!
Food
Ha Long Bay is home to a variety of seafood. Besides Asian restaurants, many Western ones are also served here.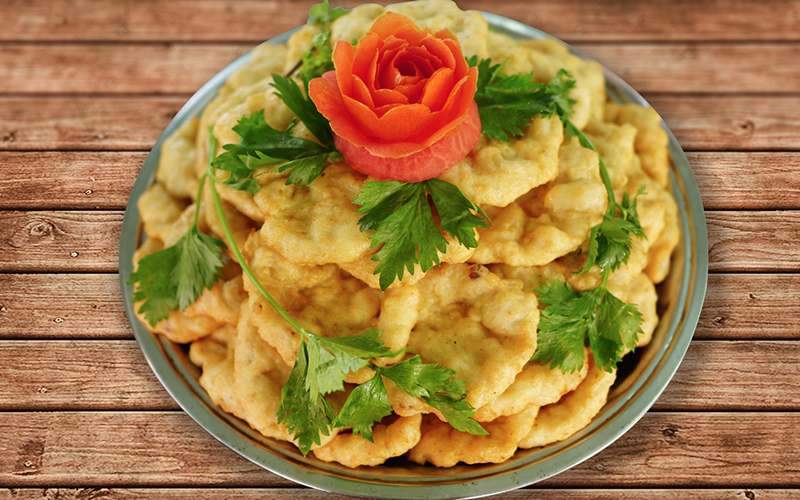 Squid cake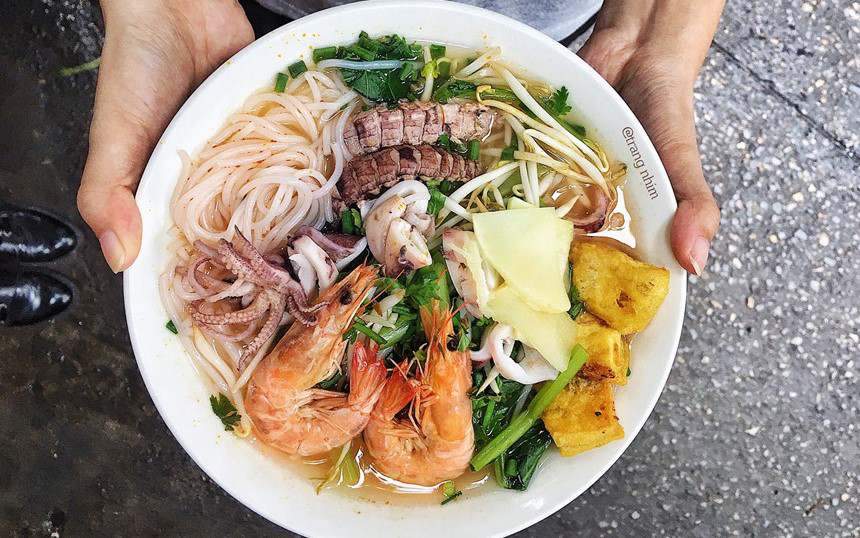 Seafood noodle soup
Transportation
Cruise boat, seaplane.
It is a humbling experience to jump on a 25-minute flight and appreciate the whole beauty of Ha Long Bay with the fare of around USD 130.
How to get to Ha Long Bay
There are many ways to get to Ha Long Bay from Hanoi, including bus, train or seaplane. The most popular and convenient way is the shuttle bus service, which departs Hanoi daily at around 8.am. It takes 2.5 – 3 hours for a Hanoi – Ha Long trip traveling by bus.
Best places to go near Ha Long Bay
Hoi An
Hue
Da Nang
Hanoi
Ninh Binh
Sapa
4. Hoi An – Coastal alluring town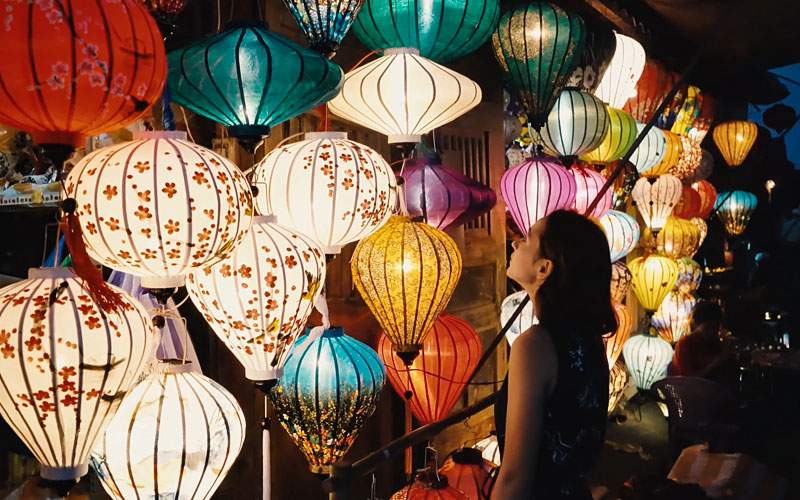 Ancient, peaceful, colorful, it's why the charming city of Hoi An in central Vietnam is such a popular destination for travelers and locals alike. Indeed, the UNESCO World Heritage Site of Hoi An's Ancient Town is filled with traditional Vietnamese tube houses, heritage Chinese shophouses, a famed Japanese Covered Bridge and beautiful French colonial buildings, often painted in a sunny yellow. Hoi An is not only famous for its romantic ambiance but also its wonderful local cuisine, especially Com Ga (chicken rice), Cao Lau (a traditional noodle soup), and Banh bao – Banh vac, a secret recipe only available in the area. The vibrant handcrafted lanterns glowing in the evening dusk as small rowing boats gently glide down the Thu Bon River, and large amount of bespoke tailors and original handicrafts make this cute town the highlight of any trip to Vietnam.
Things to do
Click

 on the map for best things to do in Hoi An.
Recommended length of stay
Ideally, you should spend at least three days in Hoi An. You won't regret it. Stay 1 or 2 extra days if you want to relax on the beach. An Bang is listed in the 100 best beaches around the world by CNN.
Time to visit
Hoi An is appealing all time of the year, but more elegant on Tet Holiday and every night of the 14th lunar month with lantern festivals held in the ancient town. March and April are warm, months to enjoy An Bang beach. It is blazing hot in late May, June and July.
Accommodation
One of the most iconic cities in central Vietnam, Hoi An receives millions of tourists from all over the world each year. The city boasts a beautiful selection of boutique hotels and resorts suitable for anyone's budget. Most hotels can be found in the old town or along the seaside of Cua Dai. Many tourists choose to stay in Da Nang and make day trips to visit Hoi An. If you choose a hotel by the river outside of the city, you can expect a calm nice view of the countryside from your room.
Food
Give a try to some specialties of Hoi An like Cao Lau, Com Ga (chicken and rice), Mi Quang (Vietnamese turmeric noodles), Hoanh Thanh (wonton dumplings). There are a few restaurants that serve European food, quite tasty and affordable.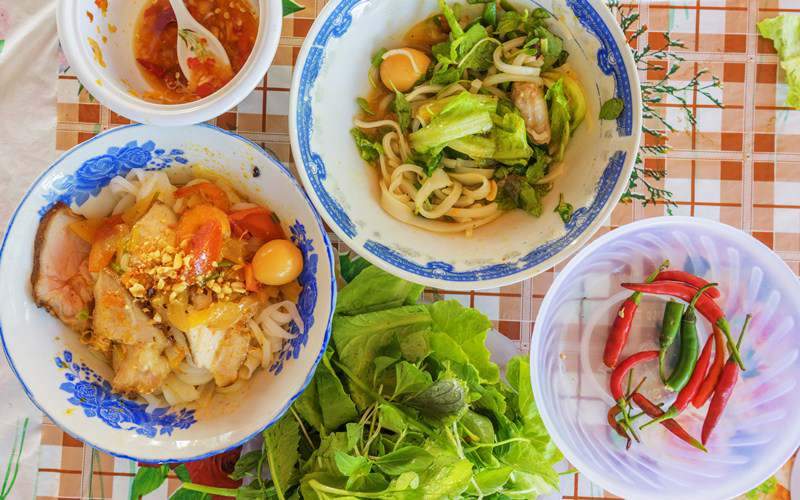 Vietnamese turmeric noodles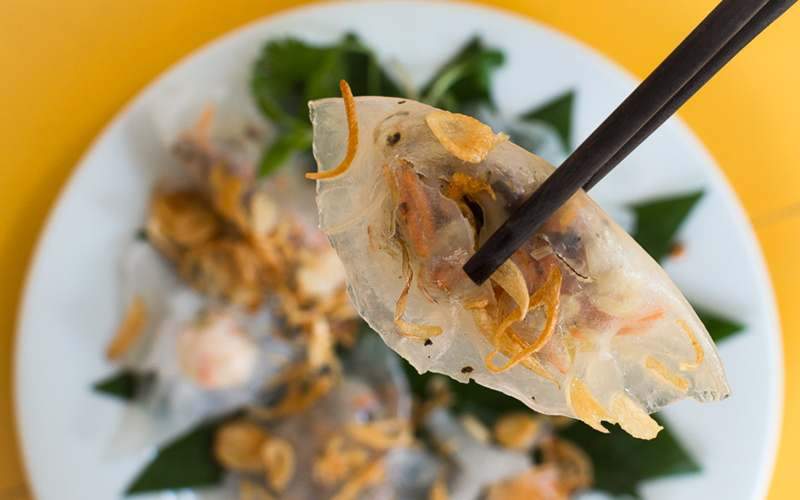 White rose dumplings
Transportation
Motorcycle, bicycle, boat, cyclo.
Getting around Hoi An by bicycle and motorcycle is the easiest and cheapest way because of the compact size and rarely busy traffic. Boat travel (about USD 3 in 30 minutes) is also popular when you desire to contemplate the beauty along Hoai and Thu Bon River.
How to get to Hoi An
Hanoi – Hoi An: 800 km
Ho Chi Minh – Hoi An: 939 km
Da Nang – Hoi An: 30 km
Hue – Hoi An: 121 km
Air
option 1: Take a flight to Da Nang from Hanoi or Ho Chi Minh, then travel by road to Hoi An.
option 2: Take a flight to Hue from Hanoi or Ho Chi Minh, continue to Hoi An by car or train.
Tourist Bus or train + bus
Most of the bus and train will only stop in Da Nang from where you need to make your own way to Hoi An. Usually, the best option is the tourist bus or the deluxe bus. These buses depart from Hanoi, Hue, Nha Trang, Ho Chi Minh and take you direct to Hoi An.
Best places to go near Hoi An
Hanoi
Ha Long Bay
Ninh Binh
Quang Binh
Hue
Da Nang
Nha Trang
Ho Chi Minh City
5. Ninh Binh – Ha Long Bay on land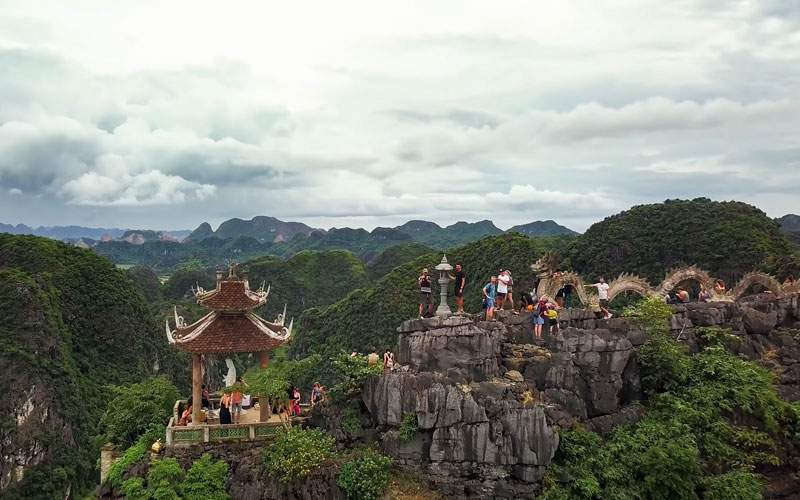 The lush Red River Delta in northern Vietnam creates the dreamy landscape of Ninh Binh, often referred to as "Ha Long Bay on land". Known for its karst mountains and hidden grottoes, cave temples, green valleys and shimmering rice fields, Ninh Binh is an incredible insight to the simple beauty of the Vietnamese countryside. The UNESCO World Heritage Site of Trang An Scenic Landscape complex and Tam Coc are best visited by rowing boat, while the Cuc Phuong National Park contains incredible vistas along its hiking trails. For an epic panoramic view of the river running through rice fields, climb the stairs to the top of Mua Cave. Nearby is the river gateway to Hoa Lu, the ancient capital of Vietnam in the 10th and 11th centuries. The largest complex of Buddhist temples in Vietnam exists here, consisting of Bai Dinh and Bich Dong Pagoda, as well as Phat Diem Stone Cathedral.
Things to do
Click

 on the map for best things to do in Ninh Binh.
Recommended length of stay
2 days is the ideal time to discover highlights of Ninh Binh. However, if you don't have much time and want to see as more as possible, one day tour is still fine.
Time to visit
Ninh Binh is scenic year-round. From late May to June and from late September to October, ripe rice fields add fascinating yellow to the picturesque scene.
Accommodation
Ninh Binh is emerging as a top destination in North Vietnam, with more and more properties added to its accommodation list. The city tends to have more budget hotels and homestays for quick stays. There are only a few high-end options available and some properties have a limited amount of rooms so you need to reserve early. Take advantage of the free bicycles on offer from most hotels to get the most of the dreamy landscapes.
Food
Delicious dishes made from goat are Ninh Binh's special cuisine. Besides, Com Chay (rice crust), Goi Ca Ghenh (Nhech fish salad), Oc Nui (mountain nails) are also popular. Ninh Binh does not serve many Western restaurants.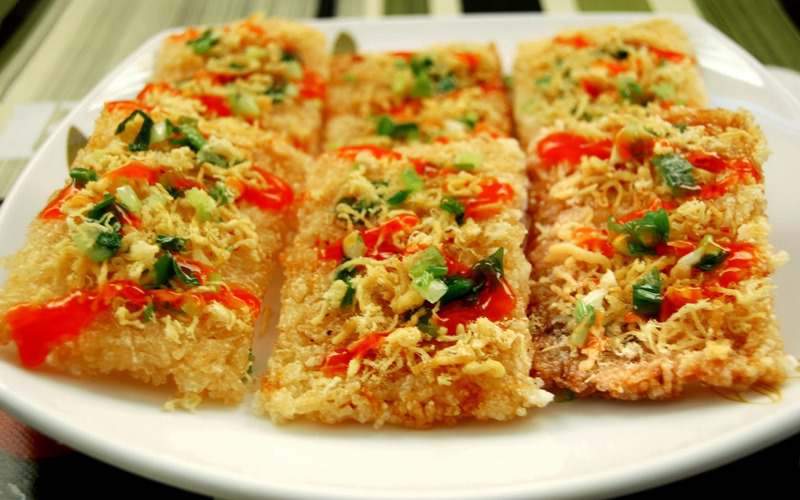 Transportation
Motorcycle, bicycle.
Tourists can rent a motorbike (5 – 7 USD/day) or a bike (3 – 4 USD/day) to explore the tiny paths next to the fields.
How to get to Ninh Binh
Ninh Binh is 100 km southeast of Hanoi. The easiest way is to start from Hanoi. Bus and train take more than 2 hours while the private car takes under 2 hours. Ninh Binh's bus station is near the railway station, which is a 15-minute drive from Trang An.
Best places to go near Ninh Binh
Hanoi
Ha Long Bay
Sapa
Hoi An
Hue
Da Nang
6. Hue – The remains of feudalism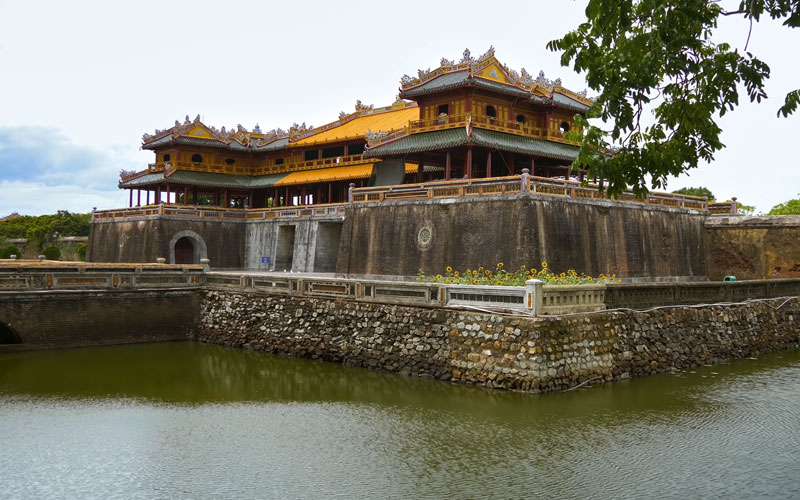 Situated on the banks of the sleepy Perfume River, the imperial city and ancient feudal capital of the Nguyen Dynasty, Hue, still retains much of its regal and grandeur of the days of old. Home to many UNESCO World Heritage Sites due to the preservation of important historical attractions like the Imperial Citadel, Forbidden Purple City, and beautiful tombs of Emperor Ming Mang, Tu Duc, and Khai Dinh, Hue is the perfect place to start a journey into the ancient and recent history of not only central Vietnam, but the country as a whole. Feel the spirituality in Thien Mu Pagoda, brought to international attention during the Vietnam-American War. Dine on the exquisite and refined way of food preparation with the eponymous Bun Bo Hue, a type of spicy noodle and beef soup named after the city it was created in, and other classics like Bun Thit Nuong and Com Hen.
Things to do
Click

 on the map for best things to do in Hue.
Recommended length of stay
You should spend about two days in Hue, which give you enough time to visit the imperial citadel, tombs, and pagodas. If you keen on war history, spend one more day for DMZ tour. It will be a day trip from Hue. 
Time to visit
From December to April, the weather in Hue is dry and cool, leaving ample time to enjoy the many historical attractions.. Most annual festivities are held in April. From late May to June is the time for heat waves with the temperature can reach over 40°C (104°F). Rainy season can occur in October and November.
Accommodation
Surprisingly cheaper than other destinations in Vietnam, Hue has lovely hotels and urban resorts around the legendary Perfume River. Although the choice is not as extensive as Hoi An or Da Nang, hotels in Hue are generally cheaper and offer a good value for money. Boutique accommodation with heritage rooms are priced between 35 – 75 USD per night, while stays along the pristine beaches of Lang Co start at 100 USD per night. Most hotels rent bikes free of charge to visit the charming city.
Food
Hue is often credited with the creation of over 1000 dishes during the time of the Imperial Dynasties. The delicate mix of sweet and spicy flavours pairs nicely with the intricately prepared and styled meals. When in Hue, be sure to try the iconic Com Hen (clam rice), Bun Bo Hue (Hue beef soup), Banh bot loc (chestnut starch cakes), Banh canh (thick noodle soup), Nem lui (Lemongrass skewers). Expect to pay between 2 – 4 USD for meals in local restaurants and 6 – 15 USD in nicer restaurants with wi-fi and beautiful garden settings.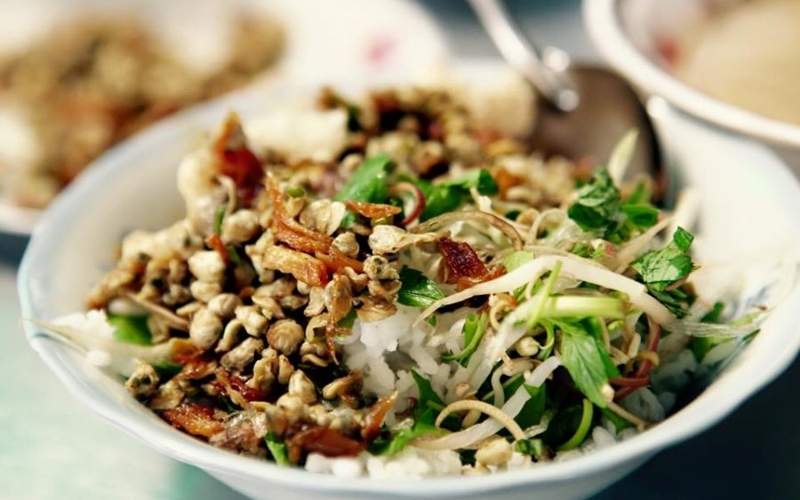 Clam rice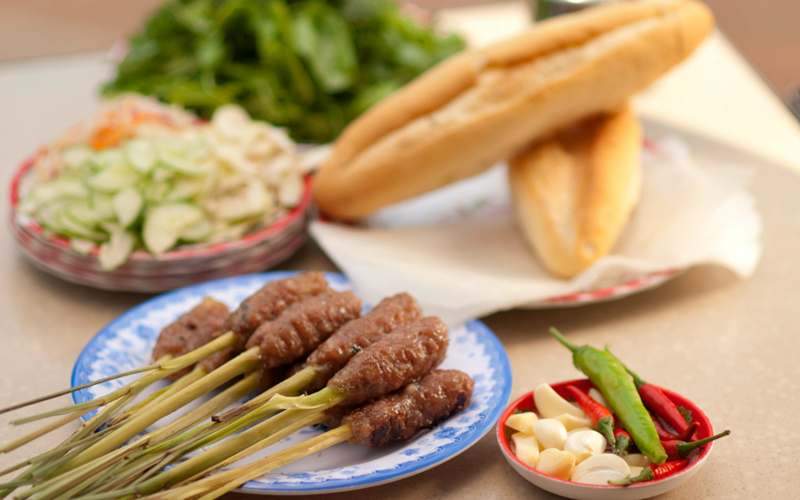 Lemongrass skewers
Transportation
Private car, taxi, motorcycle, bicycle, cyclo.
Transportation costs in Hue are not expensive. Private car or taxi are the best option. Traveling by cyclo within Hue City Centre or driving a motorcycle at a cost of around USD 5 per day like the locals is also a good choice.
How to get to Hue
Hue is easy to reach from other popular tourist destinations in Vietnam by air, train or private car.
Air
option 1: Take the flight from Hanoi or Ho Chi Minh to Hue
option 2: Fly to Da Nang and take the chance to visit this amazing city. Travel to Hue by road
Train
The north-south train line between Hanoi and Ho Chi Minh City has a stop in Hue. The rate varies depending on the speed of the train, type of seat/sleeping berth.
Best places to go near Hue
Hanoi
Ha Long Bay
Ninh Binh
Quang Binh
Hoi An
Da Nang
Nha Trang
Ho Chi Minh City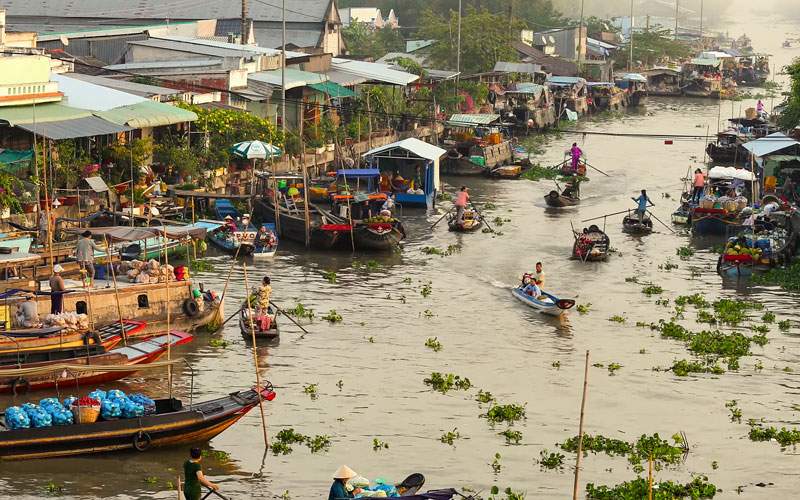 The Mekong Delta is a floating world made up of a vast maze of rivers and fertile, alluvial soil in southern Vietnam. Referred to as Dong Bang Song Cuu Long in Vietnamese, or the river delta of nine dragons, this haven for lush rice paddies, wildlife, and tropical fruits and vegetables is a biological treasure trove of the world. The colorful floating markets and shimmering Khmer Pagodas of the largest city in the Mekong Delta, Can Tho, showcase a proud Vietnamese and Cambodian heritage. In addition, to the natural wonder of the area, the culinary delights abound in regional delicacies such as Lau Mam, a hotpot with fermented fish, and Banh Xeo, a Vietnamese-styled crispy pancake. As much of the lifestyle in the area revolves around the river, many of the villages are often only accessible by canals and boat, creating the atmosphere of land frozen in Cochinchine time.
Things to do
Click

 on the map for best things to do in Mekong Delta.
Recommended length of stay
If you want a quick look of the floating market and local life, a one-day tour could be enough. Stay for 3 to 5 days to fully experience more attractions of Mekong Delta.
Time to visit
This floating maze is worthy-visited in any season of the year. Ripe rice seasons are in early April, late August and late November.
Accommodation
Accommodation facilities are not as developed in other regions of the country. Most international visitors who choose to stay in the Mekong Delta instead of day-tripping from Ho Chi Minh City spend the night on cruise or in simple homestay. Most hotels cater to domestic guests with prices reflecting the local budget. A few boutique properties exist around My Tho and Can Tho but due to competition, fill-up quickly. If you wish to stay in one of these properties, book as soon as possible to avoid disappointment.
Food
Mekong Delta is lack of international dishes but serves flavorful ones like Hu tieu My Tho (My Tho noodle soup), Lau Mam (fish sauce hot pot), Dua Ben Tre (Ben Tre coconuts).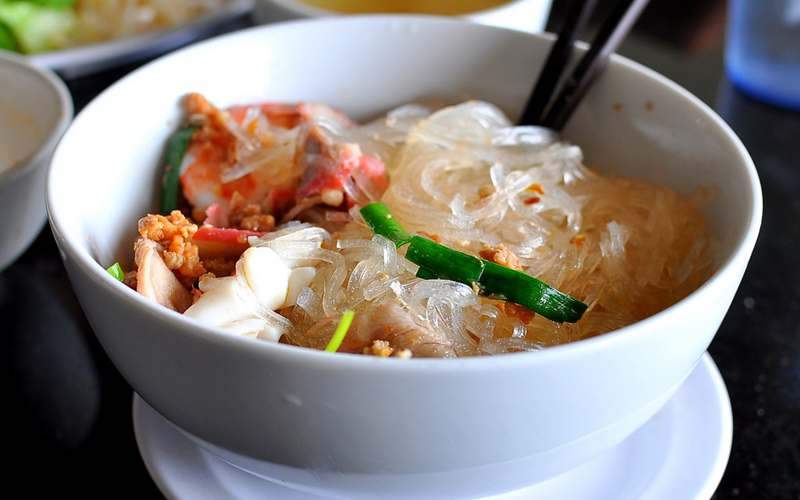 My Tho noodle soup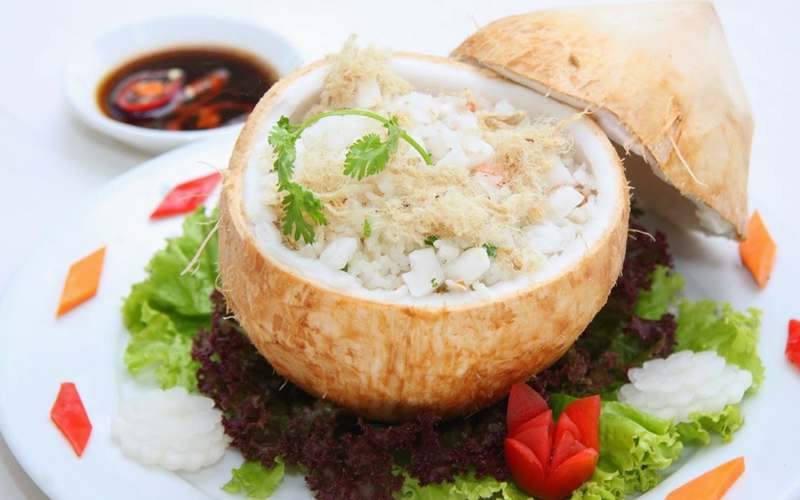 Ben Tre coconuts
Transportation
Boat, bicycle.
It is an amazing experience to get on a boat ride along the small channels to admire the wildlife. You can also ride a bike around the smallest villages.
How to get to Mekong Delta
Ho Chi Minh – Mekong Delta: 193km
Although the Mekong Delta has 12 different provinces, the most common route is to travel from Ho Chi Minh City to Can Tho, which is home to the well-known Cai Rang floating market. Here are some suggestions for your 169-km-journey.
Bus: It's cheap, and there are many departures daily.
Boat: An interesting way to travel and take a look at the local life on the riverside
Airplane: Can Tho has an airport, so instead of sitting for 3 hours on the bus, you can shorten the traveling time with a 45-minute flight.
Motorbike: If you like the feeling of immersing yourself in the scenery around, consider motorbike. It's cheap and easy to rent one almost anywhere in Vietnam.
Best places to go near Mekong Delta
Ho Chi Minh
Phu Quoc
Mui Ne
Phnom Penh
Nha Trang
Hoi An
Hue
Da Nang
8. Da Nang – A coastal resort city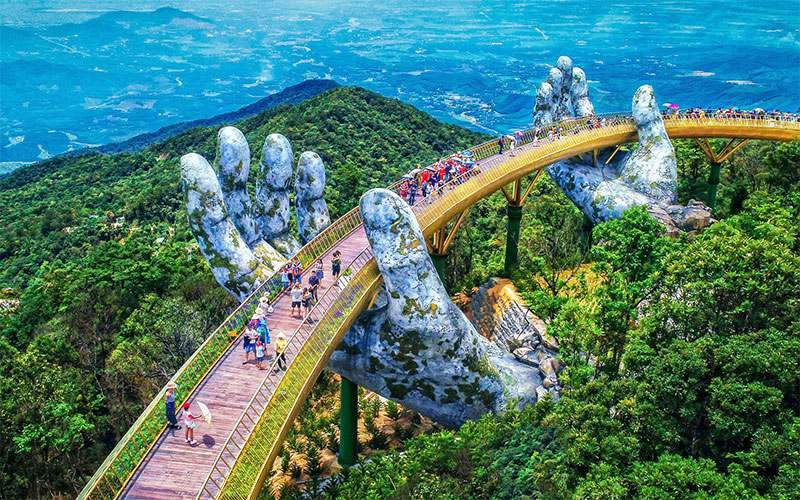 Da Nang, from a transit point, has redefined itself into a worthy destination of Vietnam. Boasting long coastline with beautiful beaches and recently incredible bridges, Da Nang definitely worth a visit. Da Nang is among a few destinations that can offer both beach and mountain. Some of the must-see attractions are My Khe beach, Non Nuoc beach, Son Tra Peninsula, Marble Mountains, Ba Na Hills, Golden Bridge, The world cultural heritage My Son, Linh Ung pagoda. You can find excellent local street food as well as good western restaurants here. The city is located a 40 – minute drive from Hoi An and 2 – hour from Hue, which are both notable destinations.
Things to do
Click

 on the map for best things to do in Da Nang.
Recommended length of stay
Without taking day trips to neighbor destinations, the city of Da Nang is perfect for a 2-day getaway.
Time to visit
The best time to visit Da Nang is from November to April. March and April are the most exquisite months which are warm and dry, perfect for both beach activities and mountain trekking. Fireworks festivals are usually organized from May to July. There may be storms in November.
Accommodation
Da Nang witnesses a construction boom in tourist accommodation. Hotels and resorts spring up every day, giving travelers many choices from budget hotels to high-end properties. You can find luxury, world-class resorts in Da Nang, such as Intercontinental Da Nang Sun Peninsula Resort or Pullman resort. Midrange hotels with a set of blocks close to the beach have the price from $40 per night. For luxury accommodation, it is from $100-200 each night. These often offer a beachfront location with a private beach and sea-view pool. Expect to pay up to $1000 each night if you truly want to make a splash in the private infinity pool of your multi-bedroom villa.
Food
The local specialty is a must-try when you are traveling Da Nang. Mít trộn (mixed jackfruit), ốc hút (fried snails with lemongrass and chili), Chè xoa xoa hạt lựu (a type of sweet food), Bánh tráng cuốn thịt heo (Pork rice paper rolls) are some of the most famous local dishes in Da Nang. You can also find the famous specialty of Hoi An here in Da Nang – Quang noodle. If local food doesn't suit your taste, you can easily find good western-style restaurants or Chinese, Korean, or Japanese food.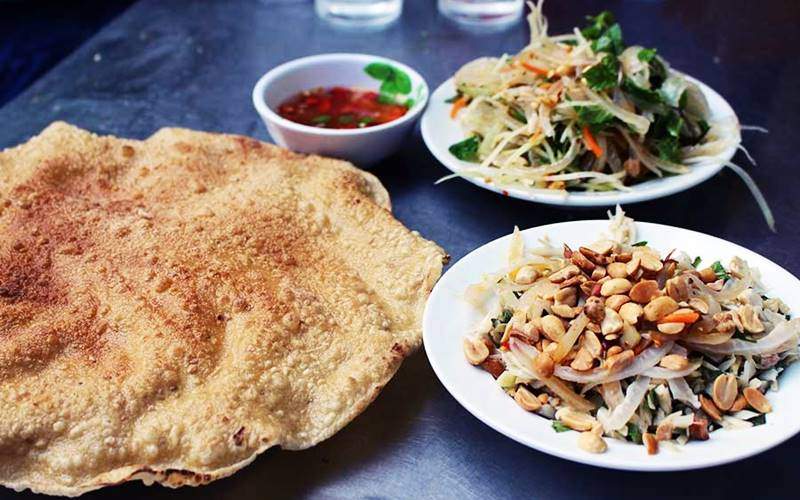 Transportation
Motorbike, bike, bus, private car, taxi, electric cart, cyclo.
Use ride-hailing apps instead of the traditional taxi when traveling a short distance to save money. Grab is the most popular ride-hailing app. Cyclo is also an excellent way to explore the city. Cyclo service in Da Nang is professional compared to other destinations. It costs around $5/hour. The two electric cart routes run along the beachside road, passing by most of the iconic attractions.
How to get to Da Nang
Air
Da Nang International Airport is in the city center with daily flights connecting the city with Hanoi, Ho Chi Minh, Da Lat, Can Tho.
Train
Da Nang train station is 5 km from the city center. The North to South train line has a stop in Da Nang, which allows you to travel Da Nang from all stations throughout Vietnam. There are also local train lines that connect Da Nang with Quang Binh, Quy Nhon, …
Bus
Da Nang bus station is one of the busiest stations in Vietnam. There are numerous departures for northern and southern destinations every day.
Best places to go near Da Nang
Hoi An
Hue
Ho Chi Minh City
9. Nha Trang – A coastal resort city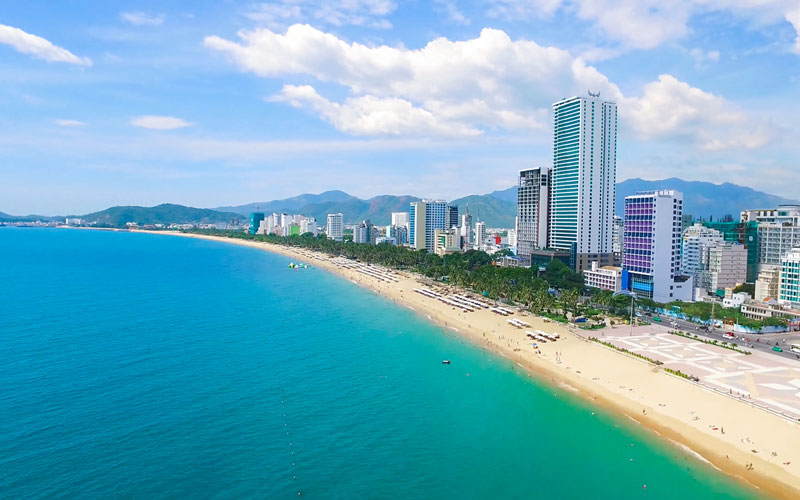 The coastal resort city of Nha Trang is another gem of Vietnam's central region. The white sand beaches, shimmering turquoise waters, and luxury accommodation of the lux Ninh Van Bay rival that of Thailand is not only the landscape but hospitality. Come for the world-class beaches and stay for the eclectic cuisine, comprised of fresh seafood and interesting mixes like Bun Cha Ca, a rice noodle dish with grilled fish and jellyfish. It is also possible to discover the legacy of the Champa Kingdom, descendants of seafaring settlers who reached the Southeast Asia mainland from modern-day Borneo and Sumatra. The impact on modern society can be seen and felt at Po Nagar, a Cham-styled temple tower with intricate carvings. The Buddhist Pagoda of Long Son also showcases the heritage of Vietnamese settlers in the region.
Things to do
Click

 on the map for best things to do in Nha Trang.
Recommended length of stay
Cheap seafood, beautiful beaches, exotic nightlife, three days in Nha Trang is the right amount of time to enjoy all of this.
Time to visit
This coastal town is alluring from December to April. The rainy season is from October to November.
Accommodation
One of the biggest beach destinations in Vietnam, Nha Trang is a prime beach vacation choice for many tourists and locals. Nha Trang has a wide range of hotels and resorts including many luxury brands such as Amanoi and Six Senses, found outside of the city in secluded bays. At the same time, budget accommodation is very affordable, usually found on the main drag of Tran Phu Street inside the city. Nha Trang is super busy during the summer (May to August) and between December to March. Book your room early when it comes to national holidays such as the Lunar New Year, Christmas, and Labour Day.
Food
Nha Trang serves both diversified kinds of seafood and a wide range of international restaurants.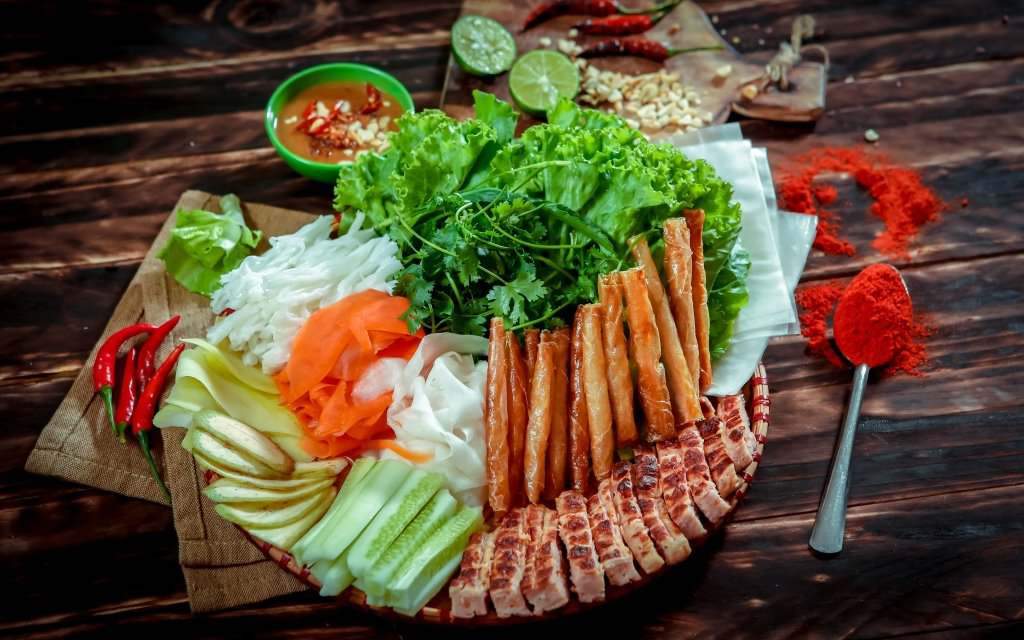 Transportation
Private car, taxi, motorcycle, bicycle.
Depending on the model (mountain or city bike), bicycle daily rentals are priced between USD 4 and USD 6. The prices for renting a motorcycle are from USD 5 to USD 7.
How to get to Nha Trang
Da Nang – Nha Trang: 533 km
Hanoi – Nha Trang: 1291 km
Ho Chi Minh – Nha Trang: 433 km
Air
Cam Ranh international airport serves Nha Trang area with domestic flights from Ho Chi Minh, Hanoi, the airport is 30 km south of the city.
Train
There are trains line connecting Nha Trang and other major destinations like Ho Chi Minh, Da Nang, Hue, Hanoi. The best way to buy tickets is to visit the station in person in advance. You can also buy them through a hotel/travel agency with an extra for commission.
Best places to go near Nha Trang
Hoi An
Hue
Da Nang
Ho Chi Minh City
Mekong Delta
Mui Ne
10. Phu Quoc – Vietnam's island paradise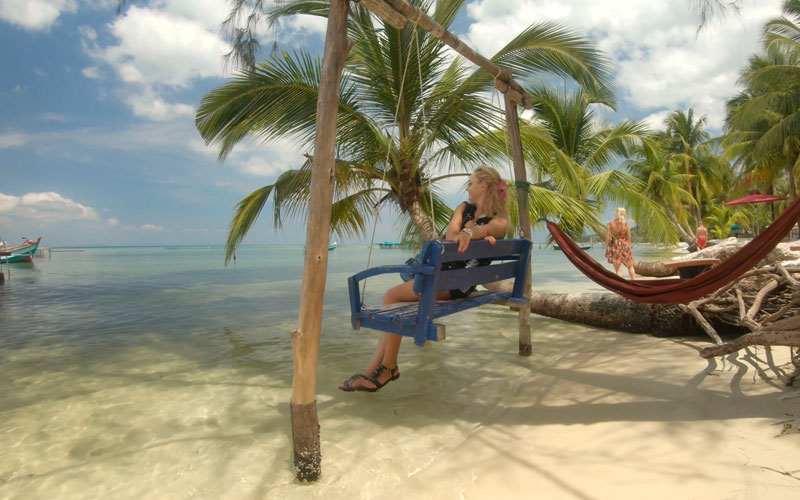 Phu Quoc is a tropical island, 40 kilometers away from the south coast of Vietnam, in the Gulf of Thailand. With sandy palm-fringed beaches and turquoise water, this island is one of the best beach destinations in Vietnam. The northern part of Phu Quoc is a part of a UNESCO-listed biosphere reserve while the southern coastline is filled with luxury resorts, funky bars, and quaint cafes. Phu Quoc is also famous as the top producer of fish sauce – an essential spice in Vietnamese cuisine.
There is a bunch of activities on this paradise island. Do hiking in the dense forest and look out for wildlife. Tour the fish sauce factory and local villages. Dive the offshore coral reefs, kayak in the bays, watch the romantic sunset, or just lounge on the beach, followed by a fresh seafood dinner.
Things to do
Click

 on the map for best things to do in Phu Quoc.
Recommended length of stay
A 4-day trip is perfect for Phu Quoc. Use one day to explore the national park and one day for the local village, temples. Spend two days left to enjoy the beach. If you just want to relax on the beach, two days should be enough.
Time to visit
Feel free to enjoy this tropical paradise almost year-round except the rainy season from July to September.
Accommodation
Phu Quoc is home to some of the most beautiful beach resorts in Vietnam (JW Marriott, Intercontinental..). A vast bulk of hotels and resorts in Phu Quoc is on Long Beach or Bai Dai in the local language. You can find everything here, from budget hostel to 5-star beachfront resorts. If you want a place to stay away from the tourist hub but still easily pop into town, Bai Ong is the ticket.
Food
Phu Quoc has been a hot destination for both domestic and international tourists. Therefore, food and beverage service is well developed. You can easily find local restaurants as well as western-style restaurants here. Being an island, seafood is no doubt the most typical food in Phu Quoc. Traveler can enjoy fresh seafood at a very affordable price. If you have a local guide, tell them to take you to buy seafood from local fishermen. They offer the freshest goods at a very good price. Some of the dishes you should try when traveling Phu Quoc: Banh Canh (fish and pork noodle soup), Bun quay (shrimp noodle soup), Goi ca mai (raw herring salad).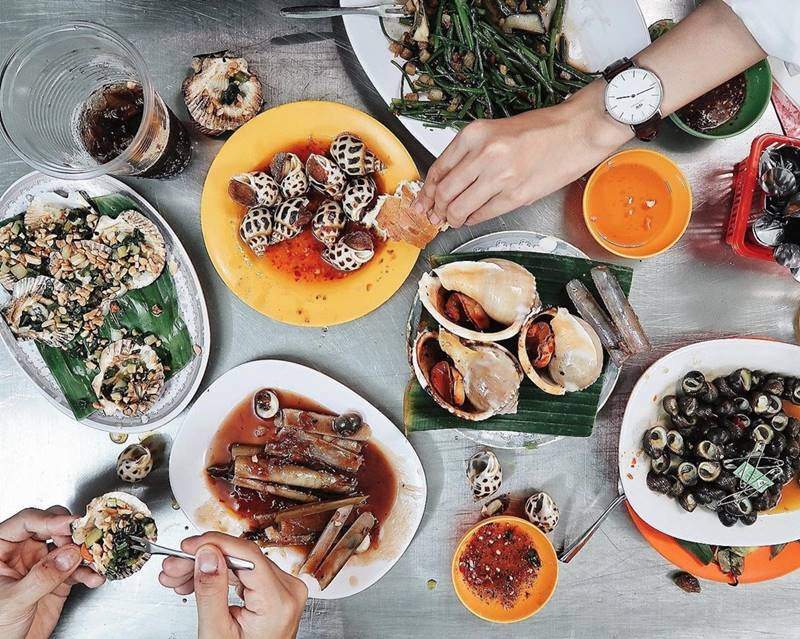 Transportation
Motorbike, bike, bus, private car, taxi, electric cart.
Motorbike is a favorite vehicle to explore this island, but when it's rain, you should consider a car or taxi instead. The average rental fee for motorbike is 150,000 – 200,000 vnd/day ($6.5 – $10). The electric cart is a new service for tourists, which is opened in late 2018. The route pass through most of the famous attractions in Phu Quoc.
How to get to Phu Quoc
Air
Opened in 2012, Phu Quoc international airport is 9 km from the island center (Duong Dong town). The airport serves domestics flight from/to Can Tho, Da Nang, Hanoi, Ho Chi Minh. From Ho Chi Minh City, you can fly to Phu Quoc in 1 hour.
Bus + Boat
Expect to spend around 8 – 10 hours if you choose this type of transportation. First, take the bus to Rach Gia Habor, which takes you 6 hours. Catch the ferry to Phu Quoc island (2.5 hours)
Best places to go near Phu Quoc
Ho Chi Minh
Mekong Delta
Nha Trang
11. Mui Ne – A warm sandy coastal town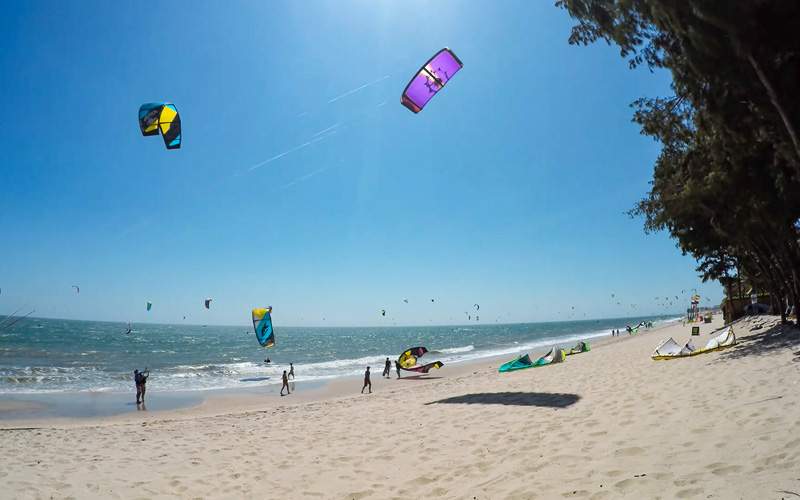 Located in Phan Thiet city, Mui Ne is a coastal fishing town in southern Vietnam, the perfect getaway from Ho Chi Minh City. The coastline is filled with a string of beach resorts ranging from budget to pricey and chic. Popular for the numerous wind-surfing camps in the area, check out Mui Ne between October and April to try this adventurous sport. Other interesting activities include surfing the gigantic sand dunes outside the city with sandboards and ATVs or taking a half-day gentle walk through the charming Fairy Stream Canyon.
Things to do
Click

 on the map for best things to do in Mui Ne.
Recommended length of stay
Thanks to its relatively small size, 2 to 3 days is enough to enjoy the best things Mui Ne has to offer.
Time to visit
From December to April is the best time to travel to. Mui Ne is one of the localities with the lowest rainfall in Vietnam.
Accommodation
A hot destination for active travellers, Mui Ne has a fair range of hotels to choose from. The destination is visited year-round, thus hotel rates are quite stable. Although it is busier in the summer due to domestic tourists (May to August), you can always find a room with good value in Mui Ne any time of the year.
Food
Food in Mui Ne is mainly seafood due to its location. This place is also famous for its trademark fish sauce. "Mai" fish salad and Grilled squid teeth are must-try dishes, which make up the uniqueness of Mui Ne cuisine.
If you are not interested in local food, there are a handful of western restaurants. Don't expect fine dining in this town but for sure you can have good meals while staying here.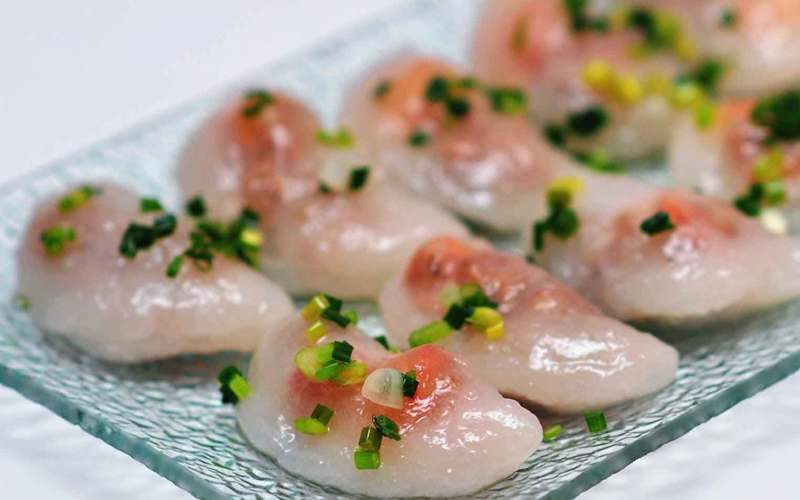 Banh quai vac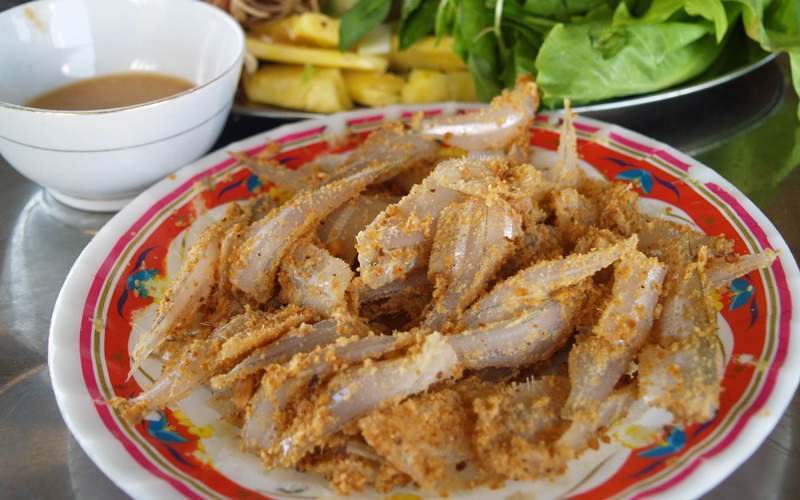 Goi ca mai
Transportation
Taxi, private car, motorbike
Private car is great option if you are travel in group of 4 or more.
How to get to Mui Ne
Air
There is no airport in Mui Ne or Phan Thiet city. You can fly to Da Lat (Lien Khuong Airport) or Ho Chi Minh City (Tan Son Nhat International Airport), then continue to Mui Ne by road.
Bus or Train
From Ho Chi Minh City, you can either take the train or bus to get to Mui Ne. The distance of 218 km takes you about 5 hours. The closest train station is in Phan Thiet city from where you continue by bus to Mui Ne (1 hour). The bus will drop you off in the center of Mui Ne.
Best places to go near Mui Ne
Ho Chi Minh City
Mekong Delta
Phu Quoc
Nha Trang
Hoi An
Hue – Da Nang
12. Sapa – The roof of Indochina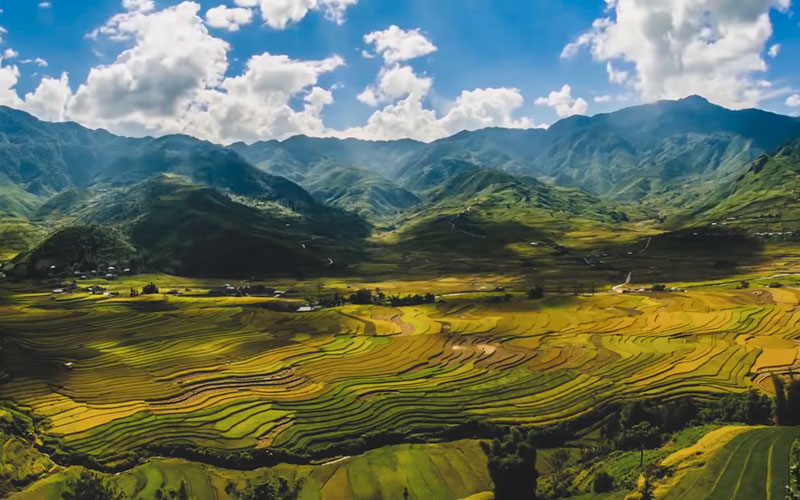 The frontier township of Sapa, located 1,500 m (4,900 ft.) above sea level in the northwest area of Vietnam, is the place to find jaw-dropping and unparalleled scenery. The steep, sharp mountains contrast with the deep, green valleys and terraced rice fields of the region, with long winding roads weaving in and out of the hills. Throughout the region live a multitude of diverse, vibrant ethnic minority groups, such as the Hmong, Dao, Giay, and Tay to name only a few. The hill-tribe villages are hidden in bamboo forests, behind waterfalls, and within fertile valleys, making every town more beautiful than the last. The Roof of Indochina, Mount Fansipan, stands here at 3,143 m (10,300 ft.), offering a glimpse through the clouds and mist into the numerous valleys of North Vietnam and China.
Things to do
Click

 on the map for best things to do in Sapa.
Recommended length of stay
Most travelers choose to spend 2 nights in Sapa. With 2 nights, you can explore the town and do trekking to hill-tribe villages and areas away from the central town. If you can manage to visit Sapa in the weekend, stay another day to attend Bac Ha market.
Time to visit
Sapa is beautiful year-round but there may be floods from June to September. If you wish to "date" with terraced fields, you should go in May – watering season or from the end of September to early October – ripe rice season.
Accommodation
Sapa offers accommodation for all tastes, from home stays in local minority villages to luxury hotels. Most properties are around the town itself within walking distance to the market, old church, and restaurants. The destination tends to be busy on weekends and quiet during the week due to heavy influx of domestic travellers. So when visiting the area, save money by scheduling your stay during the week or in months other than May, June, July and December.
Food
Sapa serves unique dishes of local people in minority villages like Thang Co (horse soup), Com Lam (bamboo sticky rice), free-range pig, salmon hot pot, dried buffalo meat and many Asian or Western ones as well.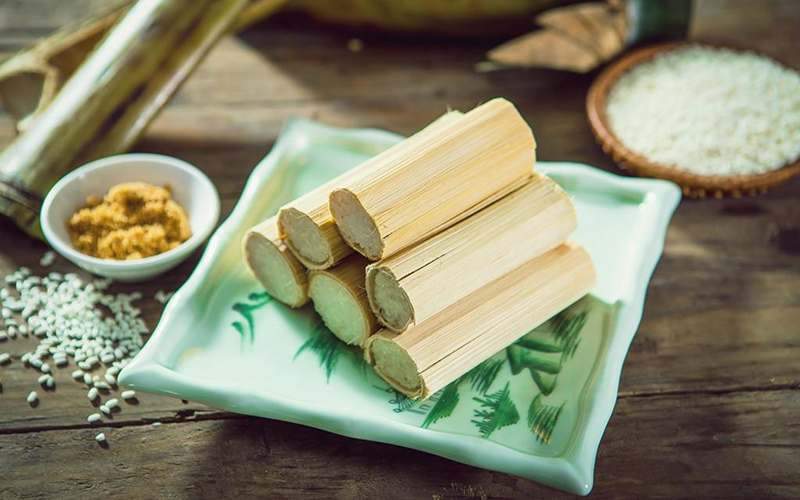 Transportation
Private car, motorcycle, cable car.
Destinations in Sapa are not far away from each other, so you can rent a motorbike at the price of around USD 5 per day. Cable car in a round trip to Fansipan costs USD 26 per adult and USD 18 per child.
How to get to Sapa
Hanoi – Sapa: 315 km
The only options are bus or train. Due to the rough road, it will take about 5 hours on the bus from Hanoi to Sapa.
There are two options for the train to Sapa. The traditional trains with soft seat and soft sleeper. You need to spend 8 hours on the train and then catch a bus because the train only stops at Lao Cai station (35 km away from Sapa). For a better traveling experience, try privately-run sleeper cabin for which you pay 8 – 12 USD more.
Best places to go near Sapa
Hanoi
Ha Long Bay
Ninh Binh
Ha Giang
Moc Chau
Mai Chau
Where can we take you?
Got an idea? Tell us what you're thinking and one of our travel experts will be in touch shortly to create the perfect holiday for you!
Itineraries
Luxury
Vietnam
Highlights: Hanoi, Ninh Binh, Sapa, Halong, Nha Trang, Vinh Hy Bay
---
Highlights
Vietnam
Highlights: Hanoi, Halong Bay, Hoi An, Hue, Ho Chi Minh City, Mekong Delta
---
Highlights
Vietnam
Highlights: Hanoi, Halong Bay, Hue, Hoi An, Ho Chi Minh, Mekong Delta, Phu Quoc
---