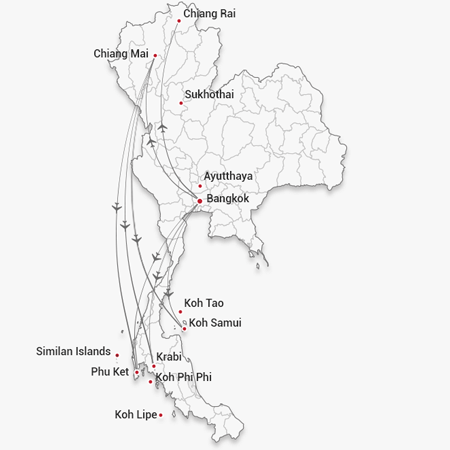 Located at the center of the Southeast Asian "Indochinese" peninsula, the thrilling country of Thailand is composed of 77 different provinces. Bangkok, the capital as well as the largest city, is a political, commercial and cultural center of Thailand and is the most visited city in the entire world by international tourists. Thailand is also one of the biggest Buddhist countries in the world, accounting for 94.5% of the country's religious preferences. If you're looking for a plethora of historical, natural and cultural sights to fill your time or just want to find a perfect beach to laze away your days, Thailand is the perfect choice for you. Join in interesting cultural celebrations like Songkran, the raucous spectacle occurring throughout the entire country, or release glowing lanterns into the sky in Chiang Mai's Yi Peng Festival. Those looking for adventure will definitely find it in treks to diverse ethnic minority groups living in the deeply forested mountains while cultural experiences such as attending Thai cooking classes, Buddhist meditation courses, and luxurious spa treatments are around every corner.
#1 in best places to visit in Thailand for the 2020 – 2021 travel season, a city of contrasts.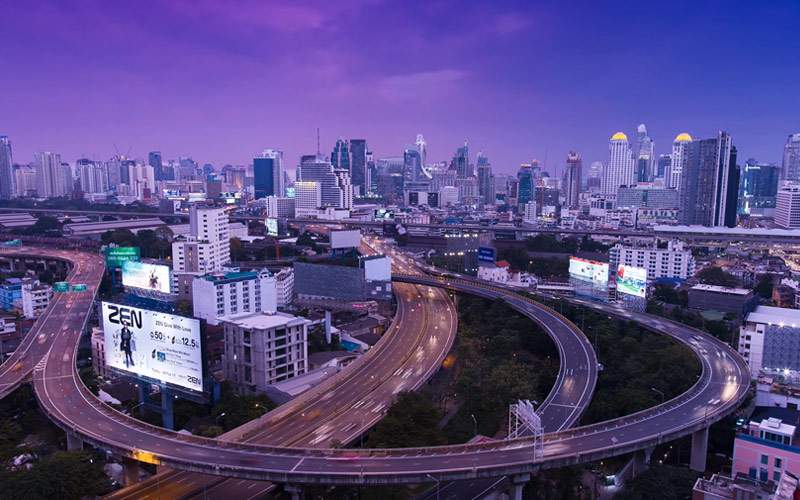 Same same but different is a summary of Bangkok, the capital of Thailand, a city of contrasts with shrines and vibrant street life along the Chao Phraya river. The rich culture and heritage of the Kingdom of Siam can be felt when visiting the dazzling golden temples of the Grand Palace, the reclining Buddha at Wat Pho, and Wat Arun, while modern advances take over other neighborhoods in the form of expansive shopping malls like Central World, MBK Center, Terminal 21, and the Chatuchak Weekend Market. Culinary delights abound on the street and in chic, upscale restaurants when trying classic Thai dishes of Tom Yum Soup, Pad Thai, and Green Curry. The Thai New Year (Songkran) is a special occasion to travel to Bangkok if you are interested in water fight, washing away the bad luck of the old year.
Things to do
Click

on the map to see the best things to do in Bangkok.
Recommended length of stay
Bangkok is a big city, and it's possible to spend a month here without seeing all it has to offer. However, if you'd like to see the highlights of Bangkok before moving to Thailand's other destinations, 2 to 3 days should be enough.
Plan to stay for 5 to 7 days in the capital for an in-depth experience. With a week in Bangkok, you'll be able to see the city's must-see sites, taste the fantastic food, and enjoy the lively nightlife.
If you have limited time in Bangkok on the way to somewhere else and want to quickly see the best of Bangkok, 1 or 2 night is enough to have fun. 
Time to visit
Bangkok always has something for you, no matter what time you arrive:
For sightseeing: November to March next year: dry, cool, beaches are at its finest.
For shopping: Mid-June through mid-August when you can find a very good discount from 10% to even 80% for various products.
Accommodation
It's easy to find accommodation for any budget in Bangkok, with affordable guesthouses and hostels not exceeding more than 20 USD per night. On the other hand, a night in the luxurious Mandarin Oriental or the Siam goes for at least 500 USD per night. Each area of the city has its own attitude, so visitors can choose their accommodation based on their interests, such as staying in Sukhumvit, Chatuchak, or Pratunam for those who love to shop while many historical sites are situated along the Phra Nakorn area of Rattanakosin Island. Make sure to reserve your accommodation from 30 – 60 days in advance to take advantage of the best promotions on offer.
Food
Bangkok is a paradise for foodie travelers. There is an abundance of things to eat everywhere. Many street food dishes that are worldwide famous can be found at any corner. Along with street food, there are restaurants of all levels that serve both Thai dishes and an extensive range of international cuisine.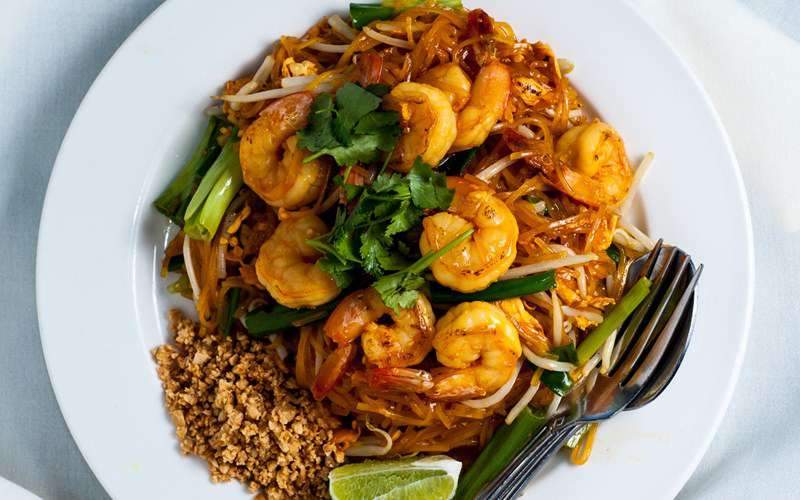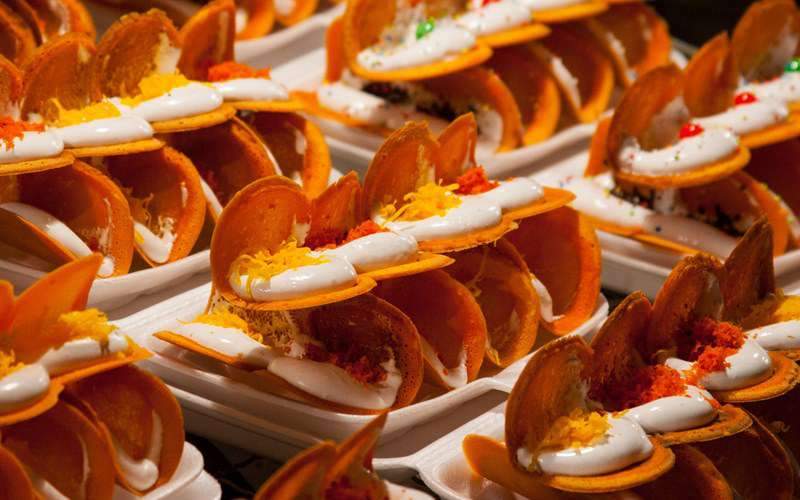 Transport options
Skytrain (BTS), Airport Rail Link (ARL), Subway (MRT), taxis, motorcycle taxi, subway, tuk-tuk, buses, Grab, boats.
BTS and MRT are the swiftest way to get to the main shopping and business areas at a low cost (4 USD/one-day pass for BTS and 0.5 – 1.5 USD/journey for MRT). Taxis appear on virtually every corner at almost any time, with the price of about 1 USD/km. Or else, Grabs are also good choices due to their popularity and low cost. Express boats can be used if you want to explore historical attractions at the riverside. Although tuk-tuks are slowly disappearing, it is still worth trying at least once.
How to get to Bangkok
Air
Bangkok has two airports, which are 30km away from Bangkok center. Suvarnabhumi Airport is where you arrive if you fly from Europe or North America. Don Muang Airport is a hub for low-cost carriers which mainly serve domestic and regional flights.
Train
Hualamphong Station is the best-know station in Bangkok, where many trains from various provinces arrive at Hualamphong at.
Bus
Bus is an affordable option to get to Bangkok from other regions in Thailand. Some of the most popular bus routes are Chiang Mai – Bangkok, Krabi – Bangkok, Phuket – Bangkok.
Top travel destinations near Bangkok
Chiang Mai
Chiang Rai
Sukhothai
Ayutthaya
Kanchanaburi
Phuket
Koh Samui
Krabi
Phi Phi islands
Koh Tao
#2 in best places to visit in Thailand for the 2020 – 2021 travel season, a place of calm.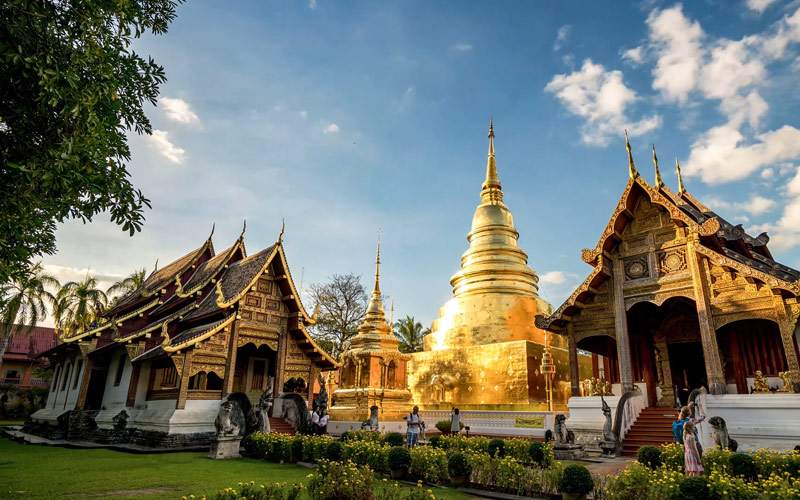 The largest province in mountainous northern Thailand, Chiang Mai, the former capital of the Lanna Kingdom, is a world away from the sprawl and noise of Bangkok. Filled with some of the most important Buddhist temples, like Wat Phra That Doi Suthep, Wat Chedi Luang, Wat Phra Singh and Wat Phra That Doi Kham, Chiang Mai's quiet atmosphere lends itself to relaxing and recharging by indulging in the famous Thai massage or dining on the flavorful northern Thai meals of Khao Soi, an egg noodle curry. The province is often used as a starting point for trekking tours to meet the colorful hill-tribes scattered throughout the area, or to play with rehabilitated elephants in the Elephant Nature Park. The Chiang Mai lantern festivals (Yi Peng and Loy Krathong) are the most attractive lighting parties in the world.
Things to do
Click

on the map to see the best things to do in Chiang Mai.
Recommended length of stay
To fully explore Chiang Mai without feeling rushed, five days is the perfect amount of time.
If you don't have much time, consider a two-day stay. You can spend the first day with the Elephants, then use your second day with the Monks, Temples and hill-tribe village.
Time to visit
November until mid-February is the dry season with comfortable weather. You can also catch the fantastic lantern festival in November. Arrive in April if you want to join the Songkran festival – one of Thailand's most famous and most celebrated festivals. This time is summer, so be prepared for the heat.
Accommodation
Chiang Mai has a variety of hotels suitable for different budgets spread through 3 highly recommended areas—the old city center, Ping River, and around the Night Bazaar. Opt for the Ping River if you are looking for exclusive resorts and hotels with picturesque sceneries while the old city center is perfect in terms of reasonable prices and central location to visit all of the major tourist attractions. The Night Bazaar is always bursting with energy so it's the perfect place for those looking to let their hair down and have some drinks while browsing the many stalls on hand.
Food
Chiang Mai isn't a place you can look for fancy dining, but the street food is great and cheap. Even the best restaurants are highly affordable. Chiang Mai offers good food at malls, markets, shacks, and restaurants.
Western food in Chiang Mai is expensive compared to local food, and it is not easy to find a good western restaurant here.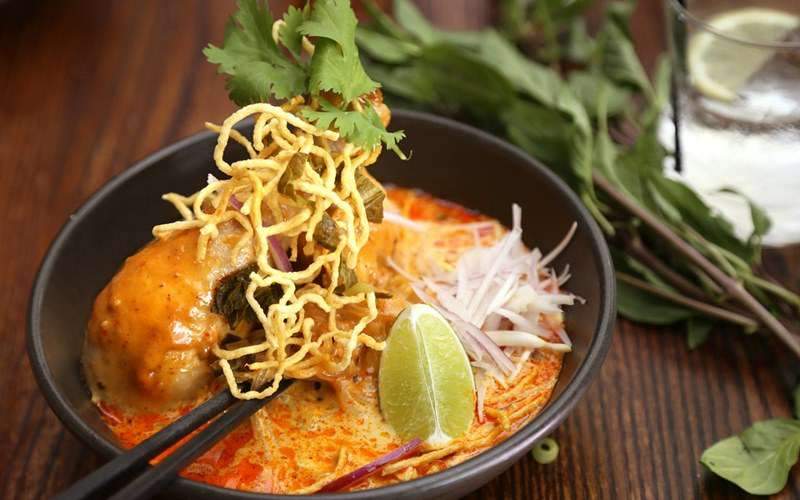 Transport options
Songthaews, taxis, tuk-tuk, motorcycles, Grab.
Songthaews, also called Red Taxi, do not have a fixed itinerary and cost from 0.7 USD to 2 USD depending on your destination. Taxis in Chiang Mai are not common, just waiting at the airport, bus and railway station, hotels. Grabs are also limited, and you have to wait a quite long time for the Grab arrival. Tuk-tuk's rate starts at 2 USD for a short trip and 3 – 5 USD for longer distance. It's an amazing experience to rent a scooter to explore Chiang Mai. Daily rental can cost about 3 USD.
How to get to Chiang Mai
Bangkok – Chiang Mai: 700 km
Air
Chiang Mai International Airport serves domestic and international flights to Chiang Mai. The primary domestic route is from Bangkok, while there are international flights from Myanmar, Laos, Singapore, Kuala Lumpur, Hong Kong, and China.
Train
The rail line connecting Bangkok and Chiang Mai has departures every day. The traveling time is from 11 hours to 15 hours.
Bus
This is the cheapest option to get to Chiang Mai from Bangkok. It takes about 10 to 12 hours. Traveling by bus is cheaper and faster compared to a train.
Top travel destinations near Chiang Mai
Chiang Rai
Sukhothai
Pai
Bangkok
Ayutthaya
Kanchanaburi
#3 in best places to visit in Thailand for the 2020 – 2021 travel season, a paradise for nature lovers.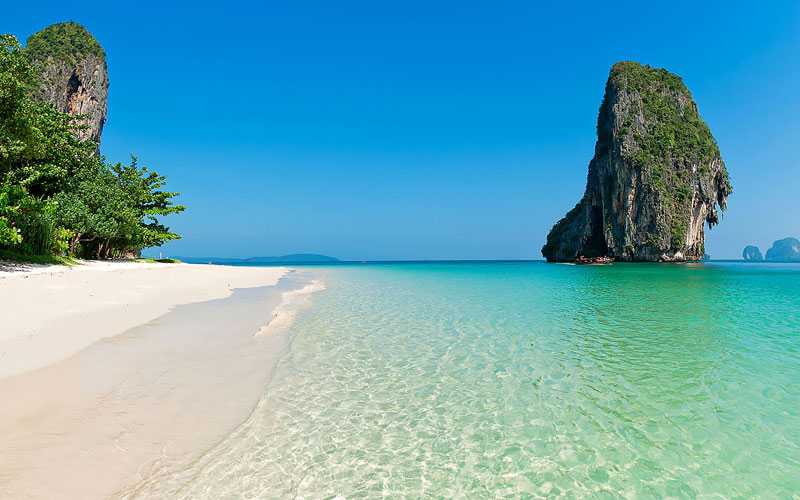 Krabi is a coastal province in southern Thailand, home to world-famous tropical islands with beautiful beaches. This is a paradise for those who love nature. Wandering in the lush green of Than Bok Khorani National Park or immersing yourself in Emerald Pool, you will easily forget the time. Take a boat to Phi Phi Islands, Bamboo Island, these limestone islands possess some of the best beaches with fine white sand and turquoise water such as: Railay, Phra Nang, Ton Sai. Visit Maya Bay, snorkel or scuba dive to admire the rich coral reefs and marine life, you won't want to go home. Climb over 1237 steps, you will reach Wat Tham Suea (Tiger Cave Temple) and see Krabi from an altitude of 278 m.
Things to do
Click

on the map to see the best things to do in Krabi.
Recommended length of stay
Spend at least 3 days or 5 days in case of unable to revisit.
Time to visit
The climate of Krabi is tropical with an average temperature of 32°C and the daily temperature rarely drops below 25°C.
The dry season (December – April) is also the best time in the year to discover Krabi.
The rainy season runs from May to November with the highest rainfall in September.
Accommodation
There are thousands of accommodation establishments, from affordable to high-end, mostly cluster in the central coastal area and Western Ao Nang.
Budget motels: around 10 USD. 
Two-star hotels: 10 – 30 USD. 
4-star hotels have a wide range of prices: 25 – 1000 USD.
5-star hotels and resorts: at least 100 USD.
Food
There are about 1,000 restaurants in Krabi, with Thai restaurants accounting for almost 50%, and nearly 20% are seafood restaurants. Thai specialties in Krabi, especially fresh seafood, are highly praised by tourists. Some of its popular cuisines are influenced by Malaysian and Chinese food. The locals do a great job of adjusting and creating their own particular flavors by using Thai herbs, spices, and more. Pad Thai, Noodle soup, Som Tam – Gai Yang, Moo Ping, and Khao Niao, Seafood BBQ, Kanom jeen, Khao Mok Kai, Khao Man Kai are must-try Thai foods.
Transport
Taxi, songthaew, tuk-tuk, motorbike taxis, samlor, bus
A 4-seater car which costs you 0.8 USD/km (under 50 km), is the best way to get around. For longer distances (over 50 km), the taxi rate is 0.5 USD/km. For short distances, besides taxis, you can choose Songthaew, Tuk-tuk, Motorbike taxis, or Samlor. A bus is available at a cheap price, about a quarter of a 4-seater car rental expenses. The interprovincial bus station located in the center of Krabi Town, where you can find many daily buses to Phuket, Ao Nang, Bangkok, Surat Thani, etc. Islands around Krabi are usually reached by ferry, long-tail boat, and speedboat.
How to get to Krabi
Krabi International Airport stretches its arms to Bangkok and other main tourist destinations in the country. To get here, it takes almost 1.5 hours to fly from Bangkok and about 3 hours to travel by bus from Phuket.
Top travel destinations near Krabi
Phuket
Ko Samui
Phi Phi Islands
Bangkok
Ayutthaya
Kanchanaburi
#4 in best places to visit in Thailand for the 2020 – 2021 travel season, the northernmost place of calm.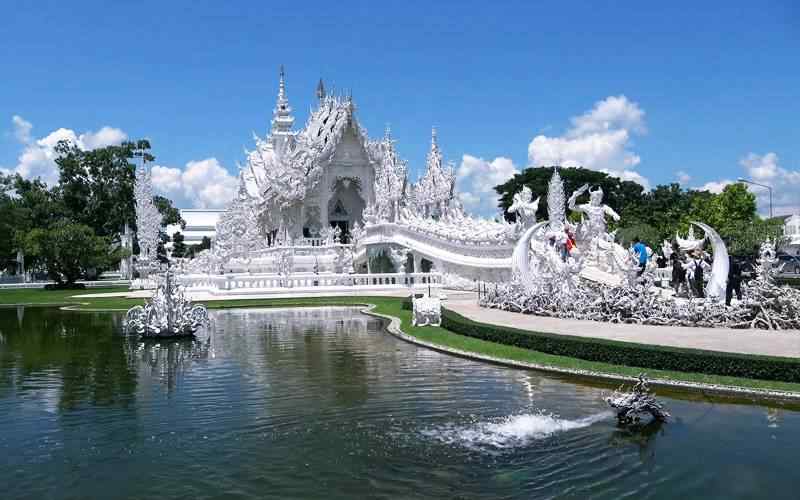 Chiang Rai, the northernmost part of Thailand, is famous for its beautiful Buddhist temples, unique ethnic tribes and majestic mountain scenery. Come for the impressive Wat Rong Khun, a Buddhist temple famous for its ivory color and ornate, detailed carvings, but stay for the relaxed atmosphere and mouth-watering cuisine. Get lost in the blue walls of Wat Rong Sear Tean and pray with pilgrims at Wat Phra Kaew, the oldest temple in Chiang Rai. It is also excellent for trekking tours that traverse the mountains and forests in search of colorful hill-tribes and hidden elephants, many of which can be found at the rehabilitation center of the Elephant Valley Sanctuary.
Things to do
Click

on the map to see the best things to do in Chiang Rai.
Recommended length of stay
2 – 3 days or 5 days for a complete getaway.
Time to visit
Dry season (Nov-Apr) with an average temperature of around 28 – 30oC is the perfect time for tourists.
The rainy season lasts from May to October and reaches its height in August.
Accommodation
Luxurious accommodations seem to not dominant here since tourists pick Chiang Rai as a place to experience the virtual culture and natural beauty.
2 – 3 star hotels: 20 – 30 USD/night
4 star hotels: 50 – 100 USD/night
5 star hotels: over 100 USD/night
And you need to pay more than 2000 USD per night for a stay in Anantara Golden Triangle Elephant Camp & Resort Camp & Resort
Food
More than 400 restaurants are ranging from European restaurants to Thai restaurants. Inheriting from Laos and Myanmar cuisine, food in Chiang Rai is distinguished from that of the Central (Bangkok). Khao Soi Gai Nong, Nam Prik Ong, Sai Ua, Khanom Jeen Nam Ngiao, Nam Prik Noom, Larb Muang Moo, Gaeng Hung Lay, Gaeng Kae Gai, Joi Yor Sod are local specialties.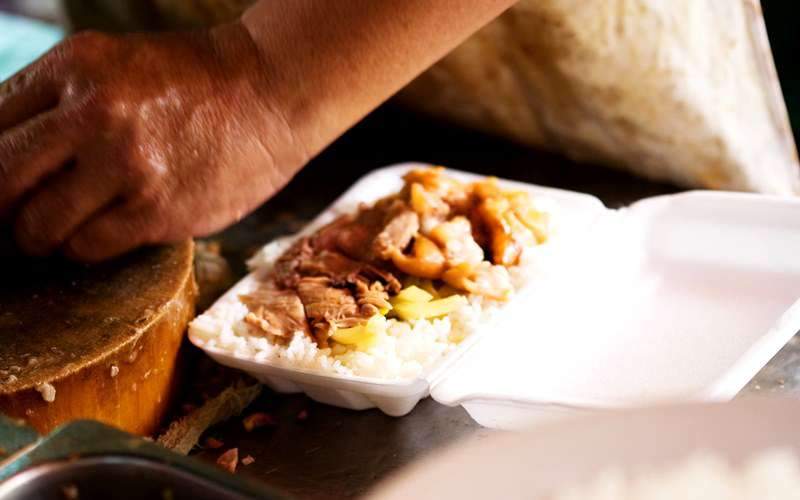 Transport options
The taxi rate is about 0.4 USD/km, while a 4-seat car price is around 50 USD/day. Taking a bus is highly recommended for long-distance trips; however, traveling by Tuk Tuk or Samlor is more economical for short journeys.
How to get to Chiang Rai
Taking a direct 1-hour flight from Bangkok is the easiest way to get to Chiang Rai. Traveling by bus can be much more economical but expect to spend about 11 – 14 hours. You can also fly to Chiang Mai and then drive to Chiang Rai (more than 3 hours for 190 km)
If you aim at heading to southern beaches after visiting Chiang Rai, you should follow this route: fly from Bangkok to Chiang Rai, take the road from Chiang Rai to Chiang Mai and then fly from Chiang Mai to the south.
Top travel destinations near Chiang Rai
Chiang Mai
Phitsanulok
Sukhothai
Bangkok
Ayutthaya
Kanchanaburi
#5 in best places to visit in Thailand for the 2020 – 2021 travel season, the most popular resort island.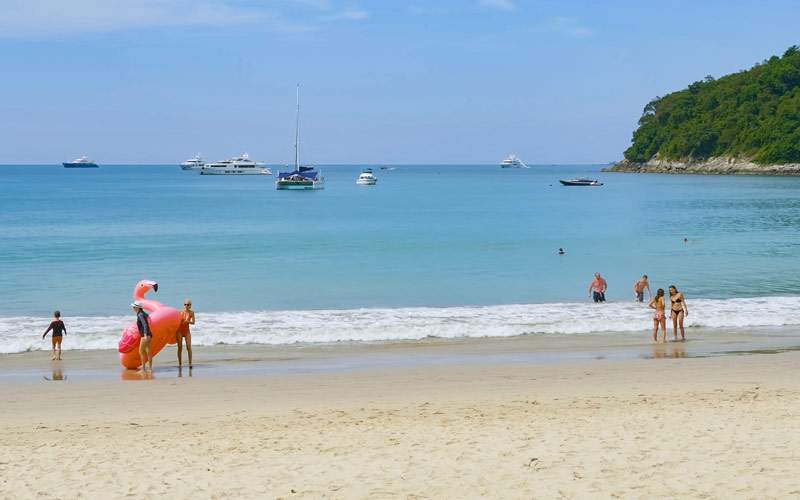 Phuket is the most popular resort island in Asia, located in the Amanda Sea, southern Thailand. Karon, Bang Tao, Ao Sane, Mai Khao and Surin Beach are the most beautiful beaches on the island with clear blue water, white sandy beaches and lush tropical green ranges. If you are interested in fun underwater activities, the affordable options are surfing, kayaking, jetski, snorkeling, scuba diving, parasailing. Big Buddha Phuket and Wat Chalong are two important Buddhist temples in Phuket that you should visit. If you want to find an ideal spot to enjoy stunning sea views, go to Promthep Cape, located on a promontory on the southernmost tip of the island. The nightlife in Phuket is very vibrant, two common hotspots are Phuket city and Patong town.
Things to do
Click

on the map to see the best things to do in Phuket.
Recommended length of stay
As a pricier destination in Thailand, the budget will affect significantly how long you stay here. A couple of nights give you enough time to hit the major beaches.
If you're interested in off-the-beach attractions, spend at least 5 to 7 days. Staying for one week allows you to explore lesser-visited areas. On the northeast coast, you can catch a ferry or boat to visit Phang Nga Bay. Heading east to discover Phuket's Old Town and Ko Siray. 
Time to visit
November to April: Considered the best time to visit Phuket with pleasant weather and calm sea. But the price is high due to the flux of tourists coming here.
May to October: Monsoon season with some rain and strong wave. If you love surfing, then this time is perfect for you.
Accommodation
As the most famous resort island in Asia, Phuket has great facilities for tourists, so many wonderful resorts, hotels, guest houses and restaurants, bars, nightclubs. Keep in mind that most resorts here cost more than 100 USD per night, luxury hotels cost 50 – 100 USD per night, budget hotels cost between 30 and 50 USD per night and regular guest houses priced under 30 USD/night.
Food
If you love food, you will probably love Phuket. Phuket is especially famous for its fresh and affordable seafood, which can be found at any beach town. Going further into the Old Town, you'll experience a fusion cuisine with a variety of dishes.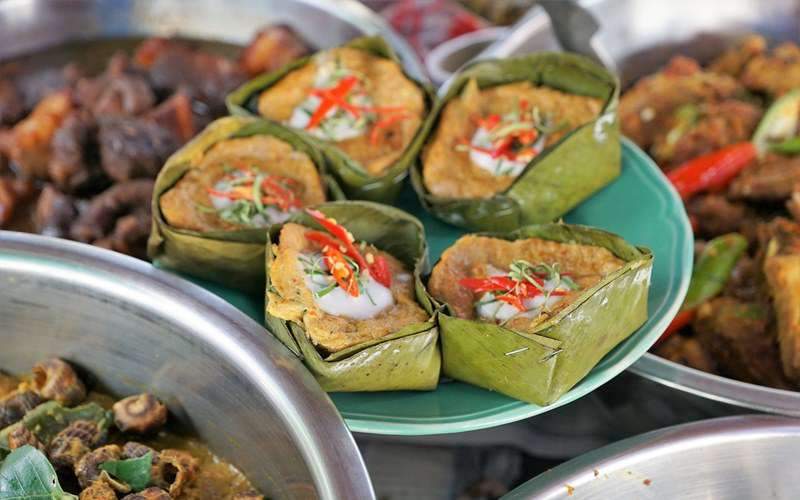 Transport options
Songthaews, taxis, tuk-tuks, motorcycles, motorcycle taxis, boats, Grab, Phuket smart buses.
Songthaews and taxies or Grab taxis are popular and have a lower price than other types of transportation. Fares of Songthaews range from 0.4 USD to 1.5 USD ; those of taxis are set at 1.7 USD for the first two kilometers and 0.2 USD per additional kilometer. Tuk-tuks in Phuket are more expensive than those anywhere else in Thailand, costing up to 3.5 USD per short trip. If you desire to explore this island by yourself, renting a motorbike is a wonderful choice, but also risky. Daily motorbike rental is about 8 USD. Besides local buses, Phuket smart buses, launched in 2018, are also worth a try, costing from 1.5 USD to 6 USD depending on your destination. Longtail boats are perfect for getting small islands and inaccessible beaches with the prices range from 30 USD to 65 USD per round trip.
How to get to Phuket
Air
Phuket International Airport is one of the busiest airports in Thailand, with many domestic flights from/to Bangkok, Pattaya, Ko Samui, and Chiang Mai. You can also find regular flights that link Phuket with Singapore, Hong Kong, Tokyo, Seoul, and several cities in Europe.
Bus
You can easily find buses from other regions like Bangkok, Krabi, Phang Na and Surat Thani that arrive at the central bus station in Phuket Town. The buses offer basic air-con, or bathroom and more legroom with extra bath.
Top travel destinations near Phuket
Krabi
Koh Phi Phi
Koh Samui
Bangkok
Ayutthaya
Koh Tao
#6 in best places to visit in Thailand for the 2020 – 2021 travel season, a leading resort island.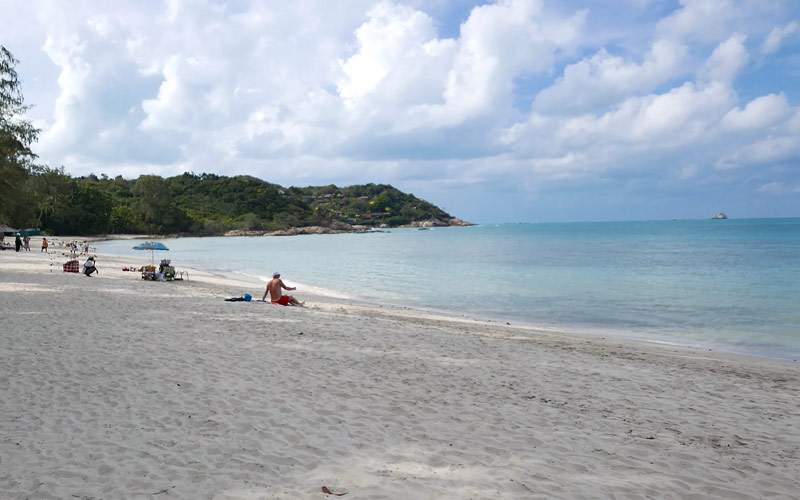 Koh Samui is one of Thailand's leading resort islands, located in the western part of the Gulf of Thailand. Koh Samui is attractive by pristine beaches with palm trees, coconuts along the fine white sand and crystal clear water: Bophut, Chaweng Noi, Mae Name, Lamai, Taling Ngam. Along the beaches around the island, there are many resorts, hotels, spas, restaurants, nightclubs, bars and discos, from high-end to affordable. Besides water activities, you can hike into the forest, climb mountains, visit Fisherman's Village, Samui Elephant Sanctuary, Angthong National Marine Park, Tarnim & Magic Garden and Buddhist temples like Wat Plai Laem, Wat Phra Yai.
Things to do
Click

on the map to see the best things to do in Koh Samui.
Recommended length of stay
A 4-day itinerary is enough to cover the best sights of the island. The majority of travelers prefer to stay in Koh Samui for four days. Spending a week here if you want to discover its abundant cultural attractions, besides palm tree, and edged beaches.
Time to visit
January to March is the ideal time for island hopping in Koh Samui with dry great beach weather. This time Koh Samui also welcome flux of tourists so beaches will be crowded.
Accommodation
Koh Samui is very popular with honeymooners and couples looking for a romantic stay away from it all. The majority of hotels and resorts have their own swimming pools with ocean views and stunning beaches, such as Banyan Tree Koh Samui being a typical example. Some hotels are also located within the mountains showcasing breathtaking views of the island and sea, like the Ritz-Carlton. In addition to these top properties, Koh Samui also has cute guesthouses and boutique stays for those looking to save money in this gorgeous destination.
Food
From hole-in-the-wall restaurants, coffee shops to internationally-acclaimed restaurants with fantastic beach dinner, every taste is catered to in Koh Samui.
Samui is known to have the best coconuts in Thailand, so why don't you add this fresh fruit to your daily menu. Being an island, seafood is fresh because local fishermen go catching every day.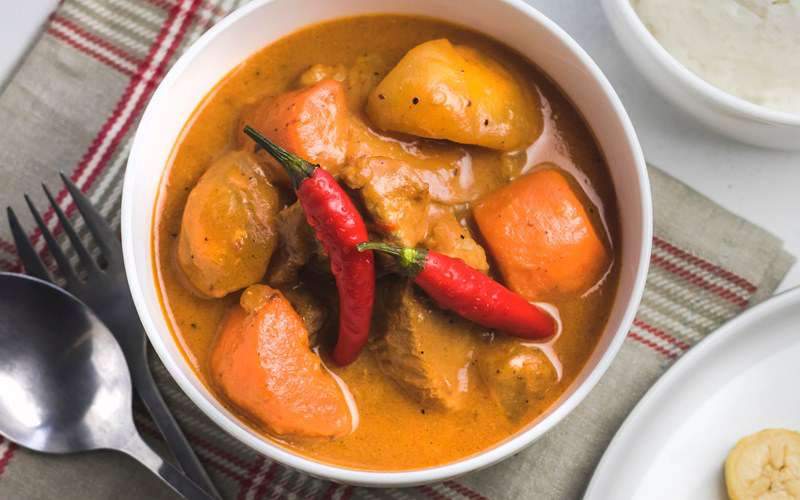 Transport options
Songthaews, Grab, NaviGo, taxis, motorcycles, motorcycle taxis, private cars, bicycles.
The cheapest method of moving around Koh Samui is by songthaews which cost about 1.5 USD. The problem is there are no predetermined routes and their prices depend on the distance you travel. Taxis in Koh Samui are uniformly yellow and maroon, but make sure to ask the driver to set the meter before you go. Compared to Grab, NaviGo, a ride-sharing app, is much more popular and cheaper, even 30% cheaper than taxis. Car and motorcycle rentals are also common. A daily motorbike rental costs 7 – 8 USD and the daily car price is about 30 USD depending on the type of car you hire.
How to get to Koh Samui
Air
The most convenient way to get to Koh Samui is by taking a 1-hour flight from Bangkok. There are also many flights to this beautiful island from Thailand's major destinations, including Chiang Mai, Krabi, Pattaya, and Phuket.
Train or bus + ferry
Get a train or bus to Surat Thani from where you need to catch a ferry to Koh Samui. If you're traveling from a nearby island, there are ferry from Koh Pha Ngan and Koh Tao to Koh Samui.
Top travel destinations near Koh Samui
Phuket
Krabi
Phi Phi islands
Bangkok
Ayutthaya
Koh Tao
#7 in best places to visit in Thailand for the 2020 – 2021 travel season, a sea paradise.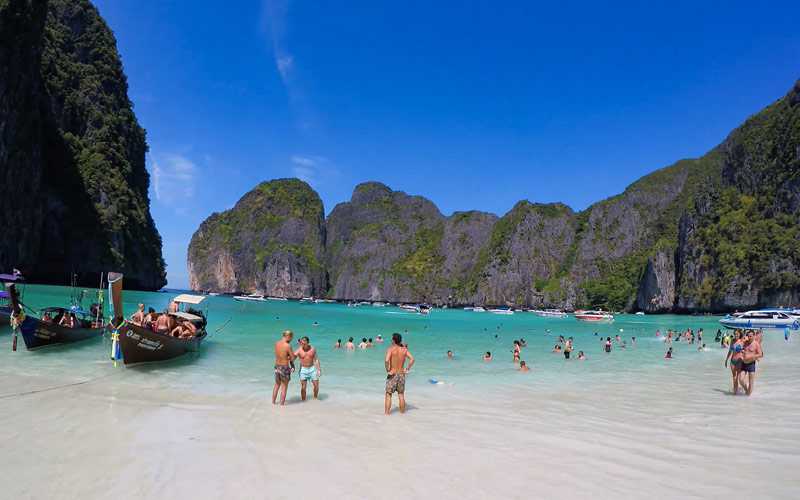 Phi Phi Islands is a sea paradise located in southern Thailand, including 6 islands with limestone mountains covered by lush green trees. On the islands are picturesque inlets, fine white sand beaches, clear turquoise water that you can sit on a boat to admire the coral reefs and marine life. Ko Phi Phi Don is the largest island and also the transportation center. On the island there are many beautiful beaches like Nui, Ton Sai and spectacular inlets: Phak Nam Bay, Wang Long Bay, Loh Ba Kao Bay. The 3 best view points of the archipelago are also on Ko Phi Phi Don. Located just below Ko Phi Phi Don is Ko Phi Phi Le, the second largest island with the most stunning inlets: Maya Bay, Loh Samah Bay and Pileh Lagoon. Ko Mai Phai is a small island with Bamboo beach, one of the most pristine and charming beaches in Thailand.
Things to do
Click

on the map to see the best things to do in Phi Phi.
Recommended length of stay
If it's your first time in Phi Phi, four nights could be a good choice.
In case you are on a short trip or have another beach destination on the itinerary, two nights in Phi Phi island are enough
Time to visit
November to January: light wind, clear days, cool at night. Due to the pleasant weather, this time is also the peak tourist season.
March to mid-May: hottest months with average temperatures over 35c and rising humidity.
Mid-May to October: It's the rainy season in Phi Phi when you can get days of heavy rainfall. However, traveling this time is cost-effective. You can enjoy the island with less tourists and a low accommodation price.
Accommodation
Accommodation choices are quite plentiful here with a wide range of hotels, resorts, villas, and bungalows at affordable prices of no more than 100 USD per day. Stay in wooden houses along the hillside of Laem Hin Beach and find yourself surrounded by fruit orchards with a panoramic view of Tonsai Bay and Phi Phi Kae Island. Or sink your toes in the sand at the luxurious Zeavola Resort and Spa.
Food
Most of the restaurants lie in Phi Phi center, in Tonsai Bay area. Dining is not the highlight of a trip to Koh Phi Phi, but don't worry, you still can find some good Thai restaurants. If you want to try something else other than Thai, there are some fabulous restaurants with international flavors.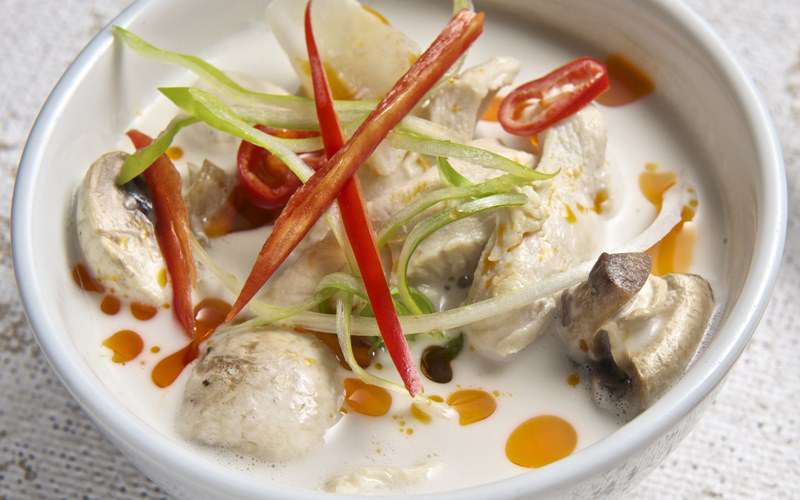 Transport options
Walking, long-tail boats.
There is no wheeled transport like buses, taxis in Phi Phi Island. Walking around the island is the ideal choice. Long-tail boats are perfect to travel between islands and beaches, costing about 5 USD per person for a short trip. If you are in a group of 4-5, you can pay about 15 USD each for a full-day trip on a private boat.
How to get to Phi Phi
Air
Fly to either Phuket or Krabi, then grab a ferry to Koh Phi Phi.
Boat
There are daily departures from Krabi, Phuket, Ko Lanta, Ao Nang to Phi Phi. The frequency and ticket price may vary upon the travel season.
Top travel destinations near Phi Phi
Phuket
Krabi
Koh Samui
Bangkok
Koh Tao
Ayutthaya
#8 in best places to visit in Thailand for the 2020 – 2021 travel season, the remains of the Kingdom of Siam.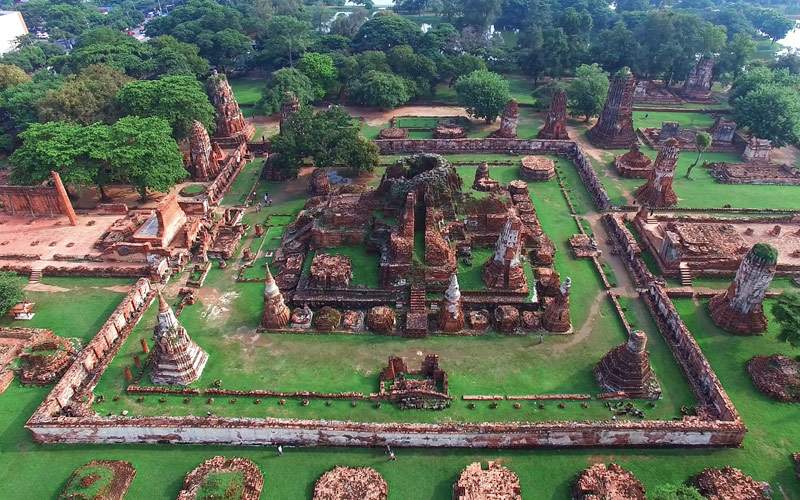 Built by King U-Thong in 1350, Phra Nakhon Si Ayutthaya represents 400 years of the golden past of the Kingdom of Siam. It remained the capital of Thailand until 1767 when the neighbouring Burmese invaded and destroyed the entire city. Nowadays, visitors can still admire the splendour of these historic ruins which are recognized as a UNESCO World Heritage Site on a day-trip from Bangkok, which is only 80 km away. Visit Ayutthaya Historical Park and make sure to inspect Wat Mahathat, Wat Chaiwatthanaram, Wat Phra Si Sanphet, Wat Yai Chaimongkol and Wat Phanan Choeng Worawihan during your time in Ayutthaya.
Things to do
Click

on the map to see the best things to do in Ayutthaya.
Recommended length of stay
The most popular itinerary is an Ayutthaya day trip from Bangkok as it's located just 85 km north of Thailand's capital. But if you are interested in ancient temples and indigenous culture, one day is not enough. Manage to spend two nights here. You will have more time to visit the fascinating temples and catch the Ayutthaya river cruise.
Time to visit
Ayutthaya is generally hot and humid year-round.
November to January: the perfect time to travel to with less chance of rainfall and the temperature remains in the thirties.
Late March and April: the temperature can reach up to 45°C (113°F). From June to September: the stormy and also off-peak season of the year.
Accommodation
There are not many good options here because many tourists choose only a day trip from Bangkok. Most hotels in Ayutthaya are 2 – 3 stars, priced from 10 – 30 USD/night. Some good 4-star hotels cost between 80 and 100 USD/night.
Food
Although Ayutthaya is not renowned for its dining scene, the city has enough food options to keep travelers satisfied. Affordable western food like pasta, pizza, and steak are available at the backpacker strip around Naresuan Soi 1; While the night market is a good place to enjoy local fare. If you want to taste Ayutthaya's signature food – the giant freshwater river prawns, head to the riverside area along U-Thong Road.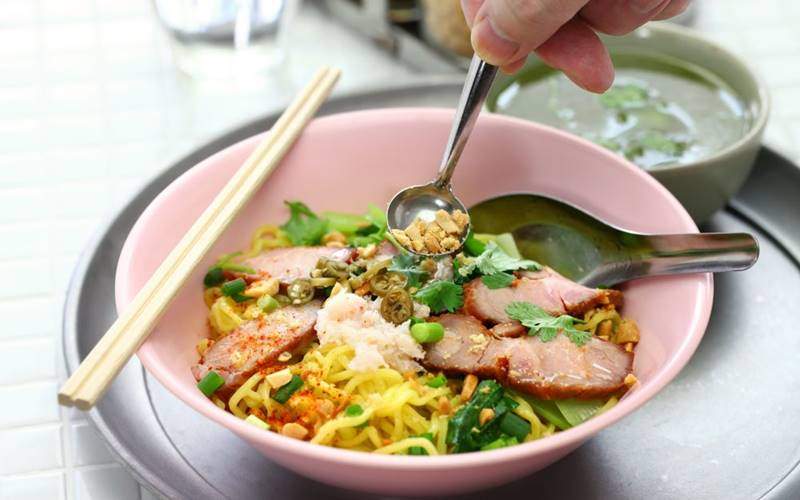 Mu daeng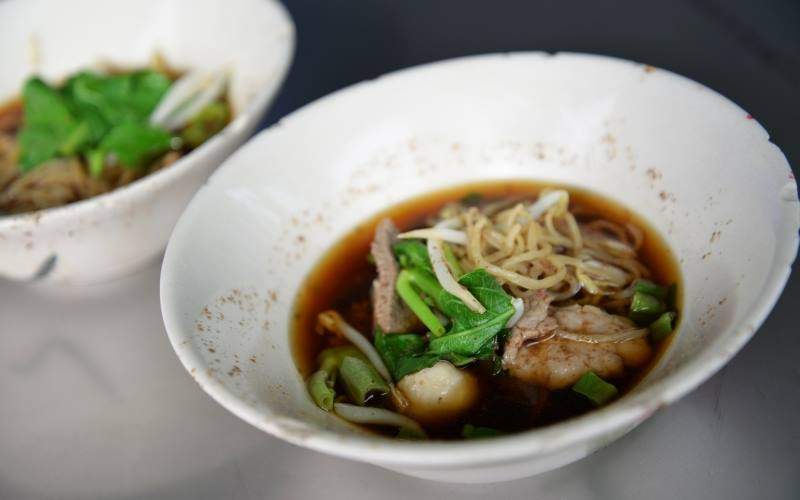 Krung Kao boat noodles
Transport options
Tuk-tuks, taxis, motorcycles, motorcycles, bicycles, boats.
Unlike other destinations, tuk-tuks in Ayutthaya are more popular than taxis, with the price is about 7 USD/hour per after haggling. There are numerous places renting bikes and motorbikes. Daily bike rental costs about 1.5 USD and the motorbike one is about 5 USD. Besides that, taking a boat is a quite pleasant way to contemplate the beauty of temples and sightseeing. A boat trip per hour costs from 17 to 20 USD.
How to get to Ayutthaya
Ayutthaya is more than 80km north of Bangkok, so the easiest way to get to Ayutthaya is from this bustling capital city.
Bus
As of 2016, the regular city bus between Ayutthaya and Bangkok no longer exists. Now you need to book minivan instead, which takes about 2 hours (or longer during peak hour). Train Trains to Ayutthaya, departing from Hualamphong Station every hour or so, takes you about 80 to 150 minutes (depending on the type of train).
Boat
There are no public boats to Ayutthaya. You still can book a river cruise, which will most likely include pickup, drop off, and meals.
Top travel destinations near Ayutthaya
Bangkok
Sukhothai
Chiang Mai
Chiang Rai
Koh Samui
Krabi
Phuket
Phi Phi islands
#9 in best places to visit in Thailand for the 2020 – 2021 travel season, a diving paradise.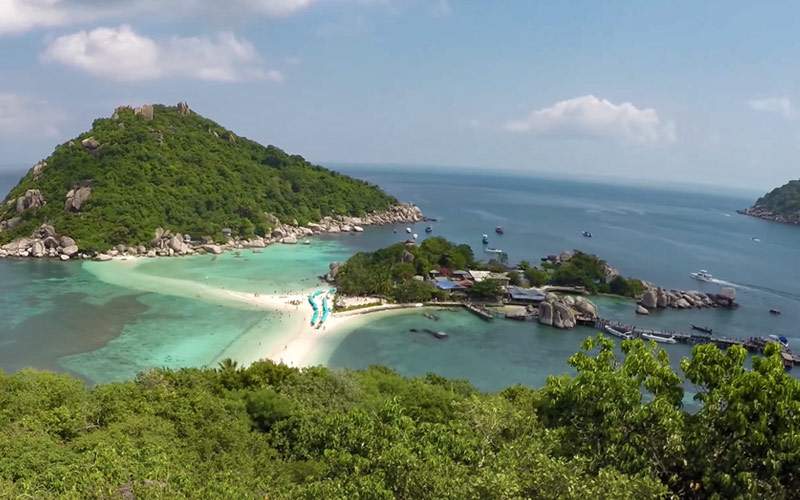 Drift away to simpler times in the diving paradise and sea turtle haven of Koh Tao in the western Gulf of Thailand, indulge yourself with a lifetime journey. The fatigue of the long journey to Koh Tao seems to vanish on the spot when visitors catch a glimpse of the poetic beauty of Koh Nang Yuan islets. Around the island are small and beautiful beaches such as Ao Tanote, Sai Ri, Sairee, June Juea bay, Nang Yuan Island. The Three Rocks, Tanote Bay and Hin Wong Bay are the best places for you to enjoy snorkeling. Chumphon Pinnacles is the best scuba diving site, the HTMS Sattakut Dive Site and the White Rock Dive Site are also great. Have a bird eye's view of the beauty of Koh Tao by reaching the top of John-Suwan Viewpoint or Koh Nang Yuan Viewpoint.
Things to do
Click

on the map to see the best things to do in Koh Tao.
Recommended length of stay
If your priority is diving, snorkeling and enjoying beautiful beaches, spend at least 3 full days (discounting your arrival and departure day). If you want to experience something beyond the beaches, like hiking, looking out for wildlife, stay for a week.
Time to visit
July to September: The best time for diving in Koh Tao with warm weather and great visibility. The island during this time is busier so you'd better book accommodation in advance.
February to May: If you don't mind the heat, February to May is also a good time to visit Koh Tao. The skies are clear, sunny all day. Whale Shark is common in this period.
Accommodation
Accommodation in Koh Tao tends to be higher than other parts of Thailand due to its small size and popularity with scuba divers. It is advised to reserve accommodation well in advance as if you show up without, you may wander the island for a long time with no place to sleep! Particularly, if visitors plan to take a scuba diving course on the island, then most of the centers here have their own resorts that offer discounts or are included in the package when you book ahead.
Food
Experience traditional food with unique seafood twists in Koh Tao, most importantly, Kaeng Khiao Waan, a green curry made from coconut milk and a variety of herbs and vegetables. The green color comes from the use of fresh green chilies while fish is used as the main protein source.
Other curries to try include Massaman and Panang curry, slow-cooked Arabic-inspired dished with steamed mustard greens, pickles, sweet-sour chili sauce, raw garlic, fresh bird's eye chilies, juicy chicken and boiled eggs, served with steamed rice.
Transport options
Walking, bicycles, motorcycles, Songthaews, taxis, longtail boats.
Generally, getting around Koh Tao requires carefulness whether you are walking or driving because there are not many concrete roads. Walking and cycling are great ways to indulge in the beauty of this island, but also more challenging due to some certain hilly paths. Motorbike rental rates start at 5 USD/day for a manual, and 5 – 7 USD for an automatic. While Songthaews can be found anywhere during a day, taxis are only available in the main road that runs through the middle of the island. Otherwise, jumping on a traditional longtail boat to visit hidden bays is also an amazing experience, with the price is around 50 USD/day.
How to get to Koh Tao
Air + ferry
There is no airport in Koh Tao, so if you are planning to fly, book a flight to Koh Samui or Surat Thani. Then catch a ferry to reach the island.
Bus/train + ferry
From Bangkok, catch a bus or train to Chumphon, then do a boat journey to Koh tao. From nearby island to Koh Tao There are daily ferries to Koh Tao, depart from Koh Samui and Koh Phangan. Book the ticket at least one day in advance to secure your slot.
Top travel destinations near Koh Tao
Koh Samui
Krabi
Phi Phi islands
Phu Ket
Bangkok
Ayutthaya
#10 in best places to visit in Thailand for the 2020 – 2021 travel season, a breathtaking marine park.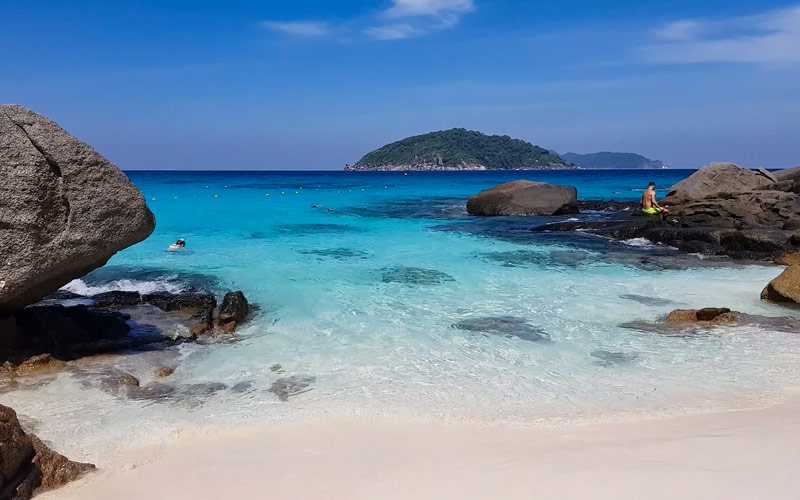 Play sunny and salt kissed game in the Similan Islands, a breathtaking marine park famous for world-class scuba diving, snorkeling and picturesque beaches. All 11 islands are located in the Andaman Sea, Phang Nga Province, home to limestone mountains covered with the lush green of tropical plants, pristine beaches with fine white sands and clear turquoise water, a plethora of marine creatures and spectacular coral reefs. It's no wonder Similan is a heaven for nature lovers and water activities like swimming, snorkeling, and scuba diving. Come and see Donald Duck Bay (Ao Kuerk Bucht) and Voile de Roche on island 8 (the largest island), take a boat tour to smaller islands (Ko Miang, Ko Bangu, Ko Payang, Ko Hu Yon) to fully enjoy the beauty of the Similan Islands.
Things to do
Click

on the map to see the best things to do in Similan Islands.
Recommended length of stay
Once you step on the island, you will have the feeling that a 2-3 day trip is not enough. And if you are a sea lover, leaving here is a difficult decision to make.
Time to visit
Similan Islands National Park is annually closed for five months from May 16, to rehabilitate the marine ecosystem. In the dry season (December – April), you can comfortably discover the islands with March being the best time for diving. While the rainy season (May – Nov) with the highest rainfall in September, is not the ideal time to travel here.
Accommodation
Overnight tour boat, diving liveaboard, bungalow and tents which the park management board provides are types of accommodation for tourists in Similan Islands. Travelers are allowed to stay overnight only on Ko Similan (Island no.8 – the largest one) and Ko Miang (Island no.4). There are only 25 bungalows, which cost about 70 USD and 40 tents each can lodge 2-3 people, which cost 20 USD per night. Boats that provide overnight service often sell a full package of services, including dining and scuba diving, lasting from 1 night to 3 nights.
Food
You do not have many dining options in the Similan Islands. If you stay on the main island, there is a restaurant to try local dishes. In case you spend the night on board, they all have food service for you.
Transport options
There is no means of transportation on the islands except for several picturesque trails for visitors to take a leisurely walk and contemplate the tranquil and captivating natural scenery here. Speedboat is the major vehicle to move between islands.
How to get to Similan Islands
There are two easiest ways to reach Similan islands, both require you to take a flight to Phuket first. From Phuket, you can drive to Khao Lak (180km – 2 hours) then take a speedboat (67 km – 1 hour), or you can take a speed-boat direct from Phuket to Similan Islands (more than 100 km – 2 hours).
Top travel destinations near Similan Islands
Bangkok
Ayutthaya
Kanchanaburi
Sukhothai
Phuket
Koh Samui
Krabi
Phi Phi islands
#11 in best places to visit in Thailand for the 2020 – 2021 travel season, an important historical site.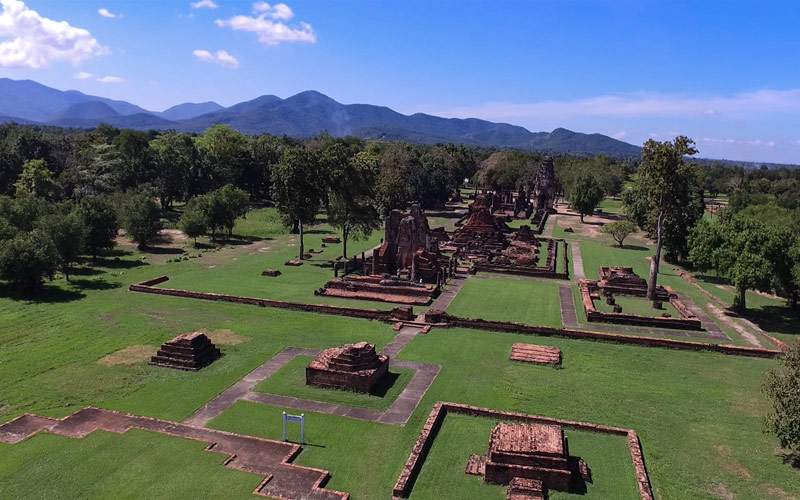 Located lower in Northern Thailand, Sukhothai is a province with important historical sites, beautiful mountains and forests. Sukhothai Historical Park and Si Satchanalai Historical Park are two destinations not to be missed, belonging to a UNESCO World Heritage Site that keeps traces of Sukhothai Kingdom from the 12th to 14th centuries: Wat Si Chum, Wat Maha That, Wat Si Sawai , Wat Chang Lom Si Satchanalai, Wat Traphang Thong, … If you want to hike in the forest or climb the peaks, go to Ramkhamhaeng National Park, about 30 km southwest of Thani.
Things to do
Click

on the map to see the best things to do in Sukhothai.
Recommended length of stay
If you come to Sukhothai to only see the ruins at the historical park, which is the most famous attractions here, one day is enough.
If you are a temple addict, consider staying here for three days. Ancient temples and buildings, statues in unique style will not disappoint you.
Time to visit
The period from November to February is the favourable time to travel to Sukhothai as the weather is mostly dry and cool with little rain. From May to July: it is blazing hot, uncomfortable to get around. Between July and October: there is heavy and constant rain which traditionally reaches peak levels in August and September.
Accommodation
Sukhothai has many accommodation options including motels, homestays, luxurious resorts, and traditional bungalows. Expect to pay between 20 – 50 USD per night no matter where you choose to stay, as most visitors to the region are just passing through on their way to Bangkok, Ayutthaya, Phitsanulok, or Chiang Mai.
Food
Along the road to the historical park, you will see a string of local food stalls and tourist-oriented food establishments. Rember to try the Sukhothai-style noodle, which is a mouth-watering plate of rice noodles with crispy pork, herbs in a slightly sweet broth.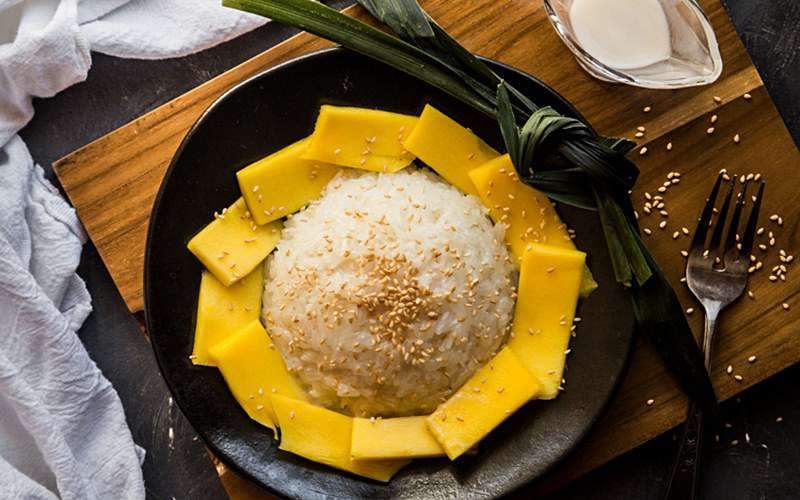 Transport options
Songthaews, tuk-tuks, motorcycles, bicycles.
Songthaews run between New Sukhothai and Sukhothai Historical Park with the fare of 1 – 2 USD/30 minutes. Another suitable way to get around the historical park is by bicycle. Bikes can be hired at shops outside the park entrance for 1 USD for 5 hours. Motorbikes (from 7 USD/day) can be rented at many guesthouses in New Sukhothai. Tuk-tuks are also available around here, costing about 20 USD for a trip to the Old City (15 km out of town).
How to get to Sukhothai
Bangkok – Sukhothai: 427 km
Chiang Mai – Sukhothai: 307 km
Chiang Rai – Sukhothai: 410 km
Air
There are direct flights from Bangkok to Sukhothai Airport every day, which take you about 1.5 hours.
Train
Catch a train from Bangkok to Phitsanulok (7 hours). From Phitsanulok train station, take a local bus or tuk-tuk to Sukhothai (1 hour).
Bus
Tourists can easily find daily buses connecting Sukhothai with Bangkok, Chiang Mai, and Chiang Rai. The traveling time is 7, 5, and 9 hours respectively.
Top travel destinations near Sukhothai
Chiang Mai
Chiang Rai
Pai
Bangkok
Ayutthaya
Kanchanaburi
#12 in best places to visit in Thailand for the 2020 – 2021 travel season, a peaceful island resort.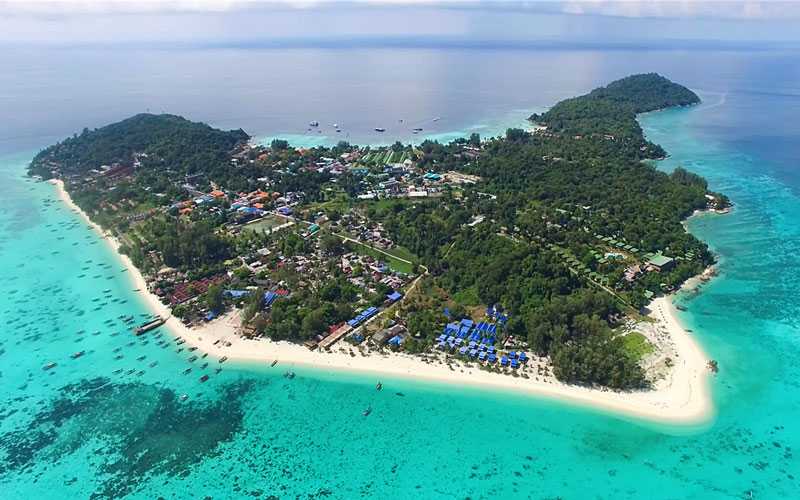 Ko Lipe is a small resort island located in the southernmost tip of Thailand, in the Andaman Sea, near the Malaysian border. This boomerang-shaped island is part of Tarutao National Marine Park, famous for its beautiful beaches, white sand and clear blue water like Bulow, Pattaya, Sunrise, Sunset and Sanom. One of the best things you should do in Koh Lipe is to take a boat to the small islands (Ko Usen, Ko Cha Bang, Koh Rockroy) to enjoy the beautiful coral reefs and marine life. The hotels are located along the beaches around the island, while restaurants, bars and shops are concentrated in the central area of the island.
Things to do
Click

on the map to see the best things to do in Koh Lipe.
Recommended length of stay
Spend at least 2 – 3 days or 5 days to visit almost all the destinations on this charming island.
Time to visit
The peak season lasts from December to April, while the time between May and November witnesses the dim performance of tourism activity here.
September and October mark the highest rainfall.
Accommodation
More than 150 lodging properties are currently in operation on the island.
Motels and 2-star hotels: 20 – 50 USD.
3-star hotels: 30 – 70 USD.
4-star hotels: at least 100 USD.
Food
There are about 100 restaurants on the island serving tasty and affordable Thai, American, Spanish, Italian cuisine, etc. The food here, especially seafood, is recognized by plenty of demanding diners.
Transport
Koh Lipe is a very small island, so just rent a long tail boat or speedboat you can conquer the whole island and reach incredible scuba diving spots.
How to get to Koh Lipe
Option 1: Fly to Hat Yai airport, take a car from Hat Yai to Pak Bara pier (2 hours for 123 km) then take a speedboat.
Option 2: Fly to Langkawi airport (Malaysia) and catch a speedboat from Langkawi to Koh Lipe (1 hour for 50km)
Top travel destinations near Koh Lipe
Phuket
Phi Phi Islands
Krabi
Ko Adang
Where can we take you?
Got an idea? Tell us what you're thinking and one of our travel experts will be in touch shortly to create the perfect holiday for you!
Itineraries
Adventure
Thailand
Highlights: Bangkok, Ayutthaya, Phitsanulok, Sukhothai, Si Satchanalai, Chiang Mai, Chiang Rai
---
Romantic
Thailand
Highlights: Bangkok, Ayutthaya, Chiang Mai, Mae Kampong, Krabi
---
Highlights
Thailand
Highlights: Bangkok, Ayutthaya, Chiang Mai, Chiang Rai, Phuket
---