Tet, known as the Vietnamese New Year or Lunar New Year, is the biggest and most important celebration in Vietnamese culture. It represents the unique cultural identity of Vietnam by allowing the Vietnamese to express their respect for their ancestors as well as welcoming in a new year with family members and loved ones.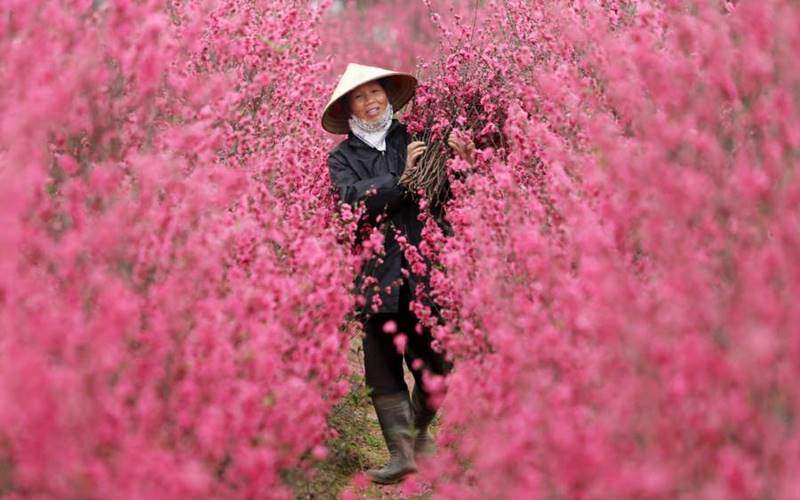 Peach blossoms – iconic flower of Tet in the North
What is Tet?
The word "Tet" is originated and shortened from the Sino – Vietnamese phrase "Tet Nguyen Dan" which means "the feast of the first morning of the first day". Tet in Vietnam, like many other Southeast Asian countries, is derived from an agricultural economy that depends on rice cultivation and the moon calendar. Tet is a chance for everyone to rest, celebrate together and wish for a happy new year.
When is it celebrated?
Tet usually lasts about 1 week, begins on the first day of the lunar year (25 Jan 2020). This date varies from year to year due to the 3-leap year rule of the lunar calendar but always falls between January 21 and February 19. In fact, Tet begins from New Year's Eve – the last night of the lunar year (24 Jan 2020). Every year, the government will decide the time for Tet holiday. Tet 2020 is the year of the mouse, official Tet holiday starts from January 23rd to January 29th, 2020.
Differences between Chinese New Year and Tet
While the western zodiac separates the year into 12 different personalities with their own unique characteristics, the Chinese and Vietnamese zodiacs have a rotation of 12 different animals during a 12 year period. This means anyone born this year between February 5th, 2019, and January 24th, 2020, will be considered as being a part of the year of the pig. One of the major differences between Chinese New Year and Tet celebrations deals with the Lunar calendar itself.
While the Chinese zodiac has animals like the ox, rabbit, and sheep, the Vietnamese have replaced these animals with the buffalo, cat, and goat, respectively. So if you're turning 12, 24, 36, 48, 60, etc this year, it means this is YOUR year. It is believed that people who are born in the year of the pig are gentle, kind-hearted, positive, and loyal. They are also honest, frank, and know how to enjoy life, having great fortune in obtaining wealth. On the other hand, they can also be gullible, stubborn, and materialistic. Famous "pigs" include Michael Jackson, Elton John, Hillary Clinton, Alfred Hitchcock, Ernest Hemingway, Arnold Schwarzenegger, Snoop Dog, and Stephen King.
Why is it celebrated?
In addition to celebrating the arrival of the spring according to the Vietnamese calendar, Tet is a special occasion to reunite families. When the new year comes, Vietnamese people will return to their family homes, gathering under the same roof to decorate their house and express their gratitude to their ancestors, no matter how far they are. Moreover, Tet is an opportunity to summarize all activities related to the past year, welcoming a new year with good hope for both individuals and the whole community.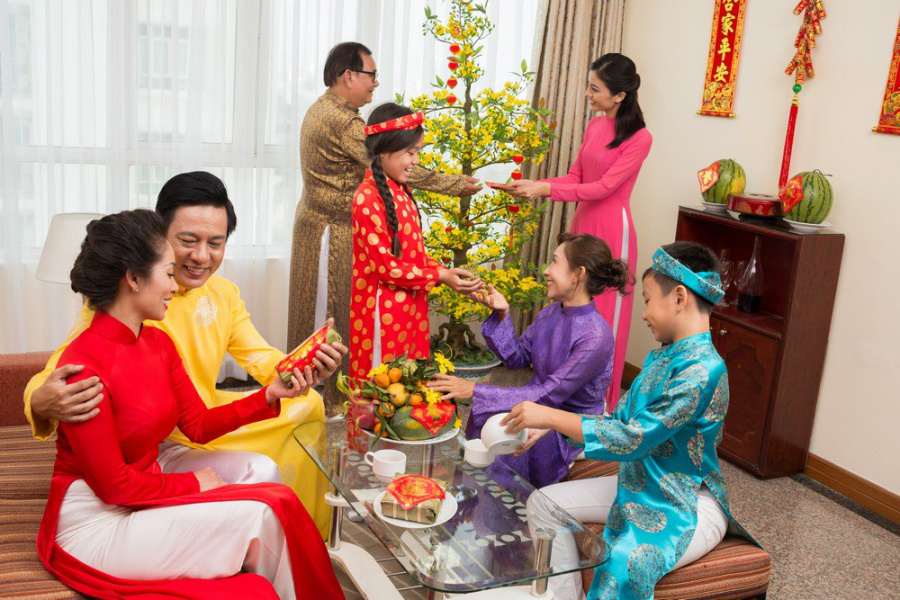 A family celebrating Tet together
Preparing for the New Year
Decorations
Vietnamese people tend to decorate their houses and streets with colors that represent good fortune such as yellows, reds and pinks. Depending on where you live, peach blossoms or ochna integerrima are recognized as the traditional symbol used for decorating houses, schools, offices, and businesses in the lead-up to Tet.  
While northerners prefer the soft and delicate pink peach blossoms, southerners love the bright and bold sunny yellow of the ochna integerrima.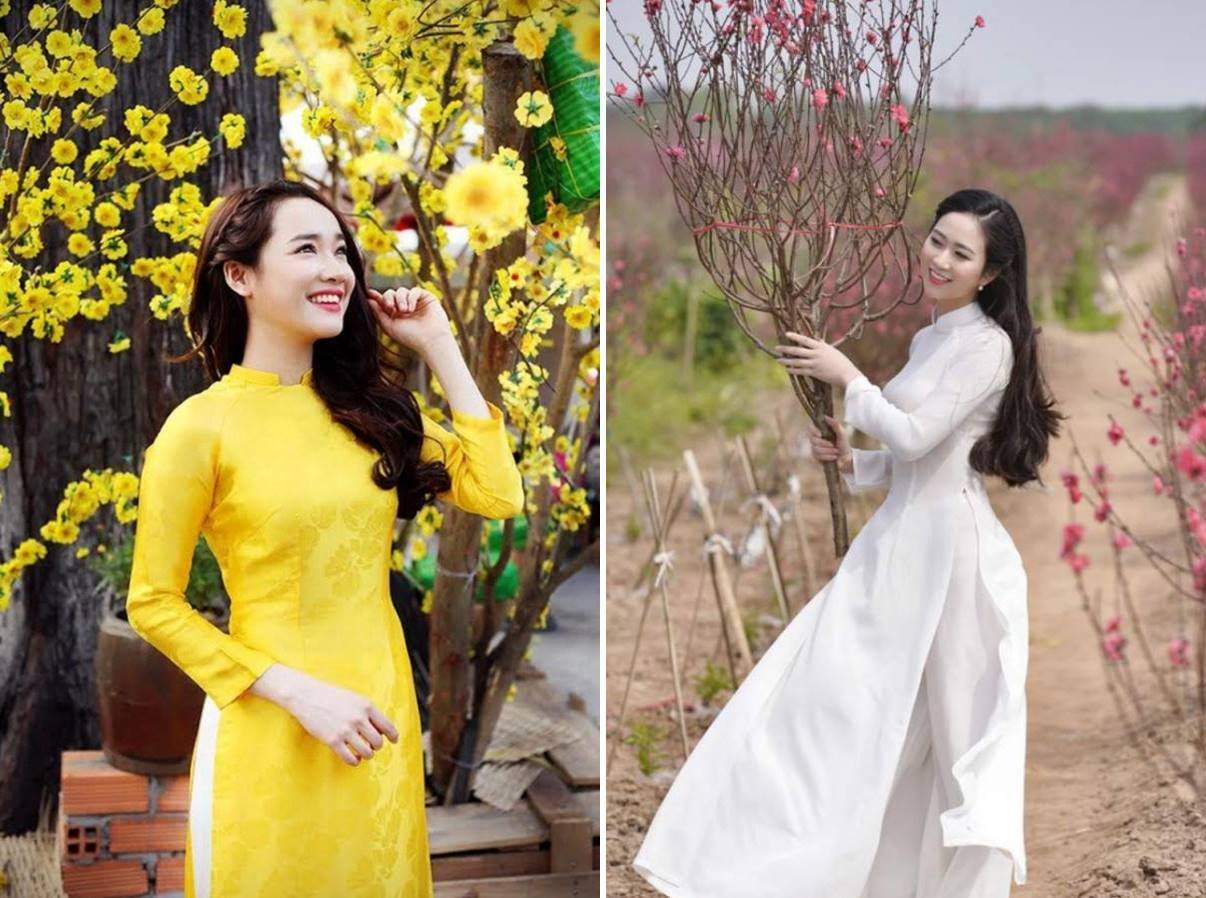 If you spend time in Vietnam during Tet, you will also see streets lined with kumquat and pomelo trees of all shapes and sizes. These fruit trees are another popular choice for decoration as the round orange and yellow fruits symbolize wealth and prosperity to come in the new year.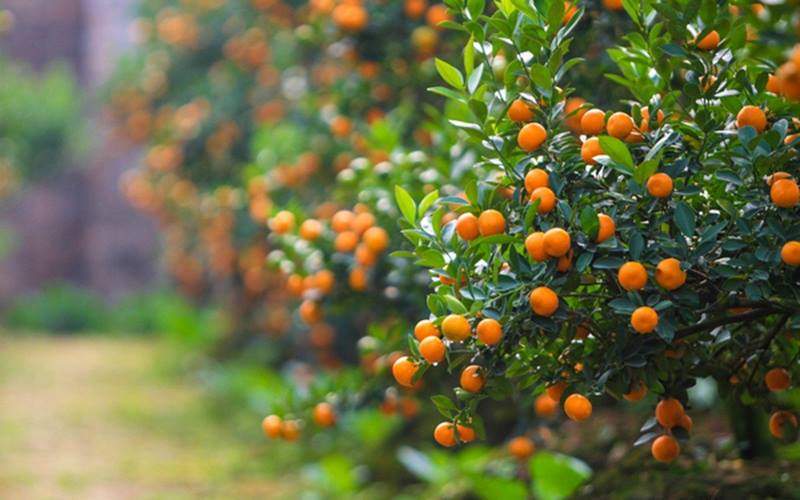 Kumquat trees
Food
Different festivals have different signature dishes and Tet holiday is not an exception. Chung cake, a type of square-shaped sticky-rice cake, is an indispensable part of Tet holiday associated with a long-standing legend about the universe and human life. The square shape of the cake symbolizes the Earth as ancient Vietnamese people believed the Earth was shaped as a square. A civilization of rice agriculture is packed into each bite of the Chung cake – a product made from basic daily life materials with the sticky rice symbolizing the land, green beans for plants, and pieces of pork for animals.
Vietnamese jam, called Mut Tet or Tet jam, is quite different than jams served in Western cultures. Typically, Vietnamese jam is served in a dry form and made up of dried fruits and some kinds of seeds such as pumpkin or sunflower. It is generally served as a snack with tea to welcome guests to people's house during the first few days of the New Year.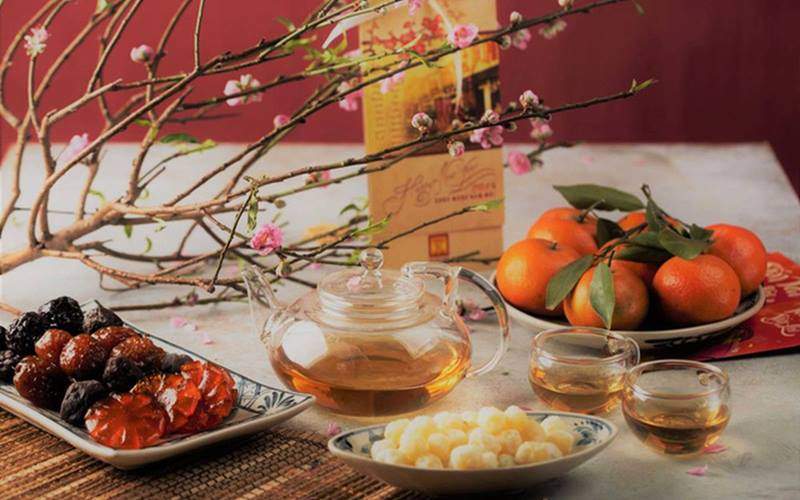 Vietnamese tea and jams during the New Year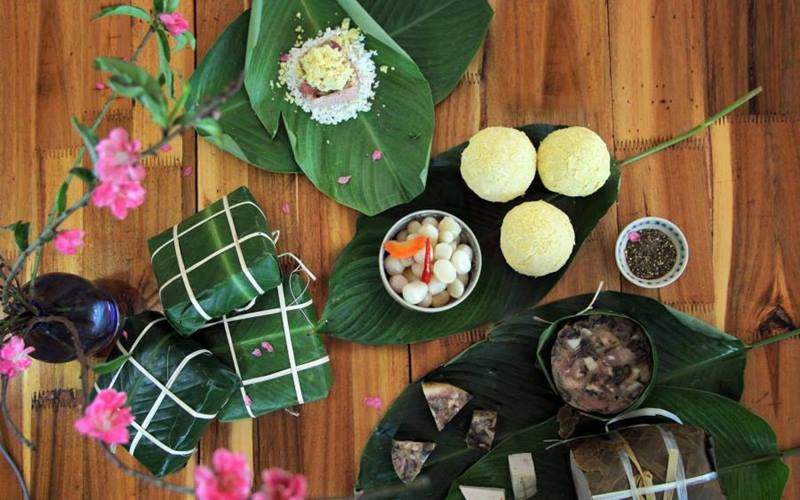 Chung cake
Tet customs
Tet holiday preparations begin early, usually starting on the 23rd day of the last month according to the Lunar Calendar. Vietnamese families arrange an altar and prepare offerings for the Kitchen God (Ong Tao); it is common to buy carp fish to release into the rivers and lakes as it is believed the Kitchen God rides a carp to the heavens with annual reports about each household's activities during the year to give to the Jade Emperor.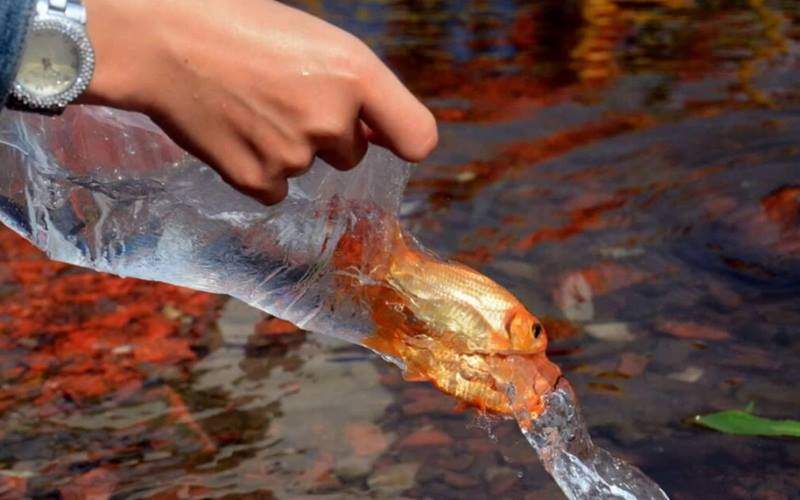 Releasing carp into the river to Ong Tao
On the eve of Tet, no matter how busy everyone gets, Vietnamese families will take the time to clean their homes, gardens and altars and during Tet, be extra careful to keep everything nice and tidy. It is believed if you sweep or clean during the first three days of the New Year, you will also sweep away all your good luck and fortune away. Then, in the evening of New Year's Eve, families holds small gatherings known as Tiec Tat Nien or "farewell parties" with their families and friends to say goodbye and look back on the events of the old year.  Families will set up an altar full of food offerings, gather together and wait until midnight to welcome the New Year.
The first day of the New Year
There are numerous customs and traditions that the Vietnamese follow during Tet. Based on the zodiac that was described earlier, Vietnamese people will invite a person who was born in a year harmonizing with their own birth year as well as the upcoming year to be the first to enter their house on the New Year. Since it is believed that the first visitors to a house or business will have a great influence on the New Year's fortunes, the first guest to be invited is a big deal.
 Likewise, if you are the first to visit a shop in the New Year, it is wise to buy something, even if it's small as entering a business without buying anything creates bad luck for the business owner. Sometimes even a family member will leave the house at 11:58 PM and return to the house at 12:01 AM to ensure the best luck for their family in the coming year.
Vietnamese people also traditionally wear their best clothes in bright colors and visit their extended families to give best wishes to each other. Avoid wearing white or black as these colours are associated with funerals. On the other hand, if you have recently experienced a death in the family, you won't go well-wishing; instead, others should come to your home. Tet is cause for national celebration so grieving families are expected to put sorrows aside until the second day of Tet.
This is also the time when "li xi", or lucky money, is given to children or superiors as a sign of respect, good luck, and prosperity. Traditionally the envelopes which hold this lucky money are a bright red with gold writing, and of course the money inside should always be brand new bills. Coincidentally, USD 2 bills are considered very lucky.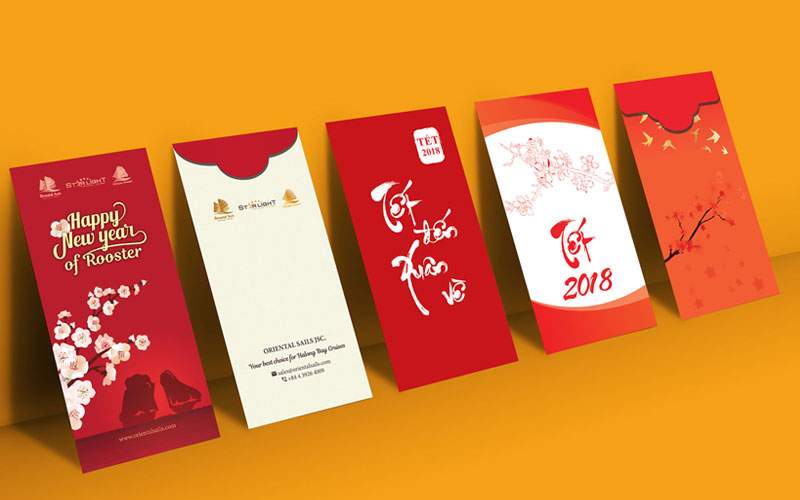 Bao li xi
Special Tet events
Visiting Vietnam during Tet is a special time of year for both locals and guests alike. In big cities like Hanoi, Ho Chi Minh City, or Da Nang, join the crowds to take in splendid New Year's Eve firework celebrations in the city centers. Observe "Ong Daos" writing elegant calligraphic scripts on the side of the street or perhaps wander through gardens and flower markets to snatch up fresh spring blossoms. And of course, keep your eyes open for the wild lion dances occurring in different neighborhoods throughout the country.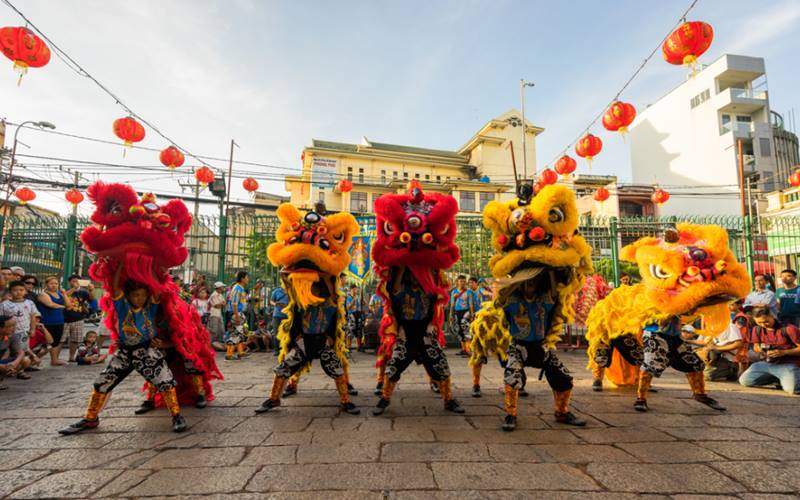 Lion dance in the streets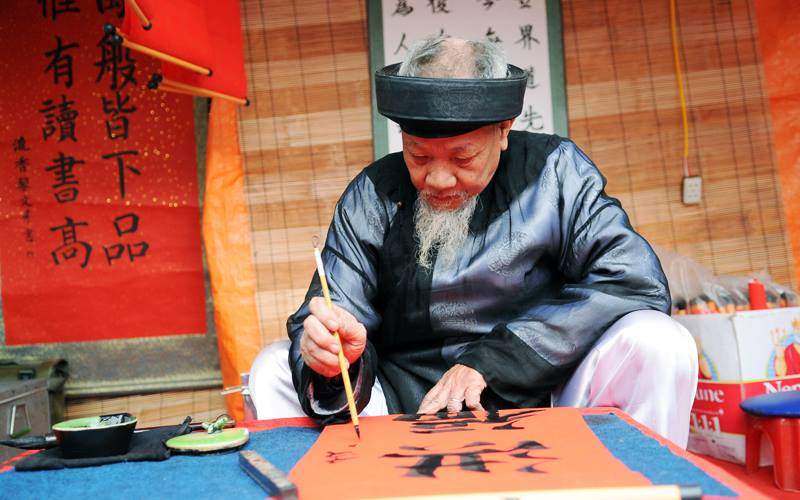 Ong do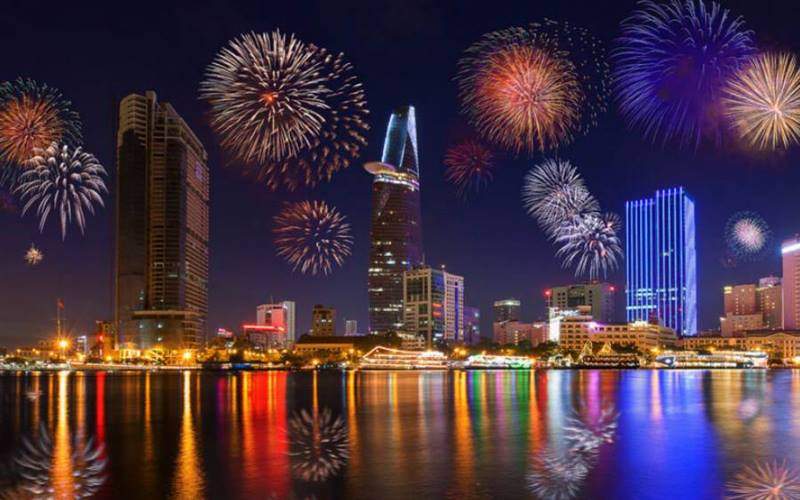 New Year fireworks in Saigon
Most importantly, enjoy the warm spirit of family bonds and traditions during your time traveling during Vietnam's biggest national holiday. Take in the quiet streets devoid of motorbikes and noise and enjoy it, even for just a little while.
Where can we take you?
Got an idea? Tell us what you're thinking and one of our travel experts will be in touch shortly to create the perfect holiday for you!
Itinerary
Family fun
Vietnam
Highlights: Hanoi, Ninh Binh, Halong Bay, Hoi An, Da Nang, Hue, Ho Chi Minh City
---
Gastronomy
Vietnam
Highlights: Ho Chi Minh City, Da Nang, Hoi An, Hue, Hanoi, Halong Bay
---
Luxury
Vietnam
Highlights: Hanoi, Halong Bay, Da Nang, Hoi An, Hue, Ho Chi Minh City, Con Dao
---