The Apsara is a common trope throughout Southeast Asia but most notably seen in Cambodia, Indonesia, and Thailand. The origins of these beautiful and graceful figures began in Hindu mythology, spreading across the region in the form of delicate sculptures, refined ballet performances, and other works of art.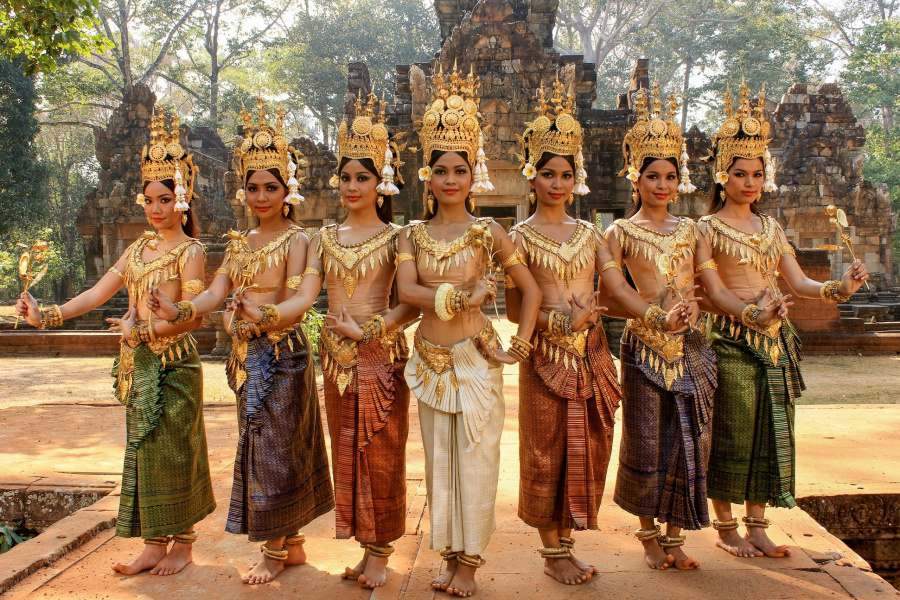 Muses of Hindu mythology
What is an Apsara?
First and foremost, to understand why the Apsara is important in so many cultures, we must first study the origins of the legend. Apsaras are basically beautiful otherworldly female spirits made from clouds and water. The Ramayana, an Indian epic, tells of their birth in the Ocean of Milk. अप्सु निर्मथनात् एव रसात् तस्मात् वर स्त्रियः। उत्पेतुः मनुज श्रेष्ठ तस्मात् अप्सरसो अभवन्॥ १-४५-३३ "Choicest females have come out an elixir obtained on absolute churning of the waters of Milk Ocean, oh, best one among men, Rama, thereby that genera of females became Apsaras." These heavenly nymphs possessed great beauty, grace, and sensuality, frequently living amongst trees of the forest or river streams. They could also be seen dancing, singing, and playing music at the court of gods.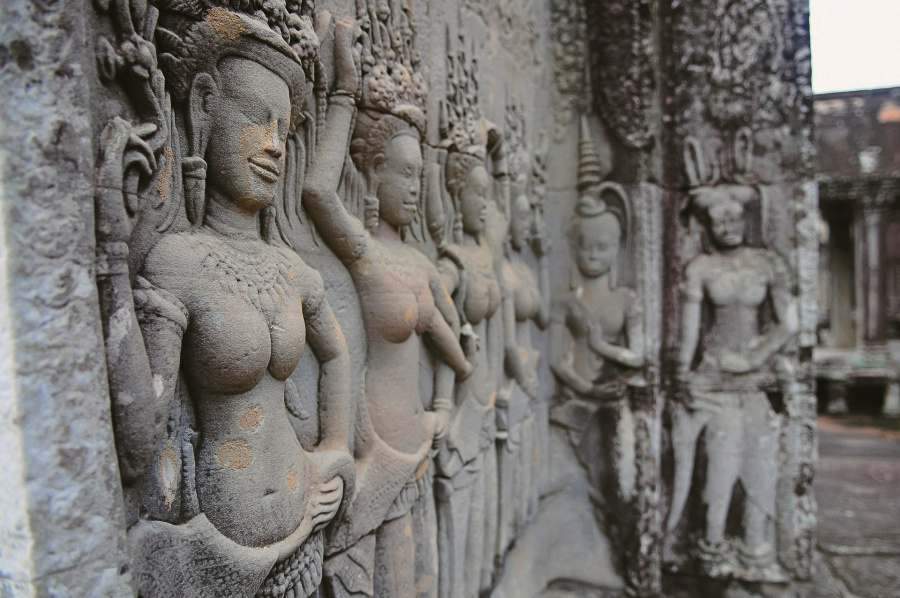 Apsaras dancing across bas-reliefs in Angkor Wat
What does an Apsara look like?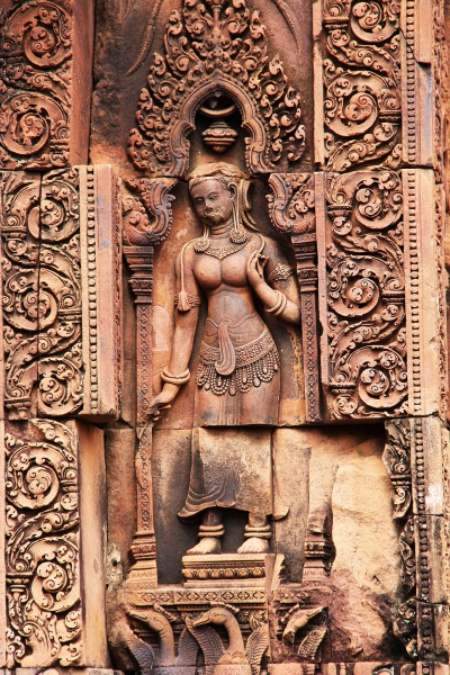 Example of a Devata in Banteay Srei
Apsaras were typically drawn and sculpted as young beautiful women. We can see the typical fashion and accessories of Apsaras in many of the intricately carved murals of temples throughout many notable temples throughout Cambodia, Indonesia, Laos, Thailand, Myanmar, Malaysia, and Vietnam. Specifically in Siem Reap, there are various depictions show-casing the different hairstyles, jewelry, clothing, posture, floral decorations and headdresses worn by the Apsaras. Many archaeologists say this suggests that the carvings are based on real dancer of the Angkor Court, who were brought here in the 12th century after an intense search to find the best dancers in the whole of the Khmer empire. Some anthropologists even say it's possible to identify definitive racial features from the carved Apsaras, such as from the Cham, Mon or Siamese culture. As you look at carvings in the likes of the 49-m high bas relief in Angkor Wat or the walls of Bantreay Srei, you should be able to notice two depictions of these mystical women; Apsaras who are always portrayed in motion like dancing and Devatas, stoic and firm in their roles as guardians of the temple. Often, the poised Apsaras are shown with their lovers, Ghandarvas, musicians and servants to the demi-god Indra, who play the heavenly music to which their wives dance to.
History of Apsara dancing
Historical inscriptions within the temples show how Angkor kings kept hundreds of dancers in their royal courts. The Apsara dance was a type of classical dance reserved only for royalty and performed during ceremonies and festivals as offerings and appeasements to the gods or special guests. Sometimes these recitals would last the entire night! Records show that King Jayavarman VII had 3000 dancers in his court, with 615 dancers and 18 high priests at Ta Prohm temple alone.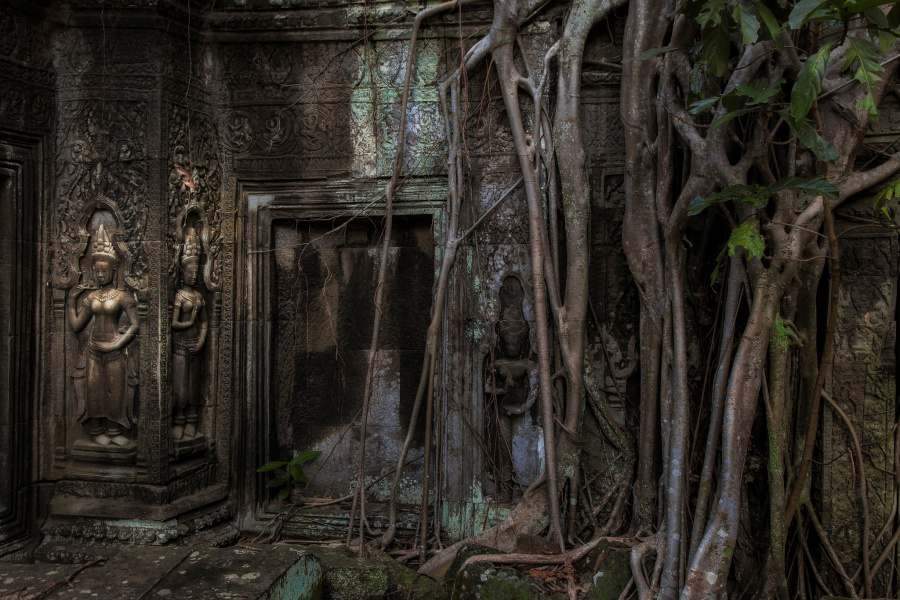 Ta Prohm Temple with its Apsara carvings
The key feature of this dance are the intricate hand movements, of which there are 1,500 to learn. The different poses are known as kbach and relate to elements of nature such as flowers, leaves, and fruit. In addition to these kbach, dancers must perfect 3,000 different poses like rolling hips, arched backs, and bent feet. Those who wish to learn this dance start when they are young, and teachers are said to use scarves to bring the fingers into the correct position until muscle memory takes over. It takes 9 years to learn and perfect the dances. The movements of the whole body work as a kind of sign language where one subtle difference makes a completely different expression. For example, the jeeb, when the thumb and pointer finger are pressed together as the other three fingers fan out is a common symbol in Khmer culture. It can represent anything from bashfulness and love to laughter or sorrow. One hand with the fingers straight up and bent back can mean 'leave' while two hands in the same position but crossed at the wrist symbolizes 'love'.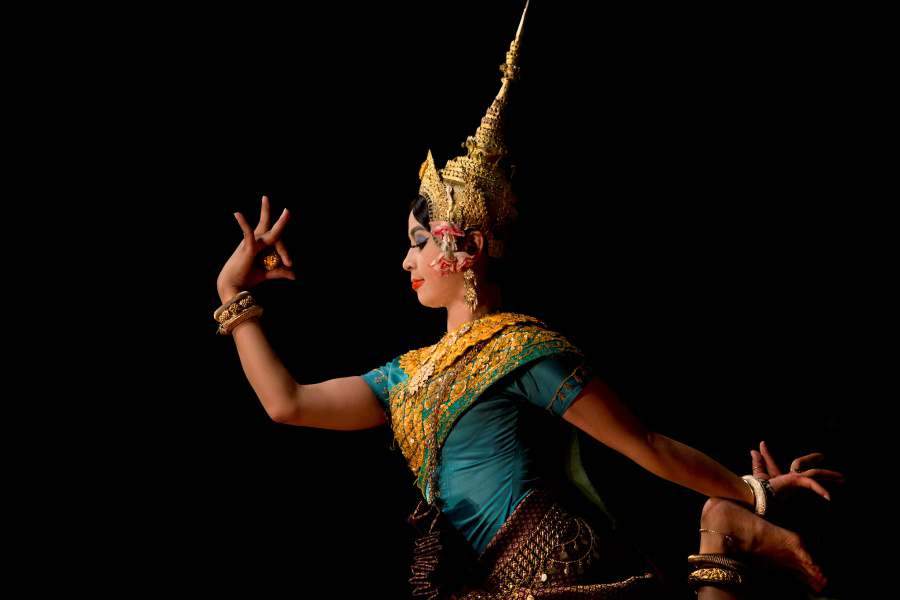 A dancer expertly balances in a typical pose, captured by Darren Wilch of www.cambodia-images.com/
HRH Princess Norodom Buppha Devi leading the Apsara Ballet at the Sarah Bernhardt Theatre in Paris, July 1964, Courtesy of the National Archives of Cambodia
For centuries, the Apsara dance was passed down from royal family to royal family until the 1950s when Queen Preah Maha Kshatriyani Kossamak chose her granddaughter Princess Norodom Buppha Devi at age 5 to train in the ballet. By age 18, she was awarded the title of Prima Ballerina and toured internationally with the newly created Cambodian Royal Ballet to share Khmer heritage and culture with the world. This was the first time the Apsara was performed outside of the royalty. During the dark days of the Khmer Rouge from 1975 – 1979, thousands of artists, scholars, and intellectuals were tortured and murdered. It's estimated that over 90% of the dancers and musicians in the Royal Palace and Phnom Penh were imprisoned, tortured, and/or killed. With peace restored in 1991, surviving artists, including Her Royal Highness Princess Buppha Devi herself, began the difficult task of searching for new dancers in the hope to revitalize this important piece of cultural heritage.
Where to see Apsara dances in Cambodia
In 2003, the Apsara dance was put on UNESCO's List of Intangible Cultural Heritage of Humanity. Unfortunately, it is quite difficult to see the Royal Cambodian Ballet in Cambodia as the troupe is often travelling internationally. In early 2019, you can see the Royal Ballet perform in Paris at the Cite de la Musique in the 19th arrondissement. However, if you're in Cambodia, stop by any of these locations for an incredible evening filled with culture and beauty.
Siem Reap
Koulen Restaurant and Live Performance
Sivatha Street, Siem Reap
The concept here is a buffet dinner with a ballet performance,starting from 7:30 PM every night.
Adult tickets: USD 12, Children tickets older than age 3: USD 6
Phum Traeng, Siem Reap
They have two venues at this location. One is an indoor theatre with a/c and the other is an outdoor garden.
Adult tickets: USD 25; Children tickets under age 12: USD 12.50
Raffles Hotel or Belmond La Residence D'Angkor
These two luxury hotels hold both group and private performances as well as opportunities for fine dining. Enquire with the hotel for pricing.
Phnom Penh 
Cambodia Living Arts Theatre Show
The National Museum, Street 13, Phnom Penh
This organization is working hard to preserve classic forms of art in Cambodia by training the youth in music, dance, and singing.
Ticket price includes dinner for USD 15.
166 Street 99, Phnom Penh
Another organization dedicated to reviving the Apsara and other traditional forms of heritage Khmer art.
23 Street 348, Phnom Penh
If you want to try your hand at dancing the Apsara, join the traditional classes here taught by experts in classical Khmer dance. Group and private classes can be arranged.
Where can we take you?
Got an idea? Tell us what you're thinking and one of our travel experts will be in touch shortly to create the perfect holiday for you!
Itineraries
Luxury
Cambodia
Highlights: Phnom Penh, Kep, Kampot, Sihanoukville, Siem Reap, Tonle Sap Lake, Angkor Archaeological Park
---
Honeymoon
Cambodia
Highlights: Siem Reap, Angkor Archaeological Park, Kbal Spean, Banteay Srei, Banteay Samre, Sihanoukville, Koh Rong, Phnom Penh
---
Highlights
Cambodia
Highlights: Siem Reap, Battambang, Phnom Penh
---