Hanoi Excursion
highlights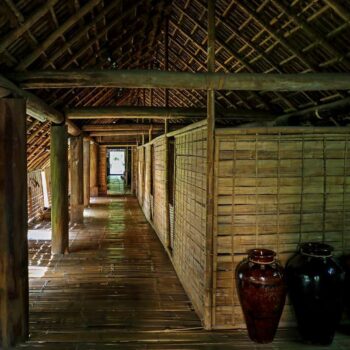 Browse the award-winning collection of tribal art and artifacts from 54 different ethnic groups at the Vietnam Museum of Ethnology.
Travel

Guide
Time to visit
Hanoi is best when visited in the late spring and early summer months between March and May or during the autumn from September to November. Between March and May, the temperature begins to rise as the city shakes off the winter cold, offering balmy days and cool evenings to enjoy sight-seeing. During the autumn, Hanoi cools down from its hot and rainy summer with a mixture of sunny and cool days, perfect for sipping a "caphe sua" da in any lakeside cafe ,watching the world go by.
Food & drink
A foodie paradise, Hanoi is chockfull of amazing culinary treasures, from small noodle shops and street food delicacies to trendy expat start-ups and fancy restaurants. A typical Vietnamese dish at a local shop characterized by small plastic stools and low tables will typically run between USD1.5-3 per bowl or plate, while a western-styled meal in a restaurant with normal sized tables and chairs will run between USD6-12 per person depending on what's ordered. Expensive restaurants usually found in chic hotels are usually starting around USD25 for main courses, but it depends on the type of restaurant and time of day. For a night out, cocktails are usually around USD5 per glass in most establishments, with draft beer going for USD2 and bottled beer USD3. Bia Hois, a type of outdoor beer garden, sell cheap beer for only USD0.32!
Transport
The traffic in Hanoi is often unfathomable, with motorcycles, scooters, bicycles, taxis, cars, and 4x4s all clamboring for space, especially during commuting hours from 7:30-8:30 and 17:00-18:30. The ever-popular grab application is seen everywhere with motorbike taxi's wearing their green uniforms, offering rides at a much cheaper, fixed rate than bargaining on the street with local xe oms. Xe Om's can be arranged on the street corner for around 0.43USD a km while taxis cost around 0.50USD per km. Buses, often now with wi-fi connectivity, cost 0.30USD and less per ride.
Accommodation
Accommodation in Hanoi is centered around Hoan Kiem Lake in the popular Old Quarter. Small family-run styled hotels cost between USD5-20 per night while a luxury stay at Sofitel Metropole will run above USD200 per night. Guests looking for a quiet respite away from the hustle and bustle of Hoan Kiem District can head north of the city center to the quieter areas of Ba Dinh and Tay Ho District, where hotels like Pan Pacific and Intercontinental can be found with the per night average a little over USD100. Trendy airbnbs ranging between USD10-15 are also on the rise, with independent travellers looking for more personal experiences.
Communication
Wi-Fi is prevalent throughout the city, whether in small cafes, mostly any restaurant, and all hotels. SIM Cards can be bought from main brands such as Viettel, Mobifone, and Vinaphone from USD2-3 and internet data for USD1-25 at nearly every shop on the street. In case of emergency, dial 113 for the police, 114 for fire, 115 for ambulance and first-aid. Most younger generations can speak a word or two of English, however even though many have studied, locals can be quite shy to speak to foreigners. Be patient and keep a smile on your face--everyone is trying their best!
Get in touch with our travel experts now and start creating the holiday of your dreams
Call one of our specialists at